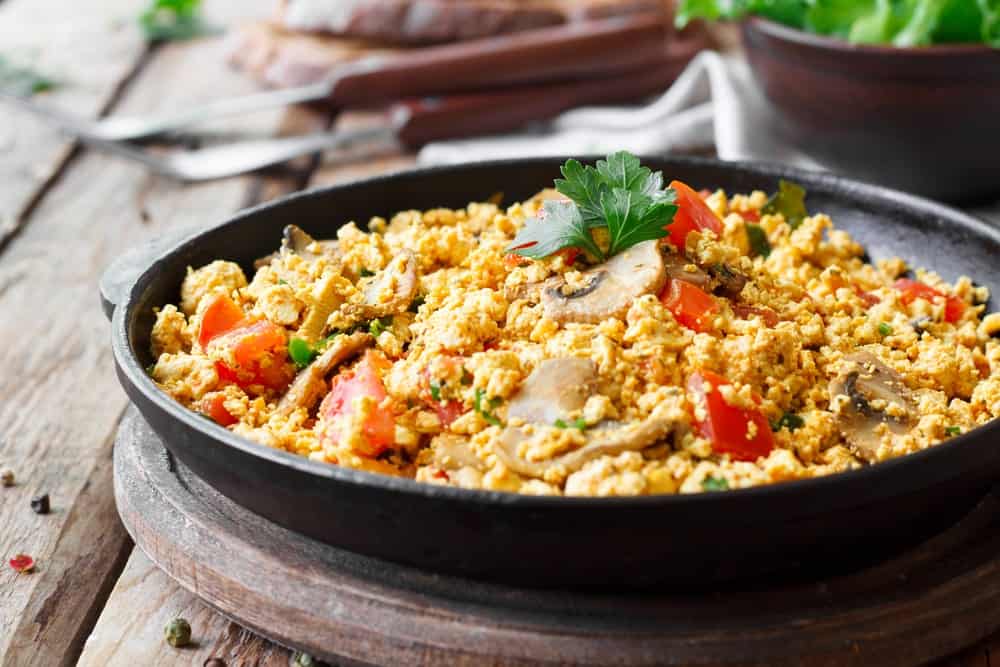 I grew up on a cattle ranch in Texas.
I am very sure that if my daddy had known what tofu was (and I am sure he never ate tofu even once in his long life), he would have added molasses to it and fed it to the cows as a nutritious treat. Dad used to train the cows to come to our back fence at precisely 5 p.m. every afternoon to get a sweet treat and to have their noses rubbed. The cows would have loved tofu and my father would have loved feeding it to them.
But having left the ranch in the 1990s and spent some time out in the non-bovine world, I have come to appreciate tofu as a great ingredient for blending flavors together. That's the principle for making a great tofu scramble like the one I eat for breakfast a couple of days a week, and once in a while for lunch.
Anything you can scramble eggs you can scramble with tofu to make a vegan version of the dish. As a Texan, I'm partial to tofu Southwestern style. I make vegan tofu migans, which are tofu scrambled with tortilla chips, onions, peppers, cumin, and red pepper flakes). I have learned to make tofu that tastes just like chorizo, but with absolutely no pork. And I even serve up tofu breakfast tacos with tofu substituted for the eggs and Impossible Sausage.
The secret to making a tofu scramble is making sure the tofu has the taste and mouthfeel of scrambled eggs. And the secret to getting an eggy, custardy taste and feel from tofu is in the additives,
Black salt (not ordinary iodized salt, not pink salt, not sea salt, and certainly not salt substitute) adds that faintly sulfurous smell and taste you will really notice in boiled eggs and that's there, but not so noticeably, in scrambled eggs. Season your tofu to taste with black salt. You may find it on the specialty shelf as Kala namak salt.
And the truth is, tofu is too anemic-looking to make a visually appealing scramble. Add a teaspoon of ground turmeric (not curry powder, which isn't just turmeric() to give tofu that deep orange-yellow that is the color of fresh and delicious organic eggs, only in a vegan dish.
All tofu is not created equal for making tofu scrambles. If you like your eggs scrambled French style (you know, the kind of scrambled eggs that you cook on heat that is so low that they just kind of sit there for 10 minutes and only begin to form curds after about 15 minutes on the stove), you might be happy with regular tofu, but most of us appreciate the firmer texture of firm or extra-firm tofu. Firm and extra-firm tofu will have some identifiable curds at the end of the cooking process that regular tofu will not.
Another secret of the perfect tofu scramble? Don't overcook it. Many cooks make the mistake of cooking tofu until it is tough and leathery. Don't try to make tofu into something it is not. Let tofu be soft and quivery (just not a plate of mush) so every bite releases the flavors of its sauce.
And a final secret of a great tofu scramble? Add meatiness without meat. The umami flavor of a fermented hot sauce like doubanjiang or even gochujang (Korean red pepper paste), which you can get at any Korean grocery (no, we didn't use them when I was growing up on the ranch, but we did use fermented Tabasco peppers a lot) will add both heat and meatiness to an otherwise bland tofu scramble.
Now let's get down to the specifics of making your tofu scrambles.
First, you will need to prepare the tofu. Unless you like your scramble very smooth, drain the excess liquid that comes with the tofu from the store. Place the block of tofu in a colander over a sink. Place a plate on top of the tofu and let any liquid drain for 15 minutes. This step gives your scramble an eggier texture after it is cooked.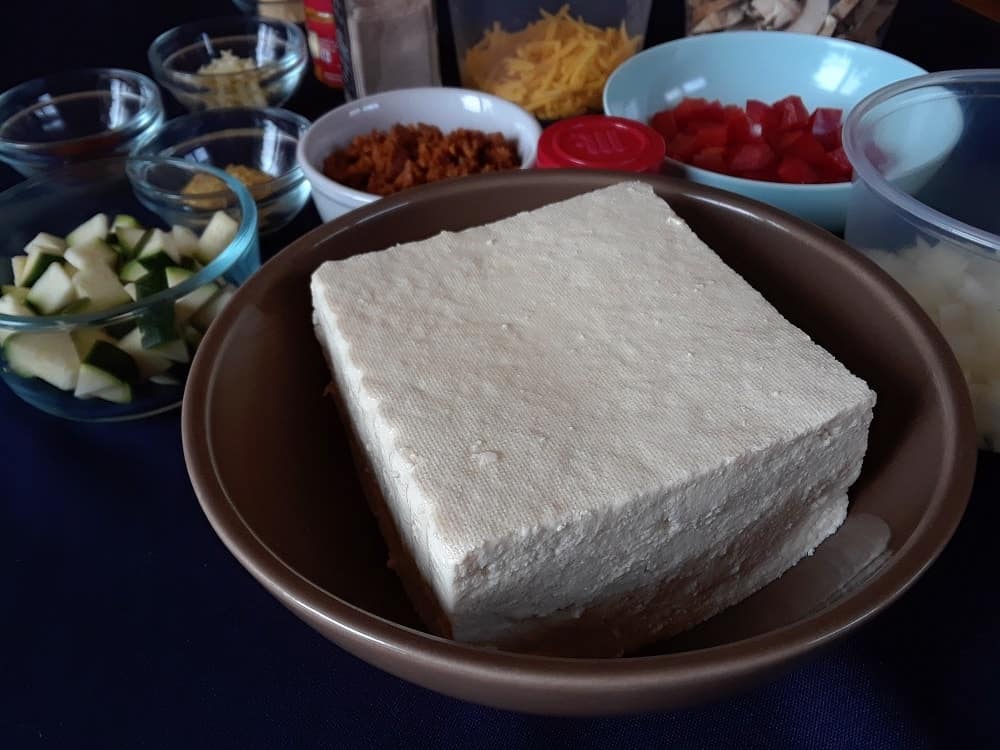 While your tofu is draining, make sure you have all the other ingredients for your scramble. It's OK to leave any of these ingredients out except the black salt and turmeric.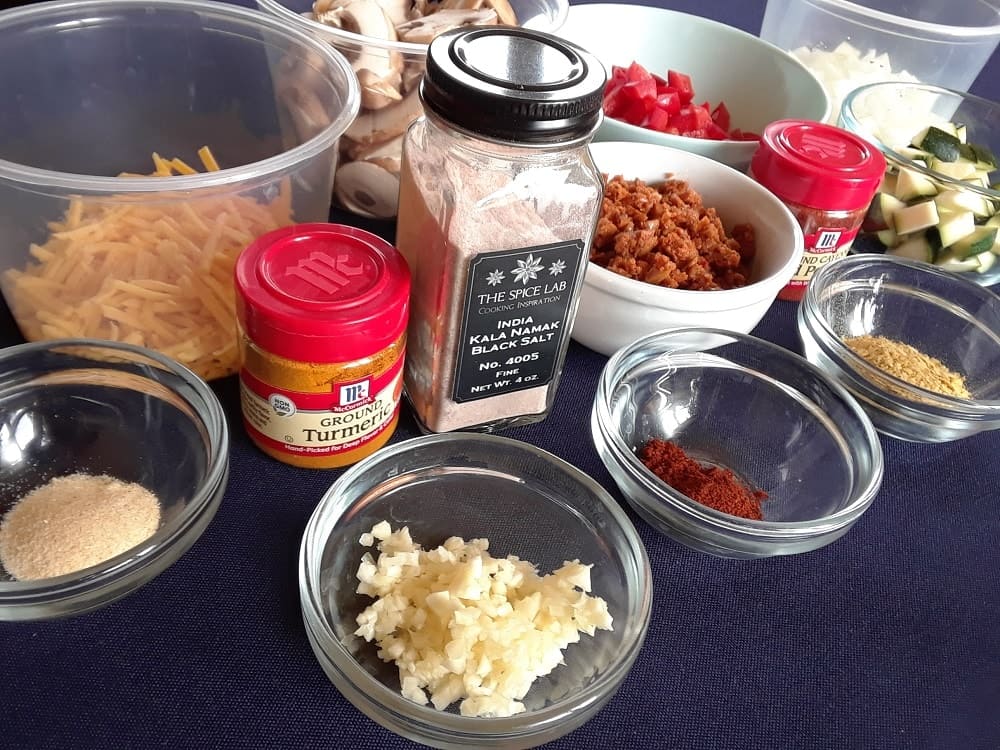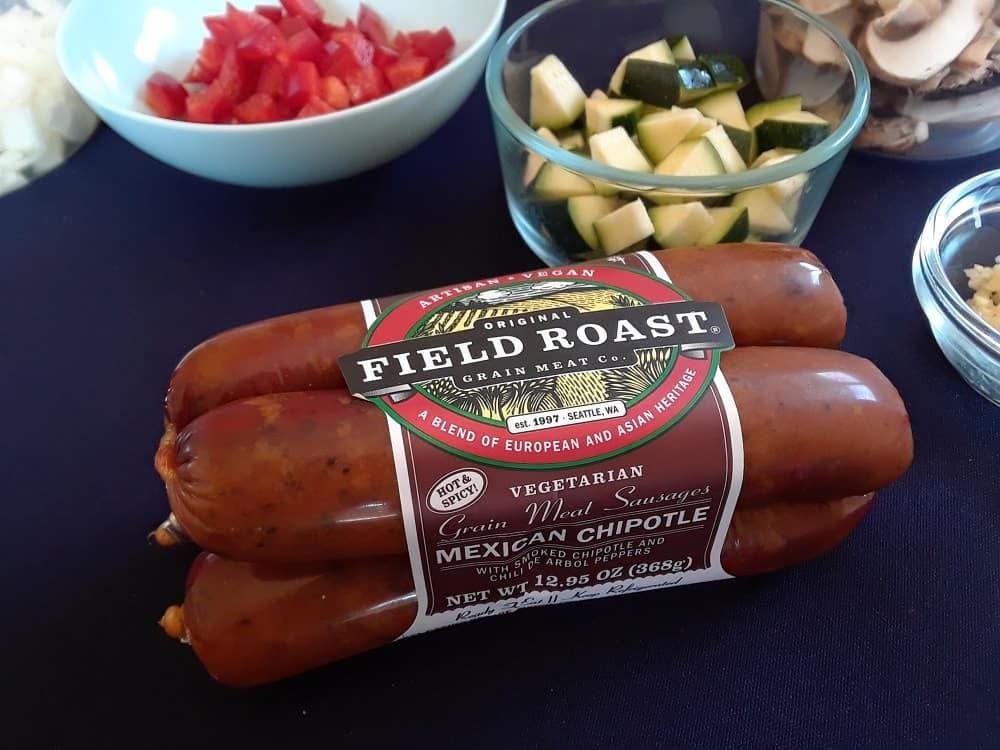 2 tablespoons canola oil.
½ cup diced onion.
2 cloves garlic, minced or pressed with a garlic press.
4 ounces white button or cremini mushrooms, sliced thick.
½ cup red bell pepper, diced
½ cup zucchini, diced or sliced.
½ cup vegan sausage chopped fine. This recipe is perfect for Soyrizo (vegan chorizo). If you use Impossible Sausage, you will want to back off on the peppery ingredients if you want the Impossible Sausage flavor to come through.
¼ teaspoon turmeric powder.
¼ teaspoon chili powder or ½ teaspoon of one of the Korean hot sauces mentioned above..
1 tablespoon nutritional yeast (this adds additional meaty, umami flavor).,
¼ teaspoon onion powder.
¼ teaspoon garlic powder.
Scant ¼ teaspoon regular table salt.
¼ teaspoon smoked paprika.
¼ teaspoon Kala namak, or black salt (available at most grocery stores).
Pinch of ground cayenne pepper.
½ cup shredded vegan cheddar cheese (available at most grocery stores).
First, heat the oil in a large, non-stick skillet. Heat the oil until it shimmers.
Next, add the onion. Stir it in the oil until it turns translucent. This should take about 3 minutes.
Now, add garlic. Cook it just until it becomes fragrant. This should take about 30 seconds.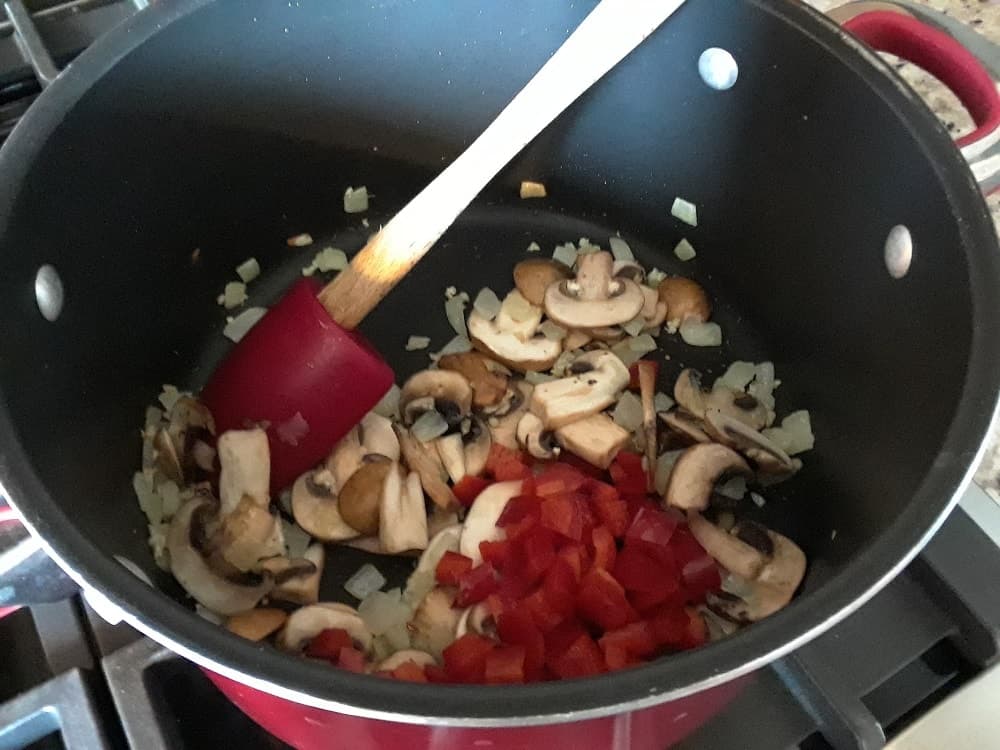 Add bell pepper, mushrooms, vegan sausage, and zucchini. Cook until the zucchini begins to soften and the water from the mushrooms boils off. this should take about 3 minutes.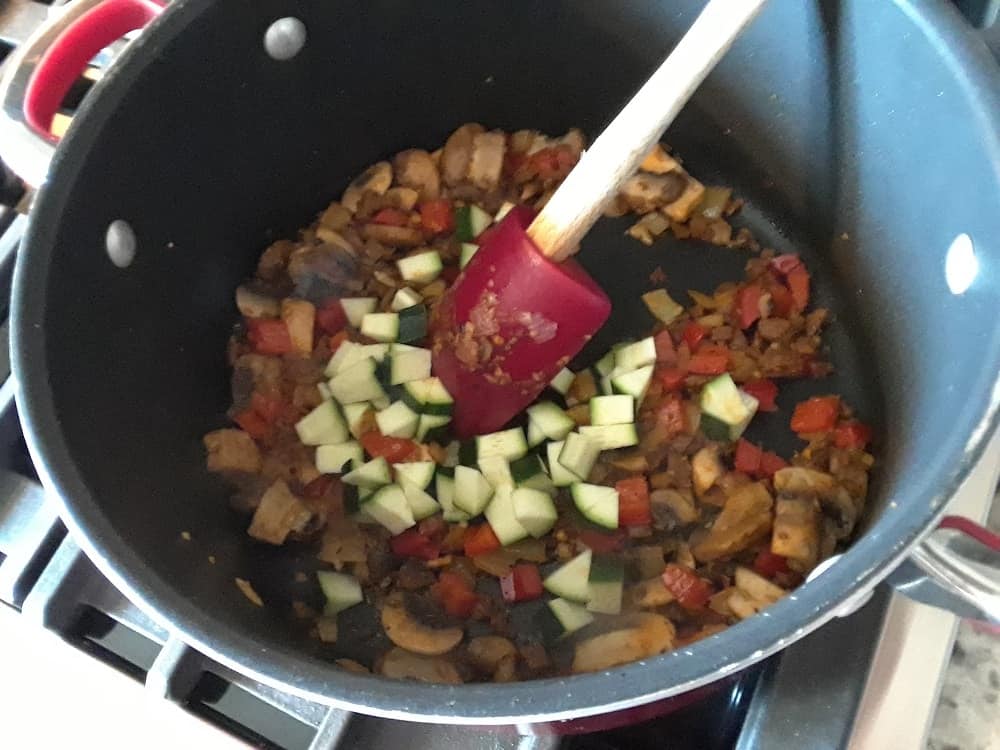 Add tofu. Stir it to break into "curds." Cook for 5 minutes.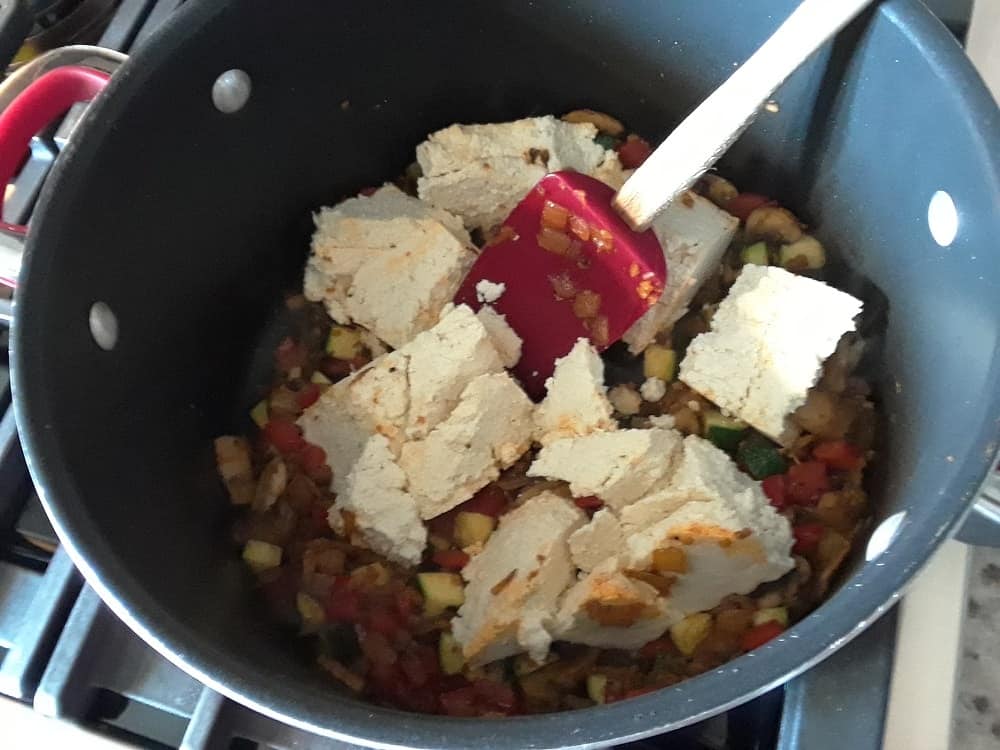 Add all the salts and spices. Stir them in and cook for another 3 minutes.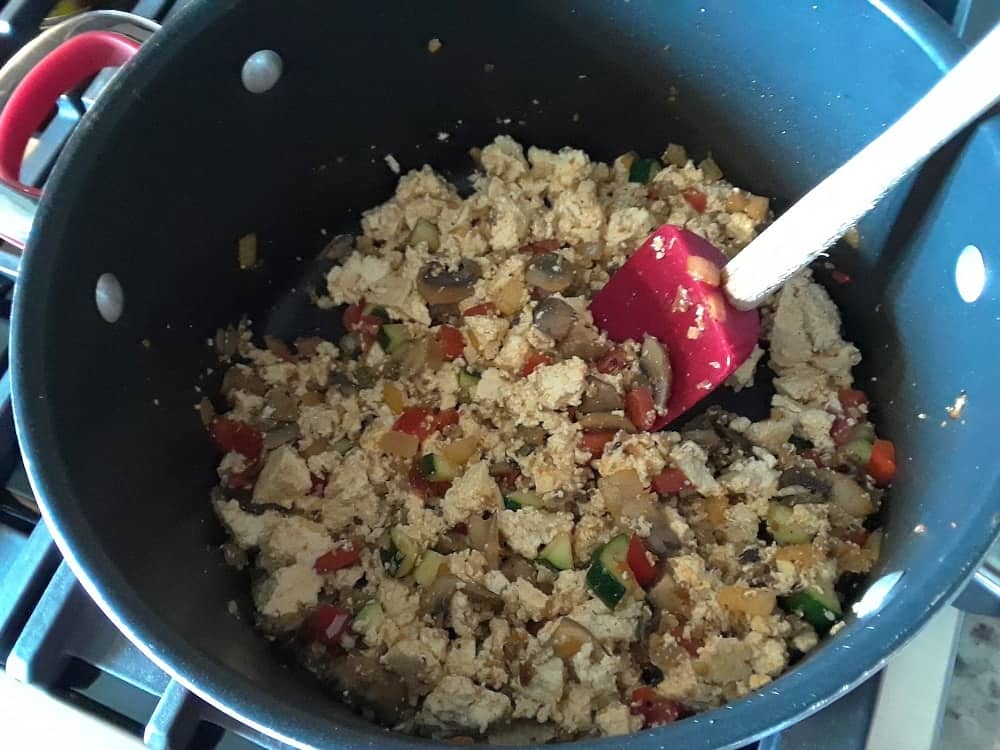 Finally, take the scramble off the heat and top with vegan cheese. Allow the cheese to melt and serve hot.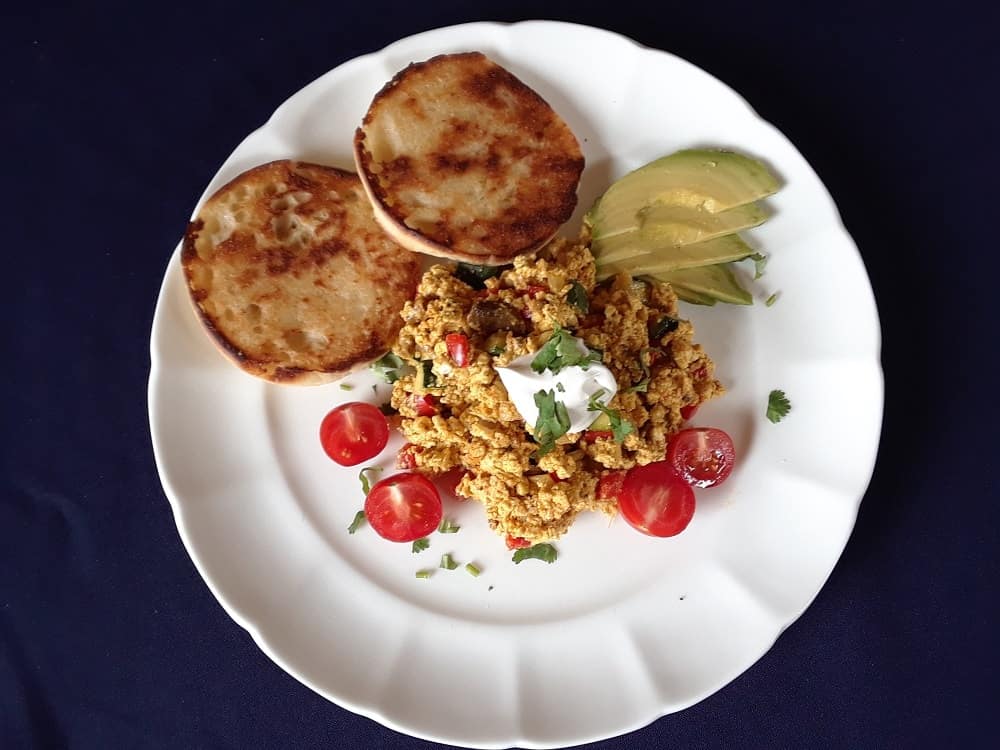 I eat my scramble on corn tortillas and use sour cream (vegan sour cream is fine, vegan unflavored yogurt would also work), cilantro, and lime.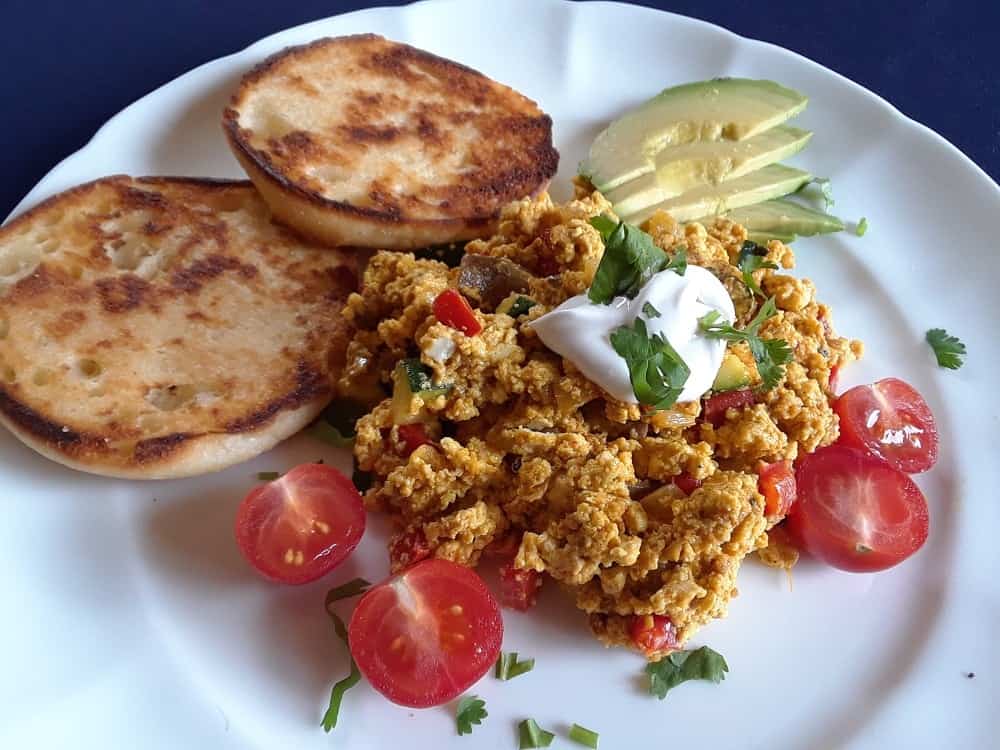 I am sure that cows (don't try this at home) don't care for hot peppers or mushrooms, although they love bell peppers and zucchini. Don't feed this scramble to your pet cows. But even a rancher from Texas will love this vegan scramble for breakfast or brunch.