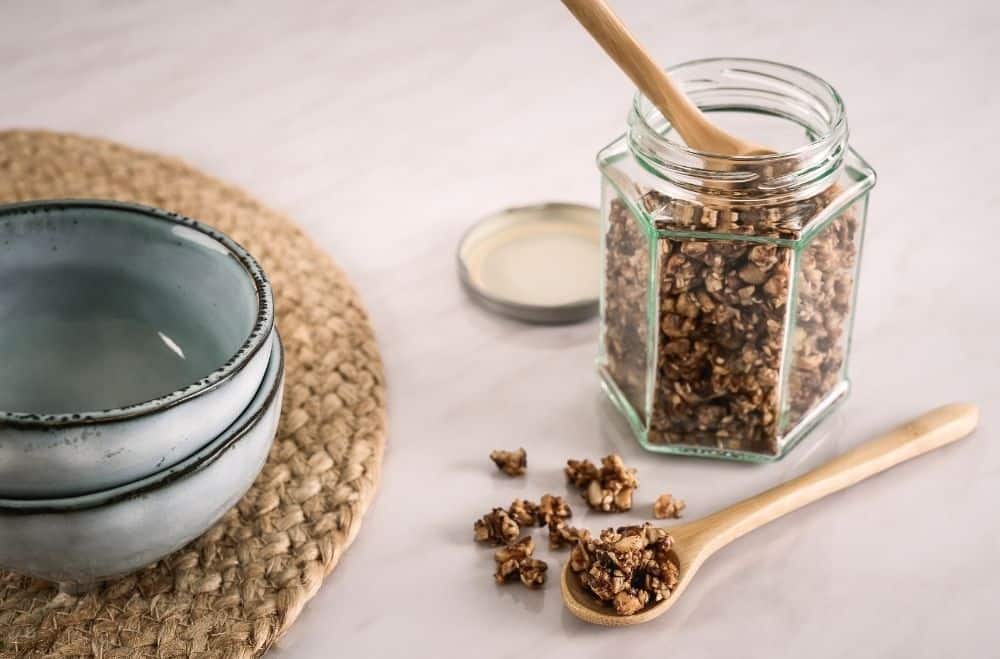 When you think about it, it's no wonder that breakfast cereal goes stale so fast. All that's protecting most cereals from the outside environment is an open cereal box and a plastic bag. For this reason, many have turned to cereal containers to keep their favorite cereal fresh and crisp. Cereal storage containers form an air-tight seal, protecting your cereal from the air and moisture that causes it to go stale fast.
Let's check out the top cereal containers on the market:
Rubbermaid Modular Container
Let's start with a basic option because sometimes all you need is a simple product that works. The classic Rubbermaid modular storage container is perfect for storing cereal. It's easy to use and keeps its contents fresh.
The lids are easy to remove but snap tight to keep out excess moisture from the air, which keeps your cereal crisp for longer. You can also use it as a cereal dispenser. To pour, simply use the hatch at the front of the container, which also snaps tight into place after use. The container is also slimmer in the back to allow for easier gripping and pouring.
It's a simple product, and it works, which is why it has sold so well over the years.
Rubbermaid Modular Container Pros
Simple, functional, durable container
Lid snaps tight
Front hatch for easy pouring
Very affordable
Rubbermaid Modular Container Cons
Tight seal but not as airtight as some options below
Cereal Storage Set
If you're looking to keep multiple kinds of cereal (or other dried goods) fresh, then this cereal storage container set offers great value. It's a four-pack, and you save a lot of money by buying the set.
The containers themselves are quite impressive. There's a silicone seal to keep the lids tightly in place and another silicone seal to keep the pouring hatch tight in place. It features ergonomic grips for holding and pouring. It even comes with labels for marking all the cereals.
Overall, this pack offers excellent value, and the cereal containers function very well. They're BPA free plastic and made with only food-grade materials. Its thick plastic walls and airtight seals will keep your cereal fresh for weeks!
Cereal Storage Set Pros
Airtight silicone seals
Thick plastic walls
Ergonomic grips
Value pricing
Cereal Storage Set Cons
You might not need multiple containers
A little small (only holds about one medium-sized box of cereal)
OXO Good Grips Airtight POP Dispenser – Large
If you're looking for the best "premium" container to keep your cereal fresh for longer, then this is what you're looking for. The OXO Goods POP Dispenser has just about as much functionality as you could expect from a dried goods container.
The seal lets in almost zero moisture. There are durable silicone bands around the airtight lid and the pouring hatch, keeping everything airtight when the container is closed. The hatch is easy to open and close, as it operates by a press. It's ergonomically shaped and easy to grip with one hand.
Another bonus is that it comes in a wide array of sizes, all of which are available in the product listing above, which is great if you want to hold multiple boxes of cereal at once, or any dried goods (rice, dried beans, grains, granola, etc.).
Overall, it's a premium container with a premium price, but it's the most functional and effective cereal container on this list.
OXO Good Grips Pros
Airtight seal for maximum freshness
A wide array of sizes
Highly durable materials
Open pouring hatch by press
OXO Good Grips Cons
Indispensable Dry Food Dispenser
This product is a great option if you're looking for a mix of functionality and useability. It features a top-container for keeping cereal fresh and a handy dispenser for ease-of-use.
The top container has lids that attach securely and keeps dried foods fresh for 34 days. They're also quite durable and have shatterproof construction to protect against drops and falls.
The dispenser is quite easy to use. It consistently dispenses 1-ounce per full-twist of the handle, filling your cereal bowl quickly.
Another notable feature of a top-down dispenser is that all the cereal gets used. With a normal container, the cereal on the bottom might go stale as you keep topping it up, but this won't be a problem here.
The containers are big and spacious, with each dispenser holding 17.5 ounces. That's roughly one family size box of cereal.
Indispensable Dry Food Dispenser Pros
Easy to dispense
Keeps food fresh for 34 days
Top-to-bottom design ensures cereal at the bottom doesn't go stale
Indispensable Dry Food Dispenser Cons
More expensive than traditional food containers
Large Glass Food Canisters
If you want to keep it simple, then how about a glass jar? And despite its simple appearance, it has some unique functionality that makes it great for storing cereal.
This jar has thick glass and an airtight seal. The glass is 3 mm thick, which makes it resistant to breakage and a good barrier from outside moisture. There's also a food-grade silicone ring to form an airtight bond with the lid. It's a durable jar and can withstand temperatures up to 300F.
We appreciate that the lid pops on and off easily. You don't need to twist it, just pop it off. That said, it's harder to pour the cereal than with the containers above.
Overall, it's a basic option, but it gets the job done. And it gives your pantry that classic look.
Large Glass Food Canisters Pros
Traditional aesthetic
Tight seal and thick glass for extended freshness
Pop-off lid
Large Glass Food Canisters Cons
Not as convenient for pouring
Best Cereal Containers Recap
Thanks for checking out our guide to the best cereal storage containers. As you can see, there are many options on the market. We wanted to give you ample variety so that you could make the right choice for your preferences. Keep in mind that you can use all of these containers to store other things besides cereal such as pet food, pasta, sugar, flour, and just about any baking ingredients and food items or including your favorite snack.
From basic jars to cereal dispensers, there are many functional options for performing this important household task so you never have to deal with stale cereal again!
You Might Also Like: