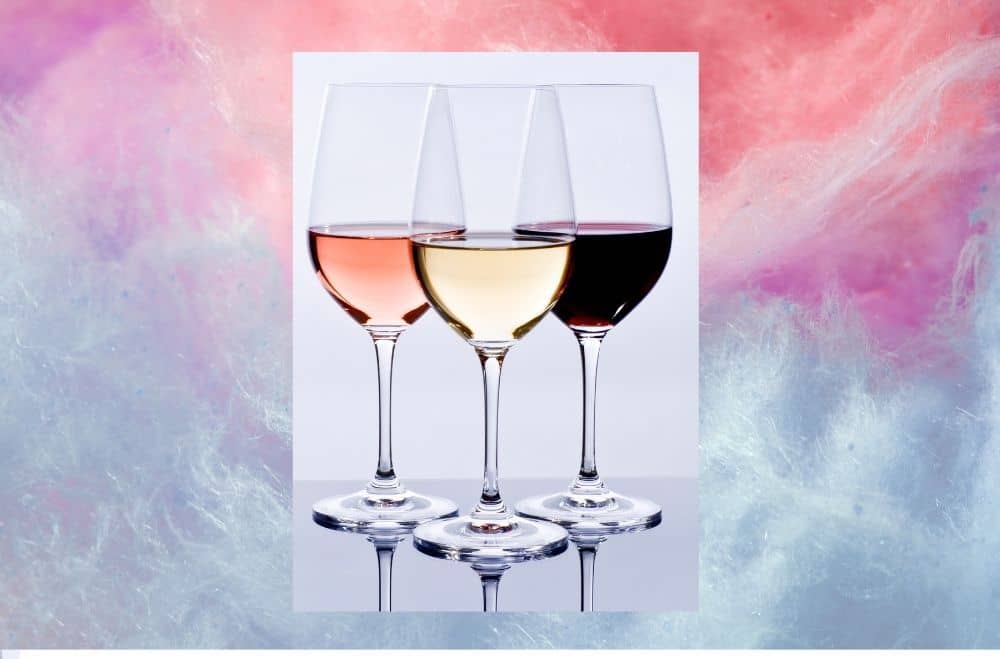 What? Wine that tastes like cotton candy? Is this what Heaven looks like? Pretty much. For those of you who prefer sweet wines, cotton candy wine will be the most delicious wine you ever try.
Some of the cotton candy wine is made from sweet grapes that naturally taste similar to cotton candy, and others are made to taste like it. Some have the aroma of cotton candy only.
This wine comes from Italian grapes called Schiava which are also known as Vernatsch, Black Hamburg in England, and Trollinger in Germany. This is an extremely sweet grape with a flavor that isn't too far off from the taste of cotton candy.
5 Cotton Candy Wines Your Need to Try
Depending on where you live, you may be able to find these at your local wine stores, specialty shops, or order online.
1. Carnival Candy by Urban Vines
This very popular vino is made with grapes from the Great Lakes growing region. The wine is slowly fermented to keep the natural cotton candy flavor of these grapes.
It's perfectly paired with your dinner, lunch, or just a nice chilled glass on the back patio after a long day at work. For those who like a nice, sweet white wine, you will love this.
2. Cotton Candy Wine by St. Julian
This medium-bodied, sweet wine has aromas of strawberry, bubble gum, and red raspberry and has hints of strawberry and bubble gum tastes, as well. It can be chilled or at room temperature.
3. Cotton Candy by Purple Toad
Sweet and delicate with a lot of flavor, it is deeper in color and very popular. It is sweet but light, so you can enjoy a glass or two of it chilled, with dinner, or with dessert.
4. Cotton Candy by Gatlinburg Wine Cellar
This is an award-winning red wine made predominantly of Diamond grapes, which are similar to Niagara in fruit and Concord in the vine. This wine is not overly sweet with just a hint of cotton candy and is traditionally drunk at room temperature.
5. Cotton Candy Rosé by Diamond Estates
This wine hails from Canada and is a rose wine. It is sweet with aromas of and cotton candy and bubble gum, but the flavors have more red fruit notes; plums, cherries, and raspberry.
Serve with salty snacks or dishes with spicy dips, salsa, or sauces. You can have it chilled or at room temperature, and it's perfect on its own or with meals.
The Definite Cotton Candy Wine
Wine made from the Schiava grapes, which are also called cotton candy grapes, may or may not taste like cotton candy. It will depend on who you ask. But the wine made from the Schiava grapes is the definite cotton candy wine.
Schiava is a light-bodied red wine, similar to Pinot Noir, that has aromas of cotton candy, strawberry, bubblegum, and other candy. This wine is quite delicate and light in color.
To label, a wine cotton candy wine is either because there are hints of a cotton candy taste, aroma, or even both. The Schiava grapes grown in Italy tend to be drier, so this wine will be classified as sweet, but it's not like a cloying sweetness.
The wines made from these particular grapes will have a beautiful aroma of rose, potpourri, strawberry, perfume, bubblegum, and cotton candy. It is actually quite a fine wine, so don't let the idea of 'candy' fool you.
These grapes are not new. They have a long and storied past. The Schiava grape is a very ancient grape and there are several different varieties. They have been used in wines for many years.
Schiava Grosso is considered the workhorse Schiava grape and Schiava Gentile is considered the fine wine grape.
Enjoy a Bottle or Two
If you are someone who prefers sweeter wines, the next time you are out grab a bottle or two of cotton candy wine.
You Might You Also Like: