Kitchens can be challenging to design if you are not sure what style to go with. There are a lot of good varieties out there, and it can be confusing if you are not familiar with them. But any kitchen can instantly look vibrant and spacious if you focus on a white interior. To make things easier for you, we narrowed down your options with these classic white kitchen designs.
Thanks for visiting our white kitchen photo gallery where you can search hundreds of white kitchen design ideas.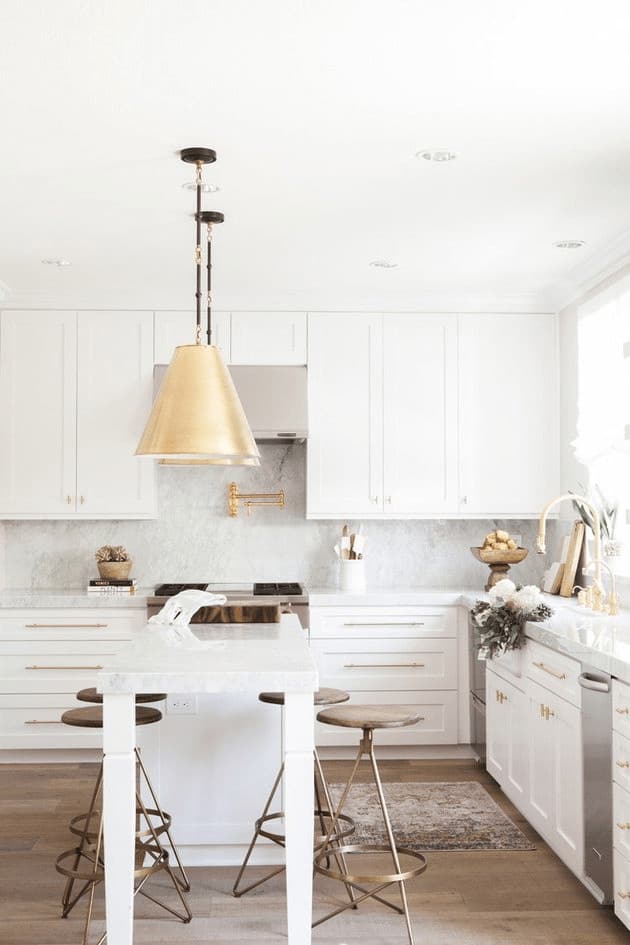 Go for a sophisticated touch in your kitchen with the perfect combination of white cabinetry and bronze bar stools for that subtle pop of color. It would also help to achieve a classy look with a brass pendant lighting, even a brass faucet and drawer handles.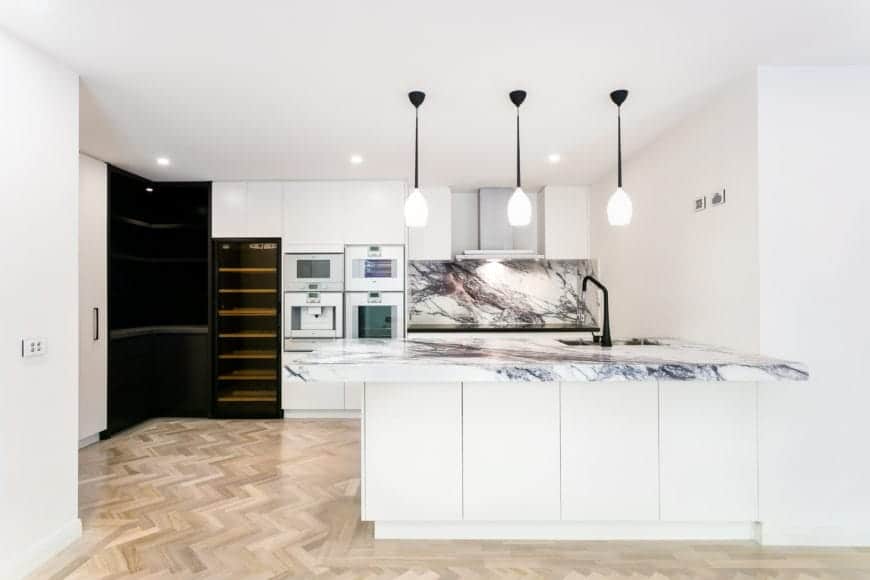 Spruce up your kitchen with the refreshing combination of marble countertop and faux wood flooring. For an excellent contrast, this has built-in shelves with dark brown paint. This is finished off with a white pendant lighting for a classy touch.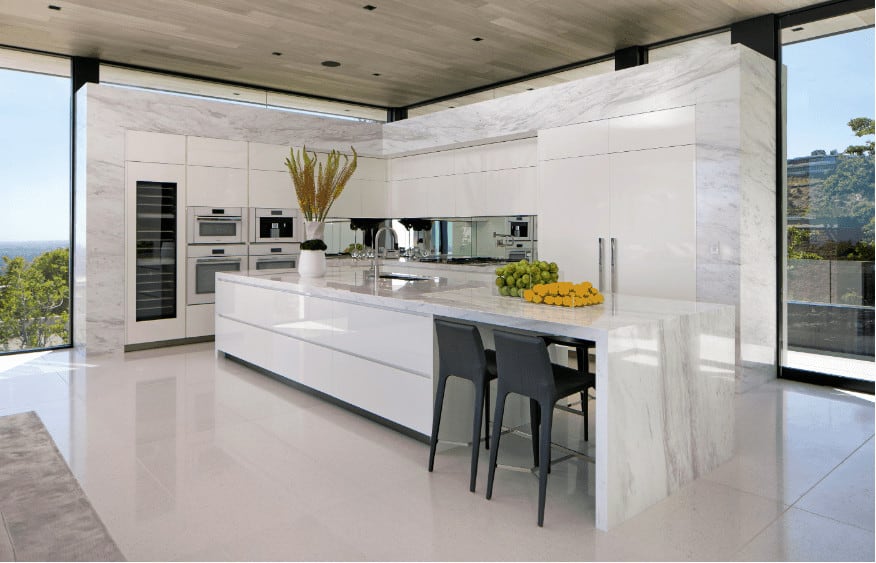 This open kitchen has a marble design both on the countertop and the pantry side panels, which perfectly complement the kitchen's entire white interior. This is also laden with a long island in the middle, with two black bar stools for comfortable seating. With the tan faux wood ceiling in place, you can be sure this suits the floor-to-ceiling glass windows for that polished finish.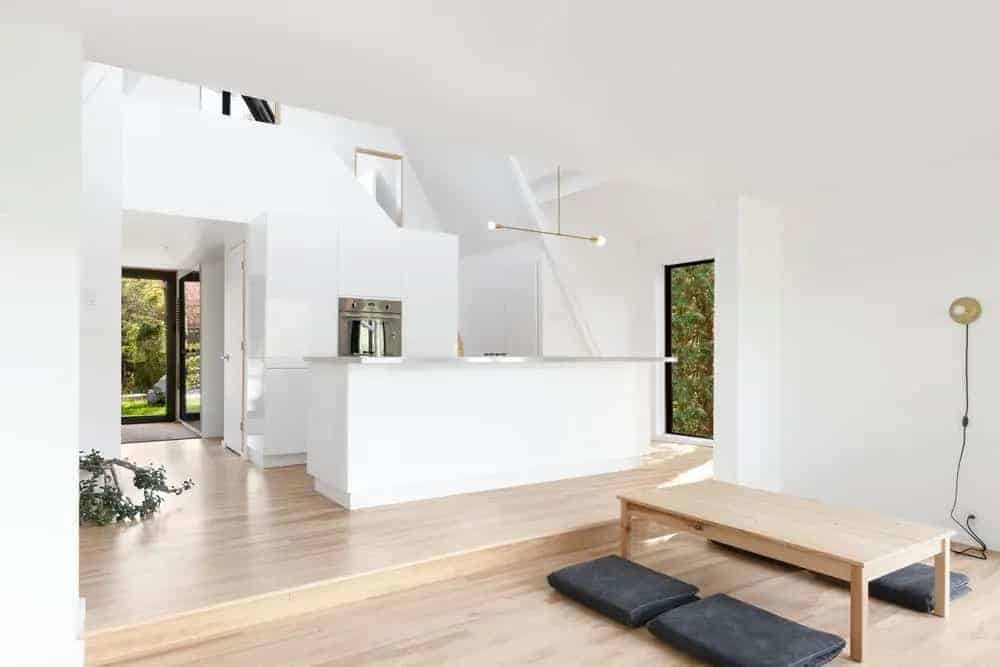 You can't go wrong with a beige and white combination if you're looking to build a simple and minimalist home kitchen, whilst entering a tasteful glass door. With the Japanese aesthetics in mind, this kitchen has a kotatsu (low, wooden table) in place with charcoal futons on each side for you and your guests. Cap it off with unique hanging lighting with the same minimalist design.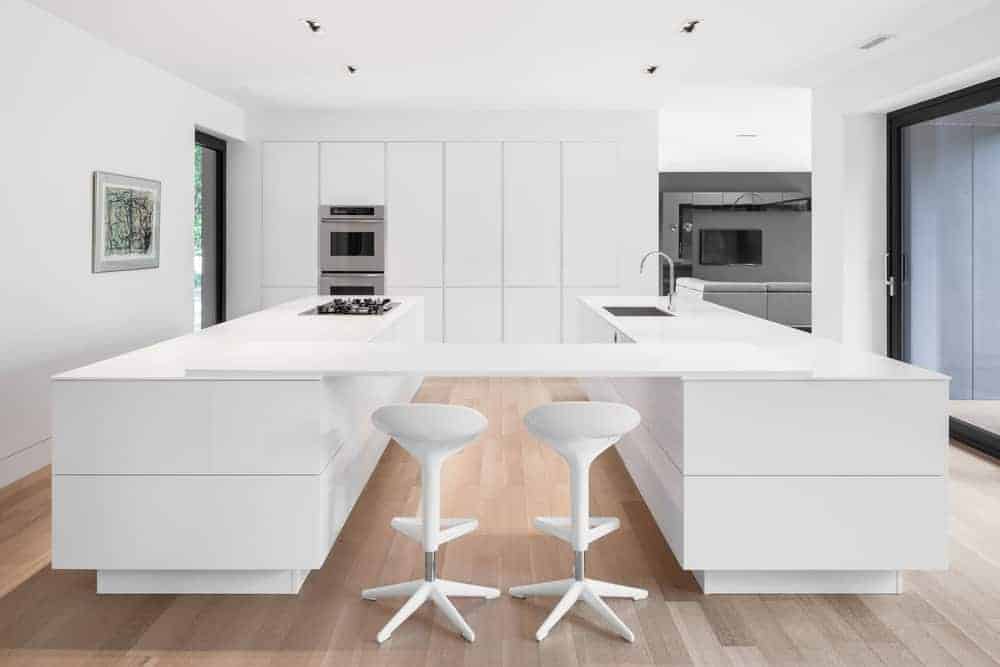 Going for an urban style kitchen? Take inspiration from this white minimalist kitchen, including the counter and barstools, with its double islands with built-in panel for a convenient dining table or additional kitchen top. The wooden flooring and the steel appliances go well with the whole white aesthetics.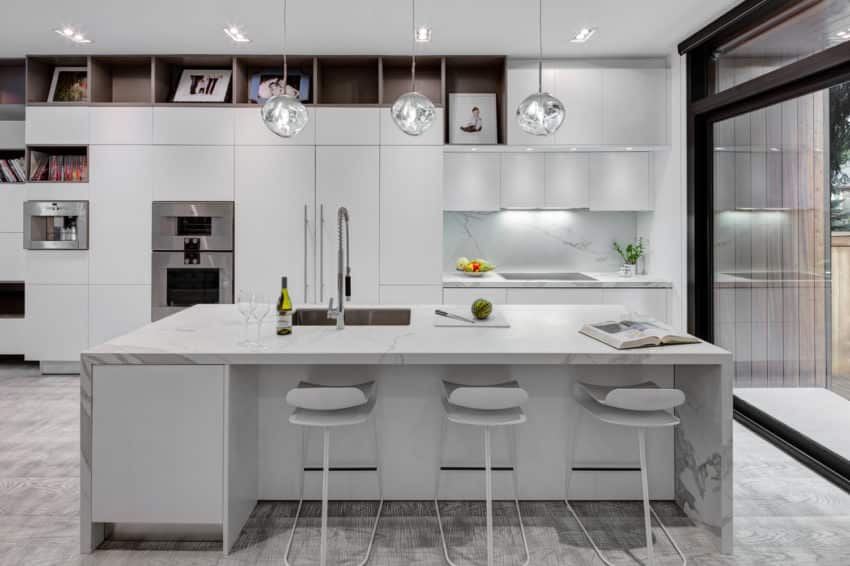 Cook up a feast for your loved ones on the wide white island covered in a marble design, which goes well with the grey flooring and the white pantries beside the sink. What makes this kitchen look more welcoming are the stack of books and picture frames lined up on the shelves. For the lighting, this kitchen has unique round pendant lights right above the counter, recessed lights, and sink lighting.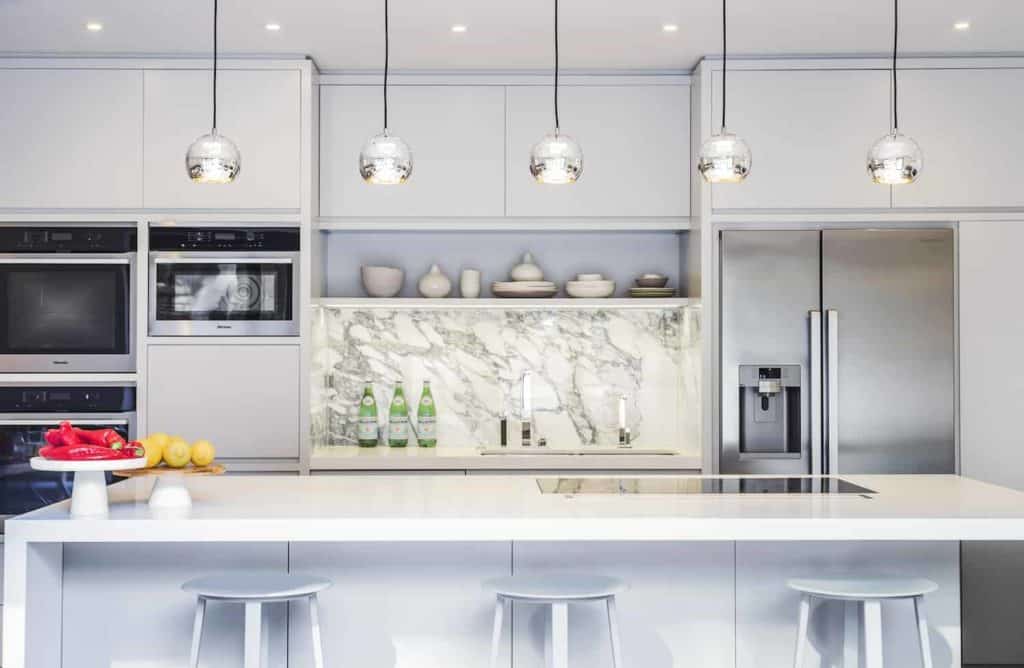 This kitchen features a steel 2-door fridge, sink with marble backsplash, and generous pantries for all your go-to ingredients. It has a disco pendant lighting over the long white island with also the white bar stools for convenient eating.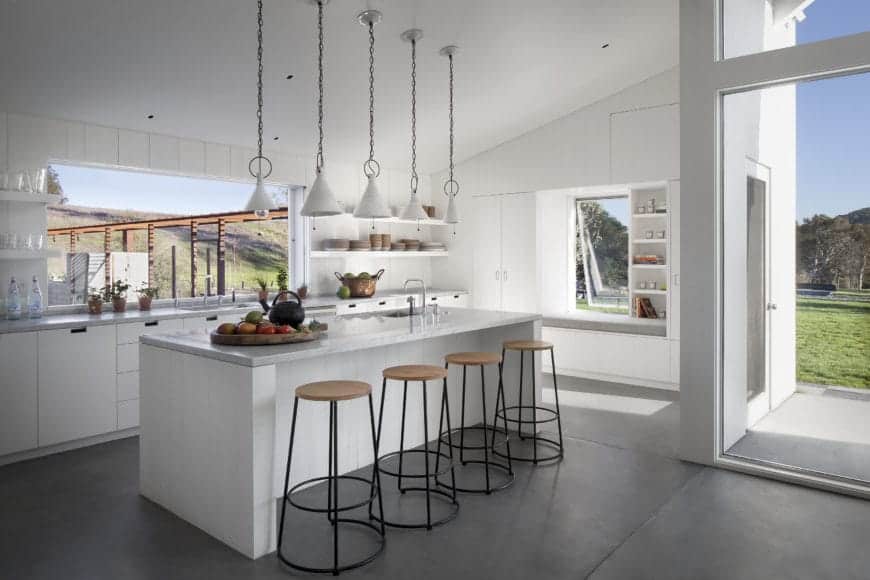 This Scandinavian style kitchen offers a refreshing vibe for your guests with its all-white interior including the island, triangular pendant lighting, door frame, walls, and drawers. There are also plenty of shelves for plates and utensils, a set of rustic-industrial bar stools, and glass windows that welcome a relaxing view from outdoors.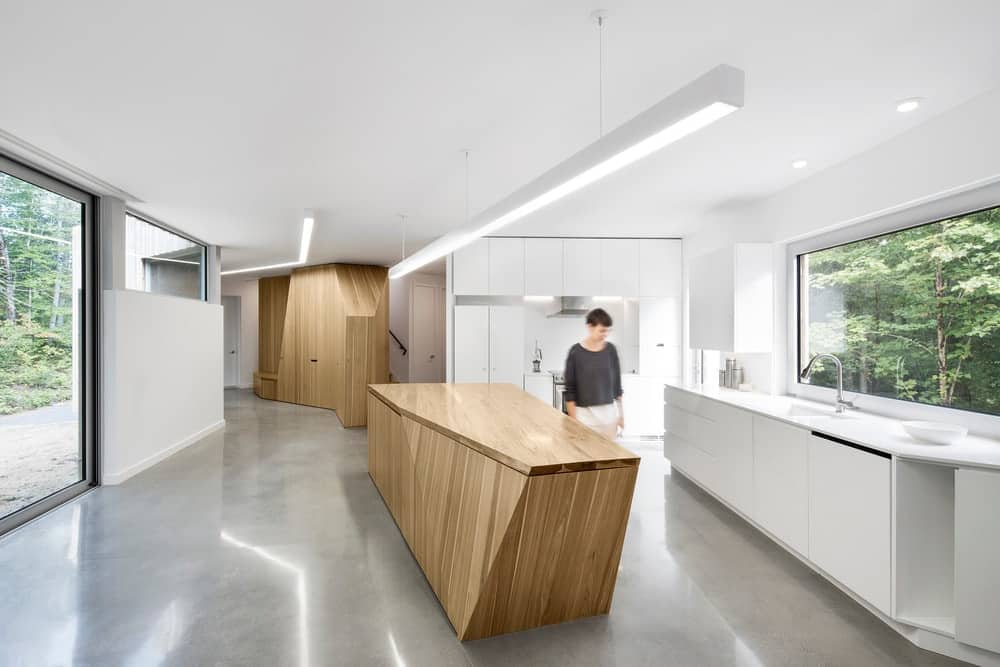 Going for a minimalist kitchen design? Go for something with neutral colors like this all-white kitchen with its grey flooring and wooden island and cabinet. The glass window and door also leave a simplistic design for a more refreshing take.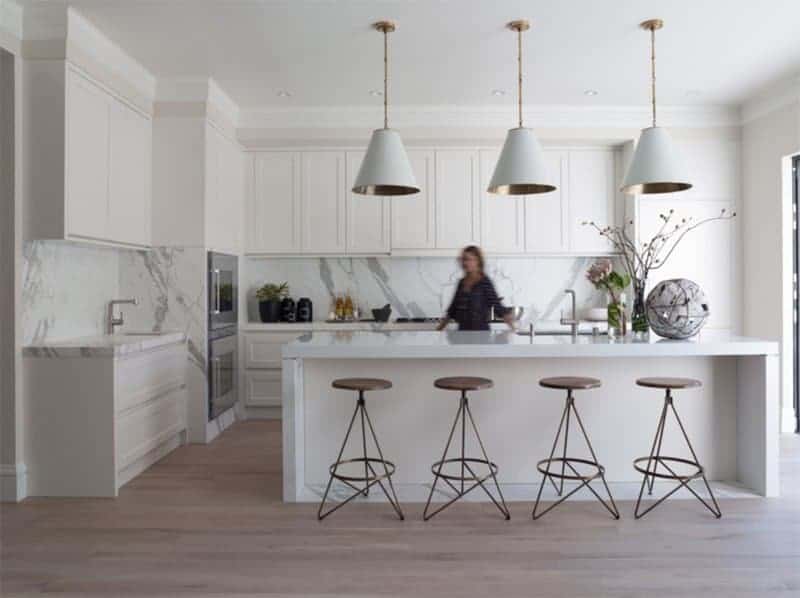 How about a Scandinavian inspired kitchen? This kitchen has a white island with built-in sink, marble splashback for a touch of color, and beautiful pendant lighting with gold tubing and canopies. The uniquely shaped bronze bar stools also go well with the dusty rose-coloured flooring.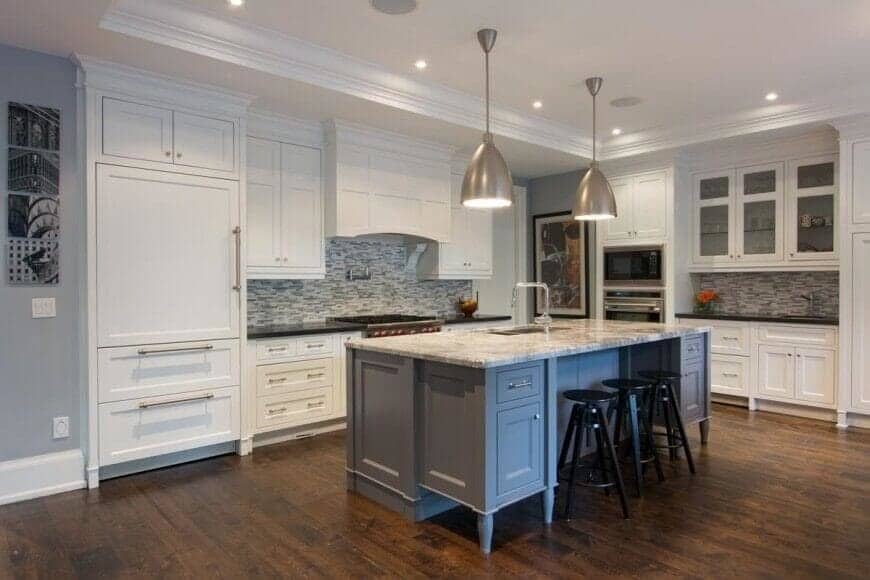 This contemporary kitchen has a beautiful classic combination of grey, white, and brown. The metallic pendant lights give a good glow over the marble and grey island with a wooden flooring underneath. The island is also surrounded by white drawers and shelves with a gold handles for a nice touch.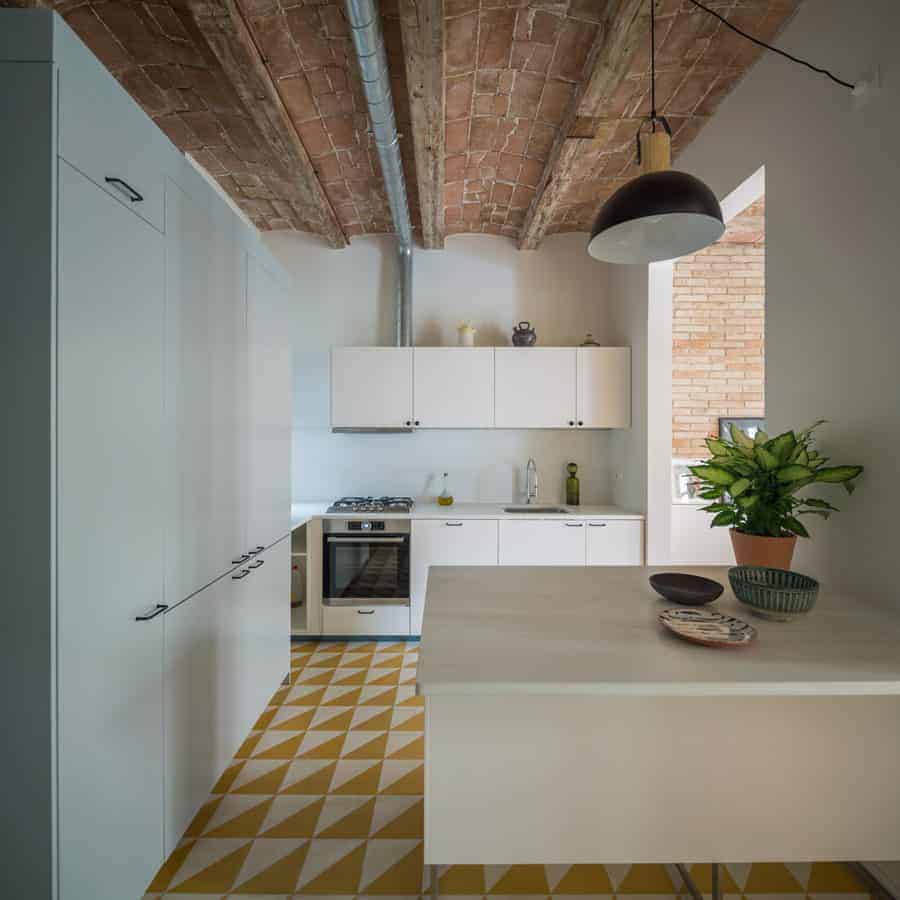 You can also go with mid-century modern kitchen design for a more homey feel. This kitchen has a simple white pantry and counter with a sink and oven. Its yellow and white tiled flooring gives the kitchen a nice touch of color.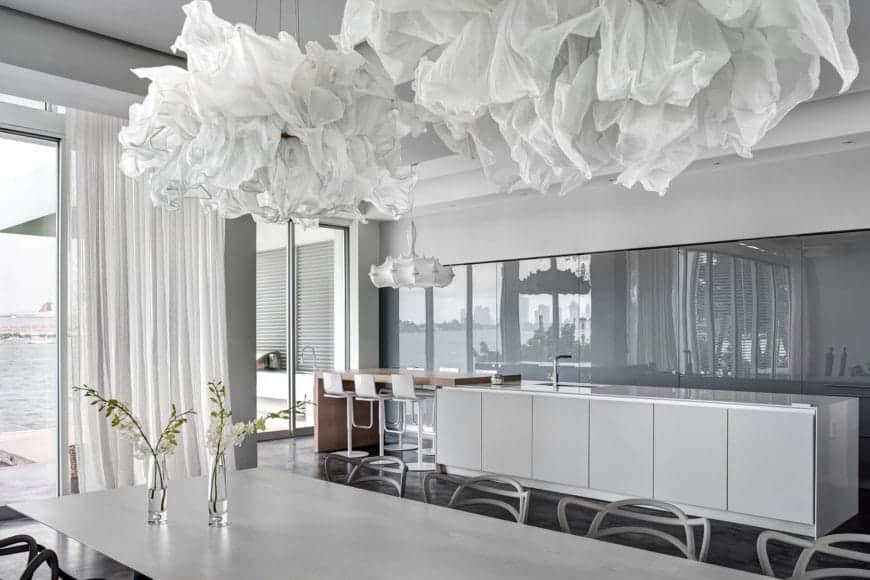 For a contemporary look, this kitchen has an all-white interior starting with the long island bar with sink, then the flowy, fabric-like chandelier over the long dining table. It also has white curtains covering the floor-to-ceiling glass windows, which allow a beautiful view of the sea. Guests would enjoy the breakfast table just beside the kitchen counter – this has a wooden design for a modern take.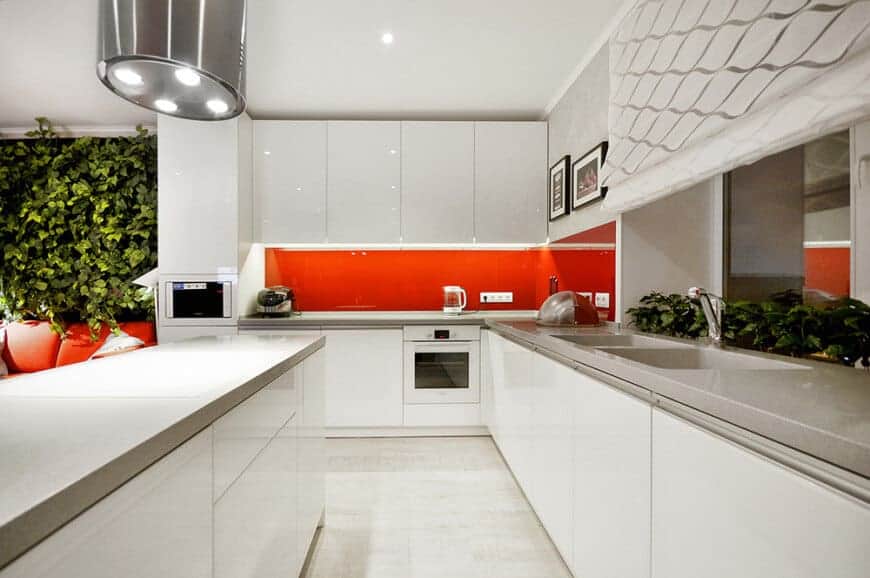 Sleek, urban, and eclectic – these must be the perfect words to describe this contemporary kitchen. It has white counters with a grey top, and a bright red splashback for that pop of color, making it both fashionable and refined.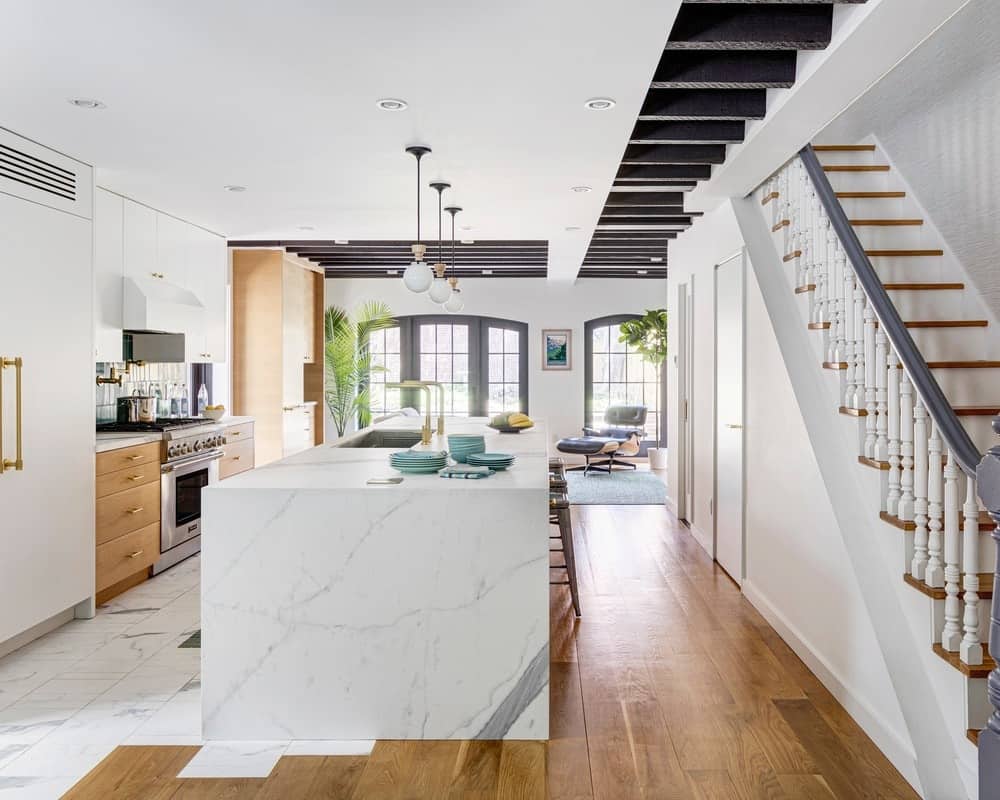 Keep it fresh and calm with a nautical style, complete with orange and teal accents, pendant lighting, and a combination of wood and marble design flooring.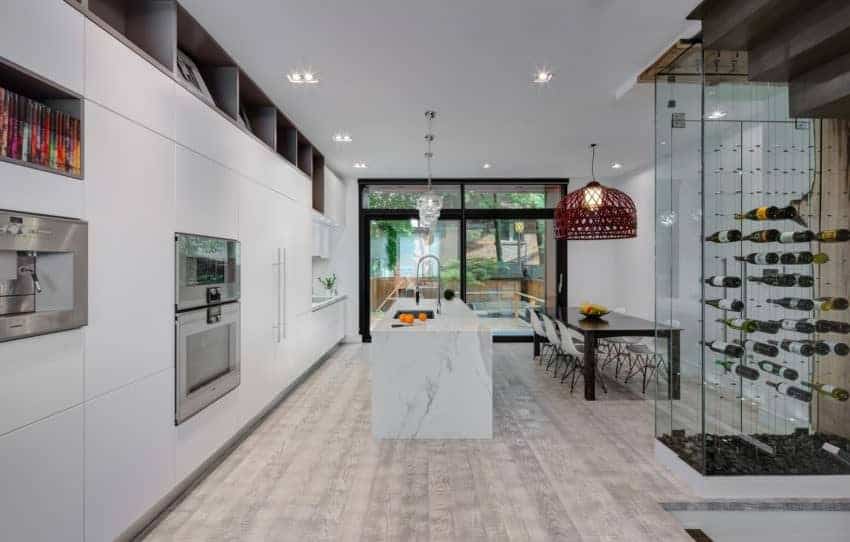 Put a twist in any urban kitchen with an attractive pendant light like the red woven lighting in this kitchen. The recessed lights also help liven up the room. The kitchen has a marble island with sink in the middle of the room, with a ready long dining table just in front of it. To finish, it has a nice combination of wooden flooring and white kitchen drawer.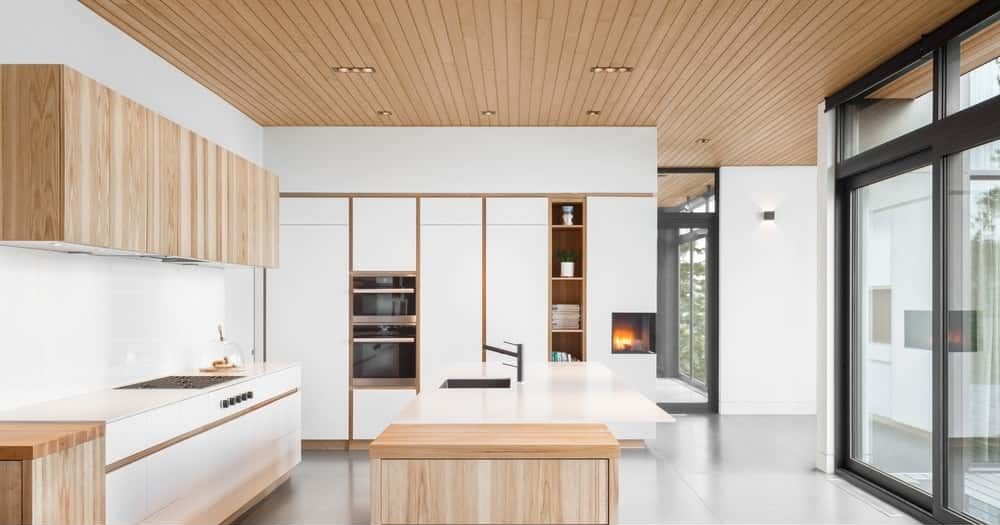 For an Asian inspired kitchen, take inspiration from this style. It shows a fine and simplistic design for fuss-free cooking. It features plain white shelves with wooden partitions, as well as a wooden aesthetics for the pantry and the additional drawers beside the kitchen counters, that also play out as sidebars.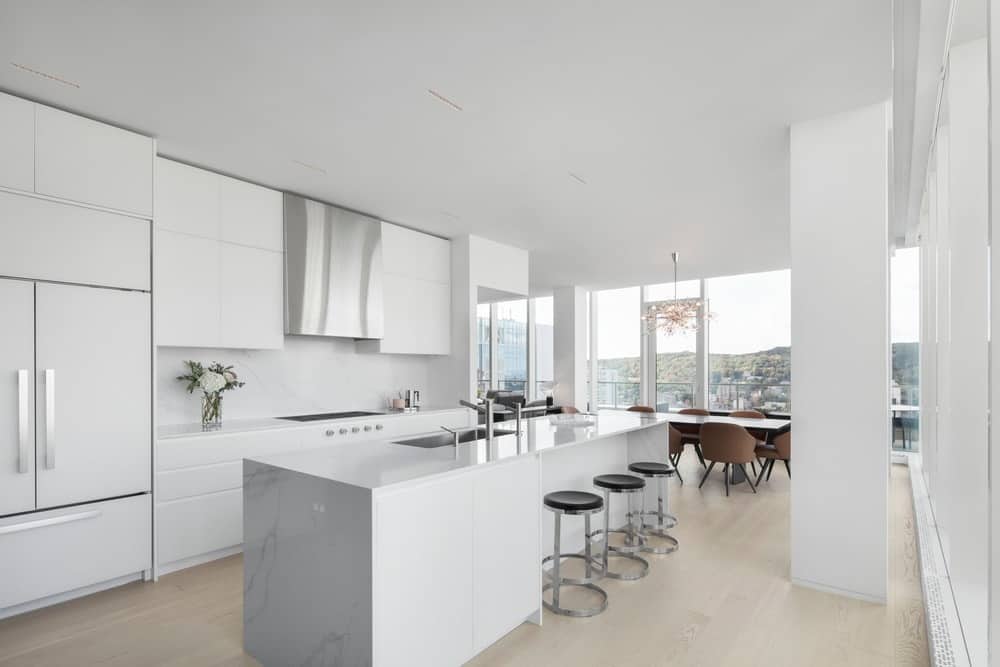 This sleek contemporary kitchen has an all-white interior that really makes it outstanding in its own right. It has a sleek white kitchen countertop paired with white drawers, and even white walls to complete the look. The island is paired with black bar stools, and just beside it is the white long dining table with brown mid-century chairs, all under a beautiful peach chandelier.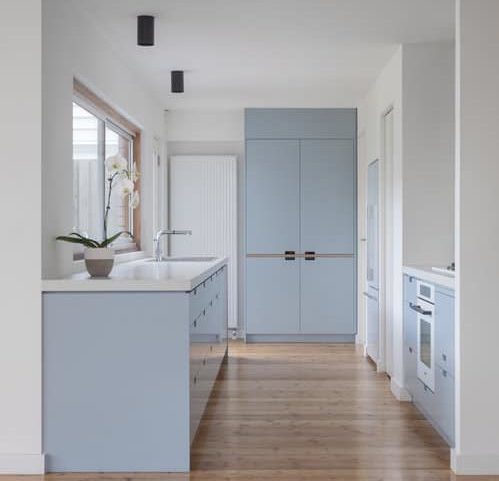 This modern kitchen has the perfect touch of simplicity to it with its wooden flooring, baby blue furniture, and white walls. The glass window by the sink also gives a great view of the outside.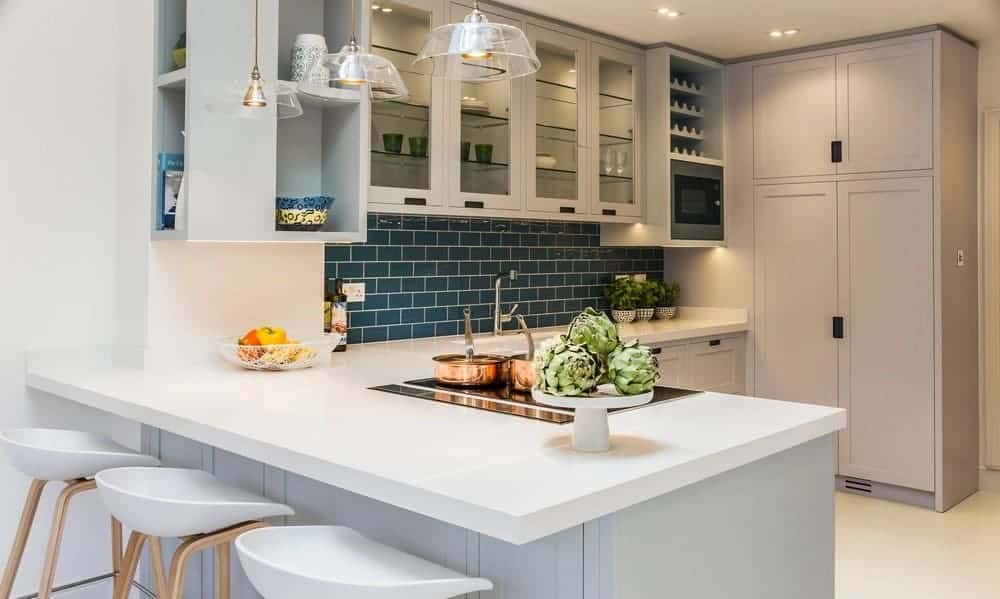 This Spanish style kitchen has a nice blue-green splashback that complements the white L-shape countertop, mirrored shelves, and translucent pendant lights.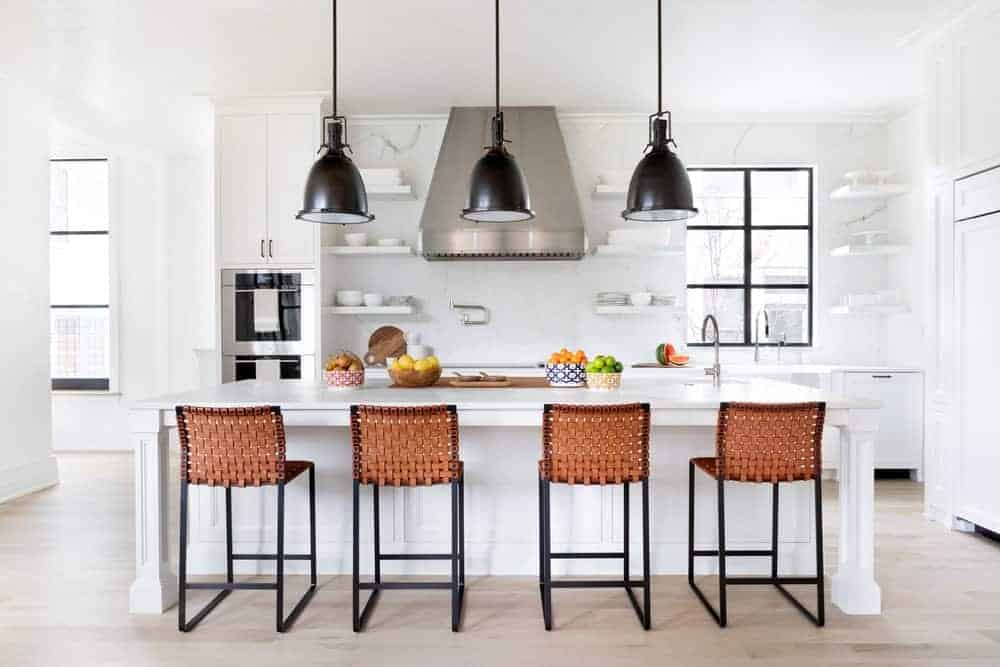 A simple Mediterranean kitchen could be achieved perfectly with white walls, shelves, and an island right in the middle of the kitchen. The woven four-legs bar stools complement this style, along with the black pendant lights.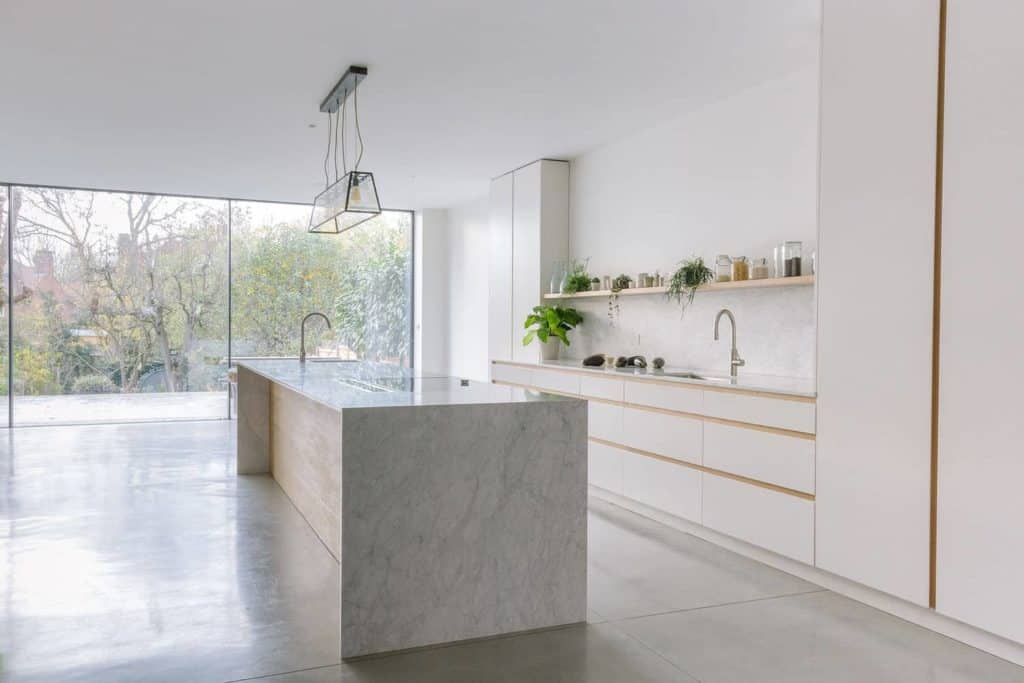 White and marble go well together especially if you're going for a simplistic urban kitchen design. The marble countertop complements the white walls with beige linings, the indoor plants on the upper shelf also make the kitchen look livelier, while the floor-to-ceiling glass windows and the translucent pendant light make a nice touch for the overall design of the kitchen.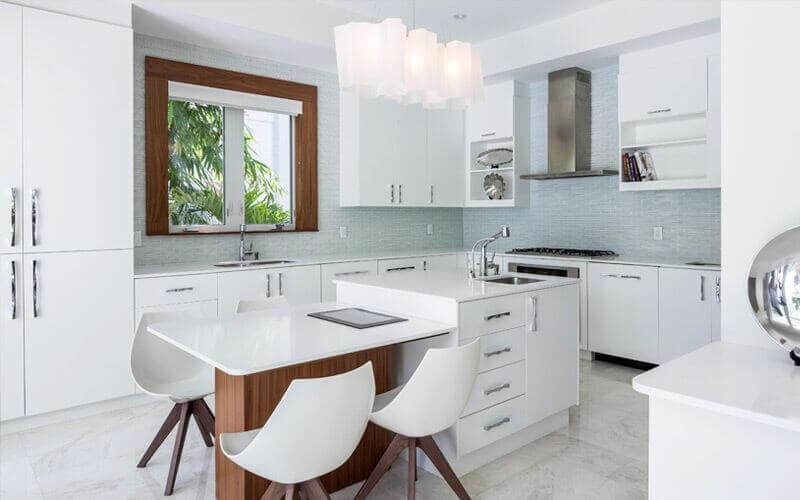 For a modern take, this kitchen has a combination of white, wood, and blue aesthetics. You got white drawers, shelves, kitchen bar with sink, and dining tabletop and chairs, while the walls have a dainty blue pattern. With wooden accents, a glass window, and white rectangular pedestal lights, this kitchen looks good for any tiny space.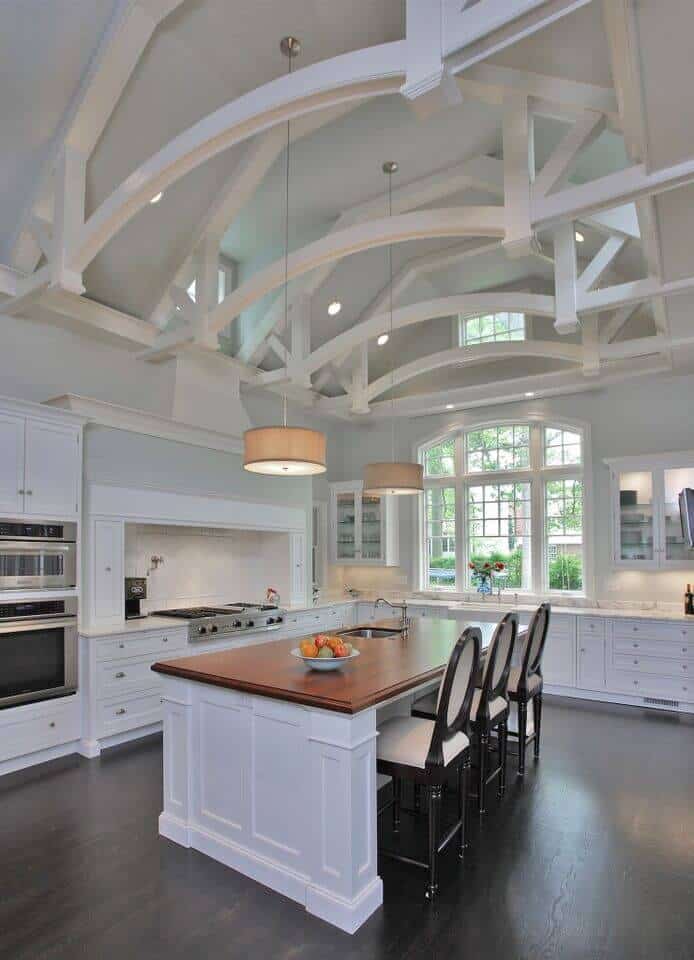 This kitchen has decent size for a simple island. It also has a high ceiling, making the room appear more spacious. It has the right combination of white L-shape kitchen counter, wood table top, and orange circular hanging lights.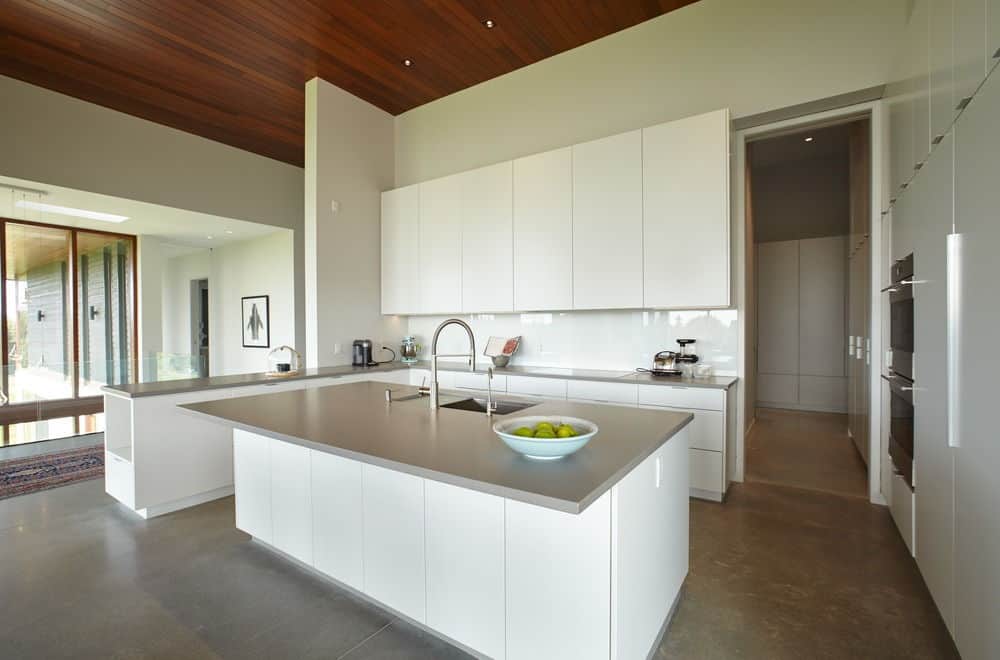 For an urban kitchen, this one has a great mix of white and steel, with the L-shape bar and island white and only the countertops being steel.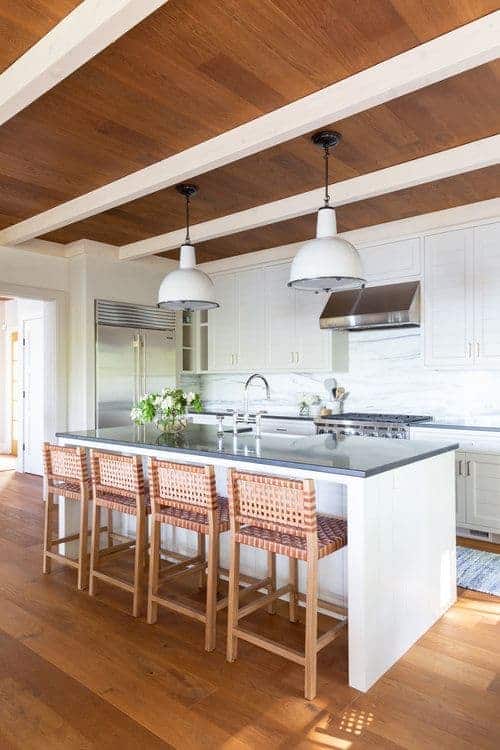 For a shabby chic style, this kitchen has a white island with a grey countertop. The woven four-legs chairs match the wooden flooring just right, while the white splashback and pantry match the inverted bowl hanging lights.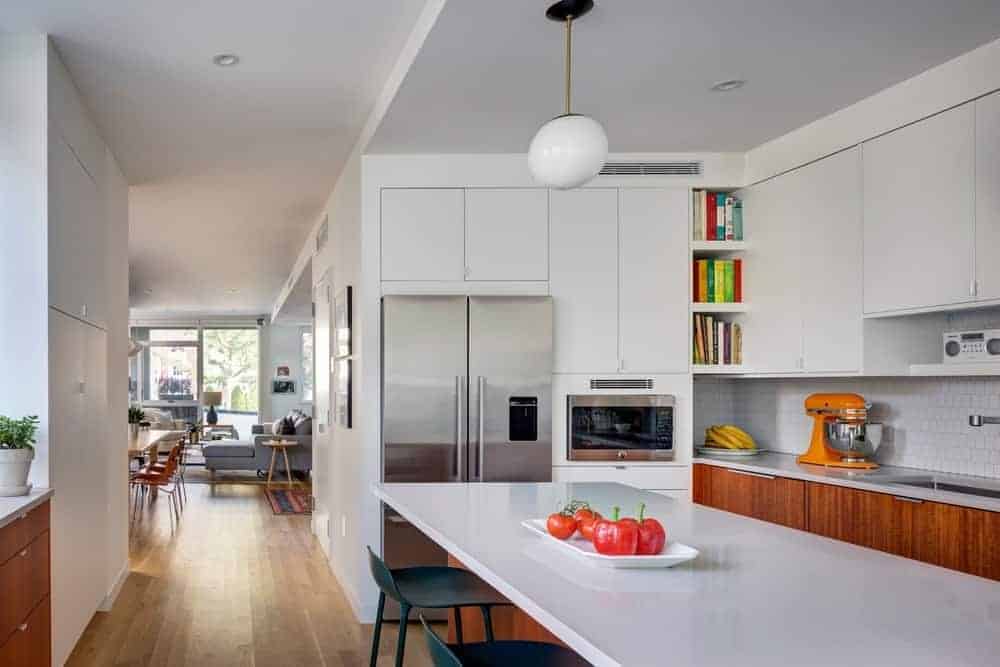 This kitchen has a great modern design with its white furniture, long peninsula, and generous cupboard. It has a tiny space for a kitchen but which makes a nice room for intimate dinners. There's also bar stools ready for kitchen guests during taste tests.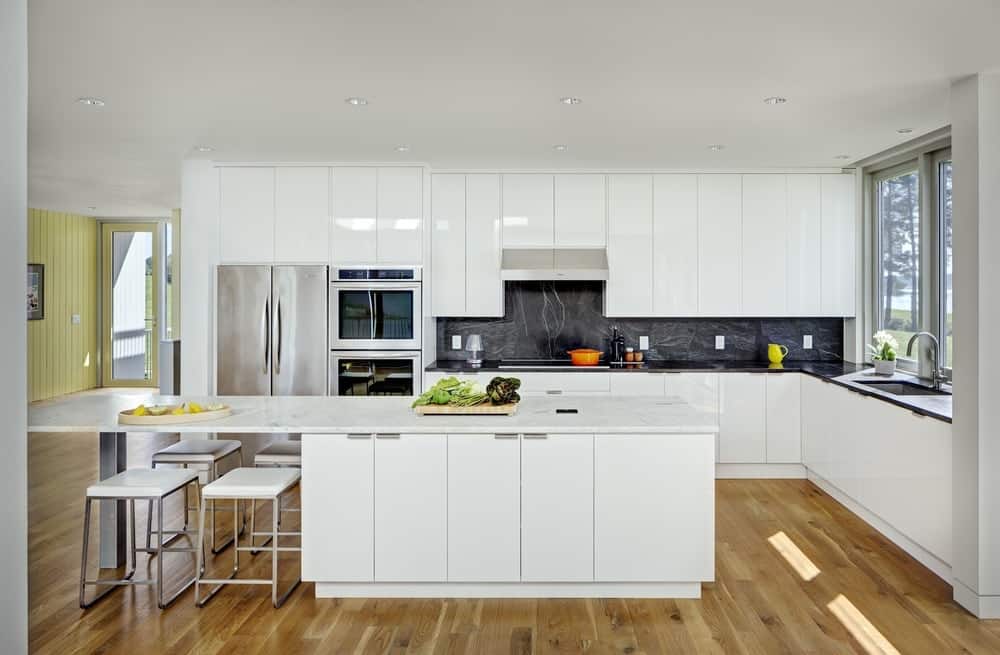 Large, spacious, and fresh are just a few terms that fit the style of this kitchen. It has a generous and long white peninsula with four chairs ready underneath, a white counter with sink, with a touch of black marble pattern on the splashback, while the two-door fridge makes for sturdy storage for fresh ingredients. It would be a delight to cook during the daytime with the sunlight streaming in through the glass window by the sink.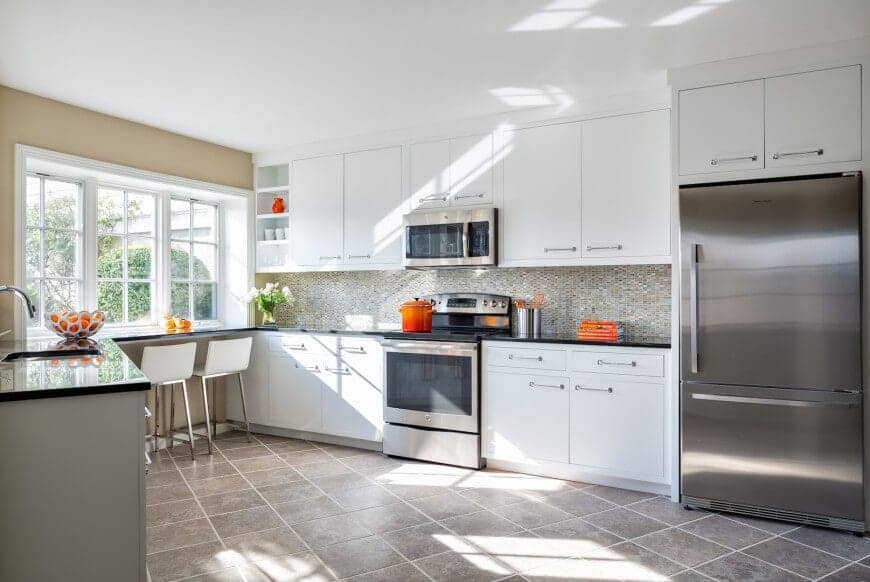 This kitchen has a modern Asian style with its tiled flooring, white counters, and steel fridge. Right by the window pane is the breakfast nook where one can enjoy the sunlight and the view while having a nice meal. The fresh flowers give a lovely finish to the whole kitchen.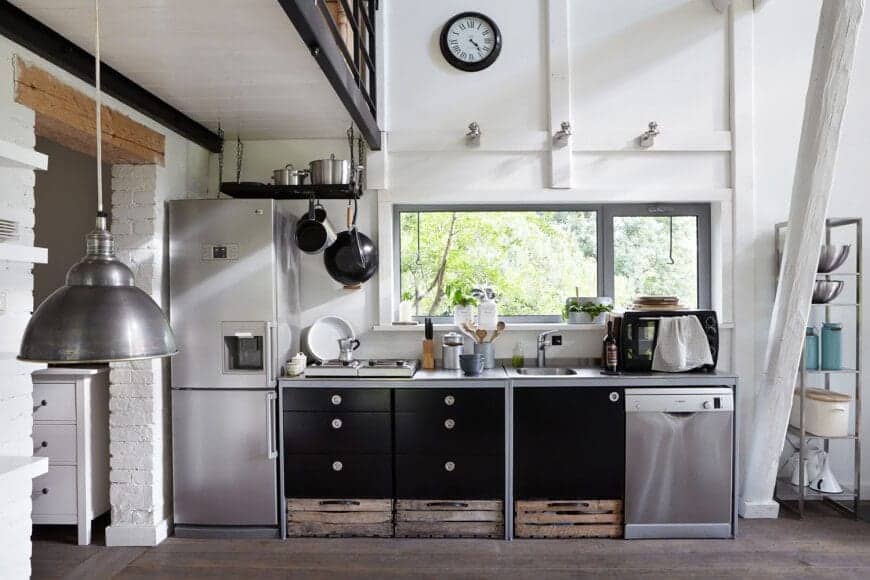 This kitchen showcases the perfect combination of rustic and industrial with its steel appliances and matte black drawers. The wooden crates and hard flooring add texture to the whole kitchen, while the white walls and panels add a nice contrast for a soft touch.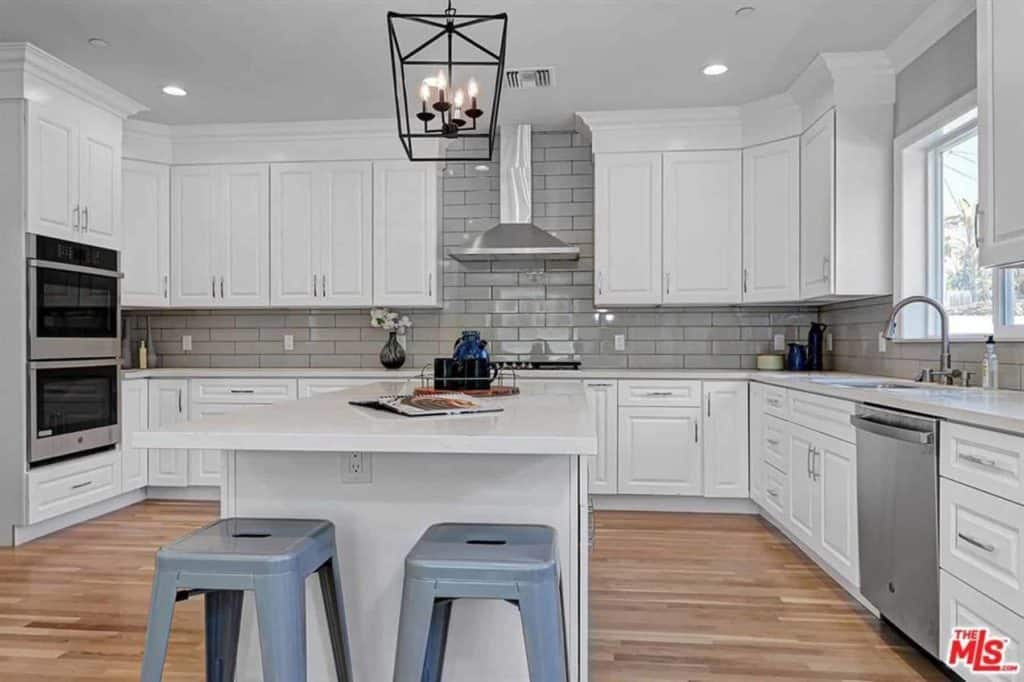 For a modern kitchen, this features a nice contrast between grey and white, while the wooden flooring adds a touch of color. This features a single island in the middle of the kitchen, with two ocean blue bar stools for quick eating. All shelves and drawers are covered in white paint, so you can be sure this kitchen looks every homey for any guest to have. For a unique touch, this features boxed candle-like lighting.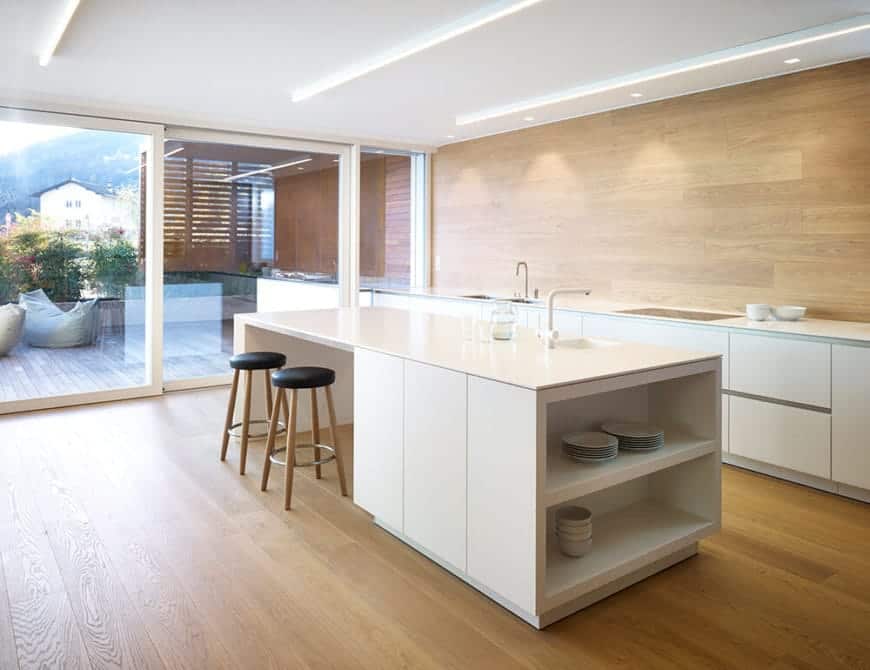 This kitchen has a minimalist design with its white island that matches the white counter. Both bars have a sink for convenient cleaning. The side of the island provides spacious shelves for plates and bowls. The wooden flooring goes well with the black and wood bar stools in place. With the floor-to-ceiling glass window, it adds a sophisticated touch to the kitchen.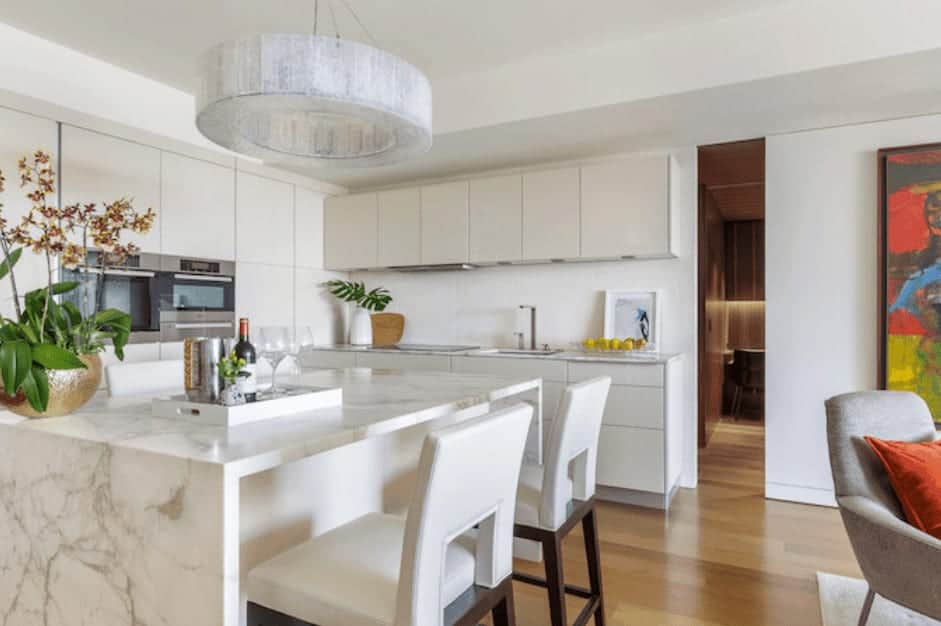 This modern kitchen has a subtle tropical feel to it with the all-white interior and indoor plants. The marble island and the chandelier complete the modern design.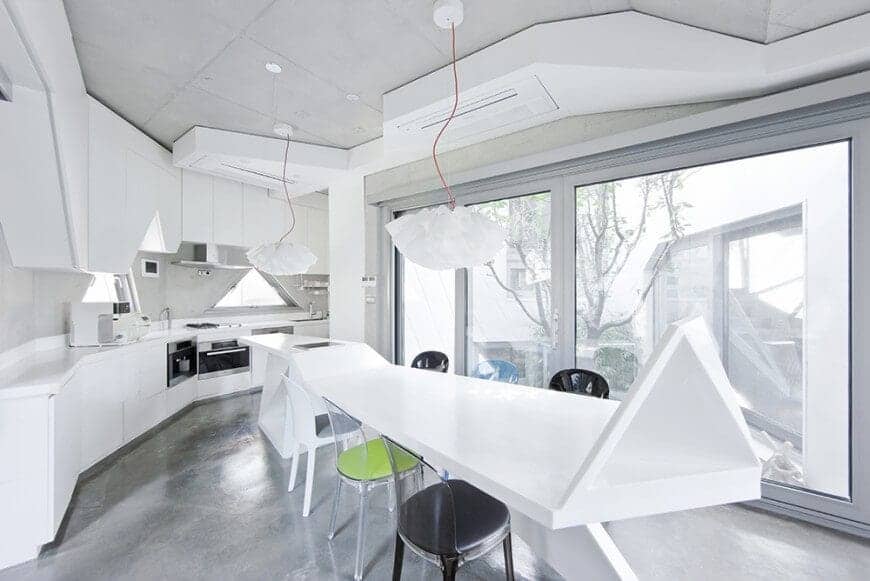 This kitchen has an eclectic design that goes perfectly if you like geometric shapes, like this white dining table with different colored chairs, with floral-shaped pendant lights above. It gives the entire room a bright look especially with the white counter with the appliances right under.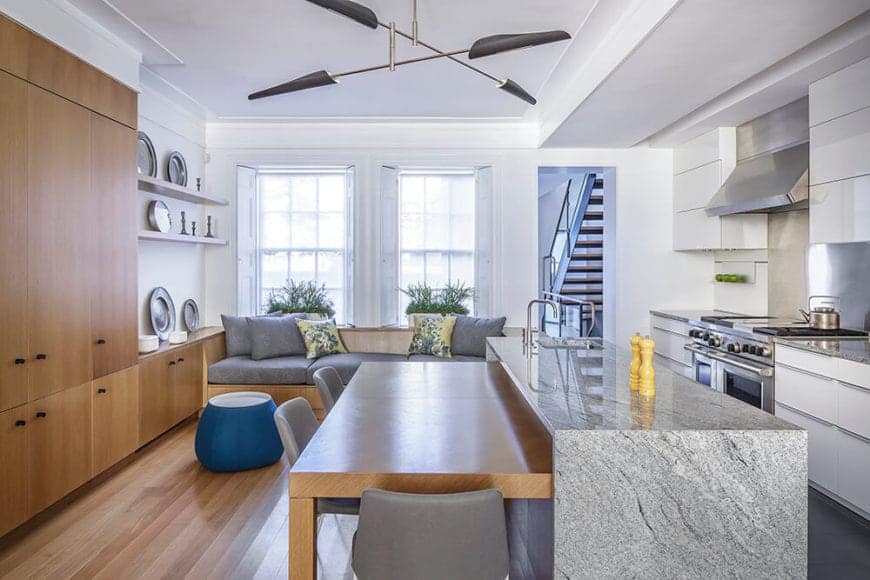 The white kitchen shares the room with a wood and grey dining area and living area for a neutral modern design. Focusing on the kitchen, it has a white counter with steel cookstove, rangehood, and oven. With the grey marble island right across, it's convenient to lay plates of food, with the 4-seater dining nook attached directly to it.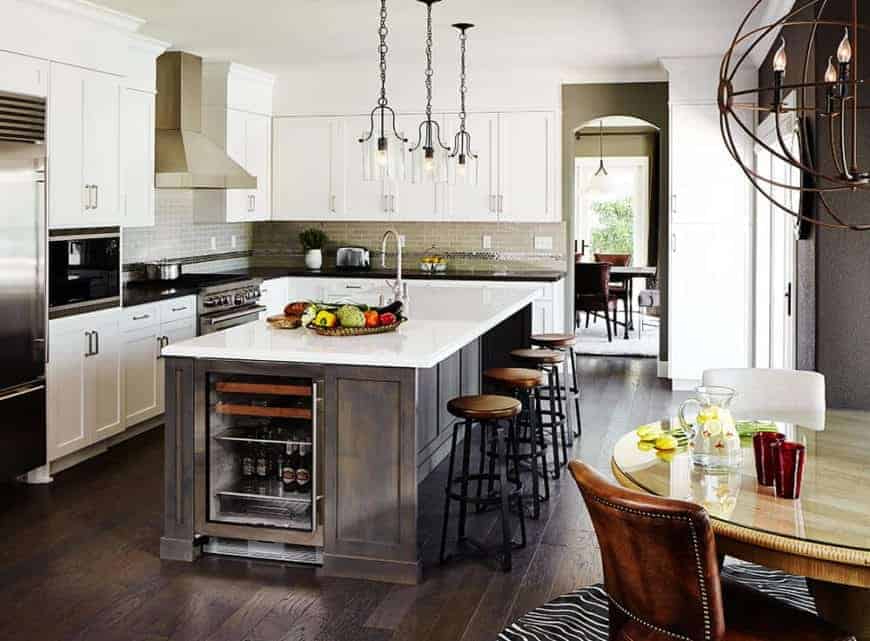 Fancy a country style kitchen? This kitchen can show you how! It has a dark wood island frame with a white countertop, which goes well with the hardwood flooring and the fancy brass pendant lights. Consider this an open kitchen with its smooth transition to the dining area.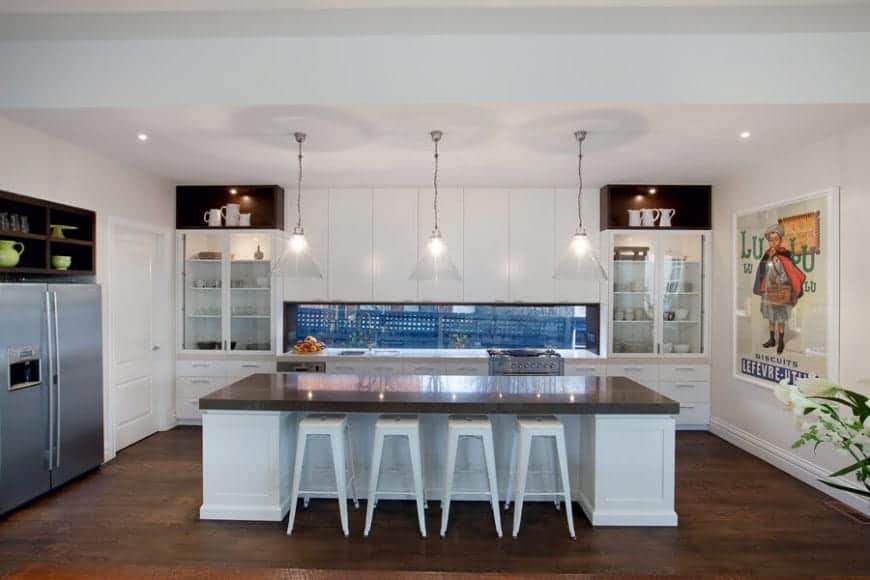 If you're looking to build a contemporary kitchen, you might want to take this kitchen for inspiration. It features a single island with a white bar and smooth brown countertop, with a translucent inverted triangle pendant lightings. These go well with the hardwood flooring. The drawers and shelves are also painted white for a fresh and modern look. Recessed lightings are also present on the ceiling.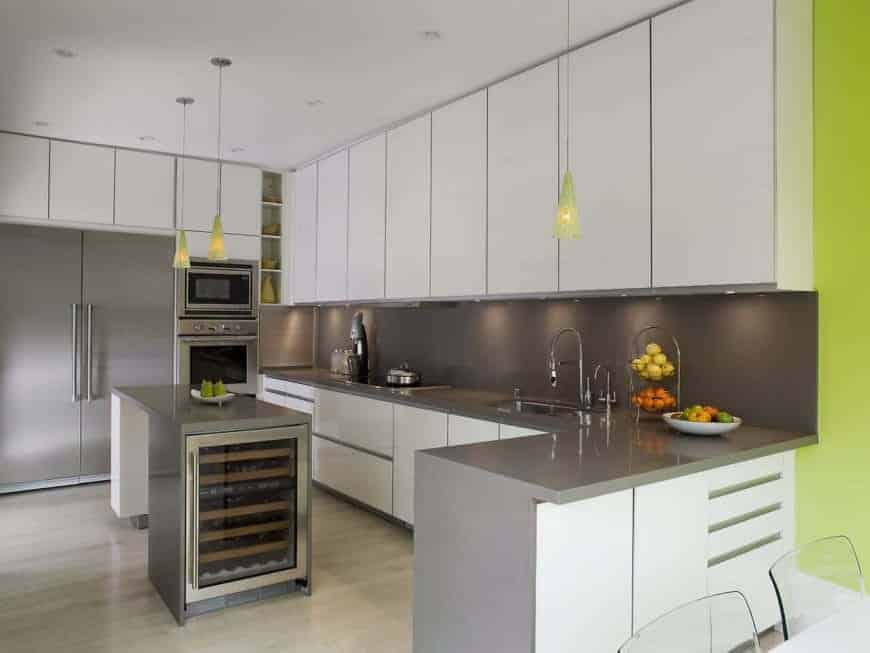 This urban kitchen features a unique color combination of white, grey, and lime green. The L-shape kitchen counter has a solid grey and white color scheme, with the drawers being white with grey handles, and the countertop being a solid grey. The lime green wall matches with the slim triangular pendant lightings, giving the kitchen a pop of color.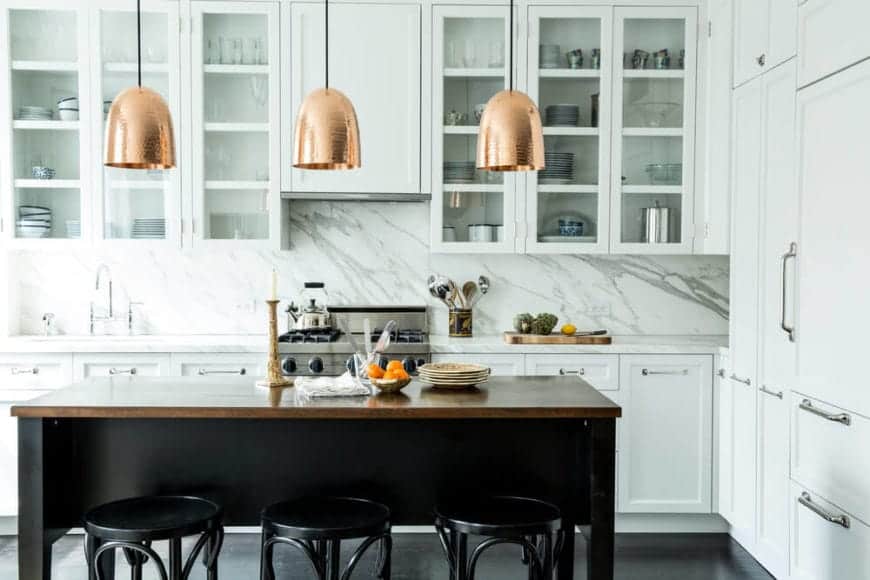 Going for a fancy home kitchen? Take a cue from this design. The marble splashback, white drawers, and dark wood dining bar go great together. For that sophisticated touch, you'll find fine-looking gold pendant lightings directly above the dining table, to light up the entire kitchen.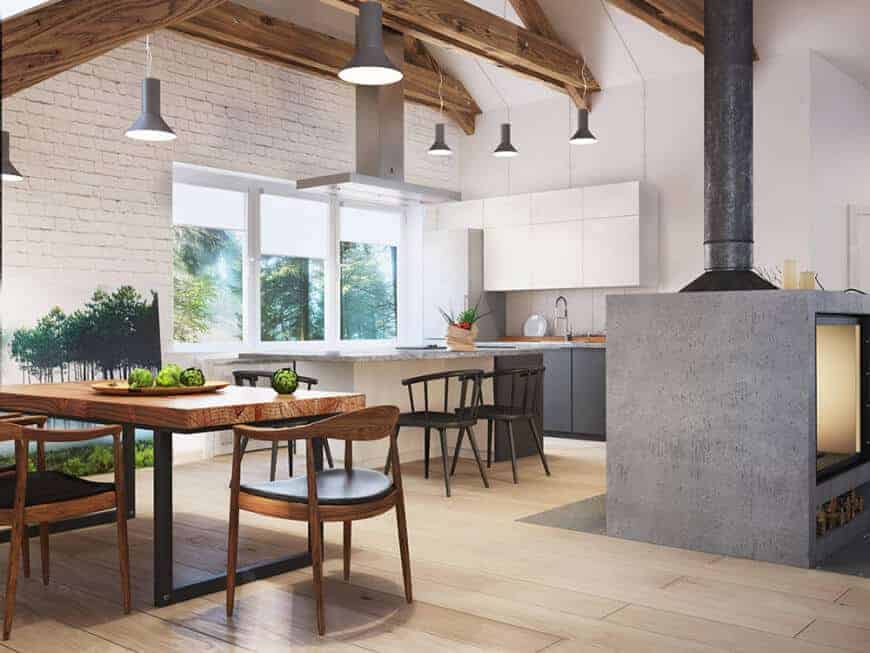 This kitchen has a great combination of rustic and modern with its white island and shelves, brown and black dining chairs, wooden dining table, and grey fireplace, while the light wood flooring gives a fresh, vibrant look to the kitchen without messing up the color scheme. The beam ceiling also makes the room look bigger.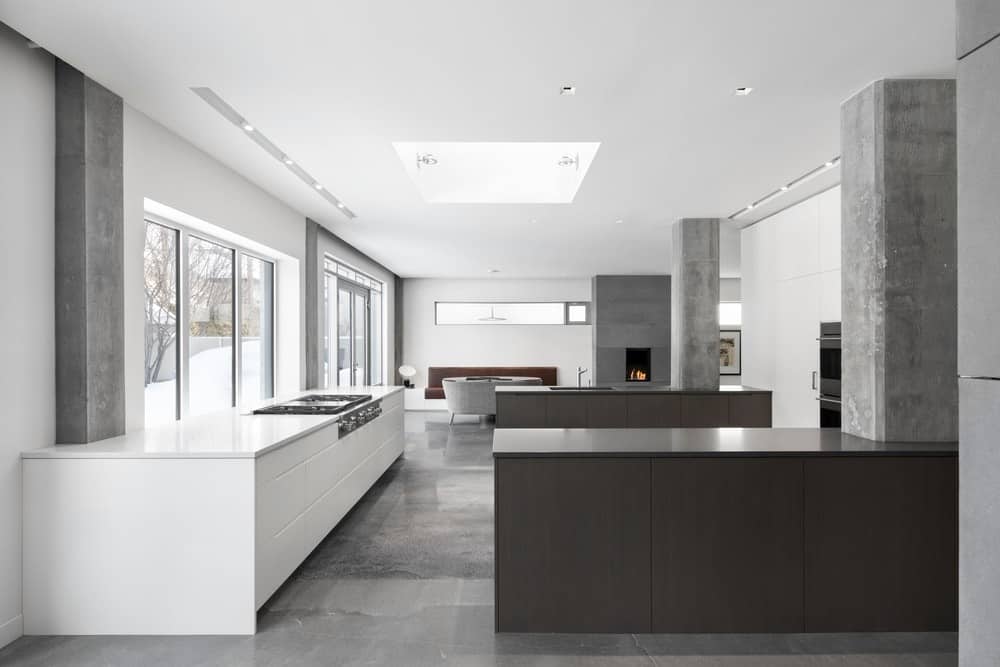 This chic minimalist kitchen features a sleek counter with a fuss-free stovetop, dark brown dining bars with grey pillars, and smooth grey marble flooring as well. It has recessed lights on the ceiling for better light distribution, and glass windows and doors for a nice outdoor view.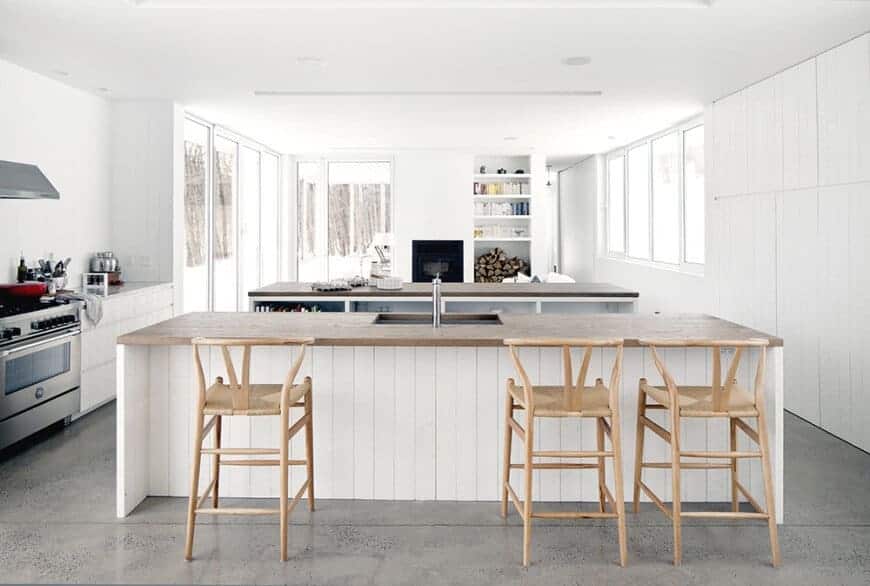 This Scandinavian inspired kitchen has a lovely combination of white double islands with matte wood countertops. The double peninsula provides plenty of room for kitchen utensils and cookware. The light-colored wood stools also look great for the entire room. With the grainy grey flooring, this gives just the right amount of contrast to the light interior of the kitchen. Finish it off with floor-to-ceiling glass doors, and windows, and you got a nice Scandinavian kitchen.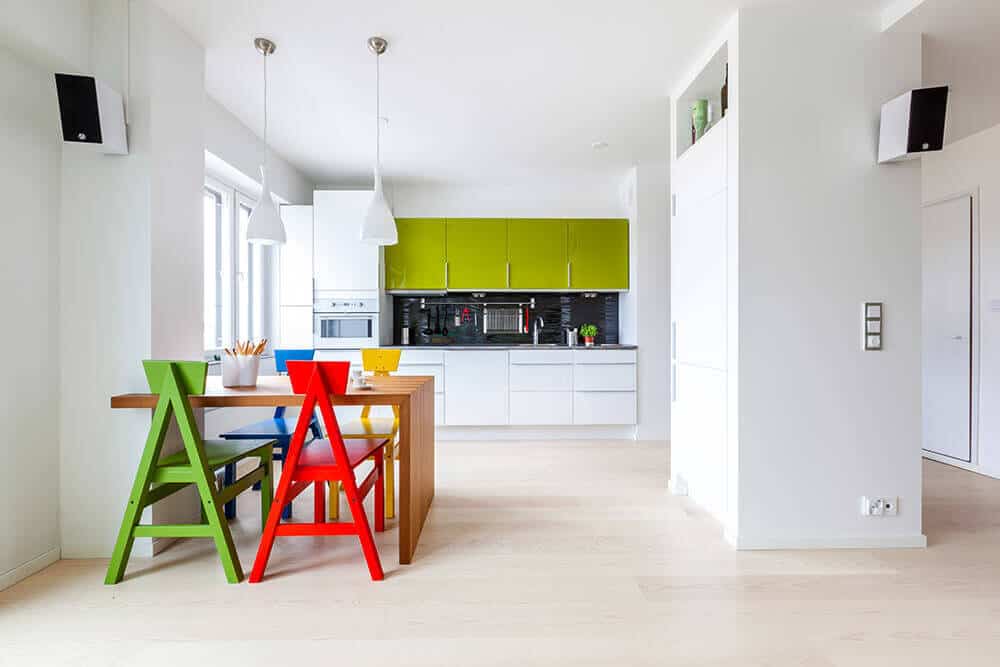 This chic kitchen has a playful touch to it with its colorful dining set and bright green cupboard, which is a good contrast to the white drawers, pendant lights, and the large pantry in the middle of the kitchen.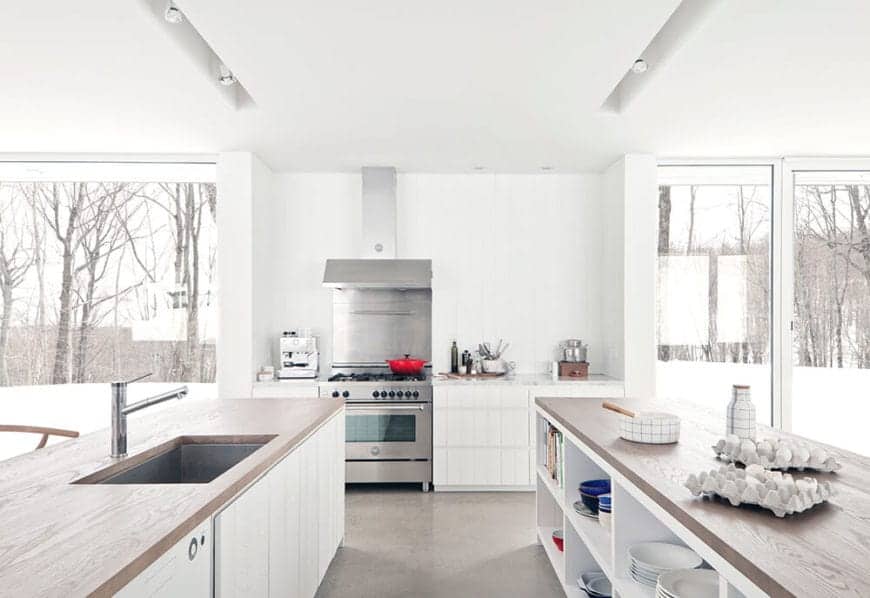 This Scandinavian inspired kitchen looks perfect for any cold climate. It features floor-to-ceiling glass doors to open up a nice view while you cook. With double islands in place, there's plenty of room to work in. These islands have a neutral color scheme of white and wood. The walls also have a white design for a fresh kitchen design.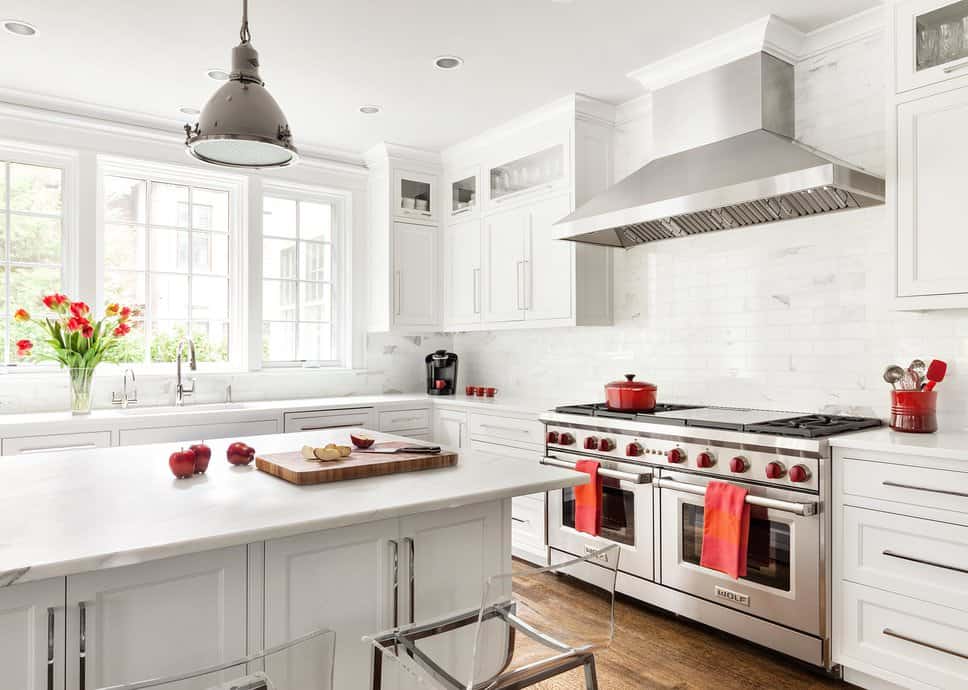 For an Asian kitchen, this one has a simple white and red color scheme. The entire kitchen looks wide and spacious especially with its all-white interiors, with the exception of the red accent on the stove switch, towels, cooking pans, and coffee mugs. The steel appliances such as the range hood and the double door oven also go well with the interiors. For some natural light, this kitchen has glass windows by the sink.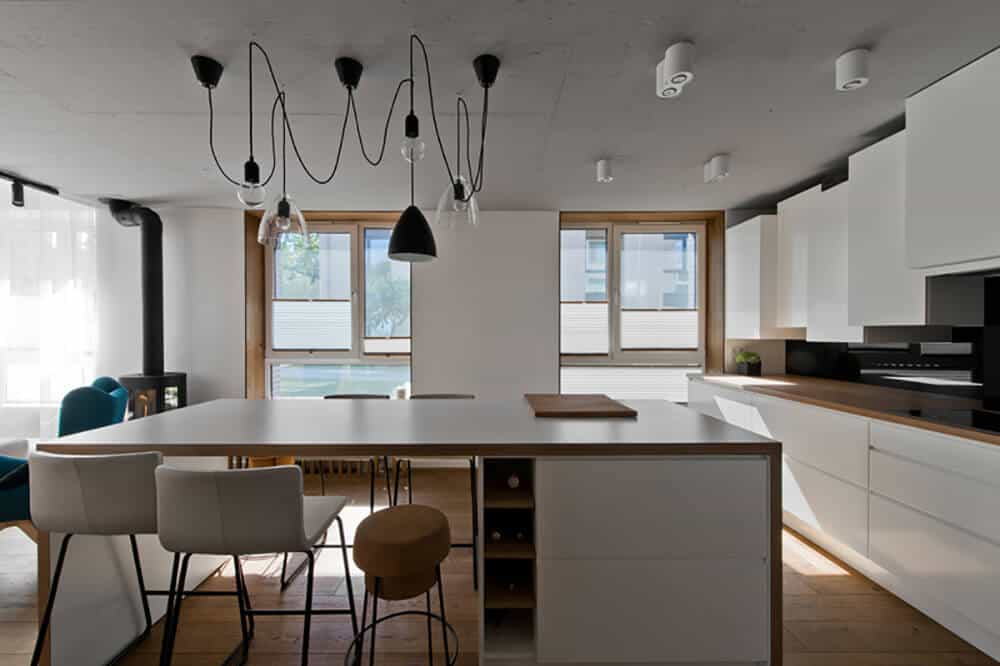 For more Asian kitchen inspiration, take some pointers from this design with its simplistic white and wooden kitchen counter and dining table. Its wide glass windows provide a beautiful sunray during the day, which is also great for cutting power cost short. This kitchen has a good mix of pendant lighting and recessed lights.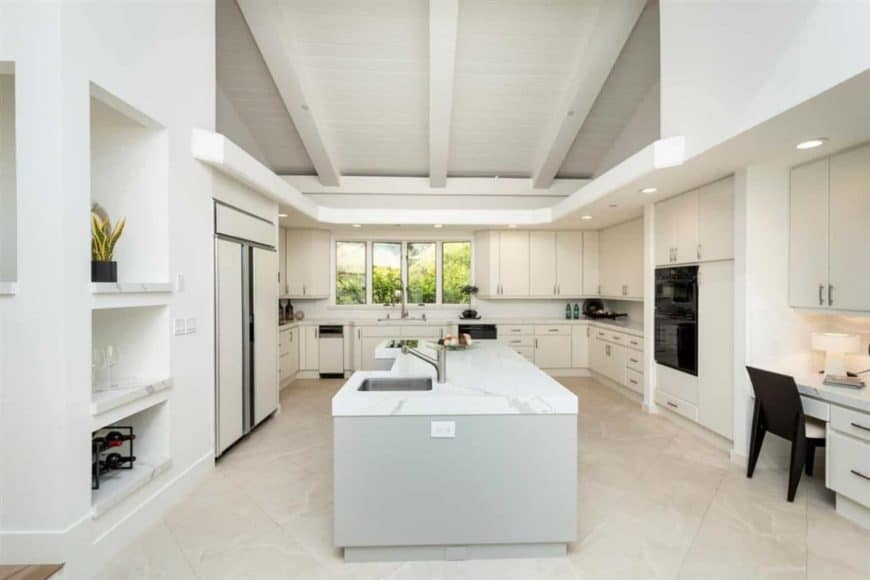 This shabby chic kitchen has a nice feminine touch to it with its beige cupboard and tiled flooring, and grey marble kitchen counter. Its white beam ceiling gives it a laidback modern vibe. The black accents add contrast to the light interior of the kitchen.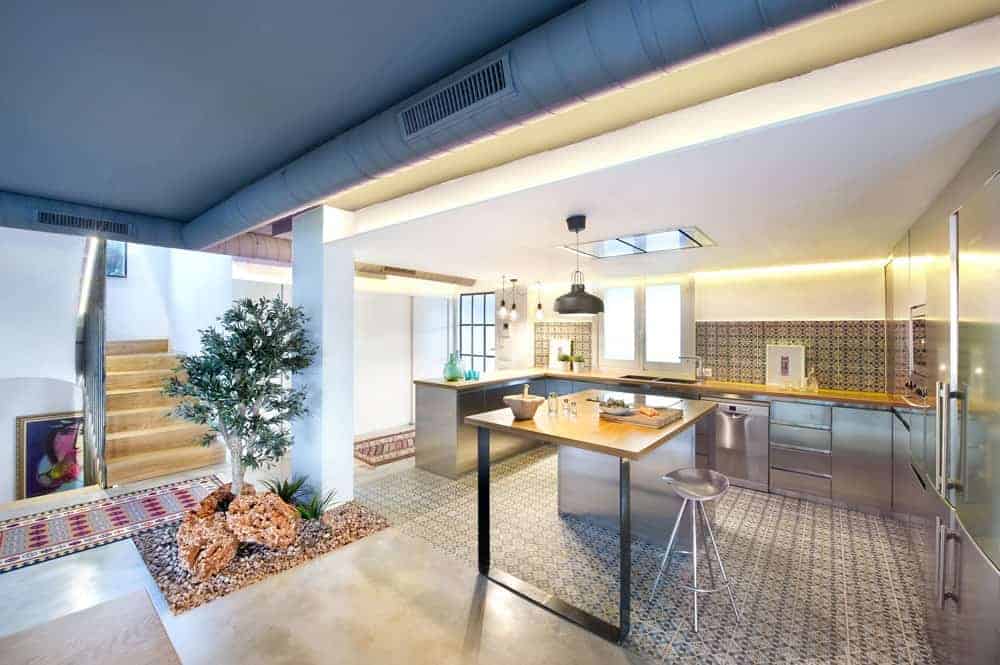 This simple Spanish kitchen features a white wall with floral patterns, which are emphasized by the yellow wall lights. It has an L-shaped counter, plus a square breakfast bar with a steel stool. All the appliances are also steel for a consistent look. This kitchen has an indoor plant at the corner, making this open kitchen look more welcoming.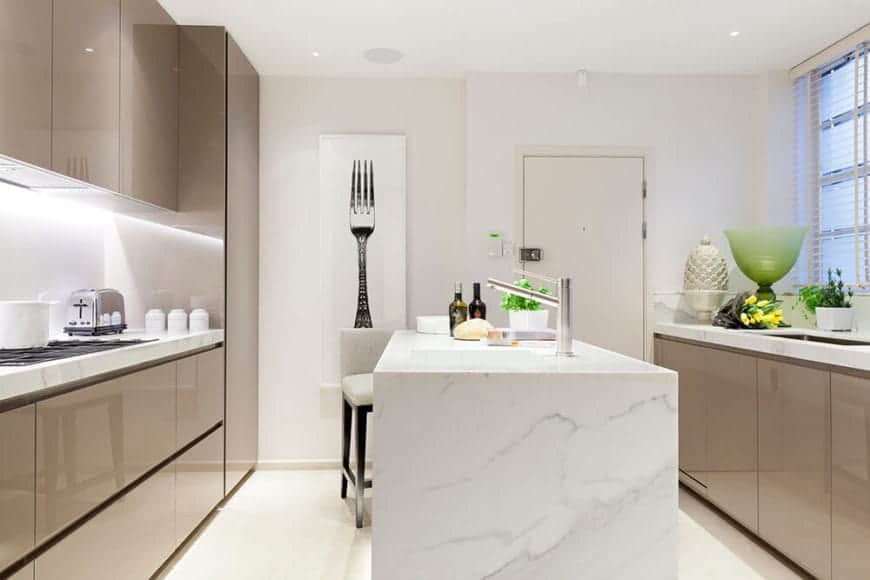 This minimalist kitchen has a marble designed peninsula, which goes well with the tan drawers on the sides. The wall lights provide ample lighting by the sink. For a personal touch, the kitchen has a tasteful fork art on the wall.
This modern kitchen has the right balance of class and function with its white kitchen counter and dining bar, paired with white chairs with wood and steel legs. The different-shaped black pendant lights provide sufficient lighting, aside from the natural sunlight allowed by the large glass doors. For good contrast, the bar frame and shelves, and the flooring are wood.