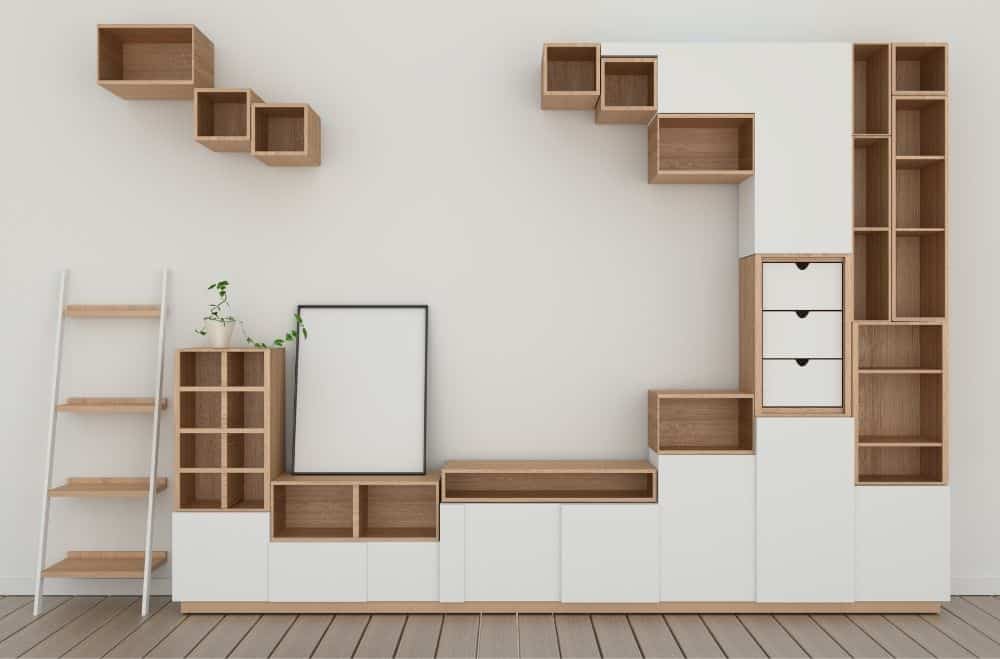 The first thing wall storage units bring to mind is a huge, complex storage unit that's close to impossible to build. But it doesn't have to be that way. Modular wall units can be as basic or as complex as you want them to be. We're not all handy, but that doesn't mean we can't build a wall storage unit that's functional, stylish, and something we can be proud of.
Check out our top 5 design ideas for modular wall storage units.
1. Giant Wooden Pegboard
My mind immediately turns to a garage or workshop – a place to hang tools – when I think of pegboards. But they're also perfect for the kitchen, playroom, and anywhere inside the house actually. This DIY shelving unit can be made as large or as small as you need it to be for any wall, room, or floor space. You can use one panel to cover a small space or multiple panels if you want to utilize a large wall. The shelves are also removable and interchangeable, making the layout flexible for creating a new look. You can also use the pegboard as a coat rack or for hanging plants and art. It's one of the most versatile modular storage units.
2. Hexagon Honeycomb Modular Shelves
These small shelves can be built as a single unit or combined to create a bigger, more intricate wall storage unit. What's interesting about this unit is that it's made completely out of popsicle sticks, yet it's surprisingly durable. Once together, the unit can be stained or painted to match any decor. You can even make a fun and colorful storage unit for a child's bedroom or playroom.
Get the template and instructions here
3. A-Frame Ladder Shelving Unit
Ladder shelving units are becoming increasingly popular due to their sleek and stylish design. They can also be tailored to the specific needs of any room. This project may seem like a challenge due to the various lengths of wood you have to utilize, but it can be put together in a weekend. Once it's together, you can use stain or paint to customize it to your taste.
See the instructions and video tutorial here
4. Floating Corner Shelves
Space is typically wasted in the corner of the room. While we consider a floating shelf a stand-alone storage option, multiple floating shelves combined can turn that wasted wall space into a wall-mounted bookshelf or a great place to display your pictures. When used together, these easy-to-build shelves can give the look of a custom built-in unit at a fraction of the cost.
5. Pallet Shelves
Pallets may be the way to go if you're into a rustic look. They often end up in a scrap pile near a store or factory, giving you an inexpensive pile of rustic-looking wood.
Pallet wood can be used for making wall-mounted shelving units. Plus, if you turn over the pallet, you'll see that you can turn it into two or three shelves. Once the pallet is cut into individual shelves, those pieces can then be attached vertically, horizontally, or a combination of the two with some simple brackets from the hardware store before being mounted on the wall to create an eye-catching module wall unit. The pallet's versatility means you can leave it as is for a rustic look or either stain or paint it to match your decor.
There's no need to spend a bunch of money for a little extra storage space. Instead, you can use some of the options we've listed to create your very own wall unit storage solution.
You Might Also Like: