This post may contain affiliate links. If you make a purchase through links on our site, we may earn a small commission.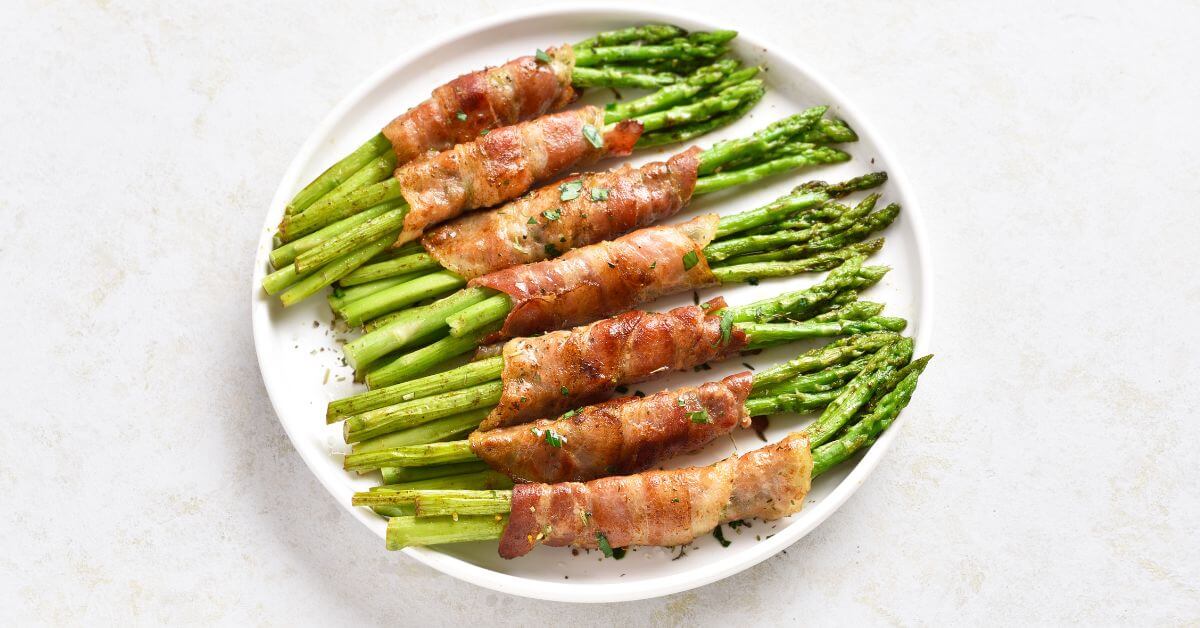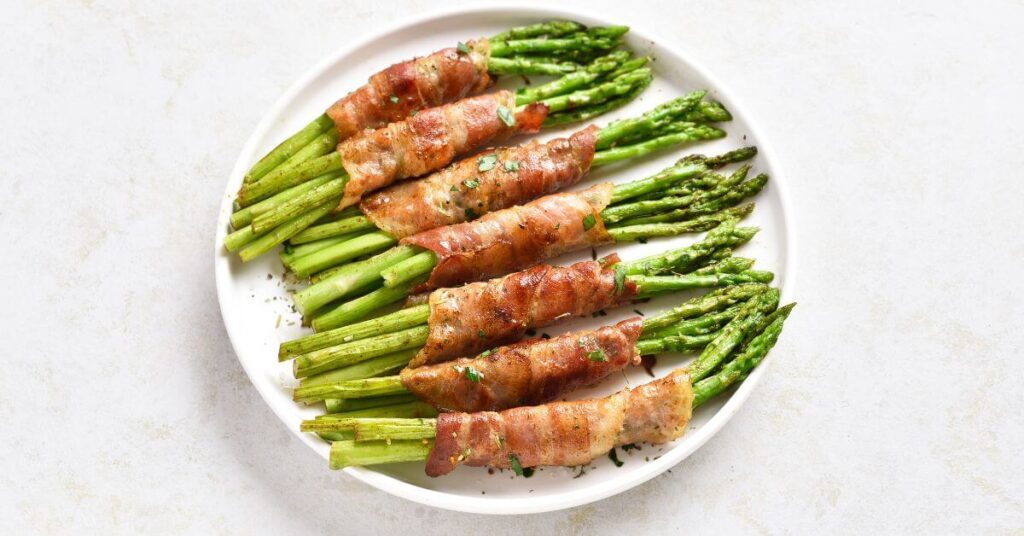 Bacon-wrapped asparagus is an easy and delicious side dish that can be served on any occasion. It looks impressive, tastes delicious, and is surprisingly easy to make. Keep reading to learn how to bake bacon-wrapped asparagus.
Can you bake bacon-wrapped asparagus?
The answer is yes. Baking bacon-wrapped asparagus is a great way to bring out the bacon flavors, asparagus, and other ingredients. It also allows for a crispy texture that is pleasing to the eye and the palate. Plus, it is a super easy process and gives you great results.
How to trim asparagus
If you haven't worked with asparagus, know that trimming it is super easy. The ideal spot for trimming is about an inch below the bottom of the spear's tip. To do this accurately, hold one end of the spear against a cutting board with one hand while using your other hand to snap off the bottom end with your thumb and forefinger. This method should leave you with uniform pieces of asparagus that are all approximately the same length.
Tips for baking bacon-wrapped asparagus
Here are some tips on how to make the perfect bacon-wrapped asparagus:
For leaner and meatier bundles, use thin, center-cut bacon.
If you want your asparagus crisp and tender, partly fry the bacon and shorten the roasting time until the asparagus is cooked to your preference and the bacon is crisp.
For thicker asparagus stalks, increase the baking time by 1-2 minutes.
The asparagus woody ends are very stringy and difficult to eat, so cut them off and discard them.
Classic cut bacon has the ideal thickness to cover the asparagus without overwhelming it. This is also even and full for the application in this recipe.
Wrapping each bundle with the sliced bacon as firmly as possible and slightly overlapping will guarantee that the bacon stays in place during the frying process.
Broil the asparagus in the end; this makes the final product extra crisp.
Variation ideas
Here are some ideas for adding variation to your baked bacon-wrapped asparagus.
Cheese: Sprinkle cheese over the bacon-wrapped asparagus before baking for added flavor and texture. Try using grated parmesan, mozzarella, or cheddar cheese for a cheesy twist on the classic recipe.
Glaze: Make a sweet glaze by combining honey and Dijon mustard and brushing it over the bacon-wrapped asparagus before baking. This will give your dish a sweetness that pairs perfectly with the savory flavors of bacon and asparagus.
Onions: Sliced onions can be added to the bake for extra flavor and texture. Caramelize them in butter or oil before adding them to the dish for maximum flavor!
Spice It Up: For an extra kick, sprinkle chili powder, smoked paprika, garlic powder, or other spices over your bacon-wrapped asparagus before baking it in the oven. This will give your dish an extra layer of flavor that you won't be able to resist!
Stuff It: For an even more filling meal, stuff your bacon-wrapped asparagus with cream cheese, goat cheese, ricotta cheese, feta cheese, or any other soft cheese before wrapping it up in bacon and baking it in the oven.
Type of Bacon: Experiment with different types of bacon, such as turkey bacon or Canadian bacon, when wrapping your asparagus for added flavor and texture variations!
Grill It: If you don't have access to an oven or prefer not to use one, try grilling your bacon-wrapped asparagus instead! Wrap each piece in foil, then place them on the grill until they are cooked and crispy on both sides!
Sauce or Dip: Serve your baked bacon-wrapped asparagus alongside a creamy dip such as ranch dressing or tzatziki sauce for added flavor and texture variations!
Veggies: To add more nutrition and color, add some chopped bell peppers, mushrooms, zucchini, squash, broccoli, cauliflower, carrots, celery, etc., to your bake! Not only will this add more nutrients, but it will also make it look more inviting!
How to store bacon-wrapped asparagus
The first step to storing bacon-wrapped asparagus is to completely cool the dish before placing it into the refrigerator. For this purpose, allow your bacon-wrapped asparagus to cool down at room temperature for at least 10 minutes before refrigerating.
Once cooled, place your bacon-wrapped asparagus onto a plate or container with a lid and store it in the refrigerator for up to four days. To freeze your bacon-wrapped asparagus, wrap each piece individually in plastic or aluminum foil and place it into freezer bags or containers with tight-fitting lids. When ready to enjoy again, thaw in the refrigerator overnight and reheat.
How to bake bacon-wrapped asparagus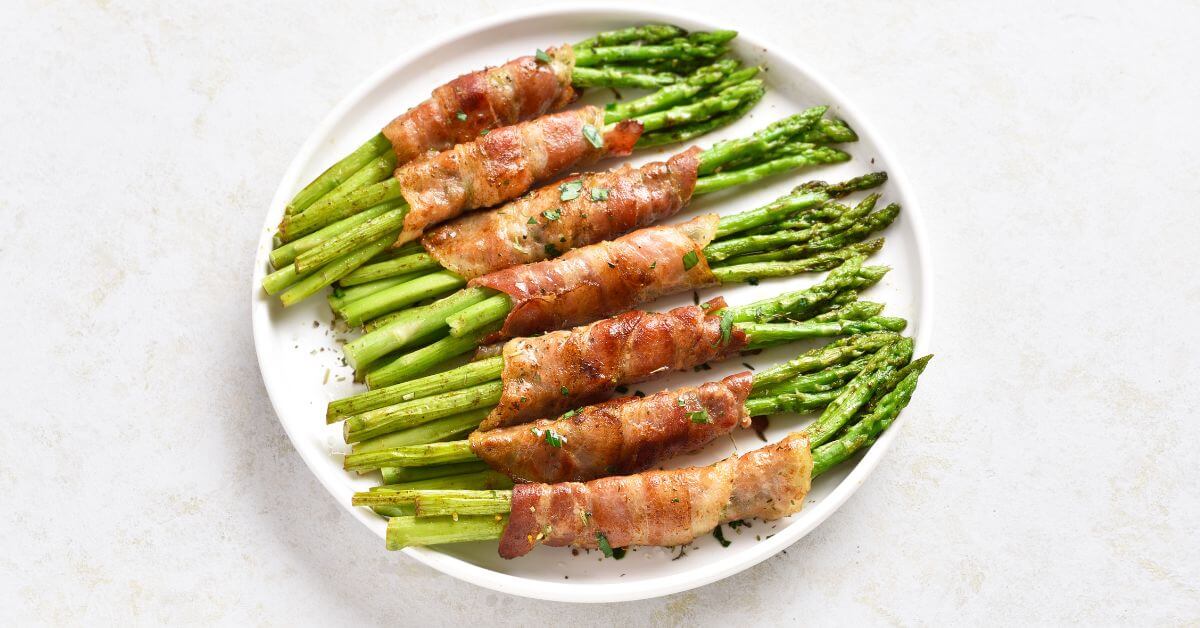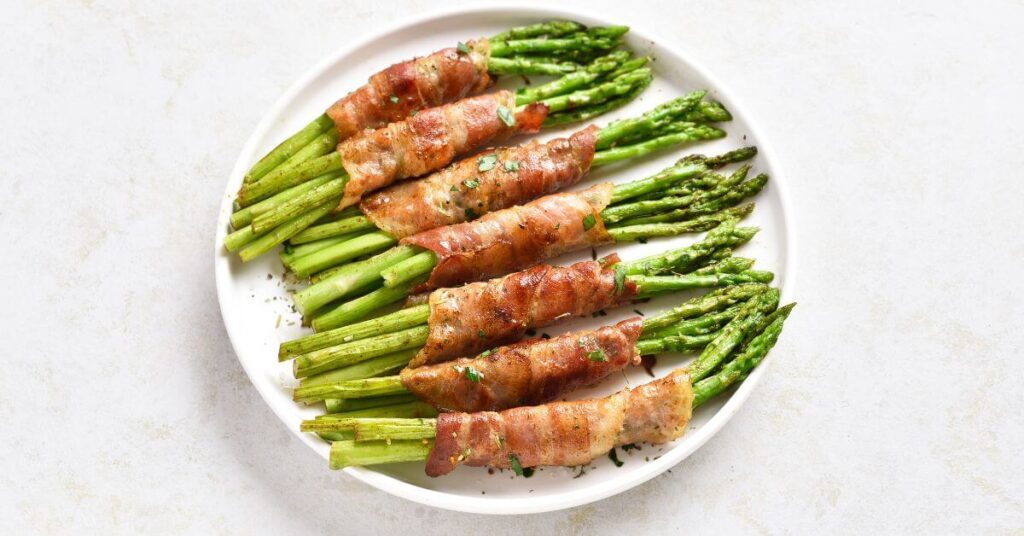 Preparation time: 15 minutes
Cooking time:  20 minutes
Total time: 35 minutes
Servings: 4
Ingredients
4 strips bacon, trimmed & halved crosswise
2/3 lb. medium asparagus
2/3 tbsp. olive oil
Pinch of black pepper, freshly ground
Salt to taste
Preparation
Prepare the oven and preheat it to 425F. Also, prepare a baking sheet by lining it with parchment paper, then place an oven-safe rack inside the baking sheet.
Place the asparagus in a shallow dish, drizzle olive oil, and season with pepper and salt; toss gently to make an even coating.
Then divide the asparagus spears into 4 bundles of 5 or 6 asparagus. Then wrap it with a slice of bacon, and start wrapping 1" below the tips. Take care that there is a minimum overlap of bacon.
Transfer the bacon-wrapped asparagus bundle to the prepared oven-safe rack in a single layer to avoid overlapping.
Place in the oven and bake for 18 to 22 minutes or until the asparagus is soft and the bacon is cooked according to your desired requirement.
You Might Also Like: