This post may contain affiliate links. If you make a purchase through links on our site, we may earn a small commission.
Have you ever found yourself with extra carpet after completing a renovation or redesign project in your home? You might be wondering what to do with those leftover pieces, especially if they're too small to cover an entire room or too large to simply toss away. Luckily, there are several creative and practical ways to repurpose and reuse extra carpet.
In this article, we will explore various ideas and solutions for repurposing extra carpet to enhance your living spaces, making them more cozy and functional. With a touch of creativity and a little effort, you can give new life to those unused carpet remnants – read on to discover how!
Turning Leftover Carpet into Useful Household Items
In this section, we'll explore a variety of DIY projects that will help you repurpose your leftover carpet.
Rugs and Mats
One of the most obvious solutions is to transform your carpet remnants into new rugs and mats. With a little creativity, you can create stylish and functional area rugs, kitchen mats, or even entrance mats.
Here are some simple steps to create an area rug:
Measure the desired rug size.
Cut the carpet piece to the desired dimensions.
Bind the edges with rug binding tape.
Add a non-slip rug pad underneath to keep it in place.
Rug Edging Options:
Binding tape
Serging (recommended for thicker carpets)
Fringing
Furniture Cushioning
Leftover carpet can also be used to create cushioning for your furniture, such as chairs, benches, and stools. By adding a layer of carpet beneath the fabric, you can increase the comfort and lifespan of the furniture's padding. Alternatively, you can utilize carpet padding as a cushion on a built-in bench or window seat. Simply use the following steps:
Measure the dimensions of the furniture where the cushion will be placed.
Cut the carpet (or padding) to the appropriate size.
Attach the carpet to the furniture using velcro, staples, or adhesive.
Coaster Sets
Make your own unique coaster sets with carpet remnants to protect your surfaces from drink stains and scratches. All you need are a few simple tools:
Carpet remnants
Sharp scissors
Round or square templates (for shape)
Durable glue (optional)
Instructions:
Choose a shape for your coasters (round or square).
Trace your template shape onto the carpet.
Carefully cut out the shape from the carpet.
Optional: Add a layer of fabric or cork to the bottom using glue for added protection.
Additional Ideas
Here are a few more clever DIY projects for using leftover carpet:
Line the bottom of drawers or shelves to add extra padding and grip.
Create small pet beds or scratching posts for your furry friends.
Use carpet squares as gardening knee pads, protecting your knees during outdoor work.
Making Pet-Friendly Items Using Old Carpet
Transforming your extra carpet pieces into pet-friendly items is not only a creative way to recycle, but it can also save you money. Here is a list of some pet items you can easily make with old carpet:
Scratching posts
Pet bedding
Cat trees
Exercise and play areas
Scratching Posts
One popular use for old carpet is creating a cat scratching post. If you have a feline friend, they will absolutely love this. The rough texture of the carpet provides an ideal surface for cats to exercise their claws. Here's a simple step-by-step process to make a scratching post using an old carpet:
Select a sturdy base: A piece of wood or an unused wood plank works well.
Measure the carpet to determine its final size.
Cut the carpet into the desired shape and size.
Attach the carpet to the base using a strong adhesive or staples.
Allow the adhesive to dry before letting your cat enjoy the new scratching post.
Pet Beds
Creating a comfortable pet bed is another way to use old carpets. They are perfect if you're looking for a low-cost, durable, and easily washable option. To do this, follow these simple steps:
Measure the size of your pet bed.
Cut two pieces of carpet to match the dimensions of your desired pet bed.
Sew the carpet pieces around the edges, leaving a small opening.
Stuff the bed with recycled materials, such as old clothes or towels.
Sew the opening shut.
Other Ideas
Play areas and exercise stations can be created by attaching various carpet pieces to a solid structure. This way, your pet can climb, scratch, or jump on their new playground. By providing a designated carpeted space, you can also minimize the wear and tear on your main carpets.
Other Creative Ways to Utilize Extra Carpet
Snowy solutions: You can use extra carpet sections to help protect your garden during the winter months. Lay out small pieces in a garden bed or around plants to provide insulation and prevent the ground from freezing. Having trouble scraping ice off your car windows? A small carpet remnant can serve as a gentle ice scraper that won't scratch your windows. Finally, placing carpet pieces near your front door or on your patio can help improve traction, preventing slips and falls on icy surfaces.
Indoor upgrades: Using extra carpet can give an instant makeover to your home's interior spaces. Transform a dull hallway by adding a runner made from your carpet remnants, adding both style and comfort. Additionally, you could line the bottom of trash cans and laundry baskets for extra padding and noise reduction.
Outdoor innovations: Why not add some flair to your patio? Create an outdoor rug with weather-resistant carpet remnants, bringing a cozy ambiance to your outdoor relaxation area. Carpets can also be used to line garden pathways or staircases, giving them a unique look while also providing additional traction.
FAQs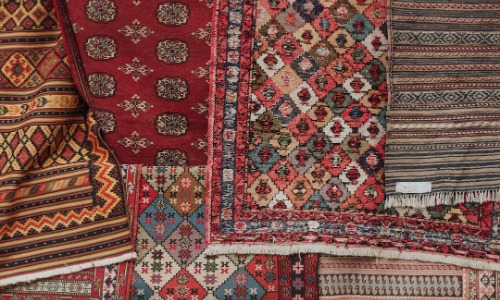 Are there recycling options for rugs?
Yes, many local recycling centers accept old carpets and rugs for recycling. Some carpet manufacturers also offer recycling programs. Check with your local recycling center or carpet retailer for specific recycling options in your area.
How do you store leftover carpet pieces?
Store your leftover carpet pieces by rolling them up tightly and securing them with a strap or bungee cord. Place them in a cool, dry, and well-ventilated area, away from direct sunlight and moisture, to prevent mold and mildew growth.
What can leftover carpet padding be used for?
Leftover carpet padding can serve various purposes, such as adding extra cushioning to a pet bed, creating a protective layer for fragile items during transport, or even as a temporary sound barrier between rooms.