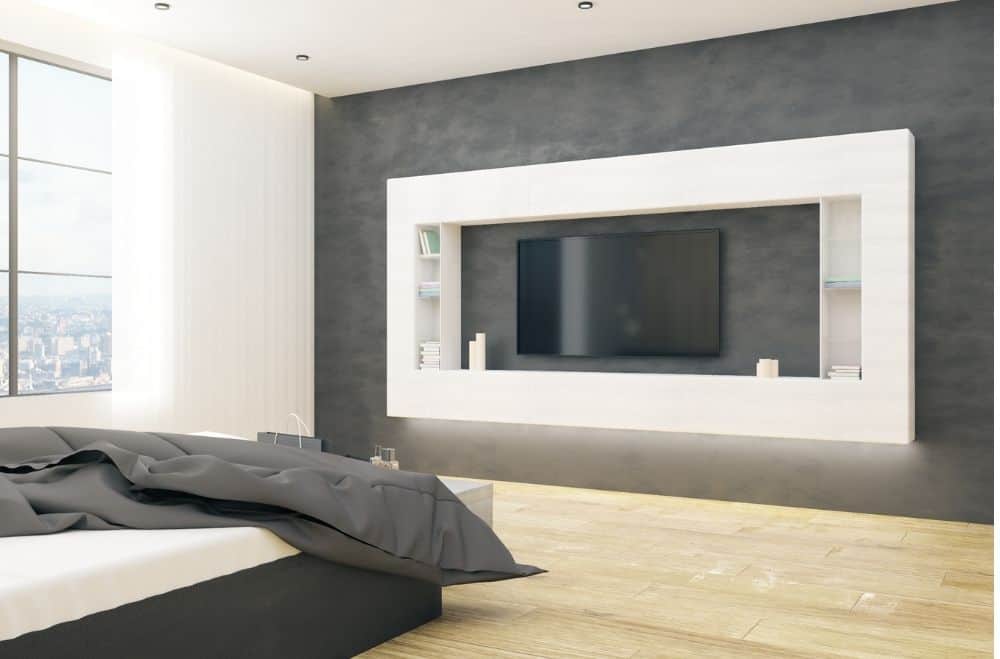 The bedroom TV often draws our focus when it's on, but it's commonly just centered on a bland, boring wall when it's off. But it doesn't have to be. The TV wall in your bedroom should be considered a gallery wall, something that will always draw your attention. It's not always easy to come up with decorating ideas around a television, but it's possible. Here are 10 bedroom TV ideas to make your TV wall stand out.
1. Mount the TV on the Wall
It's natural to put the TV on the dresser when you have a small bedroom. However, if you have a flat-screen TV, mounting it on the wall can help make your small bedroom feel larger and more decorative. A television looks best mounted six to eight inches above the central piece of furniture. It works perfectly for those lower, longer dressers. In this case, the TV will be more centralized on the wall, and the extra room on the dresser gives you more storage space.
2. Create a Photo Wall
With the TV mounted on the wall, it can now be easily incorporated into the bedroom decor. One of the easiest ways to do this is by using the TV as a central point of a photo wall. It helps blend the TV when it's not on and creates a calm look while adding good visual interest to the wall. The use of black and white photos and frames helps to blend it all together.
3. Use the TV as a Focal Point of an Art Gallery
This might seem the same as a photo wall, but it's different enough to consider it a separate concept. Using the TV wall as an art gallery wall can have the same type of result as a photo wall, creating a calm, collected look while pulling some of the focus away from the TV itself. Where an art gallery differs is it incorporates multiple vibrant colors and pulls the eye away from the TV. This can be accomplished by either having the art clean and polished with intentional lines and spacing or by having it seem as if it was effortless. The great thing about an art wall is that the TV – with a carefully chosen background while not in use – can be used as part of it. The right background can make the TV a valuable part of the gallery.
4. Use Shelves
Whether you've chosen to mount your TV on the wall or not, adding shelving, especially a floating shelf, provides you with both extra storage and more space to decorate. You can make this particular setup as appealing to the eye as art by surrounding the TV with floating shelves, which can be very versatile in both placement and size. You can even choose to utilize the variety of floating shelves to give your TV wall a stylish, asymmetrical look.
5. Use a Cabinet to Hide The TV
You can put your TV away when it's not in use with a TV cabinet. If you think of your TV as an eyesore when it's not being used, a cabinet with mirrored doors can hide it while integrating with the bedroom. Depending on the size, the cabinet can cover your wall-mounted TV, or it can be used as an armoire-style cabinet that provides additional storage. Either option will give your room a simplistic, clutter-free look.
6. Use a Built-In
While not your cheapest option, built-ins can work just as well in the bedroom. Using a built-in might mean having to ditch other furniture like a dresser, but it doesn't mean losing storage space. The abundance of drawers and cabinets on a built-in can offer just as much space, if not more, than a typical dresser. Built-ins can also come with cabinet doors to help hide the TV if need be.
7. Paint the Wall a Dark Color
Maybe you don't want a big, color-filled art wall, or your room isn't big enough to incorporate a large cabinet. In this case, you can use dark paint to blend the TV without additional furniture or a colorful art wall. Make sure not to use dark paint for the entire room – a small space painted with a dark color will only look smaller – you just want it to accent your room. Painting the wall with a dark color will give your space a perception of depth while allowing the TV to blend in.
8. Paint a Mural
This is a great way to create an accent wall for the TV without mounting anything else onto it. A mural highlights the wall while keeping it clutter-free. But it doesn't have to be garish. A mural can be as simple as creating your own art pieces directly on the wall or adding inspiring quotes. You have the freedom of making it as extravagant as you want. Something simple can just as easily draw the eye.
9. Use Wallpaper
Another great bedroom TV idea is to use wallpaper to create an accent wall. Dark wallpaper can help the TV blend, or it can be light to attract the eye and make it the focal point of the room. There's the right wallpaper for whatever you're looking for.
10. Decorate Under The TV
The first thing we talked about was mounting the TV on the wall. If you do this and have a piece of furniture underneath the TV, you can use that extra space to decorate. Strategically placing decorative items under the TV can also hide obnoxious-looking cords.
Having a TV in your bedroom is a great place for the family to huddle together and watch a movie. It may not always seem easy to decorate around a TV, but hopefully, we've given some great bedroom TV ideas to help you do just that.
You might also like: