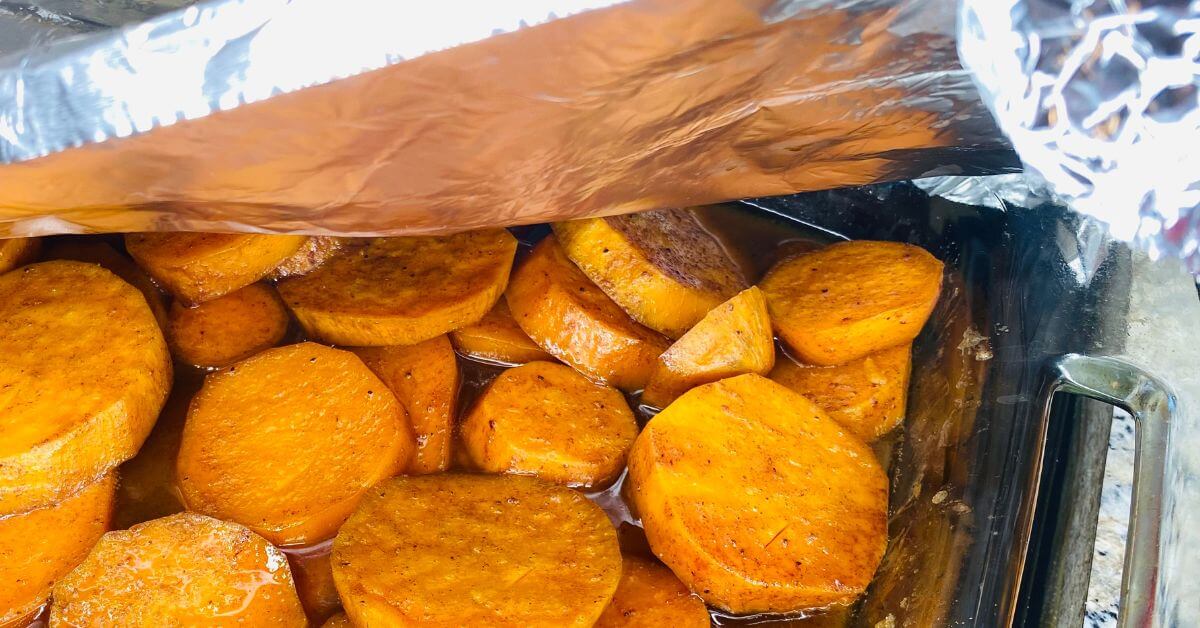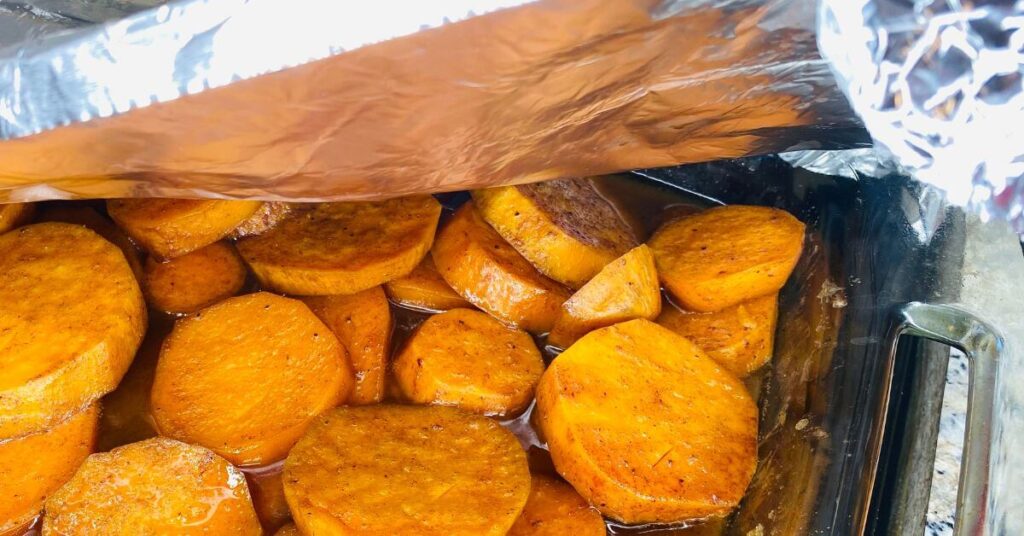 Are you looking for a delicious and easy way to bake yams? If so, then baking them in foil is a great option! Baking yams in foil is a straightforward process that yields delicious results. Not only that, but it also helps retain the yam's natural flavor.
Can you bake yams in foil?
The answer is yes; it is possible to bake yams in foil. Many people use this method regularly to create tasty meals with minimal effort. Baking yams in foil requires only a few simple steps, making it an ideal choice for busy home cooks looking for quick and easy recipes.
Tips on how to bake yams in foil
Here are a few tips to keep in mind when baking yams in foil to get the best results:
Choose heavy-duty aluminum foil that has no holes or tears. This will help ensure that your yams stay juicy while they cook and don't dry out or burn due to air exposure.
Preheat your oven before you cook your yams in foil so they can cook evenly throughout their cooking time.
Wrap each cut yam tightly with two layers of aluminum foil so no steam can escape during cooking time.
Depending on how large each piece of cut yam is, baking times may vary slightly; however, generally speaking, baking time should be between thirty minutes and an hour at 350°F.
Once the yam is opened, add desired toppings such as butter or honey and seasonings like cinnamon or nutmeg before serving!
What to serve with baked yams
Here are some ideas that will make your baked yams even more flavorful and satisfying:
Roasted Vegetables: Roasting vegetables is a simple and delicious way to flavor any meal. Try roasting bell peppers, onions, carrots, or sweet potatoes along with your yams in the oven for an easy side dish that pairs perfectly with the savory flavors of the yam.
Salads: Salads can be a great accompaniment to baked yams in foil as they provide balance to the meal by adding freshness and crunchy texture. Try making a simple green salad with lettuce, tomatoes, cucumbers, olives, and feta cheese, or go for something like a kale salad with cranberries and walnuts or a quinoa salad with roasted vegetables.
Grains: Grains such as quinoa or brown rice can be cooked ahead of time, so all you have to do is reheat it when ready to serve alongside your baked yams. You can also add some flavor by sautéing garlic or onion before adding the grains to the pan for extra flavor.
Legumes: Legumes such as black beans or chickpeas can also be served alongside your baked yams in foil to boost protein and fiber. You can cook them from scratch or use canned legumes, which can be heated up quickly on the stovetop before serving them as part of your meal.
More ideas on what to serve with baked yams
Sauces/Dressings: Sauces and dressings are another great way to add flavor to your dish without too much effort. Try making a simple vinaigrette dressing using olive oil, vinegar, garlic powder, salt, pepper, and herbs of choice like oregano or basil; this will give your baked yams in foil an extra kick of flavor! If you're looking for something creamier, try making an herbed yogurt sauce using Greek yogurt blended with herbs like parsley and dill; this will add richness while keeping things light and healthy!
Fruits: Fruits such as apple slices or pomegranate arils make excellent additions to any meal; their sweetness helps cut through the savory flavors of the dish while still providing essential nutrients like antioxidants & vitamin C!
Herbs & Spices: Herbs & spices such as paprika, cumin, turmeric, etc., not only help bring out different flavors.
How do you store baked yams?
Here's how to store yams baked in foil:
Once yams have cooled down, wrap them tightly with plastic or aluminum foil before placing them into an airtight container or bag.
It would help if you immediately placed your yams into the refrigerator to remain fresh for as long as possible. Ideally, they should be eaten within two days of being cooked; if stored correctly, they can last up to five days in the refrigerator.
However, if you want your yams to last even longer, freezing them is worth considering! Tightly wrap up yams with plastic or aluminum foil before being placed into an airtight container or freezer bag. Then put them into the freezer for up to three months!
How to bake yams in foil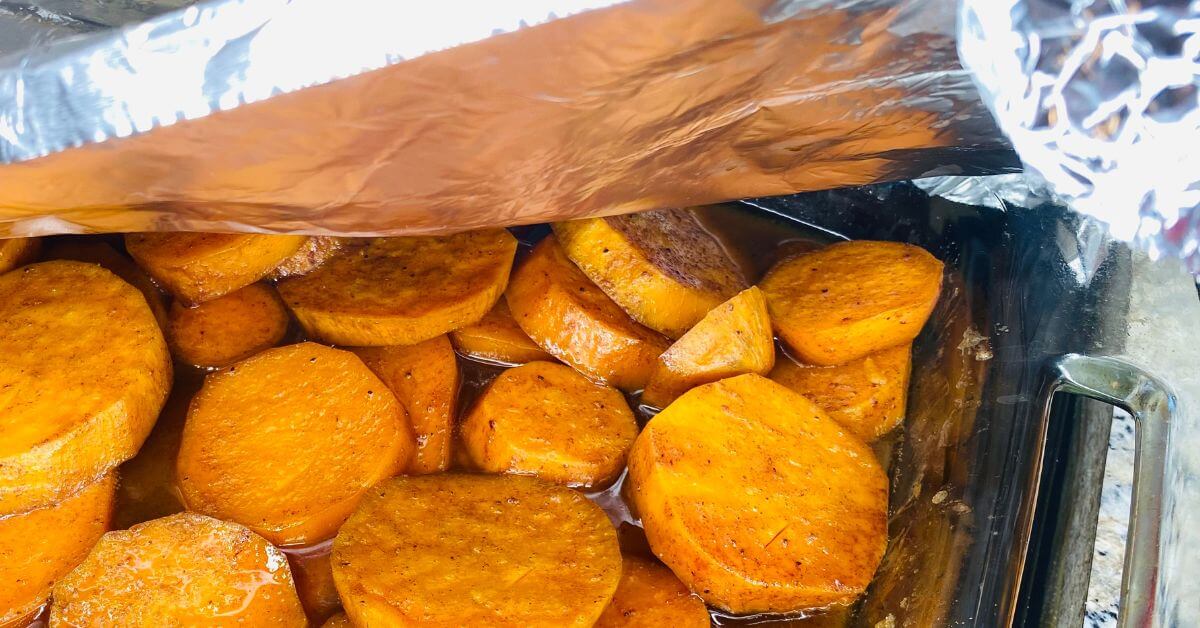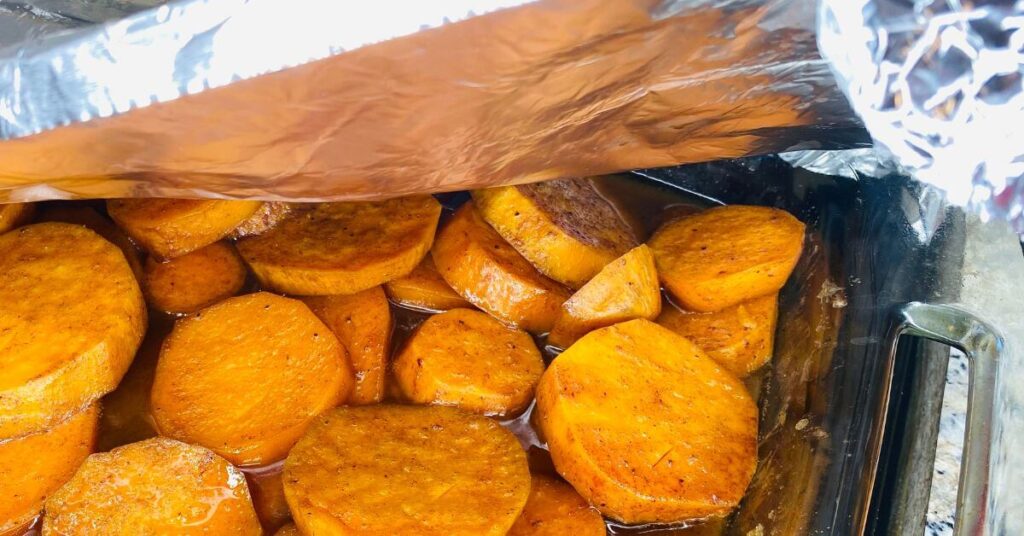 Preparation time: 5 minutes
Cooking time: 40 minutes
Total time: 45 minutes
Servings: 4
Ingredients
2 yams
2 tsp. olive oil
Salt to taste
Pinch of pepper
Instructions
Preheat your oven to 425 degrees F. Also, prepare a baking sheet by lining it with parchment paper.
Rinse yams under fresh water and pat dry using a paper towel. Poke holes all across yams using a fork.
Apply olive oil on the yams using a brush and season with pepper and salt. Pack individual yams in the heavy-duty aluminum foil and seal tightly.
Place in the oven and bake for 40 minutes or cook through. Remove from oven, leave to cool completely, then carefully slit open foil, cut the yams lengthwise, and pull the pulp using a fork.
Serve and enjoy!
You Might Also Like: