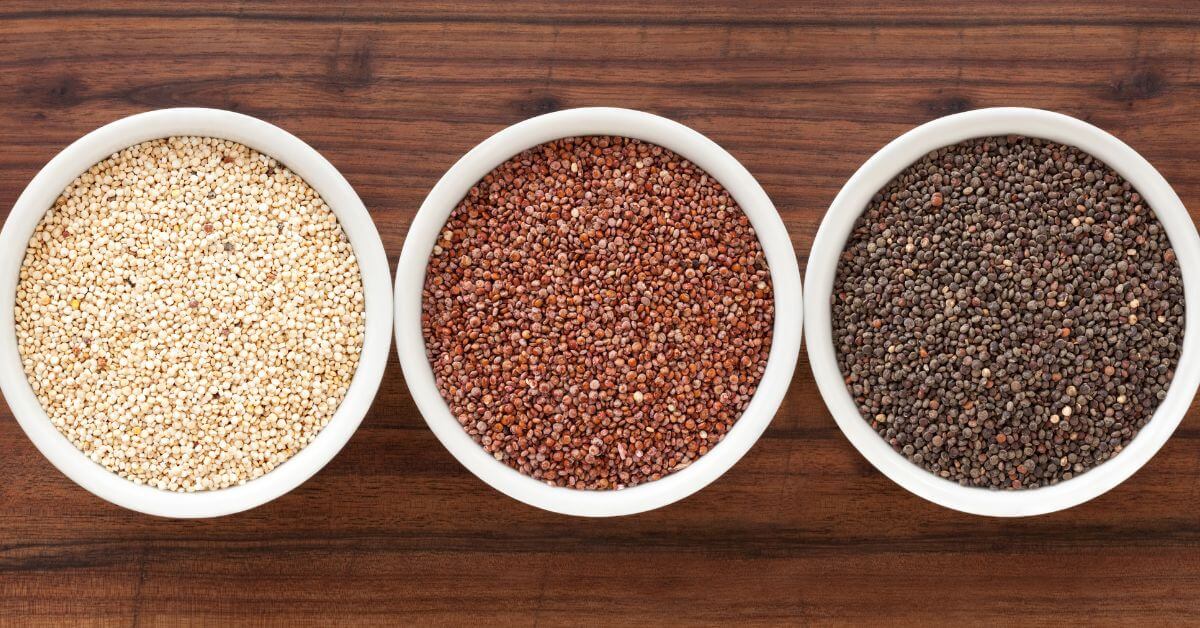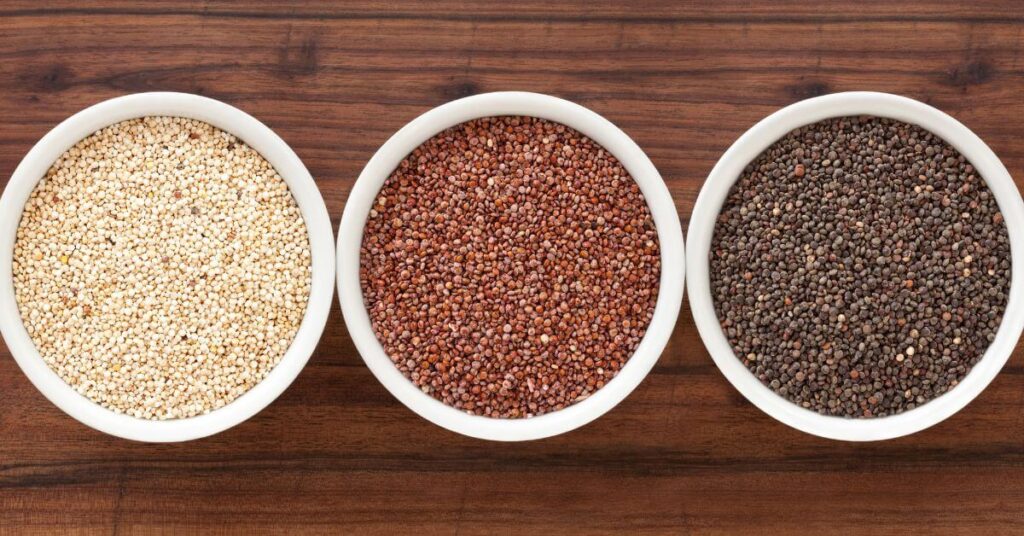 Quinoa is ready to join your lineup if you want a healthier side to go with your meals. But for many people, it doesn't make a good first impression since it can often taste bitter. You're probably wondering how to make quinoa taste better so you can reap the benefits of this healthy grain.
These tips will ensure that you'll love the sweet and nutty flavors you can create to go with your meals. Here's how you can make quinoa taste better!
Start with a Rinse
Quinoa is regarded as a grain and prepared like it, though it's really a seed. And this seed has a natural coating of saponin which is very bitter. When it's packaged for consumption, it should be removed, but often the flavor lingers. The simplest way to make quinoa taste better is to rinse uncooked quinoa in a mesh strainer with cold running water. Then you can continue cooking it, and it won't taste bitter.
Simmer Quinoa in Broth
Now that we've handled the bitter problem, let's address the other elephant in the room. Namely, quinoa, much like other grains, is as bland as the day is long. Instead of boiling it in water, use broth instead. Chicken, beef, or vegetable broth will add a nice flavor that makes quinoa taste better.
Throw In Fresh Herbs
While you're at it, since quinoa is a blank slate, it can soak up some lovely flavors and provide more taste by adding fresh herbs. Things like thyme, basil, rosemary, sage, or oregano can instantly boost those boring flavors in a pinch.
Go for a Toast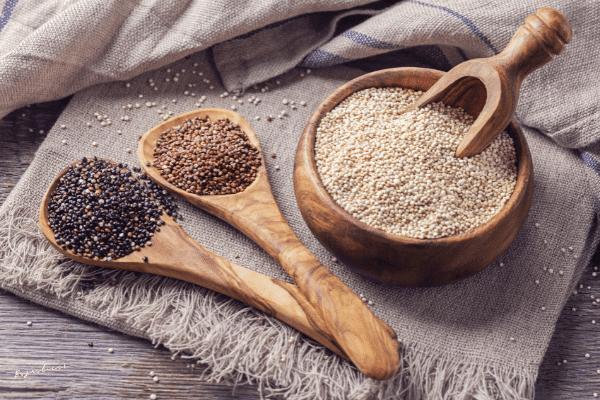 Now, if you truly want to fall in love with quinoa the way everyone else seems to be doing, there's a huge secret…you've got to toast it in olive oil first. Well, technically, you'll rinse and drain it first. But then, you will toast it in a pot over medium heat. Get your olive oil hot, and then add your rinsed quinoa to toast it. From there, you can add water (or broth, as discussed above), and you'll see why people love quinoa.
Bring On the Aromatics
With a little garlic and onions, you will know how to make quinoa taste good. Mince your garlic, then sauté it and add it to the finished quinoa. Do it with onions instead, or combine them both this way, and you'll have a side dish everyone wants to eat.
More Cheese Please
There are some situations where cheese makes everything better. Quinoa definitely falls into this category. You can add halved cherry tomatoes, basil, and freshly-grated parmesan for an epic Italian-style quinoa that will blow your mind.
Reduce the Liquid
We can get behind that if you just want to keep things simple. But likely, you'll be squinting at the back of your box of quinoa, trying to memorize the directions. Even more likely, that box will tell you to use one cup of quinoa with two cups of water. However, reduce that liquid (whether you use water or go with a broth) because less liquid equals less mush. Since one of the biggest complaints about quinoa is the mushiness, this tip may help you start loving it from now on.
Light Your Fire
If you like spice, then bring that heat into your quinoa to make it taste good. Adding roasted poblano peppers, some cilantro, and a squeeze of lime is going to really elevate it from Snooze-Ville to spectacular. Add queso fresco, some black beans, and sauteed veggies, and voila! You'll have a one-dish delight everyone will polish off!
Use Quinoa in Soup
When making soup, sometimes you need it to be a little heartier to fill you up. Then it's perfect to pair with a salad for a light lunch or even dinner. Adding quinoa can certainly help with that. Again, rinse the grains off well, and then you can add them to just about any soup you can imagine.
Generally, it works well in soups that usually call for barley or farro though you can put it in anything like a tortilla soup, vegetable soup, or even use it in chili!
Sprout It
Another option on how to make quinoa taste better requires a little planning. You can let it sprout and reduce the phytates. Placing quinoa in water overnight will give you this result. Those phytates are said to block your body's absorption of certain minerals and make it harder to digest protein, fat, and starches. It tastes better when you make time for this step, and it becomes an even healthier option for serving along with your meals.
Pair Quinoa with Coconut
Bitter flavors always need balance, so it's essential to counter them with sweetness. For example, coconut oil and coconut milk can add a healthy layer of sweetness. Give it a Thai spin with some lemongrass, too, and you won't be able to stop eating this deliciousness.
Raid Your Spice Rack
And, of course, since quinoa is that blank slate, you can lament its lack of flavor or get busy adding to it. After all, you don't boil pasta and eat it plain, do you? We sure hope not! It's all in what you add to it. Ultimately, combining these tips will give you the best-tasting quinoa.
Simply think of the flavors in your meal and go from there. For example, squeeze the lemon juice into the quinoa if you serve lemon chicken. Then add the same seasonings you use on the chicken, like rosemary, thyme, or Italian seasoning. Don't forget a little salt and pepper too.
Once you put all these tips into action, you'll see how making quinoa taste better really isn't all that tricky. And you'll be well on your way to enjoying it more often too!
What to Do with Leftover Quinoa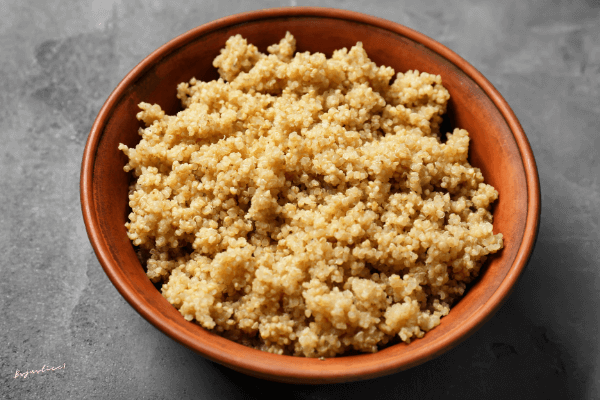 Leftover quinoa can be used in a variety of ways! Here are some ideas:
You Might Also Like: