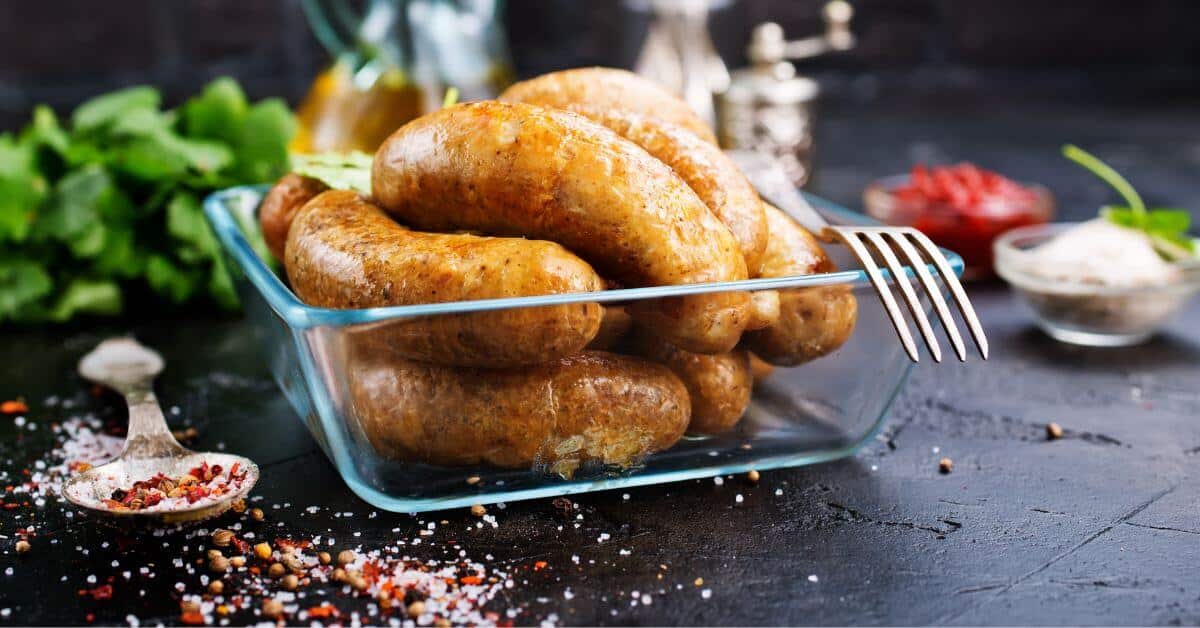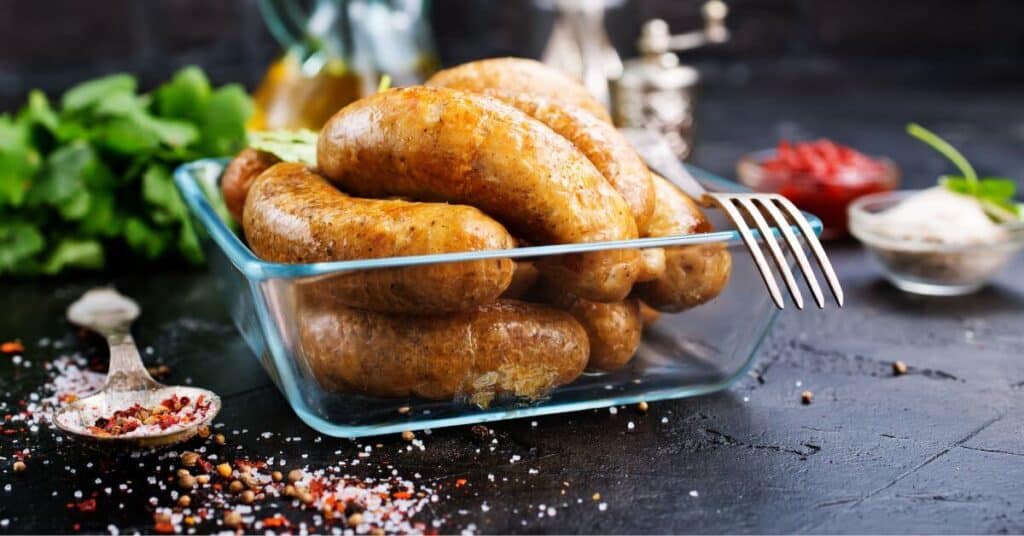 Chicken sausages are juicy and delicious, and there are so many different ways you can cook these sausages. You can serve them with so many vegetables, etc. You can eat them as they are, slice them, and cook them with vegetables or add them to your soup. Whatever you do, they are a good addition to your breakfast, lunch, or dinner. When cooking them, you can cook them in the oven, air fryer, or pan. So, if you are wondering how to cook chicken sausage in a pan…read ahead and find out!
What is a Chicken Sausage?
Chicken sausage is a type of sausage made from ground chicken meat, typically seasoned with various herbs and spices. It is a popular alternative to pork sausage for those who want to reduce their red meat intake or those who follow a halal or kosher diet.
Chicken sausage is typically made with a combination of dark and white meat, which gives it a moist and tender texture. It can be sold raw or cooked and found in various flavors, such as Italian, spicy, and applewood smoked.
One of the benefits of chicken sausage is that it is lower in fat and calories than traditional pork sausage, making it a healthier option. It is also a good source of protein, niacin, and vitamin B6.
Chicken sausage can be cooked in various ways, such as grilling, sautéing, or baking. It can be used as a substitute for pork sausage in many recipes, such as breakfast dishes, pasta dishes, and soups.
Can You Cook Chicken Sausage in a Pan?
Absolutely! Whether you remove the sausage from the casing or not, you can cook chicken sausage in a pan effortlessly. All you need is a little bit of oil in the pan, and that's it. You can sauté it until it gets a nice golden color. Cooking it in the pan is quick, convenient, and effortless.
Different Ways of Cooking Chicken Sausage
Here are a few different ways you can cook a chicken sausage:
Oven: Cooking a sausage in the oven is very easy. All you have to do is place them on a parchment-lined baking tray and bake them for about 20 minutes. It is particularly a good idea when you are cooking sausages in a large batch.
Pan: The easiest and most simple way to cook a sausage is in a pan over the stove. Whether making breakfast for two or the whole family, you can easily cook the sausages over the stovetop.
Air fryer: Air fryer is yet another kitchen appliance that cooks chicken sausage to perfection without any mess. It works efficiently, giving you the perfect results.
Grill: Grilling chicken sausages are a great way to get those charred marks. It adds smokiness to the sausages making them more tasteful.
Tips to Remember
Here are a few tips you should remember when cooking chicken sausage in a pan:
Don't add extra oil or butter when cooking chicken sausages in a pan. That's because the sausages release oil. If you add extra oil, the sausages will become very greasy.
Keep stirring the sausages to get even color on all sides.
Always ensure the pan is hot before you add chicken sausages to it.
Don't overcrowd the pan. Try and work in batches.
You can choose any brand of sausages you like. You can also go for plain, spiced, or herbed sausages.
What to Serve with Pan-fried Chicken Sausage
Chicken sausages taste good with several sides. Here are a few ideas for you to try:
Eggs: chicken sausages and eggs are a perfect combination. Whether it's an omelet, scrambled eggs, or poached, serving chicken sausages with eggs offers a perfect breakfast option.
Potato salad: A creamy potato salad works well with chicken sausages. Serving potato salad with grilled sausages offers more flavor.
Muffins: You can serve Chicken sausages with toast, cornbread muffins, or any other bread of your choice.
Peppers and onions: you can slice uncooked sausages and cook them with peppers and onions. It is a widely enjoyed dish that offers flavors and is very easy to make.
Vegetables: You can cook sausages with several other vegetables. They are versatile and pair well with almost every vegetable. Some ideas include cooking sausages with broccoli, kale, tomatoes, potatoes, etc.
How to Store Pan-fried Chicken Sausage
Storing Chicken Sausages is very easy. You can store uncooked sausages for up to two days in the refrigerator. As for pan-fried chicken sausages, once they are cool enough, place them in an airtight container and refrigerate them for up to 5 days. You can also freeze cooked sausages for up to a month. Thaw and warm them in the air fryer, microwave, or pan.
How to Cook Chicken Sausage in a Pan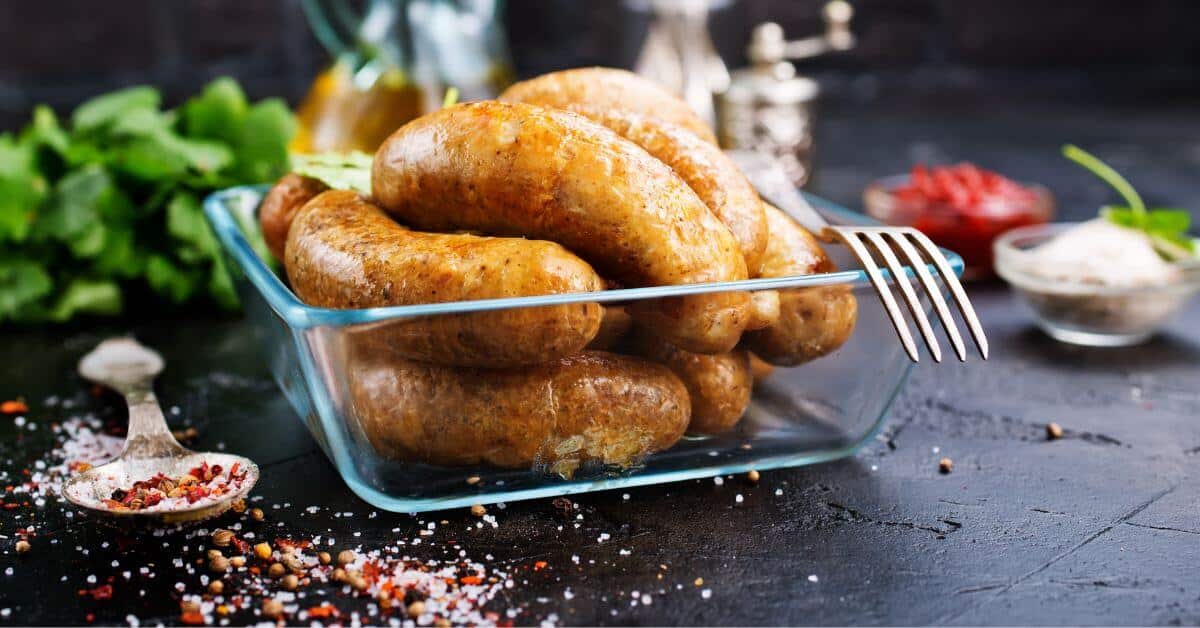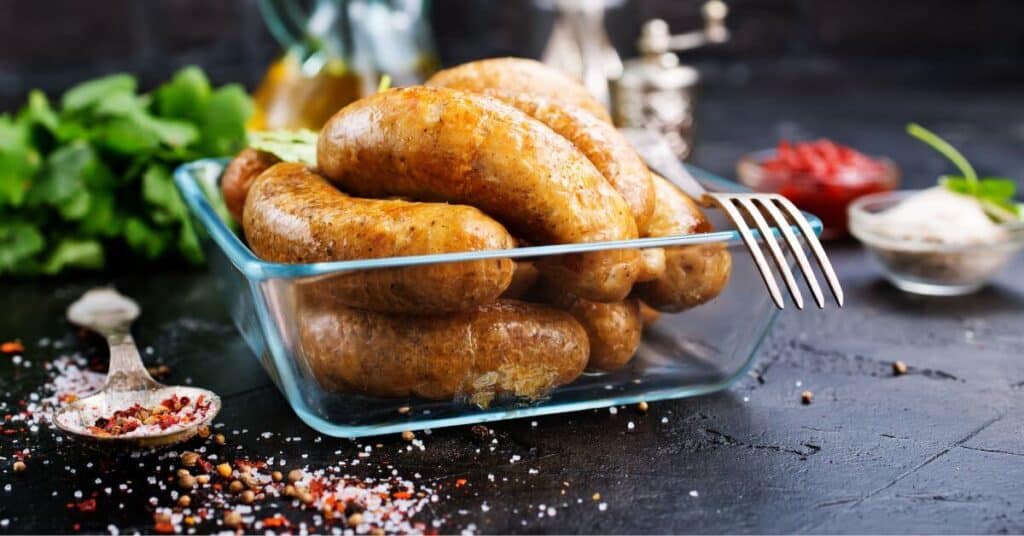 Preparation time: 2 minutes
Cooking time: 10 minutes
Total time: 12 minutes
Servings: 4
Ingredients
4 chicken sausage links, fully cooked
Instructions
Place a pan over medium heat.
Once it heats up, add chicken sausage links to the pan.
Cook the sausages for about 8 to 10 minutes. Flip them frequently so that they get even color.
Once the sausages get a brown color and are completely cooked, take them off the pan.
Serve.
You Might Also Like: