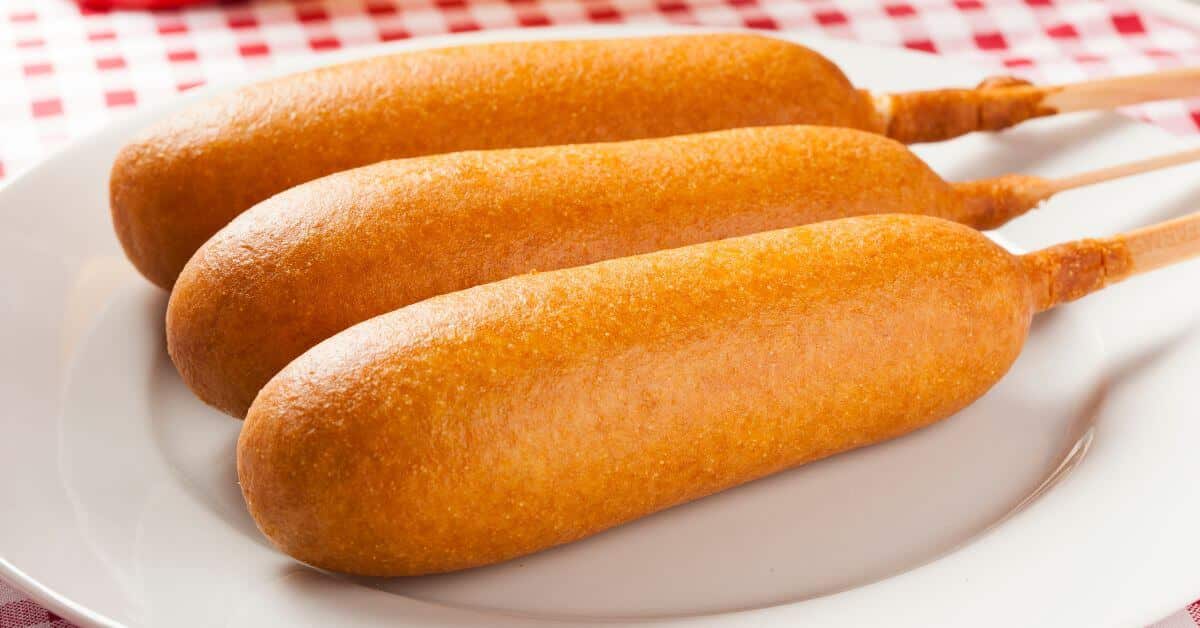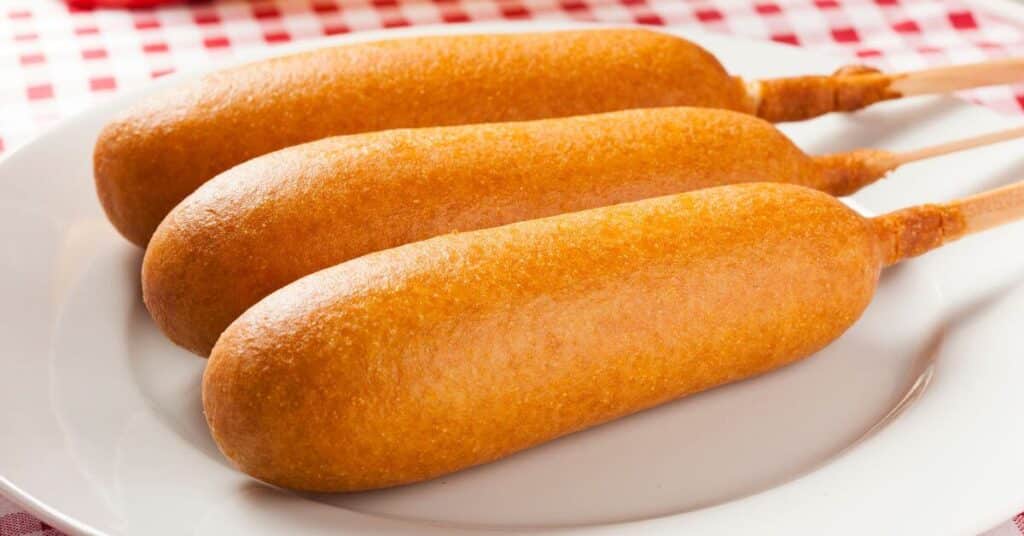 Corn dogs are a delicious and fun snack that has been a favorite of many for years. This tasty treat is usually made with a special batter, but what if you don't have that on hand? Fear not, because there is a simple solution – pancake mix! Yes, You can use pancake mix to make corn dogs that are just as delicious as the traditional ones.
So, are you wondering How to Make Corn Dogs with Pancake Mix? We have a quick and easy recipe for you to try!
Can You Make Corn Dogs with Pancake Mix?
Yes, you can make corn dogs with pancake mix! Using pancake mix as a batter instead of the traditional corn dog batter is a simple and easy way to make this classic snack without any fuss. In fact, it might even add a new dimension to the flavor and texture of your corn dogs. The key is ensuring you have the right consistency in your batter to ensure it sticks to the hot dog and gives it that classic corn dog crunch.
How to make pancake mix at home
Making pancake mix at home is not only possible, but it's also incredibly easy and convenient. Making your pancake mix allows you to control the ingredients and customize the recipe. Plus, it can save you time and money in the long run. All you need is basic pantry staples such as flour, sugar, baking powder, and salt. Once you have your mix, all you have to do is add eggs, milk, and oil to create a delicious batter.
Tips to Remember
If you're planning on making corn dogs with pancake mix, here are a few tips to remember:
Use a high-quality pancake mix for the best results. Cheaper mixes may not have the right consistency and can make the batter too thick or thin.
You can customize the flavor of the corn dogs by adding spices or herbs to the pancake mix. Paprika, garlic powder, and onion powder are great options for adding extra flavor.
Dip the hot dogs in the batter quickly and only once. Over-dipping can make the batter too thick and cause it to fall off during frying.
When frying the corn dogs, make sure the oil is hot enough. If it's too cold, the batter can absorb too much oil and become greasy, and if it's too hot, the batter can burn before the hot dog is cooked through.
Fry the corn dogs in small batches so the oil temperature doesn't drop too much and the corn dogs cook evenly.
Use tongs to remove the corn dogs from the oil and place them on paper towels to drain the excess oil.
What to serve with Corn Dogs
Here are a few ideas to consider:
French Fries: French fries are a classic pairing with corn dogs. They are easy to make, and their crispy texture perfectly complements the soft and savory corn dogs.
Coleslaw: Coleslaw adds a refreshing crunch to the meal and helps balance out the corn dogs' heaviness. You can make your coleslaw home using shredded cabbage, carrots, and a homemade dressing.
Baked Beans: Baked beans are a sweet and savory side dish that pairs well with corn dogs. They are easy to prepare and can be made in advance and reheated just before serving.
Mac and Cheese: Mac and cheese is a classic comfort food that pairs well with corn dogs. It is easy to prepare, and its creamy and cheesy texture complements the crunchy and savory corn dogs.
Potato Salad: Potato salad is another classic side dish that goes well with corn dogs. It is easy to make and can be prepared in advance, making it a great option for a picnic or outdoor gathering.
Dips: Serve the corn dogs hot with your favorite dipping sauce. Ketchup, mustard, and BBQ sauce are popular options.
How to Store Corn Dogs with Pancake Mix
Once the corn dogs have cooled, transfer them to an airtight container. You can store corn dogs in the refrigerator for up to three days.
If you want to store them longer, you can freeze them for up to three months. To freeze, wrap each corn dog individually in plastic wrap or aluminum foil and then transfer them to a freezer-safe container.
To reheat, you can either bake the frozen corn dogs in the oven at 375°F for about 20 minutes or heat them in the microwave for 1-2 minutes, depending on the wattage of your microwave. Remember that reheating the corn dogs in the microwave may make them a bit soggy.
How to Make Corn Dogs with Pancake Mix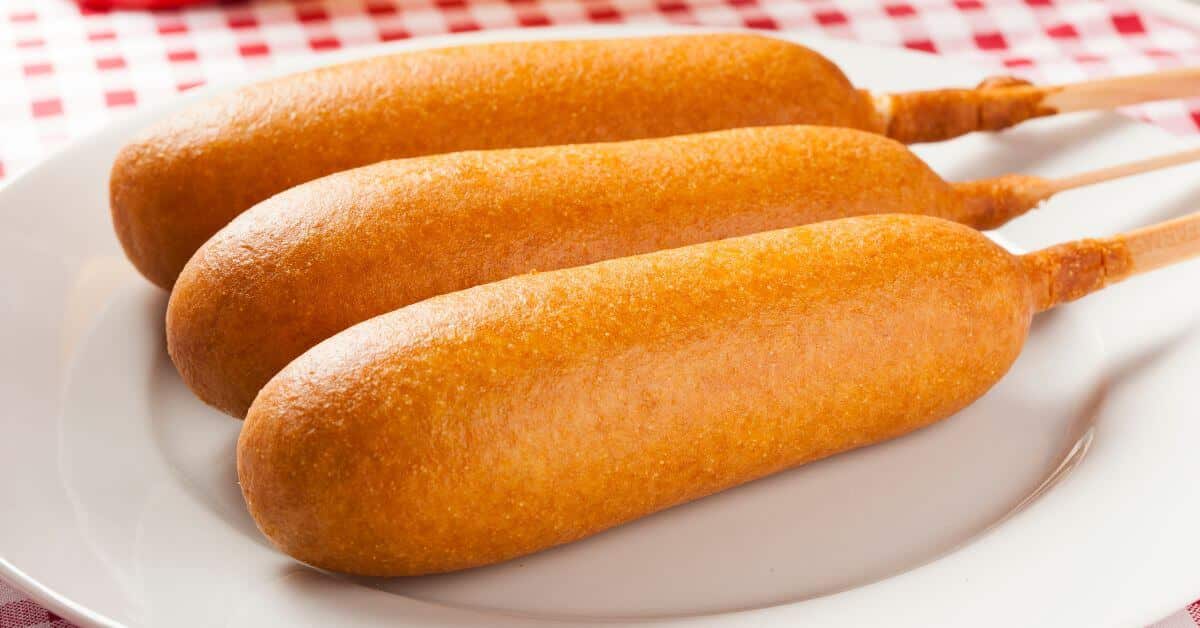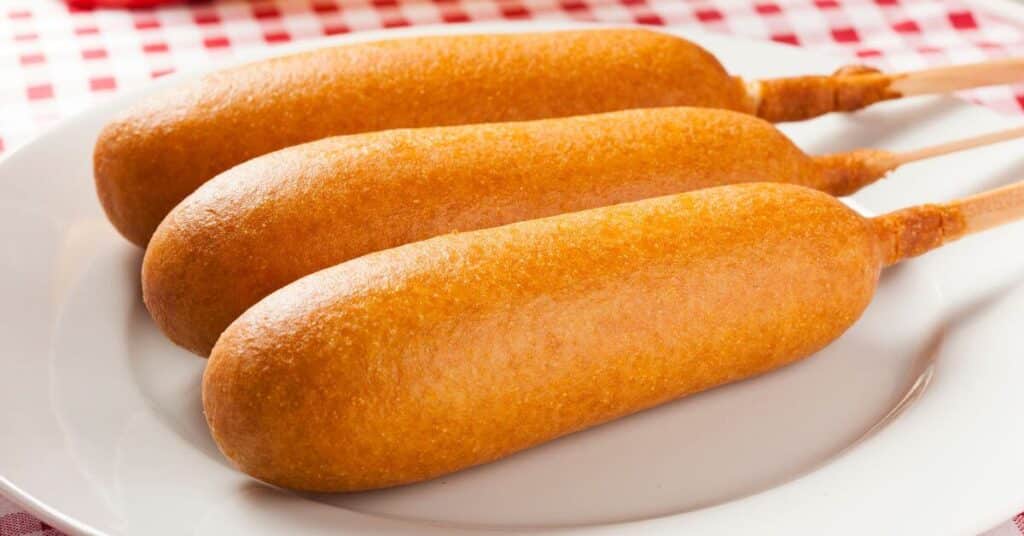 Preparation time: 10 minutes
Cooking time: 15 minutes
Total time: 25 minutes
Servings: 8 hotdogs
Ingredients
8 hot dogs with Popsicle sticks
3 cups pancake mix
1 cup yellow cornmeal
1 egg
2 cups water
Canola oil, as required
Instructions
Add pancake mix, egg, cornmeal, and water in a bowl and whisk until everything combines well.
Pour canola oil into a pot over medium heat and raise the temperature to 350 degrees F.
Whisk the batter well and dip each hot dog until fully coated. Carefully place the coated hot dogs into the hot oil.
Once hot dogs are ready, remove them from the oil and place them on paper towels to drain. Then serve with coleslaw and meat or syrup and butter.
You Might Also Like: