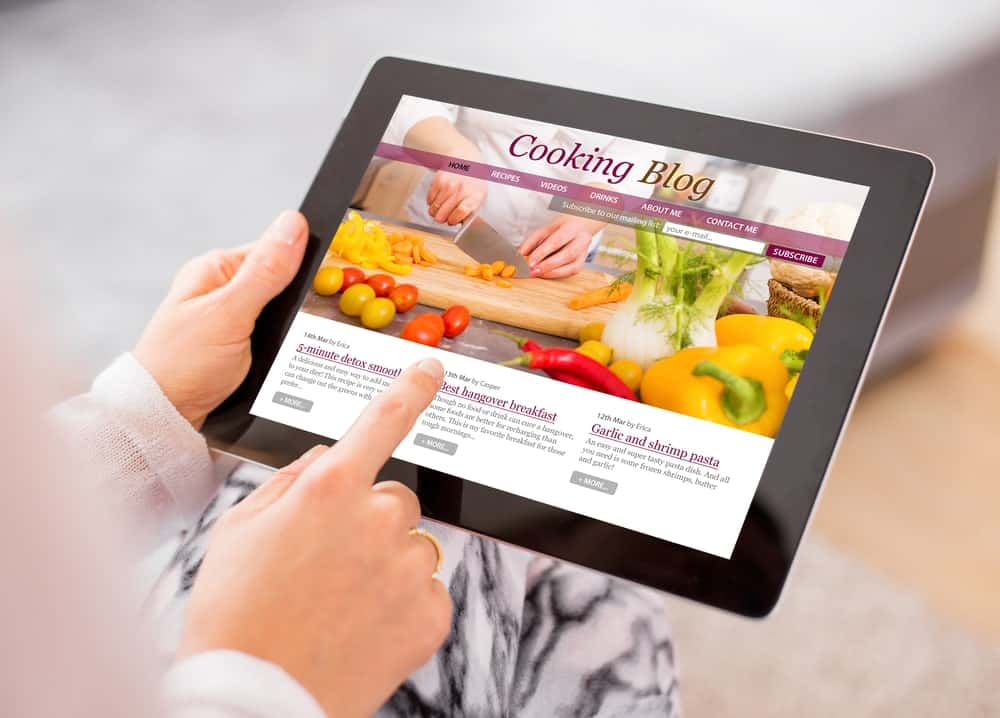 It is safe to say that food is one of the most loved things around the globe. Whether it is indulging in a hearty meal of Mexican cuisine or munching on popular Korean snacks, the complex flavors, mesmerizing aromas, and impressive appeal of food is what catches the human eye and taste buds. With every bite, the tongue starts adapting to the unique blend of different tastes leading to a world-class affair. Although there are many foodies that are constantly trying out new recipes or putting their own twists on traditional dishes, there are also many that are constantly seeking for reliable food blogs and websites.
Since there are so many food bloggers, food blogs, and food websites out there, we have condensed down your searches. Here are the 50 best recipe blogs and websites:
1. Tasty
Tasty is a recipe website by Buzzfeed that has the best of the best and easy to make recipes of your favorite foods. Apart from being the world's largest online food networks, this website is user-friendly and it puts a twist on almost all foods. With a team of many talented chefs and bakers, this website has gained popularity on almost every social media platform, especially YouTube. Whether you are cooking a simple meal for yourself or preparing for a big house party, this website has you covered.
2. How to Feed a Loon
Wesley and Kris are an iconic duo popularly known for the delicious recipes they share on their food blog or YouTube channel called How to Feed a Loon. These food bloggers have a good collection of recipes that include holiday-staple foods, appetizers, authentic Italian food, and much more. They have a series called "Lickety Split" that consists of short, to-the-point videos of cooking food. This duo shares their stories from their travels, and they talk about the delicious foods they have indulged in.
3. Jo Cooks
Jo Cooks is a food blog run by Joanna. This precious human being has been blogging about delicious foods since 2011, and since then, she has built a large audience. Apart from being a food writer who has attracted much attention from other social media sites, this woman makes sure her writing is just as beautiful as her food. Jo's food photography is definitely one factor that adds to her blog.
4. The Spice Train
Are you in search of yummy food along with the best food photography? The Spice Train is what you need to check out. When it comes to talking about The Spice Train, the only word that comes to mind is perfection. Nicole Branan, the creative extraordinaire behind this blog has her food photography featured on photography websites as well. Moreover, her recipes give you a detailed explanation of the different spices and when to use them.
5. Natasha's Kitchen
Natasha is a dedicated blogger who takes her food website very seriously. Natasha's Kitchen is a food website that incorporates helpful cooking tips, relatable stories, aesthetic food pictures, and delicious recipes that will make your taste buds tingle and stomach. The best thing is that the website is easy to use and to the point. Plus, if you are on a tight schedule, do not forget to check out the quick meal recipes.
6. Carlsbad Cravings
Carlsbad Cravings is the food blog that presents to you healthy recipes that are absolutely delicious and low carb. Apart from keeping our health in check, this food blog has the perfect dinner night recipes along with a party food recipe menu. The food photography done by this foodie has to be the cherry on top. The vibrant colors scream scrumptiousness.
7. Cooktoria
Make sure you go read Cooktoria recipes at your own risk because the recipes on this website will make you want to visit the grocery store immediately. If you are a foodie who is always on the hunt for different cuisines to try, Tania's website is a must-visit. Think about pasta tossed in with goat's cheese, basil, garlic, and spinach, a delicious concoction of this fresh produce is what you will be getting along with stellar photography.
8. Salt & Lavender
Natasha, the founder of Salt & Lavender, is catering to all our food needs by giving you delicious pictures and recipes that will leave you wanting more. Whether you opt for the main course recipes or the appetizers, whether you have a lot of time on hand to cook or if you are running on a tight schedule, this food blog will make sure you are eating right. Moreover, there are vegetarian recipes as well for the vegetarian fellows out there.
9. Simply Recipes
Simply Recipes is a food blog and website that has an array of different kinds of recipes (from gluten-free ones to rich in protein ones) that cater to everyone's needs. This online site provides all its consumers with easy to follow, step by step recipes that elevate the cooking experience to a whole other level. This blog was established in 2005, but it has made its way up ever since.
10. Baking Mischief
Baking Mischief is the ultimate food blog that has savory and sweet recipes while putting an emphasis on how you can store your food properly. Tracy, the founder of Baking Mischief, shares her cooking tips and tricks so you can make better tasting food. Along with yummy food presented on your plate, you will be in for a treat with food photography. In addition, if you are a first-time cook, you will find helpful tips here.
11. Claudia's Home Cooking
Claudia's Home Cooking provides you with authentic, ethnic recipes from all over the world, but the food blog mainly focuses on Romanian cuisines. A great thing about this woman is that she is always open to answering frequently asked questions along with giving tips on how you can make great food every single time you cook.
12. Eating Well
Eating Well is a food website that has many great, healthy recipes that make a healthy lifestyle seem even more exciting. Apart from having just healthy recipes, there are certain diet plans that anyone can benefit from. From veggie-rich recipes to gluten-free ones, each recipe is a mix of different healthy ingredients that create a beautiful tingle in your mouth.
13. That Skinny Chick Can Bake
If you want inspiration to cook some deliciously written recipes, there is no need to search any further. Liz Berg is the founder of That Skinny Chick Can Bake, and she takes feedback from picky eaters so she can make her food game even more strong. Since she has a passion for baking and cooking, she comes forward with the best of the best recipes.
14. Kate's Better Bite
If you are looking for a food blog that serves healthy food recipes, then this the Kate's Better Bite is the right place for you. Kate has been blogging about food since July of 2015, and she has constantly been presenting healthy recipes along with others. Keeping your health in check, Kate is bringing you delicious, low carb, healthy food, and yes, that is possible.
15. SkinnyTaste
SkinnyTaste is a food blog that was created by a creative genius called Gina Homolka because she wanted to incorporate her love for food and photography in one. This food blog is one of the popular ones as it provides for health-conscious fellows, vegetarians, and foodies that are willing to try out everything. The great thing about Gina is that her gorgeously composed photographs make her delicious recipes seem even yummier.
16. Sally's Baking Addiction
If you are addicted to sweets, desserts, or even baking, then Sally's Baking Addiction is your only remedy. Despite what the name of this food blog suggests Sally talks about bread, appetizers, gluten-free, drinks, and vegan foods along with a lot more. So if you have a lot of time on hand, head over to her blog and be prepared to learn a lot more about baking and food.
17. Half Baked Harvest
Half Baked Harvest is a food website that is a true inspiration to all the food bloggers around the world. Every single page on this website adds an element of "wow," and it is keen on inspiring. The drool-worthy foods that are highlighted with stunning food photography give this food website life. Tieghan Gerard, the founder of Half Baked Harvest, shares her experiences of cooking and what she loves cooking for her family.
18. Fiction-Food Café
Fiction-Food Café is a food website that will keep you stuck to your computer screen for hours because of how badly you will want to indulge in the delicious foods in front of your eyes. This food blog comprises of well-written food blogs' that combine food with fiction. The author, Diane, has an interesting way of weaving her two loves together that has drawn much attention to her blog.
19. Cookie + Kate
Cookie + Kate is a website where you will get the best recipes so that anyone can make good food. All you have to do is look for the link that reads "All Recipes" and sees the options for different recipes. Kate has broken the recipes down by Cuisine, Course, Diet, Ingredient, Everyday, and Season. With these subheadings, it will become easier for you to choose your recipe so you can start cooking.
20. Drizzle & Dip
Drizzle & Dip is a website that allows you to easily browse through it so you can choose a suitable recipe while enjoying the beautiful photographs of the food. Same Linsell, the creative head behind this blog talked about how photography and styling the blog plays a major role in how many people you are attracting to your blog. For this reason, their good food and recipes have gained much popularity.
21. Fox and Briar
If you are looking for a good website that offers recipes for desserts, cocktails, everyday meals, and healthy foods, then Fox and Briar is the best option for you. With a modern twist on traditional dishes, this food website features beautiful food writings that could make your heart flutter with happiness.
22. Tori Avey
Now that we have talked about many popular food websites and food blogs, it is time to appreciate the OGs. The ones that give a step by step guide on "how to…" cook one of your favorite dishes. Although she started off as an aspiring chef, Tori Avey now shares delicious recipes, DIY arts and crafts, home décor, gardening tips, and much more. It is a website that is very helpful for the first time cooks and home cooks that cook family-friendly foods; this is the website to look into.
23. Baker By Nature
Known to provide readers with food recipes that will not disappoint, Baker By Nature is a good blog that has you covered. Whether you are on the search for recipes for breakfast, lunch, dinner, desserts, or healthy options, this is where you can find it all. Moreover, Ashley, the found of Baker By Nature, provides you with tips on how you can make great food.
24. Nutmeg Nanny
Nutmeg Nanny is a different type of food blog. This consistent food blog is run by Brandy who is a food writer and produces recipes that are appetizing and fun to make. With a strong social media base, this food blog has become popular amongst many foodies. The great photographs are just a plus for this talented individual.
25. Love from the Oven
Do you want your mood to become good instantly? All you have to do is visit Love from the Oven's official website and become inspired. The outlook of the website is quite inviting and lively, which would make anyone want to get their spatula and mixing bowl so they can bake. The incorporation of yummy, typical desserts like cookies and ice cream is so beautifully executed that it would want to make anyone want to hop onto the dessert bandwagon.
26. Taste & Tell
Taste & Tell is the baby of Deborah Harroun. This food blog is a delicious getaway for many individuals that want to try out different food recipes every day. Since this food blog has been around since 2007, Deborah has very cleverly broken down the recipes into subheadings that make it easier to use. The reason why this food blog is so highly recommended is that it has something for everyone.
27. Naturally Ella
Even though there are many great food blogs on the internet, Naturally Ella is like no other. The founder of this site, Erin created Naturally Ella back in 2007, and she has been succeeding since. She has her recipes broken down into subheadings as well. Whether you are looking for a family-friendly dish, gluten-free, low carb, or even an easy DIY dish, this food site has it all.
28. The Foodie Affair
The Foodie Affair is the ultimate spot (online) for all foodies. Apart from being a great food writer and photographer, the founder of The Foodie Affair, Sandra Shaffer, is doing a great job at sharing her recipes. Her website has a range of recipes for different categories like breakfast, lunch, dinner, veggies, pasta, sauces, and different events. The recipes this primary chef has to offer are incomparable and simply wow.
29. Green Kitchen Stories
Green Kitchen Stories is exactly as it sounds. This blog has endless amounts of healthy vegetarian recipes that mainly focus on good fats, natural ingredients, whole grains, veggies, and fruits. The team behind this blog is the ultimate, power duo, Luise, and David. Providing individuals with healthy, evergreen recipes that would make anyone come for more their unique style of photography has many hooked.
30. My Baking Addiction
A middle school teacher by day and a professional baker, food writer, and photographer by night, Jamie (the founder of My Baking Addiction) is a woman who is a baking perfectionist. Her honest way of putting forth recipes accompanied by a unique blend of different ingredients and well-captured images, Jamie has definitely been providing her social media supporters with the best of the best recipes.
31. Spoonful of Flavor
A spoonful of Flavor is a website that has family-friendly recipes along with quick ones that foodies on the go can make. The reason why this website is so popular is that it has different recipes broken down into subcategories which make it easier for anyone to browse through. From vegan options to low carb and one-pot meals, this website is where all recipes come together and unite.
32. Cooking Kept Me Sane
The only thing that can make an interesting food blog even better would be the story that accompanies it. Chef Jackie, the founder of Cooking Kept Me Sane, was a professional chef that had worked at high-end restaurants in her earlier days. Reaching the age of 43, Jackie has started her ow
33. The First Mess
Before you can fully love and understand food, it is important for you to know how it works and what it exactly is. Although there are many online arenas that can aid in learning more about this intricate subject, there is none like The First Mess. This blog can provide you with healthy diet plans while sharing prestigious knowledge about food. Laura, the founder, shares her knowledge regarding eating seasonally, natural foods, and how you can make your own wholesome meals. Her blog is rich in important information and recipes on how to make good food.
34. Baking Bites
Nicole Weston, the founder of Baking Bites, provides you with everything you need to know about prepping and cooking food. This woman is an active member of the culinary community, and she has had her work published in top publications such as The Washington Post, New York Times, and London Times. Therefore, there is no doubt in saying that this woman knows what ingredient work well and what cooking technique should be utilized when.
35. Lee Tilghman
With every new recipe provided by Lee Tilghman, there is a story presented along with open-heartedly talking about food. The great part about this food blog is that Lee talks about how you can perfectly balance your diet with a healthy lifestyle. She talks about the importance of a healthy diet and yoga while providing you with the best recipes.
36. Manu's Menu
What is better than having two famous world cuisines executed authentically on one website? Manu is an Italian married to an Indian, which means you can get ample amounts of information on both cuisines easily. With her rich knowledge of different spices and good produce, Manu's Menu has some great things to offer.
37. Orgasmic Chef
Maureen, the founder of the Orgasmic Chef, calls herself a proper guest feeder and true foodie at heart. Apart from having the tendency of unapologetically feeding everyone, this individual produces food that is of high quality while celebrating natural produce and spices. Moreover, if you are interested in gaining knowledge first hand from this professional, all you have to do is read the secrets she writes on her blog.
38. A Fork's Tale
A Fork's Tale is a food blog that contains high-quality content that will trigger any foodie into cooking immediately. Apart from providing the world with great food recipes, Katie (the founder of the blog) has great photography skills that make her blog even better. Moreover, this individual does not limit her talents when it comes to her blog; she writes about family, traveling, and how she motivates herself to cook.
39. Baked by Rachel
Baked by Rachel is a food blog that shares exquisite recipes. Rachel, the founder of this blog, talks about how she creates and prepares each recipe before sharing it to the world. Although she can bake a variety of different kinds of foods, Rachel goes into the depths of entrees and appetizers. If you are a pizza lover and want to make your own, make sure you check out her different pizza recipes.
40. The Reluctant Gourmet
If you want to enrich your cooking skills while creating dishes for your loved ones, it is important to check out The Reluctant Gourmet's food blog. From providing you with basic information on how to use a knife to cooking delicious foods, this blog is the best. The best part is that all types of cooks can benefit from this blog!
41. Roxana's Home Baking
Do you want to perfect your dessert-making skills? If yes, then Roxana's Home Baking is the ultimate solution for you. Once you begin exploring, it will be almost impossible for you to stop. From the traditional cake and parfait recipes, there are great savory recipes on this website that you should try as well. Plus, the photographs that accompany each recipe will leave you mesmerized.
42. Scrummy Lane
If you are in search for Mediterranean inspired recipes, then the Scrummy Lane is the answer for you. Recently, this food blog has made an appearance on famous social media sites, which is why more and more people are becoming familiar with it. Along with having wittily titled recipes, each recipe is well written and easy to understand.
43. A Farmgirl's Dabbles
Are you on the search for hearty and delicious recipes of authentic soul food like beefy lasagnas and cheesy casseroles? If so, then A Farmgirl's Dabbles should be your ultimate go-to. The recipes are superb, but photography is what attracts the human eye even more. This food blog is something that needs to gain more popularity.
44. A Spicy Perspective
If you are a foodie or a food blogger, A Spicy Perspective is what you need to explore. The creative head behind this food blog is Sommer Collier, who is a food writer, photographer, and recipe developer. She has descriptive recipes with crisp images that make each recipe sound even better than it actually is. This is a food blog that will not disappoint.
45. My Kitchen Stories
Tania, the founder of My Kitchen Stories, is truly an inspiring individual that writes about how she is fascinated by art and food. Combining her two loves, My Kitchen Stories provides us with delicious-looking food and well-written recipes. In addition, if you are prepping for a dinner date night, then this food blog is what you need to check out.
46. Patisserie Makes Perfect
Patisserie Makes Perfect is a food website that talks about how you can properly prep and cook delicious food. But what makes this website so special is that this food expert gives a little insight into her life and talks to us about how she got into this industry, which is quite interesting. The best part is that this food website has some complex recipes are broken down into easier steps that any amateur cook can make flawlessly.
47. The Whole Bite
The Whole Bite is a food blog that has great recipes and photos that can get anyone hooked. This food blog has recipes that are not commonly made, which is what makes it even better. However, if you are looking from a break from rich foods, there are a few healthy alternatives for you to look into as well.
48. Kalyn's Kitchen
Kalyn's Kitchen is a food blog that is solely based on healthy, low carb foods that anyone can make. Although this blog is mainly targeted for the individuals that are health conscious, it is user-friendly for those that are looking for an escape from the traditional foods they are indulging in on a daily basis. Moreover, if you want to go down the healthy food path, these recipes are highly recommended.
49. The Brewer & The Baker
What better combination can there be than a brewer and a baker? The name of this fun blog is inspired by Shawnda (the baker) and her husband (the brewer). The Brewer & The Baker is a good blog which is full of vibrant images, delicious recipes, and foods that will leave you licking your fingers. If you are in the mood of kicking your traditional recipes up a notch, this is the blog you need to explore.
50. All Recipes
All Recipes is the ultimate go-to place for foodies all around the world. This website has a wonderful variety of different recipes that can make anyone's day better. Whether you want to cook recipes with your friends or make them for your date, you will find something that will not disappoint, hence the name.
If you are a foodie, food blogger, or just a food enthusiast, these are the 50 best recipe blogs and websites for you. Take inspiration, write down a list, and hit the grocery store so you can start making these delicious foods for yourself or your loved ones.