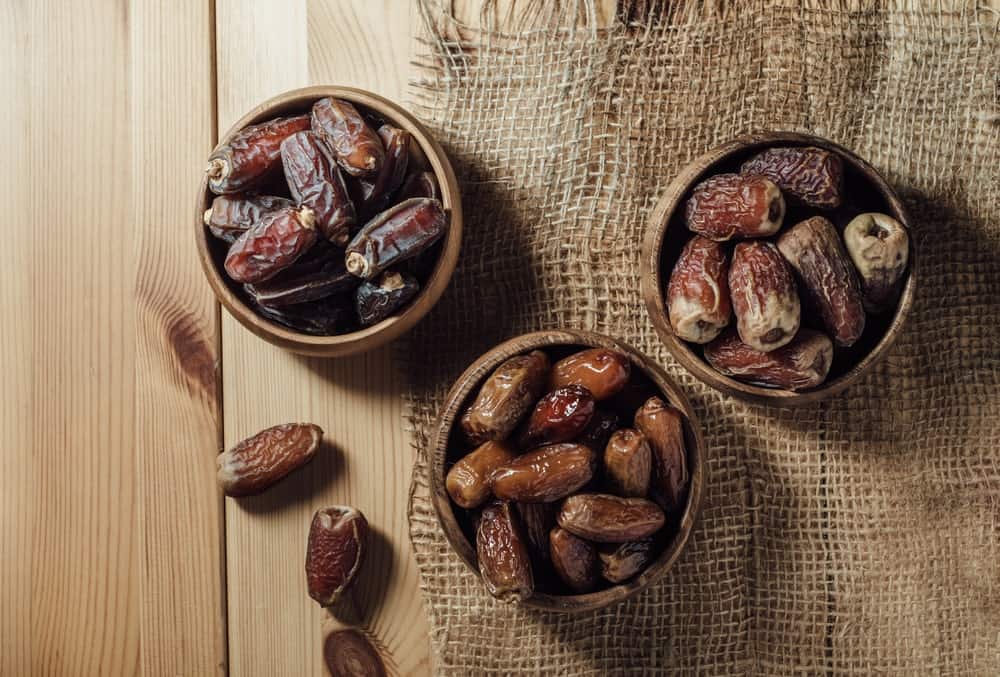 Dates are known to be one of the oldest cultivated fruits back to the ancient land that is now modern-day Iraq at least 8,000 years ago. This would mean that dates have been a source of nutrition and served as a staple food for longer than most plants. This is a testament to just how beneficial dates are. Date palms are even called "The Tree of Life" in some Arab countries.
Currently, dates are making their way to popular mainstream, with the Paleo eaters and whole foods enthusiasts singing praise to their nutritional content. So let us jump on that bandwagon and show you the different types of dates, their differences, appearances, and nutritional values.
1. Ajwa Dates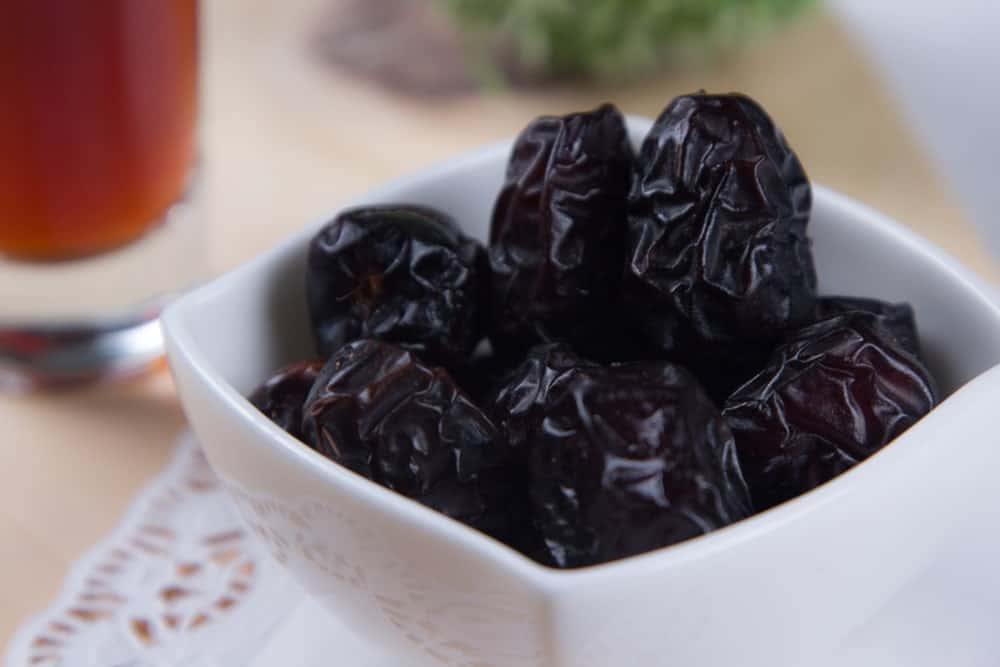 Ajwa dates are very sweet and smooth in your mouth. They are dry but soft, and it is believed that these types of dates even have healing properties. There is a story about a prophet who claims that by eating seven Ajwa dates every single morning, a person will be protected from magic as well as poison until the night falls. Ajwa dates are known as a superfood, and they are delightful to eat. You can even get these dates in a king size; they have a distinct cinnamon flavor. They are also one of the most expensive dates that you can buy, but they are well worth the price.
2. Ambera Dates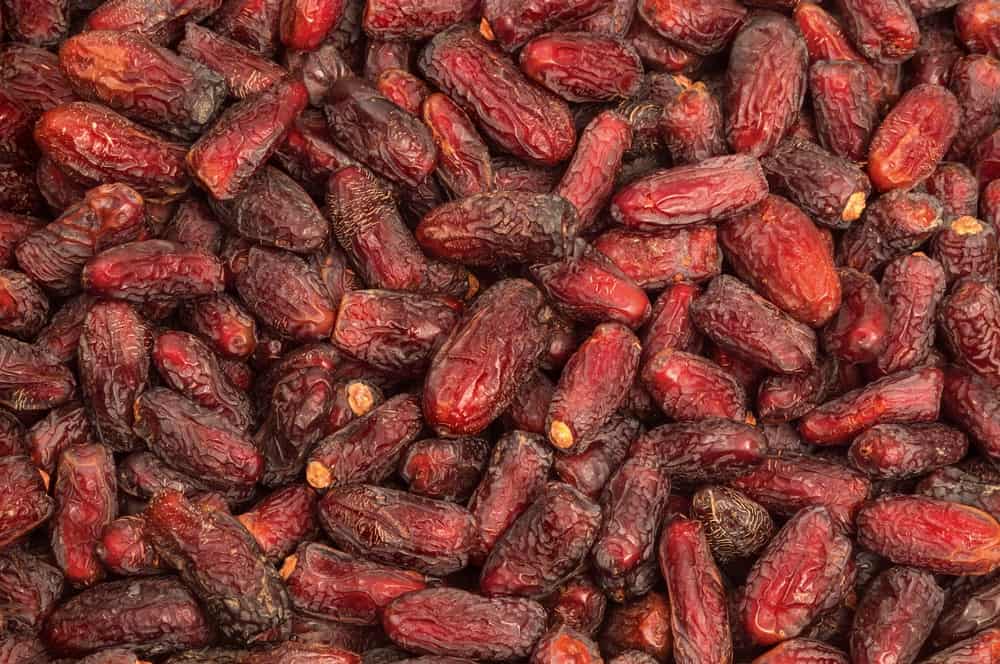 Ambera dates are of very high quality and are known for their large size as well as their healing powers. They originate from the Medina region of Saudi Arabia. Ambera dates are considered to be one of the finest of all the Madinah dates. They are soft and fleshy and are also one of the largest of all the Medinah dates.
3. Barhi Dates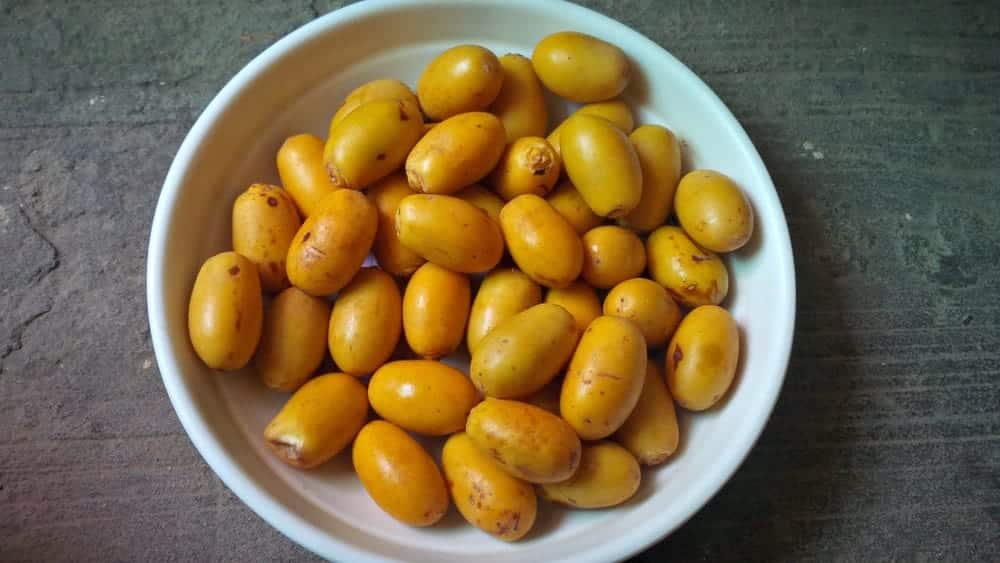 Barhi Dates are rich and have a flavor similar to caramel, brown sugar, butterscotch, or syrup. They are very fragile, late ripening, and the smallest of all the dates. These dates have a firm skin that turns amber, and when ready to be cured, the skin will be a golden brown. They are crunchy when they are yellow and soft when they are brown. They taste delicious in both states. These dates are named for the Arabic winds known as "Barh." The interior of these dates is creamy and smooth.
4. Dayri Dates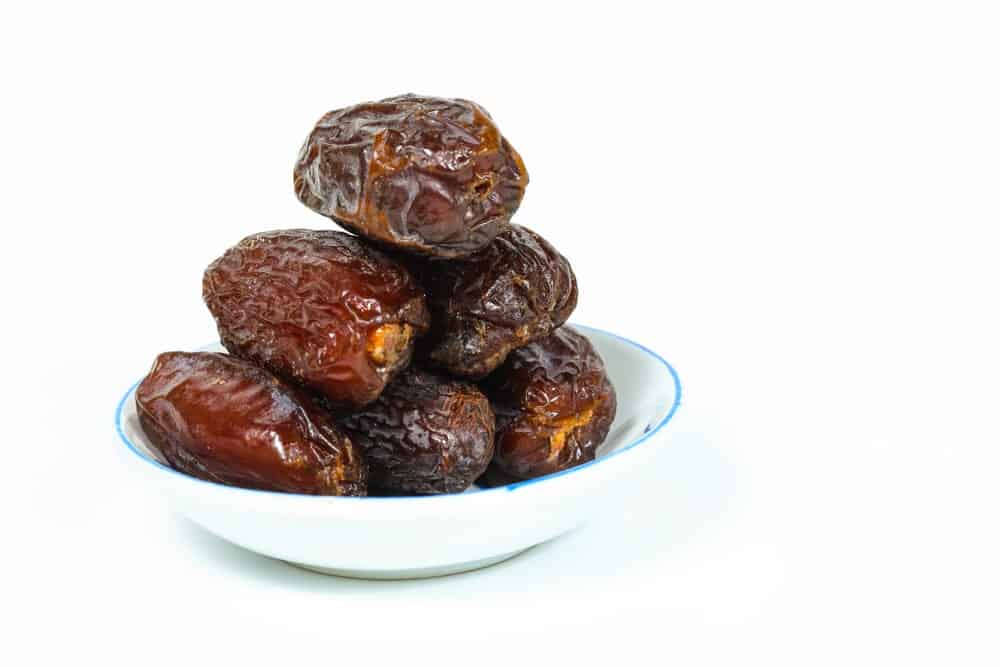 These dates are both heavy and have a sweet flavor. They are medium to large in size and are oblong in shape. Dayri dates have red skin and soft flesh, and when ripened, the skin will be amber in color. It will turn a golden brown when cured. They are very similar to Barhi dates, and they also ripen late in the season.
5. Deglet Noor Dates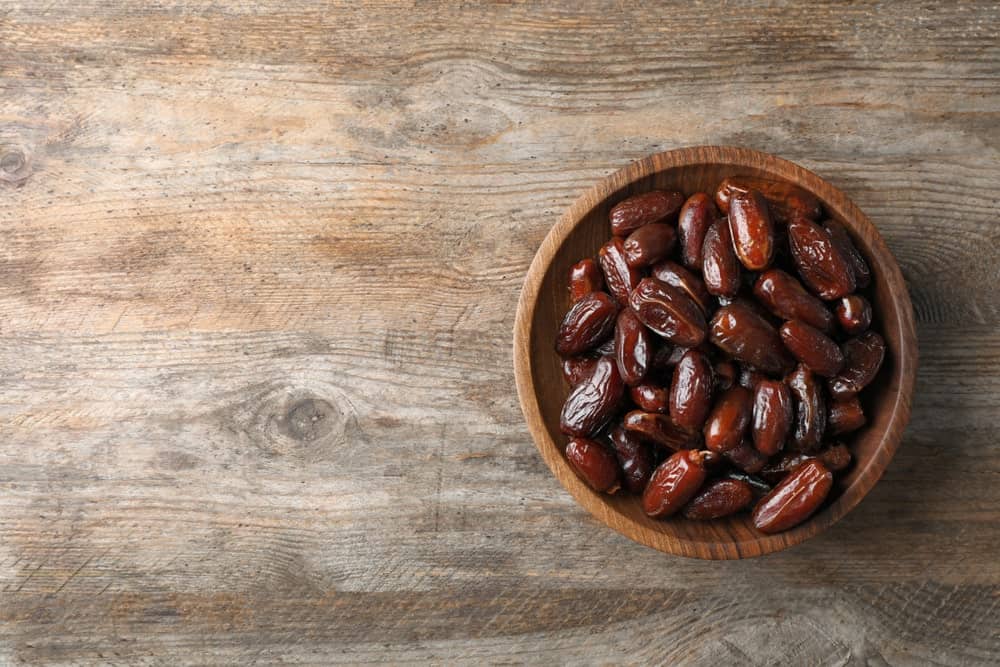 The Deglet Noor date translates to "date of the night." This type of date is considered to be a semi-dry date and is very sweet and delicate in flavor. It has a "true" date flavor and is medium to large in size. The Deglet Noor date has skin that ripens from an amber hue to a very deep brown and is perfect for cooking. It ripens late in the season.
This particular variety of date makes up about 95 percent of US production. Deglet Noor dates are considered to be the "queen of all dates" and are very soft. They taste like sweet hone and are quite affordable. The Deglet Noor date are an all-purpose date that can be used in many different recipes or eaten on their own. They are also easy to cut into uniform pieces for better presentation because they have that dry texture. They are perfect for making cakes, pieces of bread, and cookies.
6. Dried Dates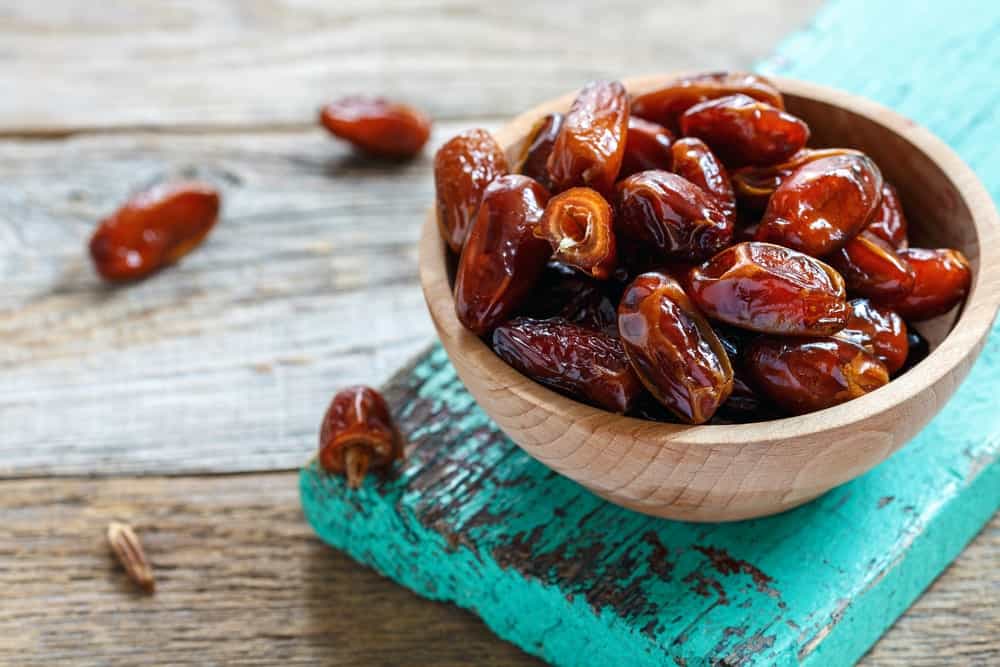 Dried dates are ripened in the sun right on the tree. They have a long shelf life of 12 months or more. You can also freeze them to retain their delicious flavor for up to five years. They contain about 5 grams of fiber and about 3 grams of protein per serving, and they have a nice strong flavor. Dried dates also contain vitamins K and C and iron, calcium, and B vitamins. They are also a great source of energy.
7. Halawy Dates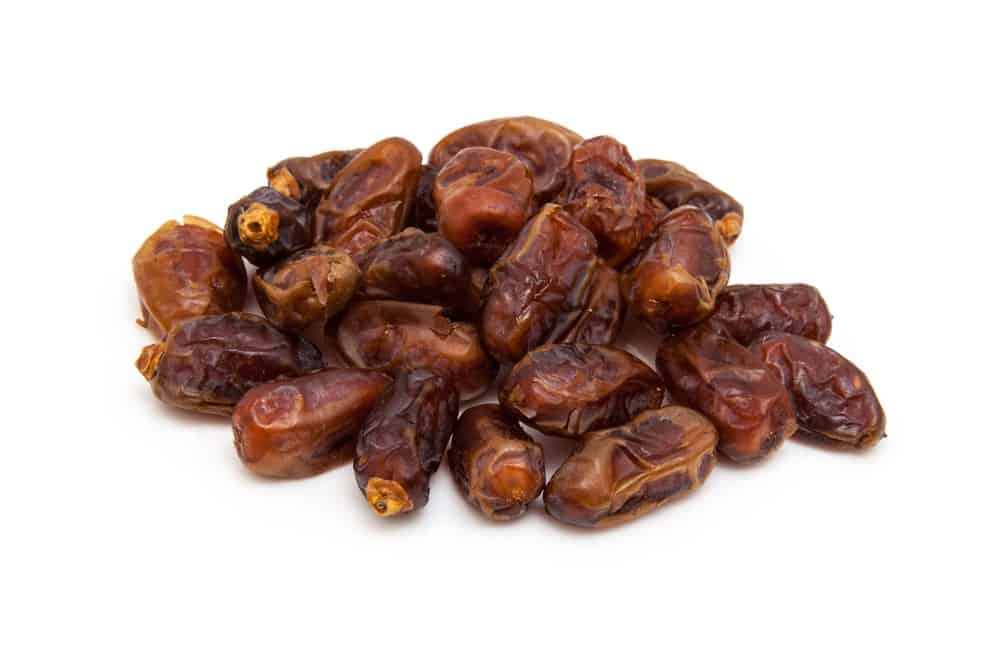 Halawy dates are soft dates that taste like honey or caramel. The name is also sometimes spelled, Halawi, and the name "Halawy" means "sweet." Halawy dates are small to medium in size, and they ripen about midway through the season. They have golden-brown skin, and the flesh is tender. They are more wrinkled than other dates and have a very rich caramel flavor. Halawy dates will melt in your mouth and are perfect for the caramel fan. They are used in many savory dishes and pair really well with cheese, so they would be a great addition to any wine and cheese-tasting get-together.
8. Iteema Dates
These dates are from Algeria and are very sweet. They have an amber color, and they are oblong in shape. They are also quite large in size.
9. Kalmi Dates
Kalmi dates are dry yet rich, and they are originally from Oman. They are very popular during the Ramadan festivities. They are black in color and typically cylindrical. It is also very small in size. They are high in potassium and minerals, and they can even be used to help prevent many ailments, such as diarrhea. These are possibly the most sought-after of the Safawi dates and have just the right amount of sweetness. They are cultivated in Madinah and are a nice variety of dates from Saudi Arabia.
10. Khadrawy Dates
These dates are soft and sweet but not too sweet. They begin orange-brown and then change to light-brown as they ripen. They are large in size and oblong, and the flesh remains firm throughout the ripening process. Khadrawy dates are thought to be the best of both worlds since they have a desirable texture as well as flavor. They are best eaten when fresh, and they will ripen in mid-season. However, they do not keep, so they always need to be eaten as soon as they are picked. They are very similar to Halamy dates as they have a sweet flavor, much like caramel. They are said to be the gooiest dates that you can buy, and they will melt in your mouth, leaving a sweet aftertaste on your palette.
11. Khola Dates
Khola dates have a very sweet caramel-like flavor. They are very sticky when they are freshly picked and are often eaten alongside Arabic coffee. They are loose-skinned and originally from the Al Kharj and Al Qaseem areas of Saudi Arabia. Khola dates are golden brown with somewhat translucent skin. They are a wonderful treat, and they are also high in antioxidants, minerals, and fiber. They are also fat-free, sodium-free, and cholesterol-free.
12. Khudri Dates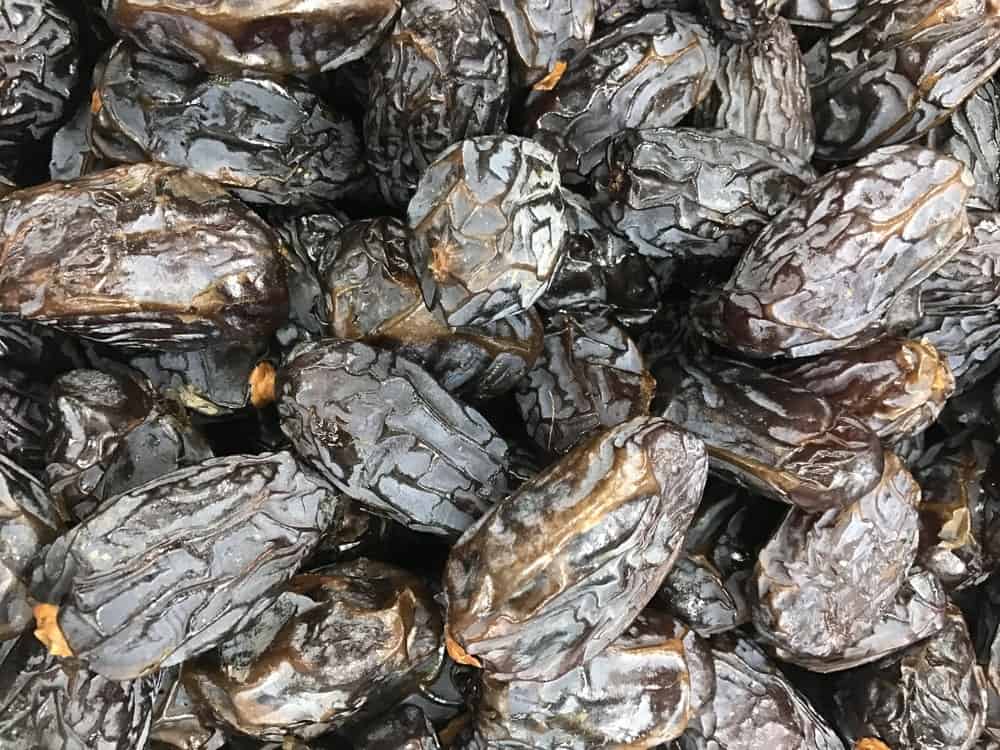 Khudri dates are a dark-brown color, and they have wrinkled skin. They are sweet and are available in small as well as large sizes. They are often exported because they keep fresh for a long period of time and they are also inexpensive. Khudri dates contain calcium, iron, potassium, magnesium, folic acid, and vitamins. They also contain fiber, and many studies have proven that they are an effective way to keep the body free from cancer. They are also great for strengthening a weak heart.
13. Mabroom Dates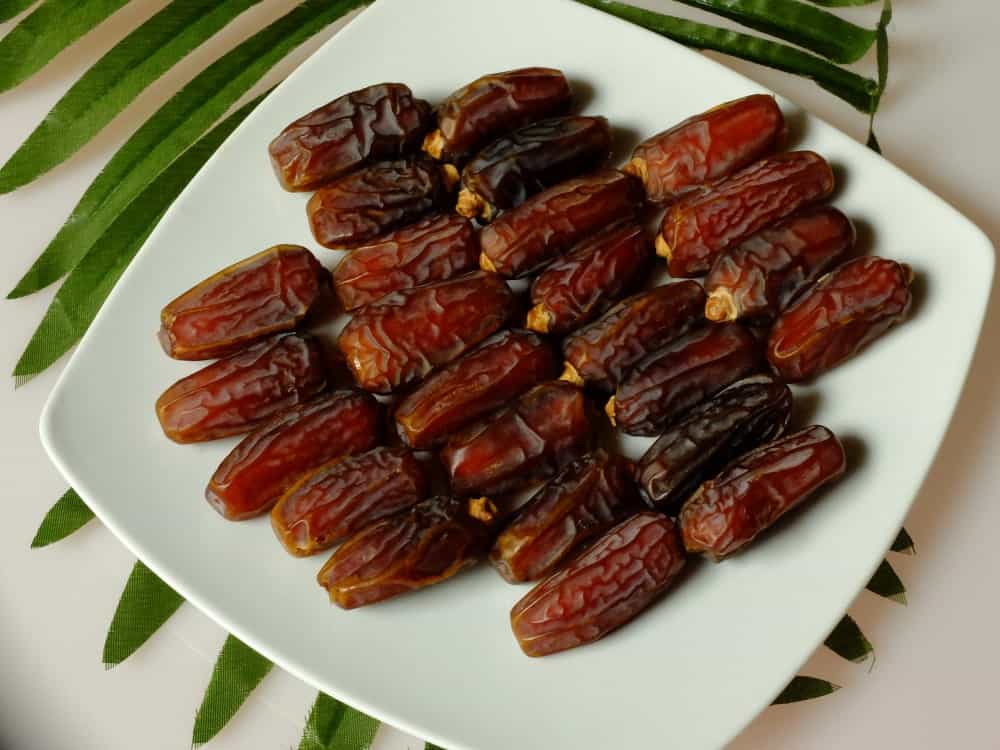 These types of dates are considered to be of premium quality, and they are naturally rich in minerals as well as antioxidants. Mabroom dates are chewy and very sweet. They are harvested during the months of July and August, and there are three harvesting stages for Mabroom dates. They are a delicacy and are perfectly sweet. Mabroom dates are slender and longer than most dates. It is rumored that the Sultan of Brunei gives a box of these decadent dates to every one of his Muslim people as a gift during Ramadan.
14. Maktoom Dates
These dates are very large in size, and they also have thick skin. The skin is a reddish-brown color, and they are just slightly sweet. They are ideal for people who enjoy dates but do not like them to be overly sweet.
15. Medjool Dates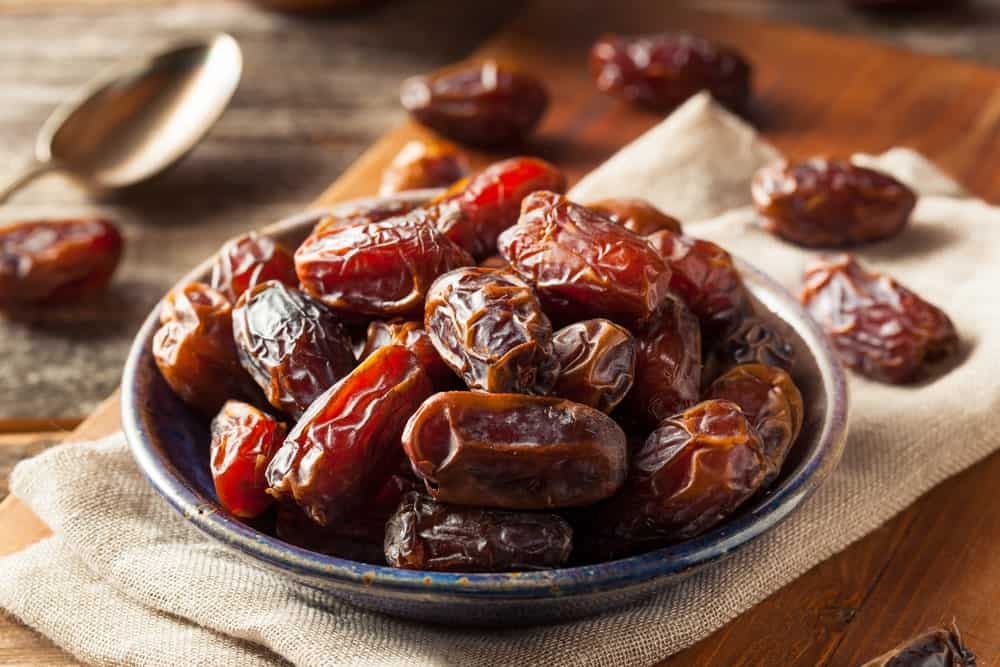 Medjool dates are very rich, sweet, and delicious. They are also known as Medjul dates, and they have soft skin and fibrous texture. They are large, about three inches long, and sometimes even very large in size, and they turn from amber to reddish-brown when they are ripening. Medjool dates are very moist and perfect for eating when freshly picked. Medjool dates are well-known in most stores and will moisten the palette. They have a very sticky inside and offer a decadent caramel flavor. They are ideal for using in recipes such as shakes, stuffing recipes, or energy bars.
16. Migraf Dates
These dates are also called Mejraf dates, and they are very popular in Southern Yemen because of their high-quality. They are golden amber in color and are large in size. It's recommended to eat a couple of these per day to get the benefits and nutrients that these dates have to offer.
17. Safawi Dates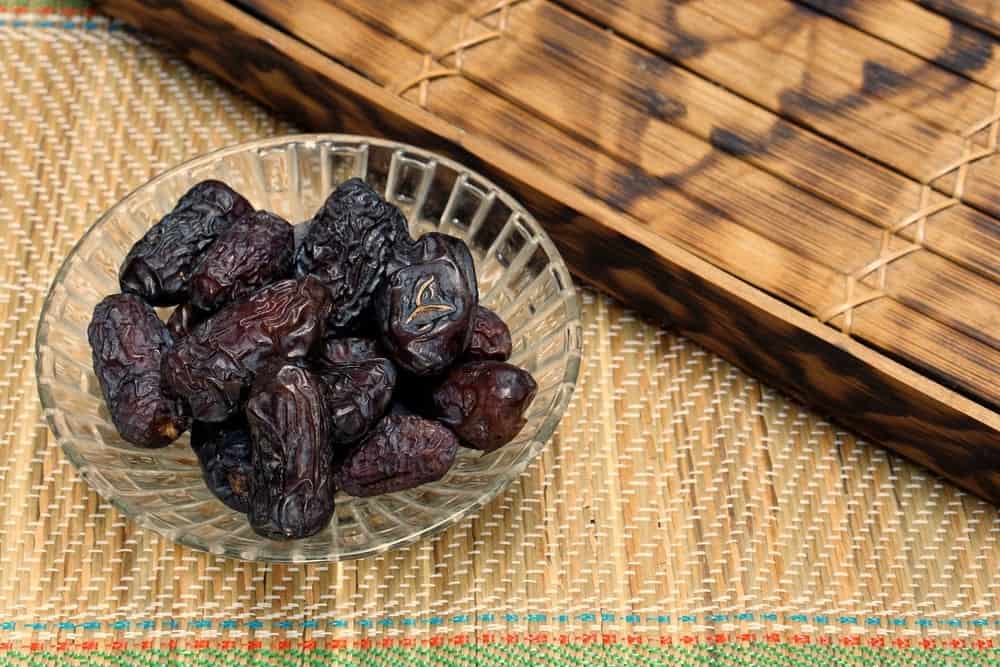 Safawi dates are fleshy and black in color. They are sweet and loaded with vitamins. They are grown in Madinah and are known for their many healing benefits. If you eat them on an empty stomach, they are capable of killing worms in the stomach. They are also very high in minerals.
18. Saghai Dates
Saghai dates are grown and cultivated in Riyadh. They are not soft, but they're rather quite crisp, and they have a brown color. Saghai dates are yellow at the tips and are also wrinkled. They are very good; many who try them once tend to buy them again.
19. Saidy Dates
Saidy dates are popular in Libya and very tasty and sweet. They are grown in very hot climates where they tend to really thrive.
20. Semi-Soft Dates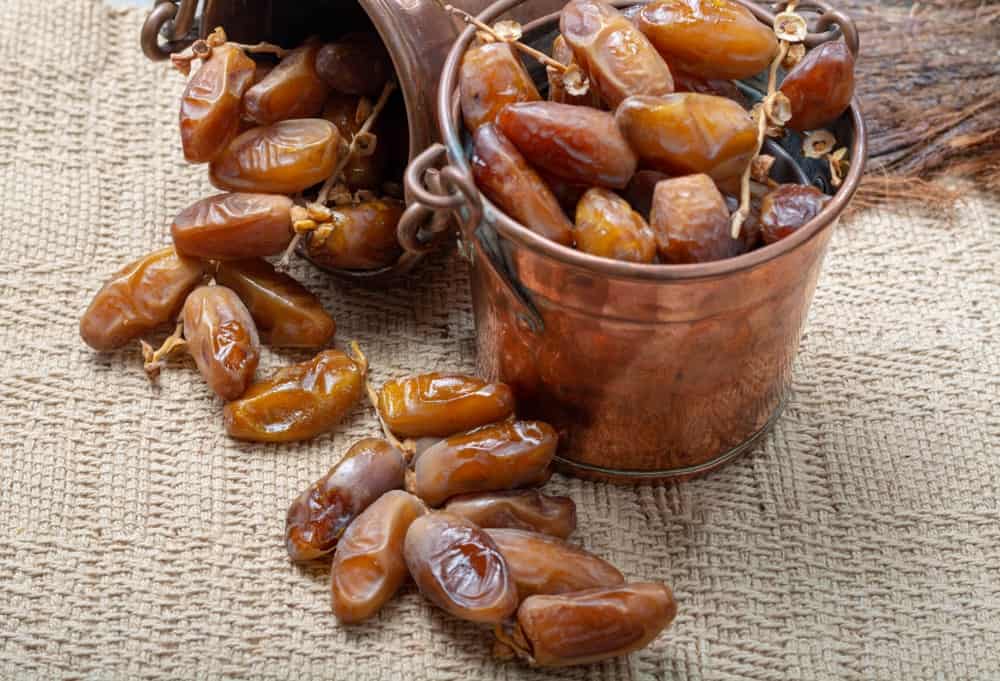 Semi-soft dates are not harvested when they are ripe. In fact, they are harvested when they are unripe. They have firm flesh; some soft dates include the Medjool, Deglet Noor, and the Zahidi date.
21. Soft Dates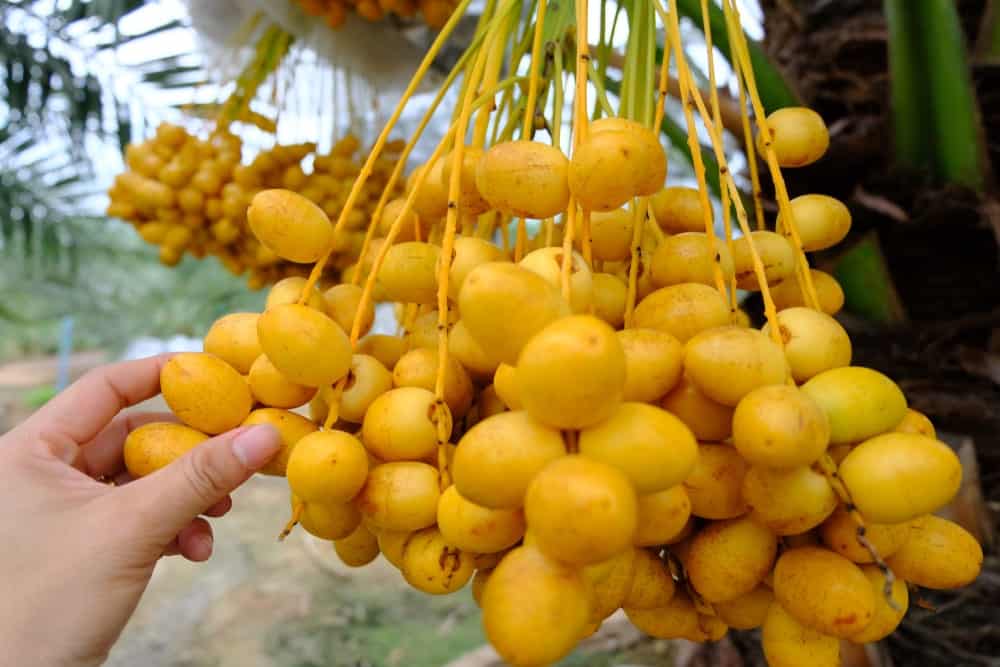 Soft dates are harvested when they are unripe and soft; the Barhi date is just one example of a soft date.
22. Sukkari Dates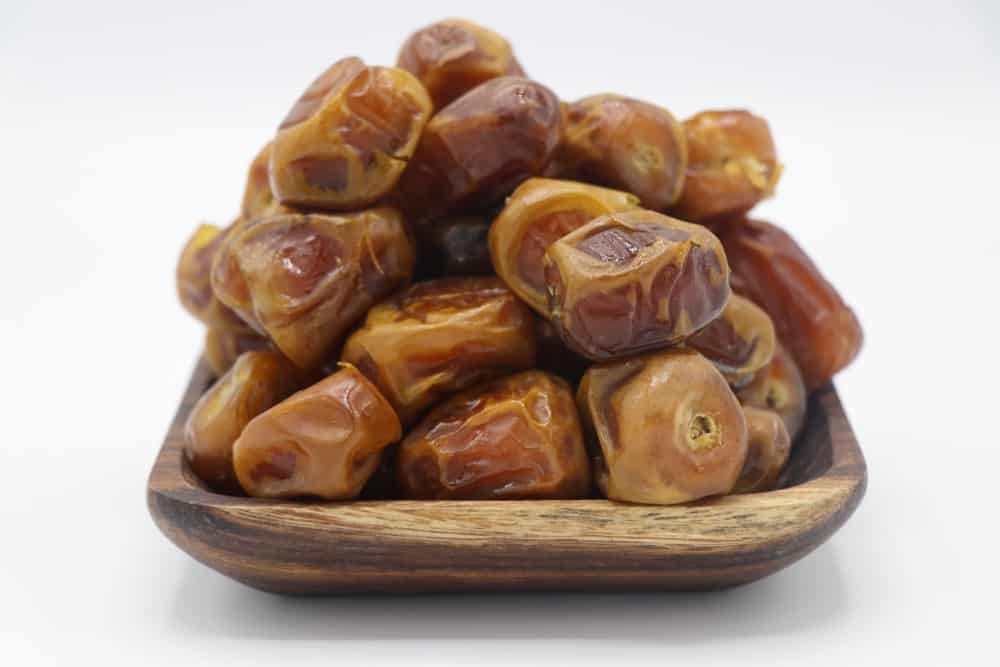 Sukkari dates are sweet and crisp, and they are also high-quality. They are nutritious and also good for healing. They can even prevent tooth decay. Sukkari dates can help to energize you and to help lower your cholesterol as well. They are from the Al Qaseem region of Saudi Arabia. Sukkari means sweet, which is exactly what these dates are. They are also referred to as the "King of the Dates," and they will melt in your mouth for a nice treat.
23. Thoory Dates
Thoory dates are dry and sweet. They also have a nutty flavor and are called bread dates because they are ideal for baking. Thoory dates are medium to large in size and oblong in shape. They are golden brown, and they ripen late in the season. Thoory dates are considered to be dry dates and have firm skin with a chewy texture. They are quite popular in Algeria and also do well in the heat of California. They are sticky but not quite as sticky as other dates. Thoory dates pair really well with granola, trail mix, or muesli since they are not so moist that they will make the rest of the ingredients soggy when mixed together.
24. Warehouse Dates
Warehouse dates are very popular, and they're very large in size. They have a small seed and are one of the more expensive varieties of dates that are available to buy. Warehouse dates are worth the price, though; they are filled with protein. They are sweet and brown in color.
25. Zahidi Dates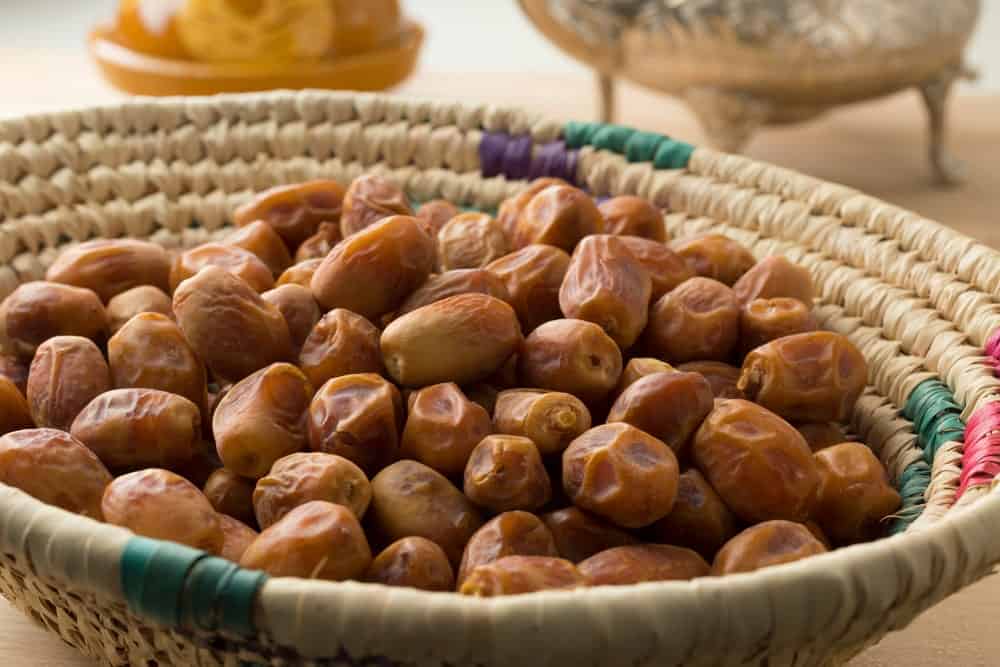 Zahidi dates are sweet and have a sugary flavor. They are semi-dry and medium in size. They also have smooth and glossy skin and are golden-yellow in color. Zahidi dates are full of syrup, and you can use them for cooking. They also make a great snack. Zahidi dates tend to ripen early, and they keep well. They are also called "Nobility," and they contain a large seed in the center. These dates have a crunchy and fibrous flesh and are typically processed for date sugar products or packaged as sliced dates.
FAQs
What do fresh dates taste like?
Fresh dates have a sweet and mildly tangy flavor. Some types, like the Thoory dates, have a nutty flavor, while others are more fruity.
Which type of dates offer the most health benefits?
All types of dates offer health benefits, as they are rich in fiber, vitamins, and minerals. However, the nutrient content can vary slightly between different varieties.
How do Medjool dates compare to other varieties?
Medjool dates are popular for their natural sweetness and versatility in culinary applications. Compared to other varieties, Medjool dates tend to be higher in natural sugars and calories. However, their nutrient content remains similar to other date types.
What are dates before they are dried?
Before dates are dried, they are called fresh dates, which are the fruit of the date palm tree. They have a moisture content of about 30-40% and can be eaten in their fresh state. Fresh dates have a slightly different taste and texture compared to dried dates, but they still offer similar health benefits and culinary uses.
Can dates be frozen?
Yes, dates can be frozen. Place them in an airtight container or freezer bag and store them in the freezer. Dates can be frozen for up to 6 months. Thaw them in the refrigerator or on the counter when you're ready to use them. Frozen dates may become slightly soft and sticky once thawed, but they are still delicious and can be used in recipes that call for fresh dates.