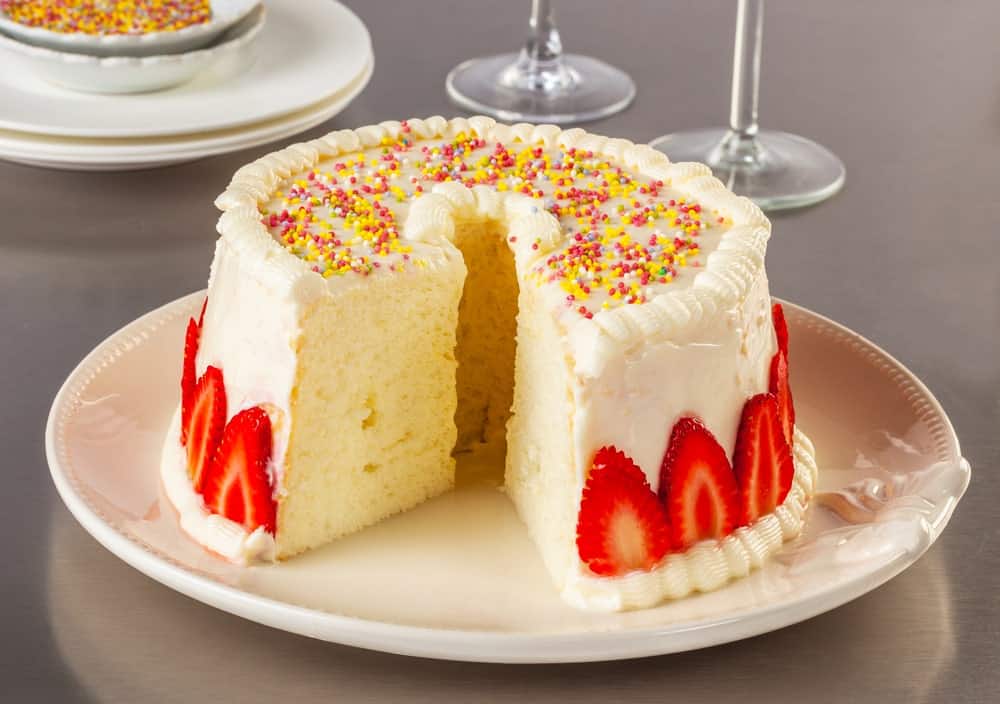 Do you have a leftover piece of angel food cake sitting in your kitchen? Well, good news; we've got some ideas for what to do with it!
We know that while angel food cake is heavenly—pun intended—on its own, sometimes you just don't want to eat another slice. So why not put your extra baked goodness to use and get creative with cooking up something delicious?
Whether you're looking for breakfast inspiration or a new dessert recipe, we've got plenty of ways for turning your classic angel food cake into something scrumptious! Read on for some mouth-watering recipes sure to make anyone's sweet tooth satisfied in no time!
Turn It Into Something New
Whether you have homemade angel food cake or store-bought angel food cake, there are plenty of ways you can transform your leftover cake into something new and exciting! Here are our favorite angel food cake recipes to try.
A trifle bowl is one of the best ways to use up any leftover angel food cake. All you have to do is layer your favorite fresh fruit, custard, jelly, and whipped cream with pieces of angel food cake in a clear glass bowl.
Try a pineapple orange trifle, or get creative and make a blueberry lemon trifle, caramel toffee trifle, or even a peanut butter cup trifle. The possibilities are endless!
Crave something a little tart? Then turn your regular angel food cake into two-ingredient fat-free lemon bars with canned lemon pie filling. The texture of these bars is more of a cake texture, so it's light and delicious. Good luck just eating one bar!
Bread pudding is an easy dessert recipe that's perfect for using up leftover angel food cake. Simply cut the cake into pieces, let it dry out for an hour or overnight, and then add to your favorite bread pudding recipe. Top with some caramel sauce, and enjoy!
Tortes are very similar to cakes, except they use a combination of nuts or bread crumbs instead of all-purpose flour. You can make the perfect flour substitute from your leftover angel food cake!
For this recipe, you don't need to bake the cake; just layer slices of angel food cake with the filling, then spread a simple topping over it.
You can't go wrong with a classic dump cake! It's called a dump cake because all you have to do is mix together a few simple ingredients and pour them into a large bowl and bake.
This pineapple angel food dump cake is made with pineapple, but feel free to experiment with other canned fruits like chopped peaches or pears.
French toast is a great option since you're supposed to use day-old or stale bread to make it. You can use a whole cake to make individual pieces of French toast to make a giant batch if you wish! Top with some Cool Whip and fresh berries for an extra special treat!
​You must try making these angel food cake churro bites! What could be better than a delicious dessert with a crunchy yet fluffy texture that gives you the taste of churros all in one bite?! All you need is your angel food cake and a little sugar to make this tasty treat.
Add Moist Toppings
Angel food cake is a great base for a variety of toppings, so you can get creative with what you put on it. Here are some of our ideas for inspiration.
Fresh Strawberries
Nothing beats the classic combination of angel food cake and fresh strawberries! Be sure to use strawberries that are sweetened and in plenty of juice to balance out the dryness of the cake. Top with a dollop of Greek yogurt or Cool Whip for an even sweeter treat!
Peaches & Cream
Who doesn't love good old peaches and cream? Upgrade your angel food cake with this quintessential summer dessert. If your cake is a little dry, you can use canned peaches with all of that yummy juice to help moisten it up.
Yogurt Parfait
Layer angel food cake with Greek yogurt, granola, and fruit for a tasty parfait. It's an easy way to get the most out of your leftovers while also getting in some much-needed protein.
Ice Cream
You can't go wrong with a  scoop of vanilla ice cream and a slice of angel food cake. This is the perfect way to cool off and satisfy your sweet tooth all at once. Plus, you can always add different toppings for extra fun!
FAQs
Is angel food cake healthier than cake?
Angel food cake is a type of sponge cake that is made with egg whites and no cholesterol. Because it has no fat or cholesterol, it's much lower in calories than regular cake.
In addition, egg whites provide a great source of lean protein, making angel food cake a healthier option than regular cake.
How long will angel food cake stay good for?
Angel food cake typically stays good for up to two days if stored in an airtight container. After two days, it may start to dry out and lose some of its flavor. It's best to eat angel food cake the same day it is made for optimal freshness and taste.
Can I freeze angel food cake?
Yes, you can freeze angel food cake. To do this, wrap the cake tightly in plastic wrap and then place it in a freezer-safe container or bag. Defrost before serving.
Final Thoughts
Angel food cake is a delicious and versatile dessert that can be used to create a variety of tasty desserts. Whether you're looking for something simple or something more complex, there are plenty of angel food cake recipes to choose from.
From cakes and tortes to French toast and churro bites, you can transform your leftover angel food cake into a tasty treat in no time! So the next time you make an angel food cake, don't forget about all of the wonderful desserts you can make with it afterward!
For more angel food cake tips, check out these posts!