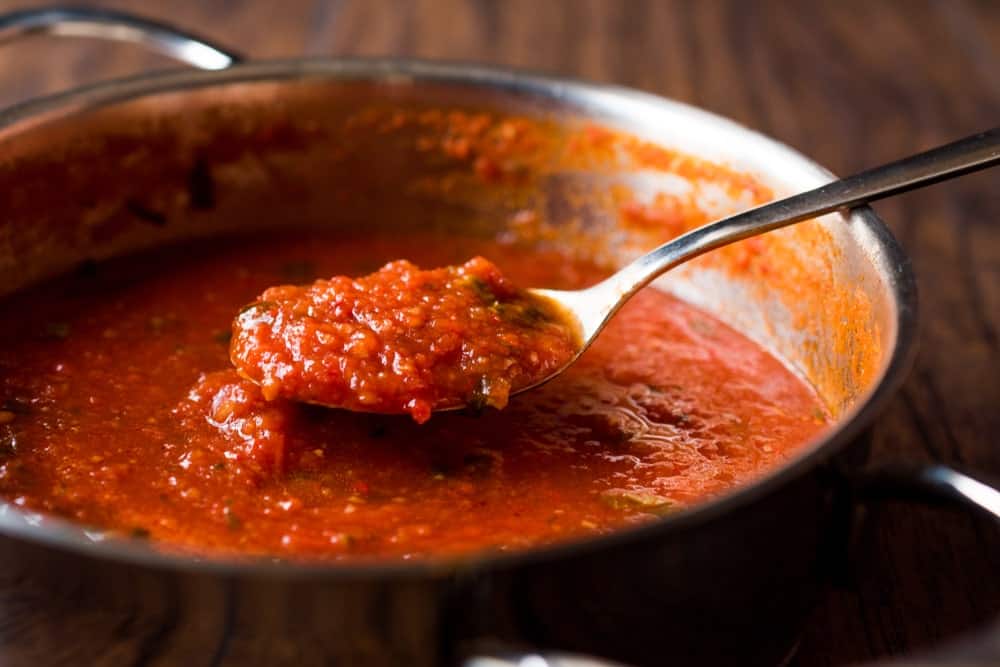 Don't let leftover meat sauce from family dinners go to waste any longer. With some inspiration and culinary exploration, that extra sauce can lead to an array of delectable dishes. From stuffing pasta shells to using them as a topping for homemade pizzas, you have many meal options at your disposal. Not only will this inventive approach help you cut down on food waste, but also allow for flavorful experimentation in the kitchen.
Calling all home cooks – if you're tired of letting perfectly good food go down the drain after dinner, then this guide is for you! With just a few simple tweaks and additions, leftover meat sauce can become the star ingredient in some truly unforgettable meals. From pasta bakes to homemade pizzas and more, there are endless possibilities waiting for you in these recipes. So why wait?
Get ready to impress next time you whip up something amazing using those tasty leftovers!
What to Do with Leftover Meat Sauce
Meat Sauce Baked Pasta
Transform your leftover meat sauce into a comforting baked pasta dish. First, cook your favorite pasta according to the package instructions; try options like rigatoni, penne rigate, or elicoidali. Then, mix the pasta with your meat sauce, and add some vegetables for extra flavors, like peas or diced bell peppers.
Layer the pasta mixture in a baking dish and top with cheese, such as mozzarella or provolone. Bake until the cheese is melted and bubbly.
Meat Sauce Pizza
Why not make a scrumptious meat sauce pizza using your leftovers? Begin by spreading a thin layer of meat sauce on your pizza dough or pre-made crust. Top your pizza with your favorite cheese, like mozzarella or provolone, along with additional toppings, such as mushrooms, olives, or onions.
Bake the pizza in a preheated oven until the crust is golden and the cheese is bubbly. Once cooked, let it cool for a few minutes before slicing and savoring your unique and tasty meat sauce pizza creation.
Bring on the Veggies
Leftover meat sauce can be creatively incorporated into recipes that highlight the deliciousness of vegetables. Swapping out traditional pasta or bread for alternative veggie options can bring a healthy twist to your dishes while putting your sauce to good use. Here are two tasty ways to combine veggies with leftover meat sauce.
Stir Fry
Turn your meat sauce into an exciting stir fry. Grab a mix of your favorite vegetables, like bell peppers, onions, broccoli, and snap peas, and sauté them with a splash of olive oil. Once the vegetables are tender, add your leftover meat sauce to the pan and stir well to combine.
Replace regular noodles with zucchini noodles or your preferred veggie noodles. Simply cook the noodles according to package instructions, and then toss them with your flavorful sauce and vegetable mixture. Serve and enjoy your deliciously reimagined stir fry!
Stuffed Zucchini
Put a spin on classic stuffed peppers by using zucchini. To start, cut your zucchinis in half lengthwise and scoop out the seeds to create boat-like shapes. Drizzle the zucchini with olive oil, and bake in a preheated oven for about 10 minutes to soften.
While your zucchini is baking, combine your leftover meat sauce with cooked rice or quinoa and season with salt and pepper as needed. Once the zucchini boats are ready, fill them with the meat sauce mixture and sprinkle with your preferred shredded cheese on top. Return the stuffed zucchini boats to the oven and bake until the cheese is bubbly and golden. Serve and enjoy!
Creative Twists
Meat Sauce Nachos
Transform your leftover meat sauce into a delicious snack by using it as a topping for nachos. Spread tortilla chips on a baking sheet, and generously spoon your meat sauce on top. Don't forget to sprinkle shredded cheese and your favorite nacho toppings, such as jalapenos, olives, or diced tomatoes.
Bake in the oven at 350°F (175°C) for about 10 minutes or until the cheese is melted and gooey. Top with sour cream, guacamole, or fresh cilantro, and serve immediately. This tasty appetizer is perfect for sharing with friends and family or just enjoying solo during a movie night.
Meat Sauce Omelette
If you're looking for a filling breakfast or brunch option, try making a meat sauce omelet. First, heat a tablespoon of oil in a non-stick frying pan over medium heat. In a bowl, beat 2-3 eggs together, adding a pinch of salt and pepper to taste. Pour the egg mixture into the frying pan and let it cook for a minute or two until the edges start to set.
Now it's time to add the leftover meat sauce to the omelet. Spoon a generous helping of the sauce on one side of the egg, and sprinkle your choice of grated cheese on top. Carefully fold the other side of the egg over the filling and let it cook for another 2-3 minutes until the cheese is melted and the egg is fully cooked. Serve your meat sauce omelet with a side of toast or a fresh salad to make it a complete meal.