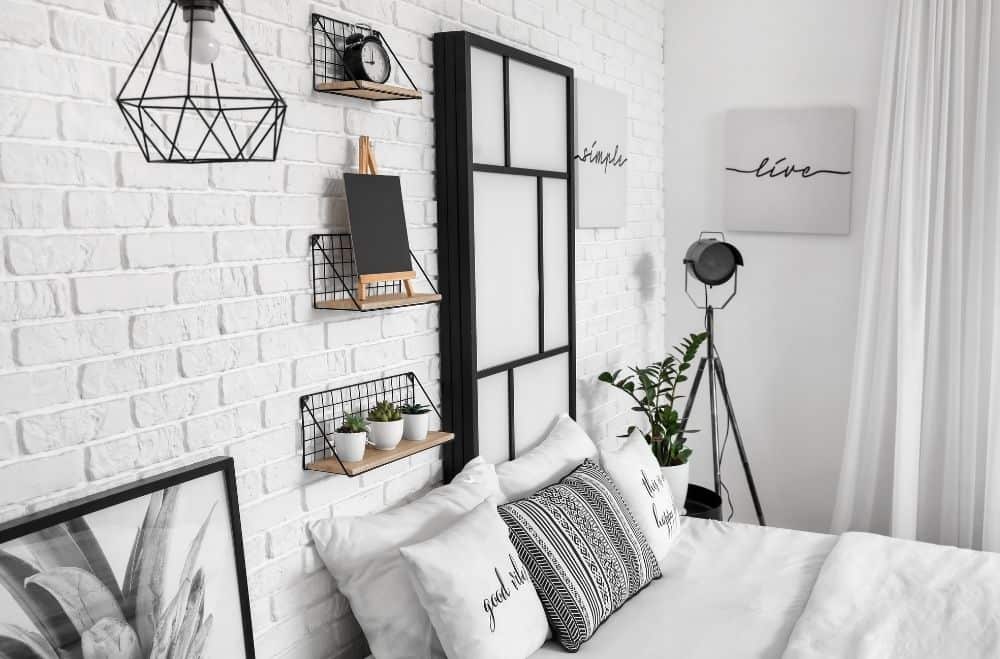 The Beauty of Bedroom Shelves
In many homes or apartments, it's not uncommon for the bedroom or bedrooms to be the smallest rooms. But most people don't realize just how much space in these small rooms goes to waste. Sure, with a bed, nightstands, and dressers, a bedroom's floor space is probably maxed out. But that doesn't mean you can't take advantage of the available wall space. The best way to do this is with bedroom shelves. Installing shelves takes advantage of the space that you may not have realized you have. Here are some of our favorite shelving solutions to help you do just that.
1. Floating Corner Bedroom Shelves
The corner of a room is often overlooked, but with the right corner floating shelves, you can maximize storage while making use of otherwise unused space. Put in one or two shelves to hold some small house plants or install them from floor to ceiling to create a corner bookshelf. It all depends on your needs and what you're looking to get out of the space.
2. Ceiling Shelves
Unless your bedroom has incredibly high ceilings, for most people, a shelf on the ceiling would be well within reach. Yet, that space often goes unused. Floating box shelves are perfect for installing near the ceiling. I say near the ceiling because they don't necessarily need to be put right up against the ceiling, but they can instead be left slightly lower, leaving space on top of the shelf to store other things while keeping the shelf within reach.
3. Shelves Behind the Headboard
At first glance, this one may seem as if it will take up space. After all, you must move the bed out from the wall for this to work. But the amount of space you're taking doesn't need to be overly extravagant. Moving the bed a few inches can provide enough space to slide some small shelves behind to hold books or other small items you may keep near the bed. A shelf like this also keeps things hidden and helps the room stay clutter-free.
4. Built-ins
Built-in shelves can be as extravagant or as simple as you want them to be. You can go through the trouble of having someone install a recessed shelving unit right into the wall, or you can get a headboard with built-in shelves.
5. Folding Workspace
Many of us have little to no extra space that would allow us to incorporate a home office, which means sitting in bed with a laptop, finishing up the day's work. A folding workspace can help solve our need for office space without taking up too much room. Folding workspaces can mount right to the wall and fold up almost flush when not in use.
6. Shelving Around the Window
While we might have the space to place a chair or small bench under the window, it's an area that goes relatively unused. Box shelves are a great way to take advantage of this unused space, as they can be strategically placed around the window frame to make it seem as if the window is part of a larger shelving unit.
7. Bedroom Closet Shelves
If your bedroom is small, then there is a very good chance that the closet is small, too. Maximize the little closet space you may have by strategically placing floating shelves in to hold folded clothes and shoes.
8. Bedroom Door Hanging Organizers
The back of the bedroom door is yet another storage space that goes largely unused. While many door hangers are designed with shoes in mind, the right door hanging organizer can create plenty of storage.
9. Multipurpose Ladder Shelf
Ladder shelves are a great space-saving storage solution. Not only can you use them as bedroom bookshelves, but some also come with built-in folding desks, becoming storage and a workspace all in one.
10. Floating Nightstand
A floating nightstand can be as big or as small as you need it to be. You can opt for a nightstand that is similar in size to a traditional nightstand with multiple drawers if you need the extra storage space or room to hold a lamp, or you can go with a smaller floating nightstand that takes up little space but holds less stuff. Small floating desks can also work perfectly as a nightstand replacement.
11. Hanging Nightstand
With a hanging nightstand, you will probably lose some of the storage space that a typical nightstand offers, but you will free up more floor space. Hanging nightstands are typically made with three or four strings attached to a single ring with a round or rectangle board as the shelf itself.
12. Crates
If you can get your hands on some old wooden crates, they can make excellent space-saving shelves. The nice thing about using crates is that they can be painted and decorated any way you like and can be hung anywhere you would hang a floating shelf.
13. Hanging Bins
Hanging storage bins can be purchased just about anywhere these days. While they are fully functional and offer great storage, they may not be the most aesthetically pleasing. But, if you're handy and creative, you could always create your own hanging bins.
14. Radiator Cover Shelves
This one isn't for everyone as not everyone has a radiator in their bedroom. But if you do, a clever radiator cover can double as usable shelf space. Some of these covers even have small drawers and cabinet areas.
15. Storage Bed Frame
Though it's technically not a shelf, a storage bed frame still deserves to be mentioned if for no other reason than the sheer capacity of the storage you get with one. The right bed frame can eliminate the need for a dresser, freeing up more floor and wall space, and more wall space can mean more shelves.
16. Peg Shelves
A peg shelf, as the name implies, is nothing more than a piece of wood with pegs coming out of it. Sure, it can be fancier than that, but those are the basics. A peg shelf can be hung at the back of the closet or on the back of the bedroom door to hold things like robes, shoes, or even out of season jackets.
17. Above the Door Shelf
Another area of wasted space is above the bedroom door. It may not seem like there is much room, but mount the right shelf up there and you will be amazed at the storage space you were missing out on.
18. Above the Bed Shelves
We've talked about behind the bed shelves and under the bed storage, but we have yet to mention over the bed shelves. These can be as simple as mounting shelves above the headboard or as complicated as building a bookshelf encompassing the head of the bed and replacing the headboard.
19. Bedshelfie
What is a Bedshelfie, you ask? It's a small, portable shelf that, with the right bed frame, mounts directly onto your bed and then easily lifts off when you're finished using it. Or, just leave it there as an easy-access space-saving nightstand.
20. Lamps with Built-in Shelves
These are not bedside lamps for your nightstand but floor lamps that can replace a nightstand. The freestanding lamps consist of two or three shelves, depending on how tall it is, and can be a streamlined substitute for a big clunky nightstand.
You might also like 20 Easy DIY Projects to Transform Your Home and 50 White Kitchen Designs.