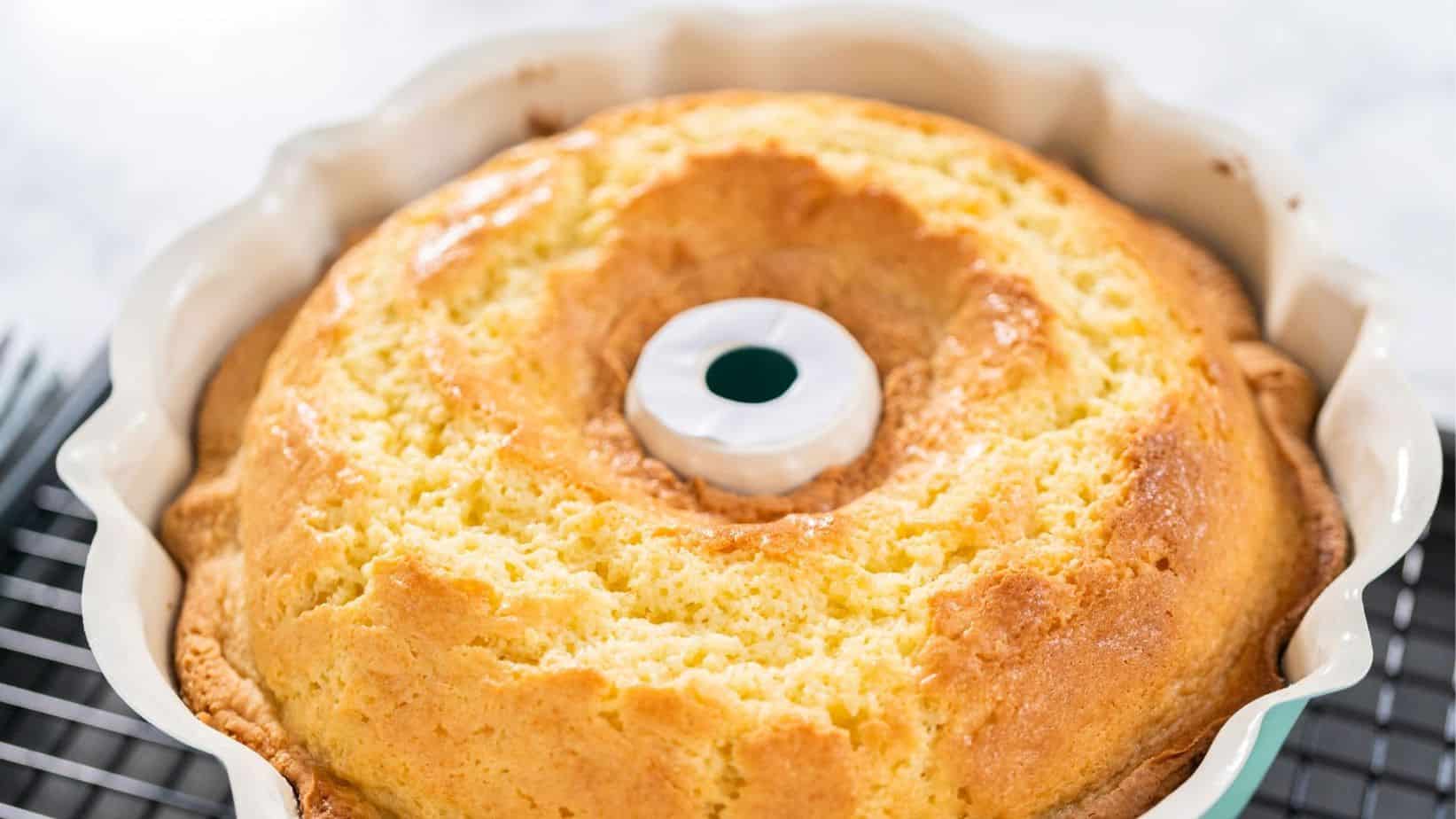 You can make a classic pound cake using two different types of pound cake pans. Some users use a bread loaf pan to make their pound cakes. However, experts recommend people invest in a fluted pound (Bundt) cake pan because of the benefits of baking. Read on to discover the very best pound cake pans to cook your homemade pound cakes to perfection… every time!
Experts recommend a fluted pan for a pound cake because of the density of the cake. The hollow tube at the center of the cake allows it to cook thoroughly at the center and creates a nice, even browning throughout the cake. It also rises better.
Best of the Best Pound Cake Pans
Best Quality for Baking
Boxiki Silicone Bundt Cake Baking Pan uses a heavy grade, high-quality steel frame. It has wider handles, which makes gripping the pan easy. They protect the silicone dish from folding and bending while removing.
The food-grade silicone pan enables food to slide out easily. It is BPA-free and non-toxic. It can be used in the oven or freezer and is dishwasher safe.
The pan always retains its shape- even after repeated uses. The steel frame design on the top prevents it from warping, sagging, and bending. This added feature prolongs the life of the pan. It also comes with a recipe book with 65-pound cake recipes.
Pros:
Easy cleanup
It is odor and stain-resistant.
Can use in the oven (up to 500°F), freezer (up to -50°), and fridge
Cons:
Residue may still cling to the pan while cleaning
Best Results
Anolon Advanced Nonstick Baking Pan uses heavy gauge steel. This material prevents the pan from warping at high heat and cooks the food evenly. Food browns evenly and nicely. It delivers the best results in terms of heating evenly and cake removal.
The added benefit to this design is that the middle tube evenly distributes heat at the center of the dish, so your food is cooked evenly throughout, preventing a doughy or uncooked center. The rim is wide with rubber handles. The dish will not slip out of your hands, and users will be able to maintain a firm grip on the pan.
Pros:
Is safe in the oven up to 450° F
Non-stick
Comfortable handles
Quick food release
Cons:
Only hold about 9 cups
Decorative curves and ridges were less pronounced making them less visually appealing
Best Nonstick
Cuisinart Chef's Classic Nonstick Bakeware is a two-piece cake pan with a tube in the center. The material is heavy-gauge aluminum steel which allows it to heat evenly throughout the cake. It has a Whitford Xylan non-stick exterior and interior, creating an easy food release. The edges prevent warping, and it is dishwasher safe.
Pros:
Even cooking
Dishwasher safe
Consistent results
Cons:
Limited warranty
Not the easiest to grasp- no handles
Best Double Piece Pan
Wilton Angel Food Tube Cake pan is safe because of a food-grade silicone coating. The company boasts that it does not use Teflon, and the product will not release any harmful elements during high temperatures.
A carbon steel construction accelerates heat distribution, and the reinforced edge prevents warping in the oven. To get a non-stick surface, just use cooking oil.
Pros:
Faster baking time
Uses less energy
Locks in food nutrients
Cons:
Not recommended above 428°F
Handwash only- use soapy water, wipe and dry thoroughly via the oven
Cleaning- do not soak so that the pan retains its shape better
Best Overall Pound Cake Pan
Wilton Perfect Results Premium Non-Stick 9" Pan comes in single or multipacks. Customers love this pan because of its versatility. You can bake monkey bread, ring cakes, and macaroni and cheese using this pan.
This product has a non-stick coating which makes clean up and cake release easy. You can make perfect cakes without having to be concerned that pieces of them will stick to the pan.
The handles make it easy to take out of the oven and for carrying. The construction even distributes heat throughout the pan and prevents it from warping. The handles include stamped measurements for easy reference while baking.
Pros:
Scratch-resistant and non-stick coating
Dishwasher safe
Durable
Doesn't warp
Cons:
While the product says it is a 9-12 cup capacity, users say it is more of a 10 cup, leaving adequate room for the cake to rise and not spill over the top.
Still may stick to the pan. However, the customer used a non-stick spray, and the manufacturer advises butter and flour to grease the pan.
Honorable Mention
Nordic Ware Heavyweight Pan is a simple pound cake pan that bakes classic cakes and uses heavy aluminum that allows heat to circulate throughout the pan for even cooking. It is also resistant to warping and rust and has a non-stick coating and cleans up easily.
Pros:
Holds 12 cups of batter
Prevents warping and rust
Lightweight
Cooks evenly
Cons:
Can only hand wash
Very basic
More Pound Cake Pan Tips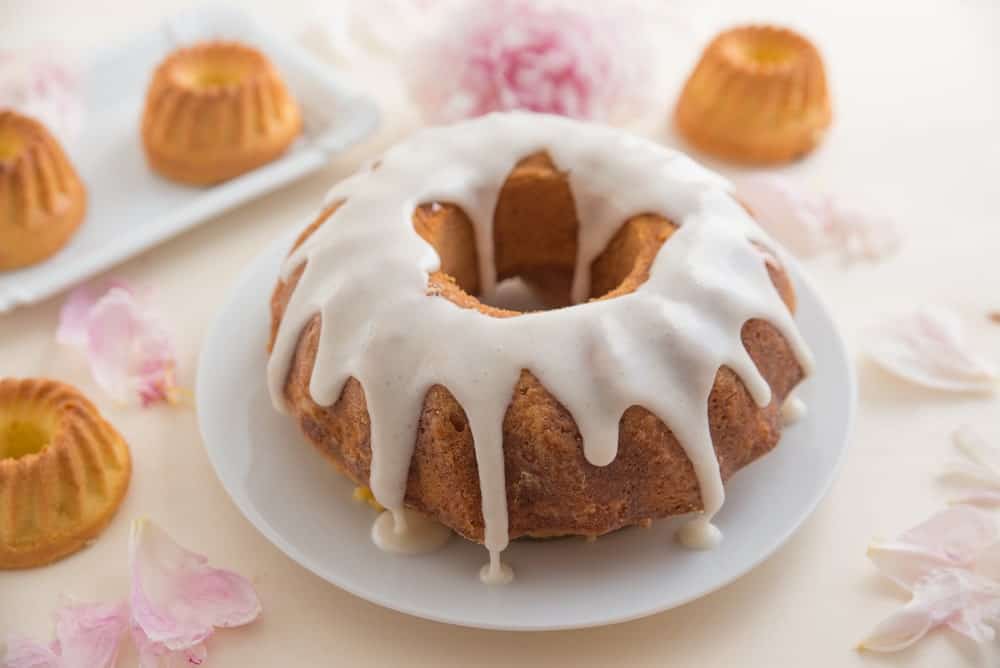 While you can make a pound cake in a loaf pan, it is not generally advisable. The preferred technique is through a fluted Bundt cake pan for uniform cooking and browning. It will give you professional results, and you can also select a pan that is plain or has an elegant design to it.
The healthiest pan overall to use is one made of food-grade silicone. It can withstand high heat, maintains nutrients, and does not leach chemicals into your food. The clean-up is easier, and so is cake removal.
A close second is non-stick pans. They allow for easy removal of a cake when used properly.
Most manufacturers recommend greasing the pan with butter and flour as opposed to a non-stick baking spray. Most users who have used a baking spray immediately regret their decision as they report food sticks to the pan. It is not the non-stick coating; it is the spray that is causing this.
Some companies now say to use butter and vinegar. However, this has proven to be a myth. The vinegar seeps into the cake and makes it tart. It also doesn't help in removal at all.
You Might Also Like: