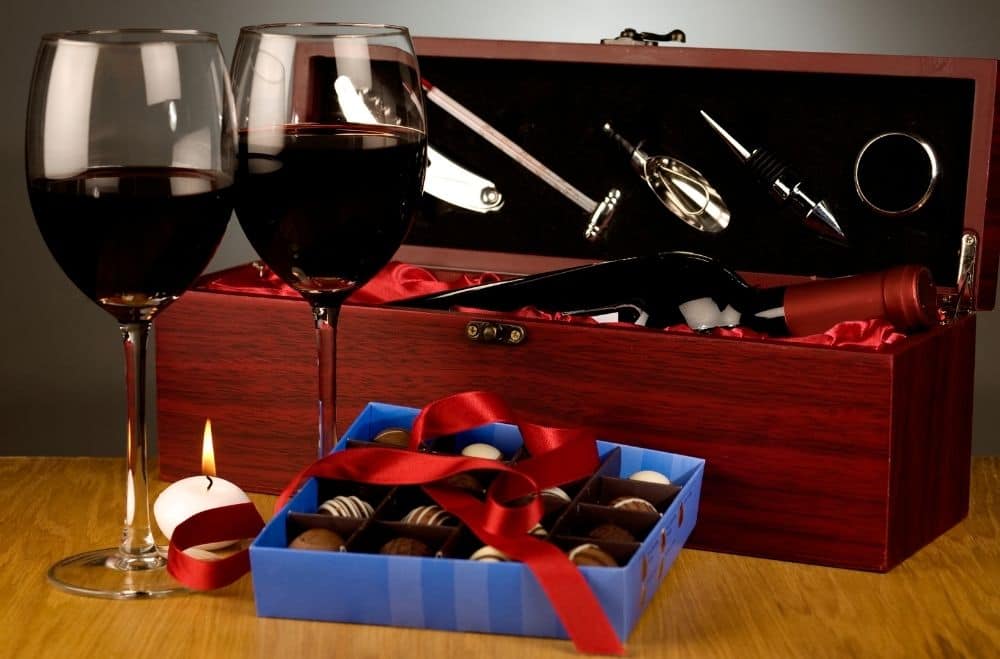 For all your wine enthusiasts who love wine and chocolate together, why not just drink chocolate wine? It's a lovely red wine, full of chocolate flavor and the perfect after-dinner drink.
While it is popular around holidays that we associate with chocolate, like Valentine's Day or Easter, it's a nice treat any time. There are different types and different flavors, so you can celebrate wine and chocolate any time of the year.
10 Cool Facts About Chocolate Wine
If you are new to the chocolate red wine game, or even if you are not, here are a few fun facts.
1. Chocolate Wine is Real
Wait, what? Yeah, it is a thing for those of you who didn't know. It's been around for quite a while. Many of us have enjoyed eating chocolates and drinking red wine. They just go together so well.
But chocolate flavored wine is nothing new. It's actually been around for many years. Chocolate wine was first made in 18th century England. Back then both claret and strong port wine were used as base alcohol. Any dry red Bordeaux would do.
It is not something that has always been readily available, though. You may have found it or something similar in the liqueurs sections or in the dessert wines section.
More recently, however, chocolate wine reared its chocolatey head once again, just in time for Valentine's Day. This was around 2012, but rather than just be a passing fancy, chocolate wine seems to be here to stay.
For wine producers, it seemed like a natural thing to do. Dark chocolate has long been a favorite dessert pairing with rich wines, and many wines contain natural cocoa undertones. Well, why not, they asked?
For some reason, these chocolate wines caught on. They also caught the attention of wine reviewers, connoisseurs, fans, and snobs alike. Everyone agreed that chocolate wine was fantastic and that was that.
While it's not a favorite for all wine enthusiasts, as it can be on the sweet side, it didn't stop millions of bottles from being sold. It still sells today and can be found in homes, restaurants, and wine stores all over the world.
2. They Both Have Tannins
It's only natural that they would go together so well. Some may not think so but they are actually very similar. Both red wine and chocolate contain tannins. People love to bang on about tannins which are a group of bitter and astringent compounds, and they are naturally occurring in many different things that grow in nature. Things like wood, bark, leaves, and fruit of plants as various as oak, rhubarb, tea, walnut, cranberry, cacao, and grapes.
They are naturally in wine and they are naturally in chocolate. So if a glass of wine is good for you and chocolate is healthy, then chocolate wine must be like an elixir. That's good.
3. Both are Fruity
Wine comes from grapes, which are fruit. Chocolate, which is made from cocoa beans, is actually a seed that comes from fruit. As both have similar flavors, it only makes sense that they are together in the same place.
The chocolate wine is more like a dessert wine and has light creamy vanilla notes with fruity flavors too. Grapes are obviously going to be there, but there can be a hint of raspberry, strawberry, peach, watermelon, black cherries, and other citrus flavors like oranges.
4. Both Wine and Chocolate are Fermented
Well, not the wine and the chocolate, but both the grapes and the cocoa beans are fermented to get to the wine and the chocolate. These are done separately to each item and then mixed together to get the chocolate wine.
Fermentation actually can occur naturally, as well and chemically. If you have ever had some food go off and it gets a foamy top on it, that's what fermentation is. This is what happens during the manufacture of wine and beer. This process is at least 10,000 years old.
Fermentation done chemically is a process where a substance is broken down into a simpler substance. Microorganisms like yeast and bacteria usually play a role in the fermentation process, creating beer, wine, bread, kimchi, yogurt, and other foods.
5. You Can Make Chocolate Wine Yourself
You can experiment at home with making your own chocolate wine. The traditional method uses a bottle of red wine, poured into a pan and heated. You want it to come to a boil.
While that is heating up, melt your choice of chocolate in milk. If you don't want the wine to be creamy, then melt it in the microwave or in a double boiler.
Once both are hot and the chocolate is melted, slowly pour the wine into the chocolate and stir over low heat until it is all blended. You can use any type of chocolate you like, but something very sweet will change the flavor. Originally, bitter chocolate was used.
If you don't want to boil the wine down, you can use this method instead.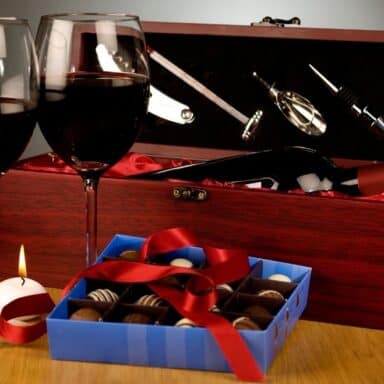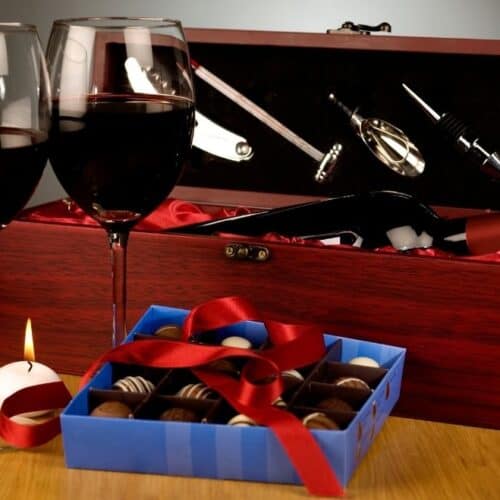 Make Your Own Chocolate Wine Recipe
Ingredients
1

bottle of red wine or port

1

bottle of brandy

Cocoa powder

Fresh milk

2

egg yolks

Cinnamon and other spices if you like
Instructions
Mix red wine and brandy. Add cinnamon and other spices to taste.

Mix cocoa, milk, and yolks in a separate container and whisk.

Mix wine and milk mixture, blend until smooth. Serve chilled.
6. Serve it with Sweet or Savory
You may feel that pairing chocolate wine will go best with something sweet, but that is not always the case. You may want to consider something else, as an after-dinner drink and dessert or just finger foods.
Because the wines themselves are often very sweet, rather than serving it with a rich chocolate cake, you may want to consider a less sweet dessert. Angel food cake, or carrot cake that isn't as sweet.
You should serve the wine chilled, as it will seem less sweet and cloying than it will if served at room temperature. If you serve it at room temperature, consider using it to pour over ice cream.
Don't let anyone tell you you can't serve it with more chocolate. You can. If your wine is a deep red and sweet, use white, milk chocolate, or bittersweet chocolate.
If your wine is creamy and not as sweet, go with dark chocolate. With heavy wine, consider lighter chocolate desserts, like sponge cake, wafers, chocolate truffles, or fresh fruit with whipped cream. Any dessert with caramel or almond flavoring is delicious too.
You can serve chocolate wine with a variety of cheeses, as well. The combination of fruit, cheese, and sweet wine will be a nice refreshing course after dinner. It brings a bit of everything for those who may not care for the sweet and savory pairings.
Include fruit that is on the same flavor scale as the chocolate wine. Berries, like raspberries and strawberries, cherries, refreshing melons, and other seasonal fruit.
7. Do Fondue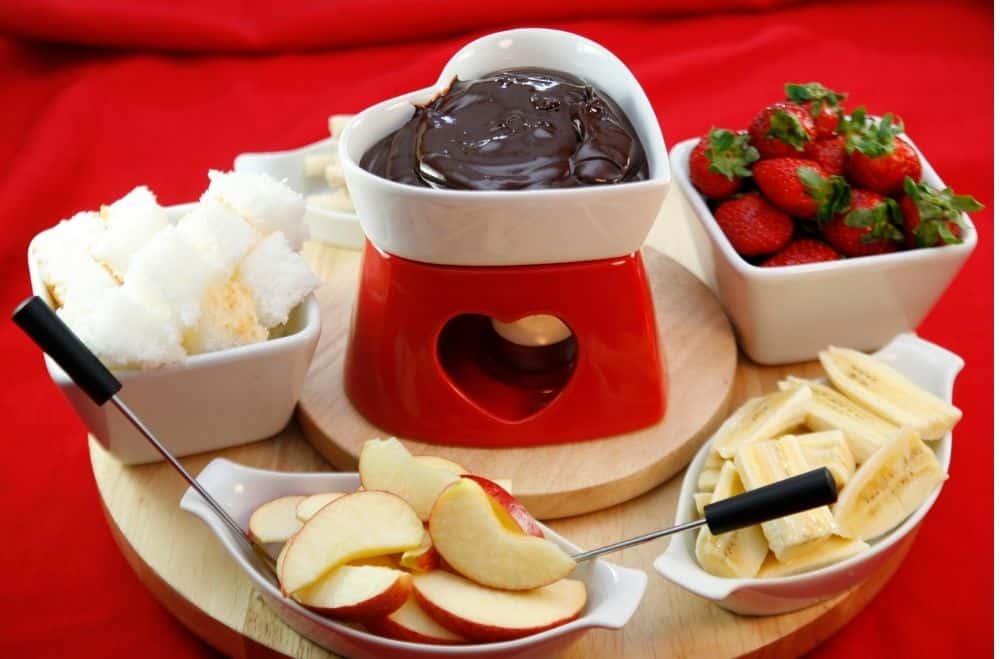 To really jazz up your dessert, or if you are only having a gathering with friends to celebrate something, consider a 'sweets party'. It makes it fun and everyone can be involved.
Chocolate fondue with fresh fruit is a lot of fun and can be done as a dessert after your dinner party or as part of a bridal shower or engagement, birthday celebration, romantic treat for two, or an outdoor celebration.
Chocolate fondue is surprisingly easy to make. You can make it in advance and just heat it up when you need it. Mind that certain fruits will turn brown if chopped up earlier and not kept chilled.
Chocolate Fondue Recipe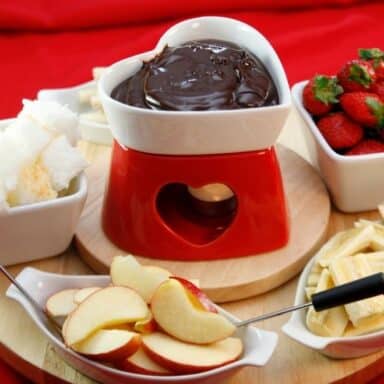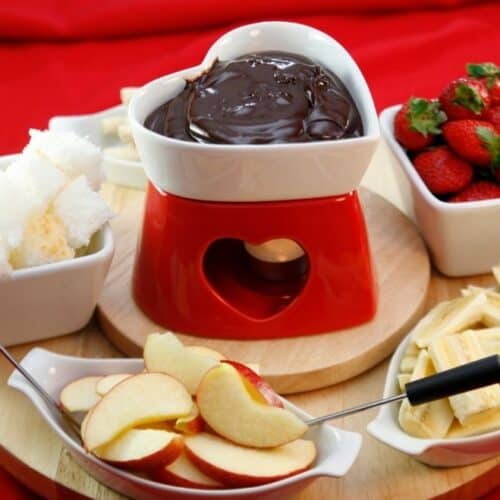 Chocolate Fondue Recipe
Ingredients
2

cups

heavy cream

24

ounces

semisweet chocolate chips

or chopped semisweet chocolate bars

1

tablespoon

pure vanilla extract

Assorted fruit, marshmallows, cake bits, etc.
Instructions
Chop the chocolate up into smaller pieces so it makes it easier to melt. If you have a fondue pot, follow the instructions given with it.

In a large saucepan over medium-low heat, warm the cream until hot, but not simmering.

Add the chocolate and stir just until melted and smooth

Pour the chocolate fondue into the fondue pot and set it up over the heat

If you don't have a fondue pot, just use a heavy pot or pan that will keep the chocolate warm and melted. Make sure you warn everyone that it is hot.
8. You Can Do More Than Just Drink It
There is more than one way to enjoy chocolate wine.
Mulled: Have it mulled. You can heat it up, add your favorite spices, including more cocoa.
Use it in Sangria: Yes! Follow your favorite sangria recipe for that backyard summer fun using chocolate wine in your sangria punch. Add your usual fruits, spices, citrus juice.
Hot Chocolate: Use chocolate wine for your hot chocolate party, but not for the kids. After skating or skiing, or just gathering around the fireplace to chat, use your chocolate wine for hot chocolate for that extra special taste.
9. Use it To Bake
Use chocolate wine in your favorite baking recipes. People enjoy using it in cakes, cookies, pies, and even sauces. Use it in your tomato sauce, your homemade chili, and even in your Sunday roast. Just pour it in to add a special flavor that won't be overpowering and will keep your guests guessing for ages.
10. Do What You Like
There are several different types of chocolate wine to choose from, from dry wines to creamier wines. While they are considered a dessert wine, you can have it whenever you like. Like waffles for dinner.
The truth is, it isn't very expensive and not all of them are crazy sweet. If you like it in the evening, or with more chocolate, then that's what you should do. Add it to savory sauces and see what happens when you marinate your roast with it.
All wines are a personal preference, despite what some snooty sommelier tells you. They don't know what you like and they are simply paid to sell wine. Usually, expensive wine. Just because they trained to sniff wines and pair them with certain foods, it's still subjective.
Chocolate and Wine = BFFs
Chocolate wine is for all occasions. It's not going to be to everyone's taste, but if you like it, why not free it from the Valentine's Day must-have and make it something you enjoy whenever you like.
Pour it over ice cream, enjoy a glass in the tub after a long day, or serve it with dessert, or, instead of dessert. With it being more popular in the past few years, more wine producers are making it and adding new flavors all the time.
If you are feeling adventurous, you can make your own. Or you can buy it ready-made right here. Now go and grab a wine glass!
You might also like: