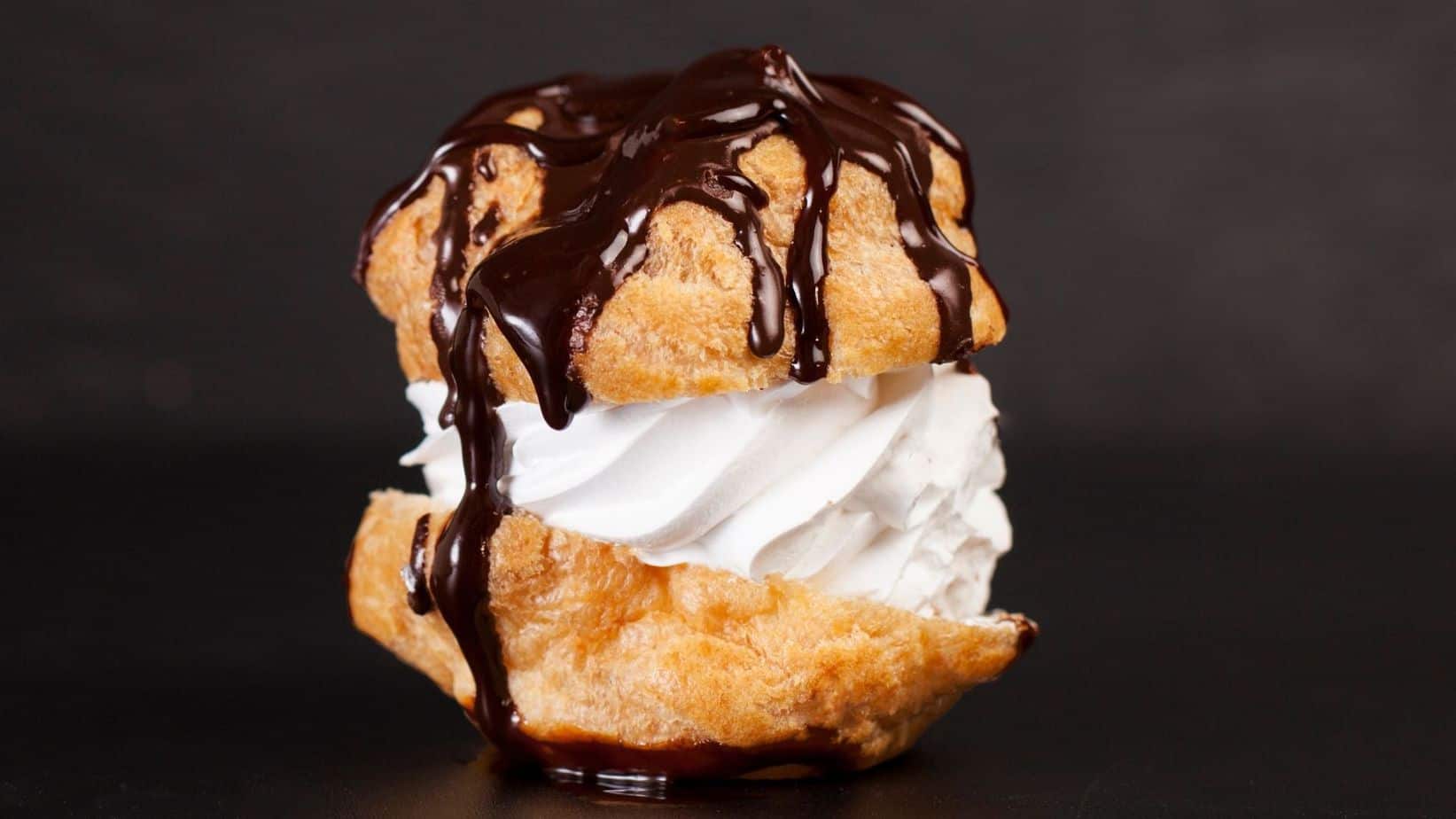 Desserts don't have to be time-consuming. With a little bit of creativity and a box of frozen cream puffs, you can create delicious treats with minimal effort. Check out our list of ten no-bake recipes all made with frozen cream puffs!
Drizzled Delight
This cream puff recipe calls for thawed cream puffs drizzled with melted white chocolate with chocolate-dipped strawberries on the side.
The presentation is simple yet elegant for formal gatherings or weddings. Alone on a plate or stacked on a platter, they make for a light, tasty dessert.
Winter Wonder
Winter Wonder is truly a kid's delight. This recipe calls for three cream puffs stacked one on top of each other to form a snowperson. Chocolate sticks are broken in half to compose the arms, while mini chocolate chips for the buttons in the front. You can also pipe a face on the top cream puff.
The hat is made of an upside-down strawberry with a mini marshmallow on top to create a Christmas-themed dessert. Add powdered sugar to the plate to look like snow and mini marshmallows by the snowperson to resemble snowballs.
Summertime Sensation
Here is another kid-friendly recipe. Thaw out frozen cream puffs. Hollow out the middle of them a bit and put any flavor of ice cream in the center for a cool, light, refreshing treat.
You can take it a step further and turn it into a sundae as well by drizzling hot fudge sauce over it and adding fruit such as bananas or strawberries.
Mini Banana Split Without the Guilt
To do this recipe, find a small plate. Open each cream puff and place ice cream in it. One can be vanilla, the other chocolate, and the third strawberry. They can all be the same flavor if you would like as well.
Cut a banana in half and lay it down on the plate. Place all three cream puffs side by side on the plate. Drizzle chocolate sauce over one, caramel over another, and pineapple/strawberry over the third. Use fresh whipped cream around the perimeter of the mini banana split and finish with a cherry.
Tangy Mini Torte
This version looks like a German chocolate torte. Open each cream puff and place whipped cream inside of them. Drizzle chocolate sauce over the tops of each cream puff and place it in the fridge to harden for a bit.
Remove from the fridge when the chocolate is firm. Place a dollop of whipped cream on top and finish with a strawberry, raspberry, or cherry.
Boston Cream Puffs
This recipe is from BakerByNature.com. Make a Boston Cream Filling and place it inside the cream puff. Then add chocolate ganache to the top of the cream puff to create this dessert.
Lemon Cream Puffs
To make the filling, in a medium bowl, whisk 1 (4 serving size) package of instant lemon pudding and 2 cups of cold milk until they are well combined. Add two cups of frozen whipped topping to the mixture and refrigerate until you are ready to use it.
Cut one inch off the top of a cream puff. Fill the bottom with equal parts of the lemon mixture. Then, put the top back on. Chill in the fridge one hour before serving it. Sprinkle it with confectioners' sugar. Drizzle it with raspberry or strawberry sauce and add bits of fruit to the plate for visual appeal. Recommended fruit would be blueberries, raspberries, and strawberries to create that pop of color.
Pumpkin Pie Puffs
Here is a great fall-time recipe from thegunnysack.com. Make the creamy pumpkin pie filling by beating softened cream cheese. Then, add pumpkin puree, pumpkin pie spice, powdered sugar, and vanilla extract. Scrape the bowl occasionally to ensure that everything is blended evenly.
Fold in whipped cream with a spatula until blended into the mixture. Transfer it to a pastry bag. The tip should be a large, closed star. Pipe the filling into the cream puff pastry, which can be accomplished by either cutting the cream puff lengthwise and adding filling or hollowing it out. You can also make a small hole and pipe it in that way. Then sprinkle a bit of confectioner's sugar over the puffed pastry before serving.
Easter Chick Cream Puffs
Credit for this one goes to dessertfirstgirl.com. It is a cute idea that is perfect for Easter or as a springtime treat. To do this recipe, cut the cream puff in half and add lemon curd to the filling. This recipe calls for Meyer lemons. However, if you can't locate them, then lemons will also do. Fold the lemon curd into whipped cream for the body, then pipe it into the cream puff.
Use chocolate pearls for the chick eyes or pipe them with melted chocolate. Use orange icing for the beaks, and you have a cute cream puff chick. You can use a bit of the top of the cream puff for a hat or make it look like they just hatched.
Love Is in the Air with Cream Puff Swans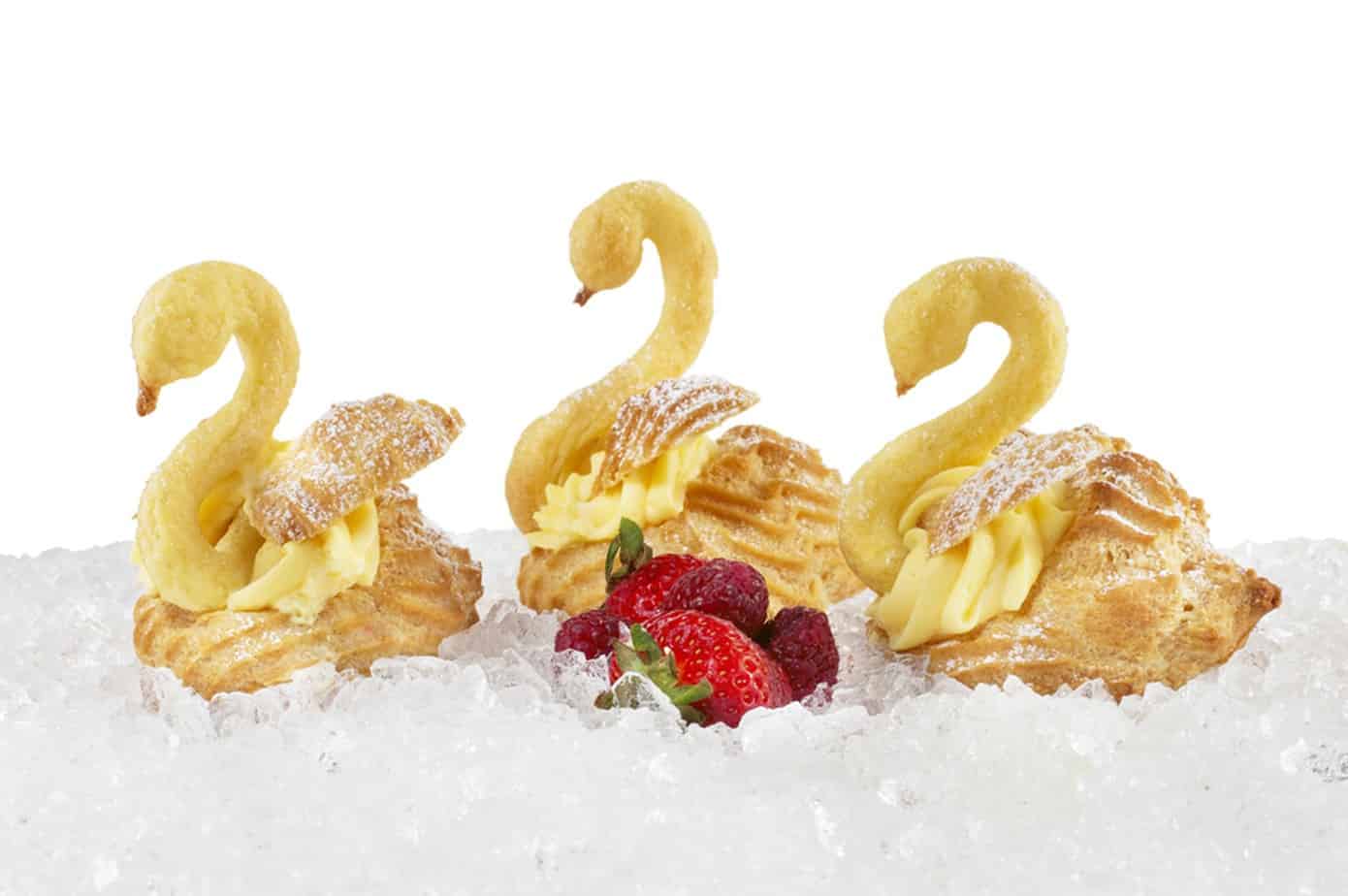 This recipe is from BarbaraBakes.com. Cut the cream puffs in half. The bottom part will be the swan's body. Then, take the top and cut out two sections for the wings. Use powdered sugar to coat the wings.
Fill the middle with either a custard or whipped cream. Pipe Choux pastry for the swan head and allow it to cool. Then attach it to the body for the swan.
You Might Also Like: