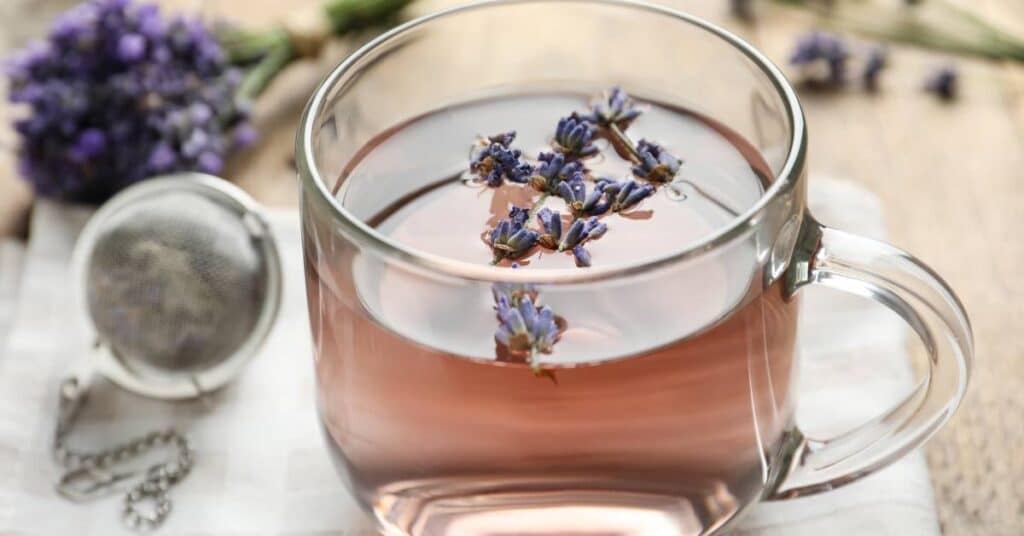 Are you searching for ways to improve your health and enhance your well-being? Elderberry tea may be the answer you are looking for. Elderberries are berries with a dark purple color that grow on the elder tree. There are so many elderberry tea benefits that we want to share with you!
Benefits of Elderberry Tea for Health
Strengthen the Immune System
Elderberries have a lot of antioxidants and vitamins that may help fight sickness.
Ease Cold and Flu Symptoms
Thanks to its inflammatory and antiviral properties, it can help with congestion, coughing, and other respiratory infection symptoms.
Enhance Digestive Health
Drinking tea may help to reduce inflammation in the gut and enhance digestion. It also helps to provide relief from bloating, gas, and constipation.
Healthy Skin
Elderberries are packed with antioxidants and vitamins that can potentially aid in combating illness.
Nutritional Composition of Elderberry Tea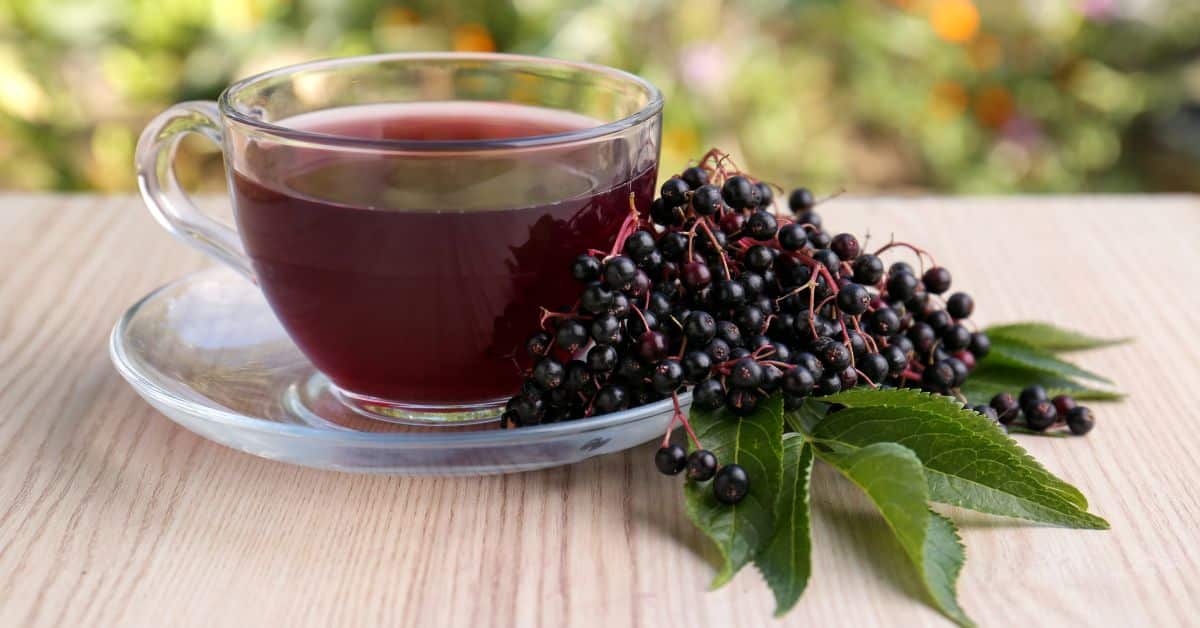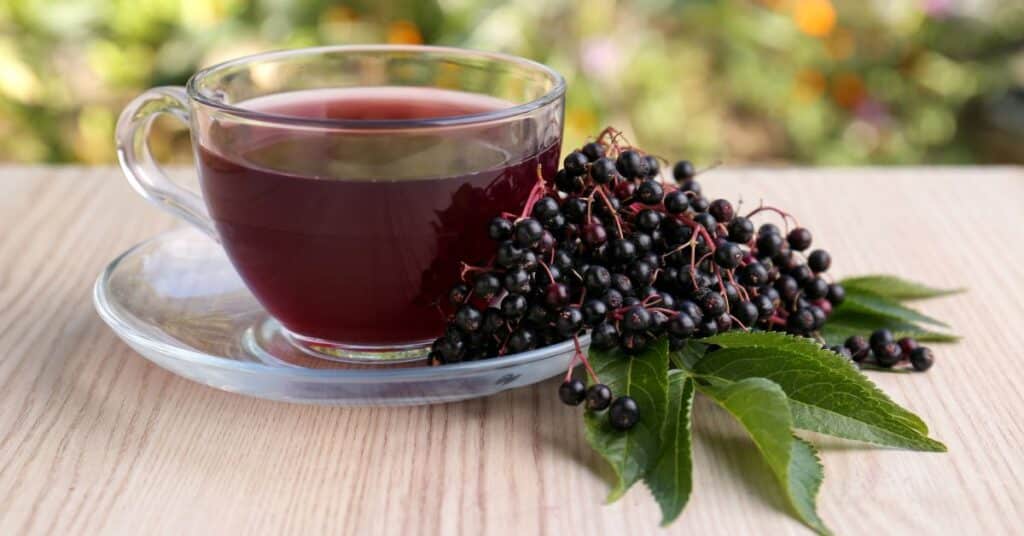 In this section, we will delve into the makeup of tea. Below are some nutrients found in tea;
Vitamin C: Elderberry tea serves as a source of vitamin C for supporting immune system function and promoting healthy skin.
Vitamin A: Elderberry tea contains vitamin A, which contributes to eye health and supports immune system function.
Vitamin B6: Elderberry tea is a source of vitamin B6 for optimal brain function and red blood cell production.
Potassium: Elderberry tea encompasses potassium, which contributes to heart health and regulation of blood pressure.
Iron: Elderberry tea is a source of iron which plays a role in the production of red blood cells and the transportation of oxygen.
Antioxidants: Elderberry tea provides antioxidants like flavonoids and anthocyanins from its berries and flowers, which help protect the body against damage caused by radicals.
How to Make Elderberry Tea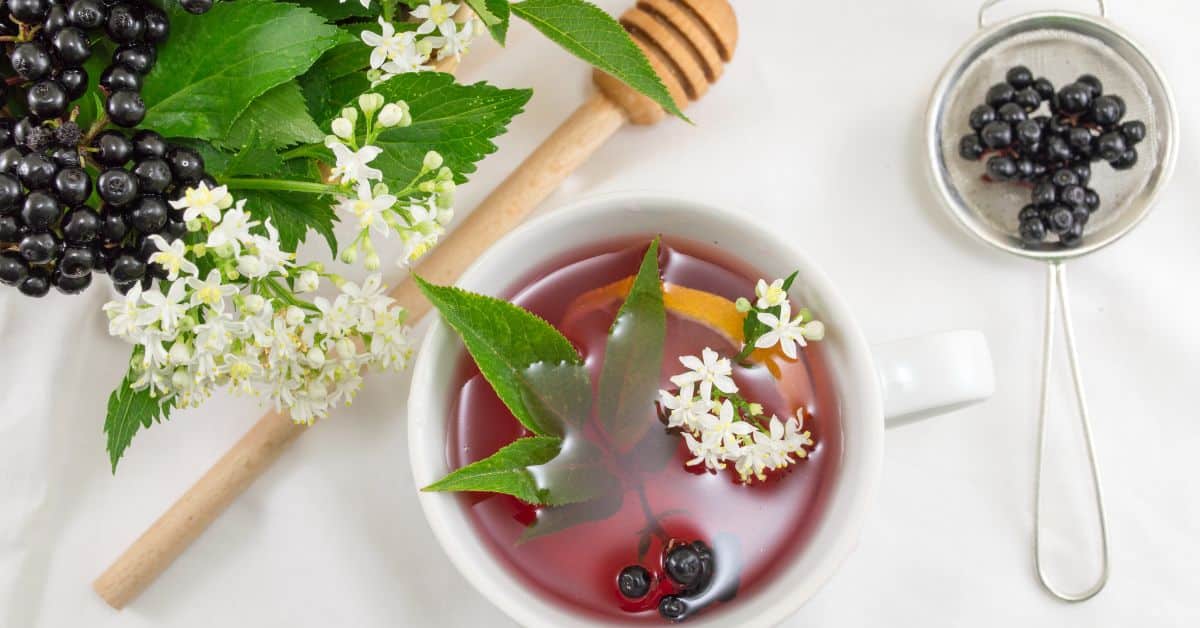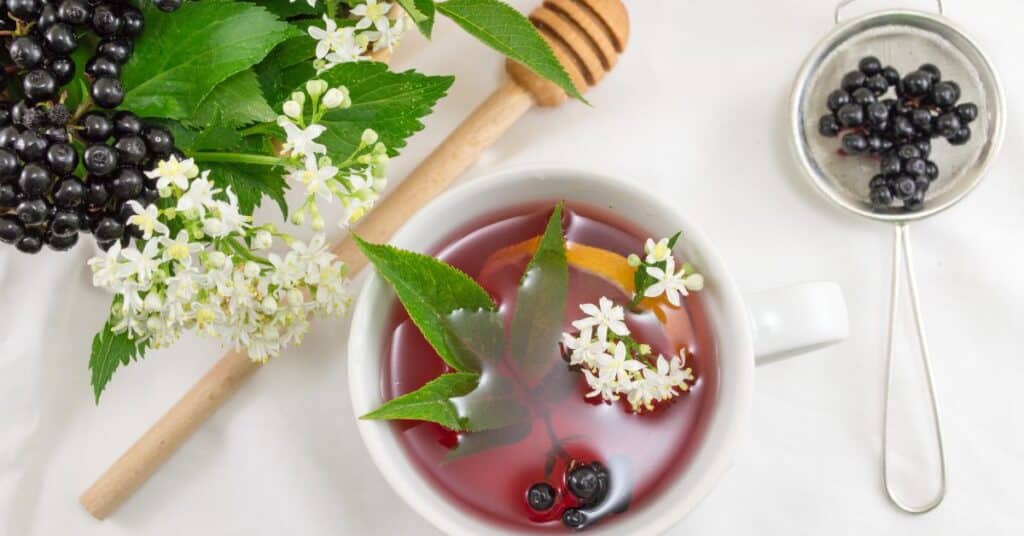 Ingredients
1/4 cup of dried elderberries
4 cups of water
Optional: 1 cinnamon stick
Optional: 1 tsp of honey
Instructions:
Start by rinsing the elderberries with water to remove any dirt or debris.
In a pot, combine the elderberries and water and optionally add a cinnamon stick and bring to a boil.
Lower the heat. Let it simmer for around 30 to 45 minutes or until the liquid has been reduced by half.
Once done cooking, remove the pot from heat. Allow it to cool for a few minutes.
To separate out any particles, strain the liquid through a mesh strainer into a pitcher.
Optional: Add a tsp of honey to make the tea sweeter.
Important Note: You must cook elderberries before eating them, as they can be toxic if eaten raw.
Where to Buy Elderberry Tea
Health food stores: Look for elderberry tea in the tea section of your health food store.
Specialty tea shops: Certain tea shops specialize in tea, including elderberry tea.
Online: You can also find it on Amazon and other online stores.
FAQs
Is it possible for elderberry tea to boost fertility?
Consuming elderberry tea may have some positive effects on fertility. This tea is known for its inflammatory properties and ability to reduce oxidative stress, which further supports fertility.
Does elderberry tea have caffeine?
No! This means you can enjoy a cup at any time without worrying about sleep or experiencing jitters.
You Might Also Like: