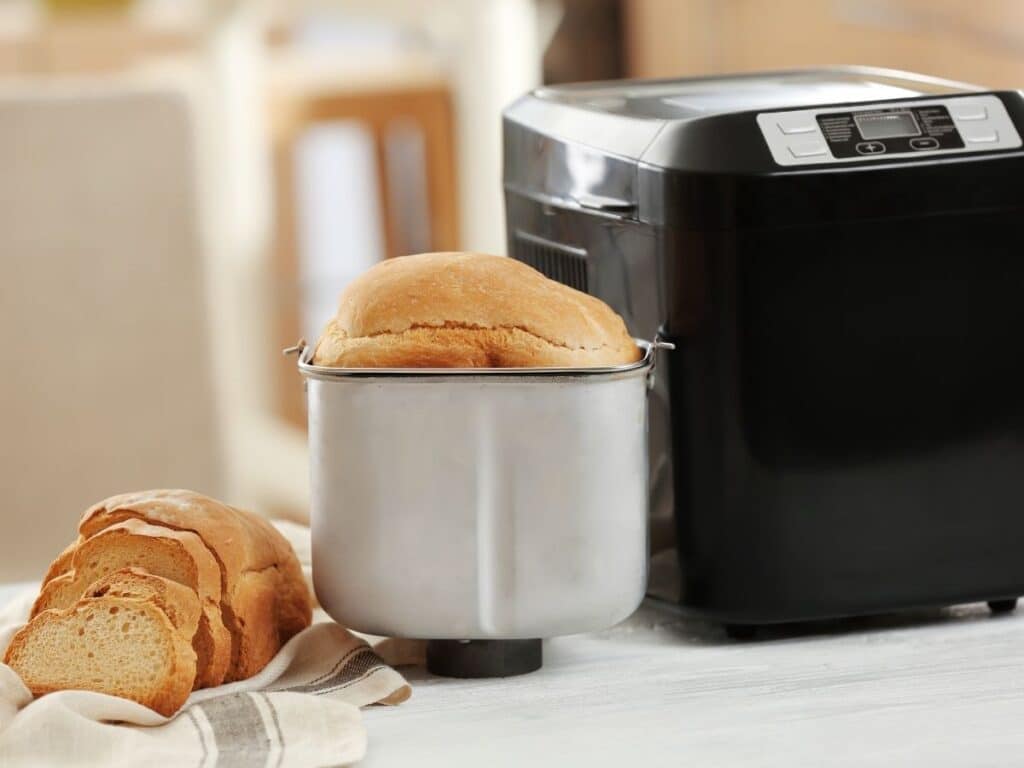 You've come to the right place if you've recently discovered the joys of making and eating homemade bread and are looking for a machine to assist you in the process. It's not easy to navigate the bread maker machine market. Fortunately for you, we've tested a bunch of bread machines and found five of the best ones. Keep reading to find out which ones made our list.
What To Look For In A Bread Making Machine
To begin, automatic bread makers are available in a variety of sizes. This refers not just to the appliance's actual space for baking bread, but also to the loaf size it can produce. One and two-pound loaf models are common bread maker sizes; if you're only baking a loaf of bread for yourself, a smaller bread maker may suffice. Larger households may require larger loaves to keep everyone full and happy!
You should also consider the form of the inner bread pan, as this will affect the shape of the bread. Many bread-making machines have square pans that produce square loaves, but there are some types that produce horizontal loaves that look more like what you'd see in the supermarket.
What Types of Bread do You Want to Make?
Do you want to try a variety of different types of bread? Bread makers can only make specific kinds dependent on the bread flour and settings, so whether you want to make wheat, whole grain, french bread, white bread, sourdough bread, gluten-free, or other variations, you'll need a machine with the appropriate settings.
Let's Take A Look At The Five Best Bread Machines
Zojirushi Home Bakery Virtuoso Plus Bread Maker
Want the best breadmaker performance you've ever seen? Virtuoso Breadmaker from Home Bakery has a unique heating element that changes the way you prepare bread at home. The most technologically advanced breadmaker, which is laden with menu choices and settings for optimum versatility, may now benefit any home baker, from novice to expert.
Simply measure the ingredients, close the lid, select a setting from the user-friendly LCD control panel, and this supreme bread maker takes care of the rest, baking a rectangular-shaped 2-pound loaf of bread to perfection. Choose from light, medium, or dark crusts, as well as a choice of healthy bread selections like multigrain, whole wheat, fast whole wheat, gluten-free, salt-free, and vegan.
The machine's timer may be set to delay the end of the baking cycle for up to 13 hours, allowing you to wake up to the smell of freshly baked, handmade bread or come home to a warm loaf after a hard day at the office. The bread machine includes two blades for complete dough kneading and a higher rise, as well as a big viewing glass, an "on" indicator light, a start/reset button, and a removable nonstick bread pan for simple cleanup. A liquid measuring cup, nested measuring cups, and a measuring spoon are included as extras. A recipe book and an instruction manual are also included.
Hamilton Beach HomeBaker
The Hamilton Beach HomeBaker Bread Machine can make white, wheat, sourdough, country, French, or even homemade jam. It's never been easier or more foolproof to make artisan bread at home. It includes settings such as gluten-free and whole-grain so you can bake healthy bread with a range of flours. You can also create pizza dough, cakes, jams, flatbreads, and croissants!
It's simple to operate the Home Baker Bread Machine. It comes with a complete manual that includes easy-to-follow instructional graphics, recipes, and baking suggestions to make bread-making easier than ever.
Making a variety of bread is as simple as one, two, three with the HomeBaker Bread Machine: simply add ingredients, select the cycle, and push start. It won't be long after you've made the first batch before your family and friends are requesting more.
Breville Custom Loaf Bread Maker
When you select a baking time, the Breville Custom Loaf Bread Maker is aware of it. Choose your setting and a particular time for your bread to be ready, and it will tell you when it's time to add fruit or nuts, as well as personalize it so you may create your own masterpiece. Automatic programs include yeast-free crusty loaf, dough/pasta, and jam. There are nine custom choices to enable you to create and save your own recipes. Get a clear view of how automatic or manual settings are proceeding from dough to perfection on the intelligent LCD display.
The Breville Custom Loaf Bread Maker could possibly be the wisest bread maker of all time. There's nothing quite like waking up to the smell of freshly baked bread. But how do you make sure you get it correctly when there are over 60 different recipes to choose from? When you make a selection, a sophisticated interface calculates temperature and baking time, and a simple Turn and Confirm dial gets you started on any recipe in seconds. It also allows you to choose when you want the bread to be done, when you want the fruits and nuts to be added, and when you want to make your own recipes. It's the best thing since, well, since, well, you know. Loaf sizes range from one to 2.5 pounds.
Cuisinart Breadmaker
Cuisinart is known for its cookware, and this bread machine allows you to bake loaves up to two pounds in size, making it perfect for the whole family. If you've been putting off buying a bread machine due to the perceived difficulties, you'll appreciate how simple it is to use this one. Punch in your favorite setting from the 12 possibilities available and enjoy push-button convenience with bakery-quality bread in less than 3 hours.
Despite the bread machine's large interior capacity, it doesn't take up much space on your kitchen counter. You won't have to lift a finger to get truly remarkable results because the machine takes care of mixing, kneading, rising, and baking your bread. The 13-hour delay timer allows you to configure your machine to start baking at a specific time. On the vivid LCD, see everything you need to know and listen for the series of 10 beeps that signify the end of a baking cycle.
You can use the Cuisinart to make all of your favorite classic loaves, as well as gluten-free bread and a range of artisan bread. Choose from three loaf sizes (1 pound, 1.5 pounds, or 2 pounds), then choose between light, medium, or dark crust. The remainder will be taken care of by this Cuisinart bread machine. What's not to like about that?
Panasonic Automatic Breadmaker
The Panasonic automatic bread machine symbolizes the miracles of 21st-century electronic convenience and choice, offering a plethora of settings. Yes, it makes bread in three loaf sizes up to 2-1/2 pounds by mixing, kneading, rising, and baking it. But its computerized controls go much further, with options for white, whole wheat, multigrain, and French (crisp crust, open texture) bread. Other options include quick baking and soft-crust sandwich bread baking. A beeper signals when to add the raisin (or other dried fruit) to the dough.
The machine automatically adds yeast from a dispenser on the unit's top at the appropriate time. It also bakes sweet cakes and non-yeast fast bread like banana and gingerbread and mixes, kneads, and rises doughs for pizza, focaccia, croissants, and other pastries. The machine may be preset up to 13 hours ahead of time with a timer, ensuring fresh bread or cake for breakfast or dinner. The baking pan is nonstick, which makes cleanup a breeze. The machine is 14 inches wide, 13.5 inches high, and 9 inches deep, and it is made of metal. It has 550 watts of electricity.
Verdict
The Zojirushi Home Bakery Virtuoso Breadmaker is our recommendation if you're ready to spend a little extra on your bread machine ($339.99 MSRP). The machine has enough features to keep you experimenting with new bread for a long time, and the recipe book that comes with it includes tried-and-true recipes as well as instructions on how to tweak ingredients for the best results. In addition to preset settings, the user can program three unique bread settings, changing everything from the initial rest to the kneading, rising, and baking times. While the machine's more hands-on nature may not appeal to everyone, it's perfect for individuals who want to experiment with more complicated recipes.
Bread Fun Facts
Bread has a lengthy history, which has resulted in countless folklore and superstitions around it. If you drop a slice of bread while slicing it, it implies friends are on their way. As a housewarming gift, it was usual to bring a loaf of bread and a bottle of wine to ensure that the new owners would never be hungry or thirsty.
Bottom Line
It's a lot to consider when deciding on the perfect bread machine. We scanned the internet for these five top models, taking specs, popularity, customer ratings, and professional reviews into account. We hope this helps you start or continue your bread-making journey on the right foot.
You Might Also Like: