Godiva Biscuits are a crunchy, snappy biscuit topped with decadent chocolate and it is nearly impossible to eat just one of these delicious treats. They may actually be the yummiest thing that Godiva makes and that is saying a lot! Keep reading to see our detailed and honest Godiva Biscuits review and we think it is a safe bet that they may become your new favorite sweet.
Godiva Biscuits are the perfect gift for any occassion. Not only do they lift up your mood, but they also bring back the warming memories of your childhood.
When it comes to choosing chocolate biscuits for your family, Godiva is undoubtedly one of the most reputed names. It's the global leader that offers the most delicious chocolate products with premium quality.
About Godiva Chocolates
Godiva's history goes back to 1926, and currently, it's known as the symbol of luxury. The company is based in Belgium and inspired by Lady Godiva and her values, including pioneering spirit, generosity, and passion.
Godiva offers distribution in more than 800 boutiques, has a presence in over 100 countries, and offers a vast array of chocolate creations. From shell molded chocolate pieces and truffles to chocolate biscuits with different flavors, you can find everything from Godiva for an ultimate chocolate experience.
If you're a chocolate biscuit lover or looking for a perfect gift for someone, then "Assorted Chocolate Biscuit Gift Box" is what you're looking for.
Godiva Biscuits Review
It's nearly impossible to resist the rich and smooth Godiva chocolate combined with crispy biscuits. The Godiva Gift Box is a collection of prestige biscuits with the most iconic chocolate topping.
The box comes with an elegant gold design and contains different types of chocolate biscuits. It makes for a sophisticated and inspiring gift for your host or an exceptional treat that you can share with your family and friends.
The Assorted Chocolate Biscuit Gift Box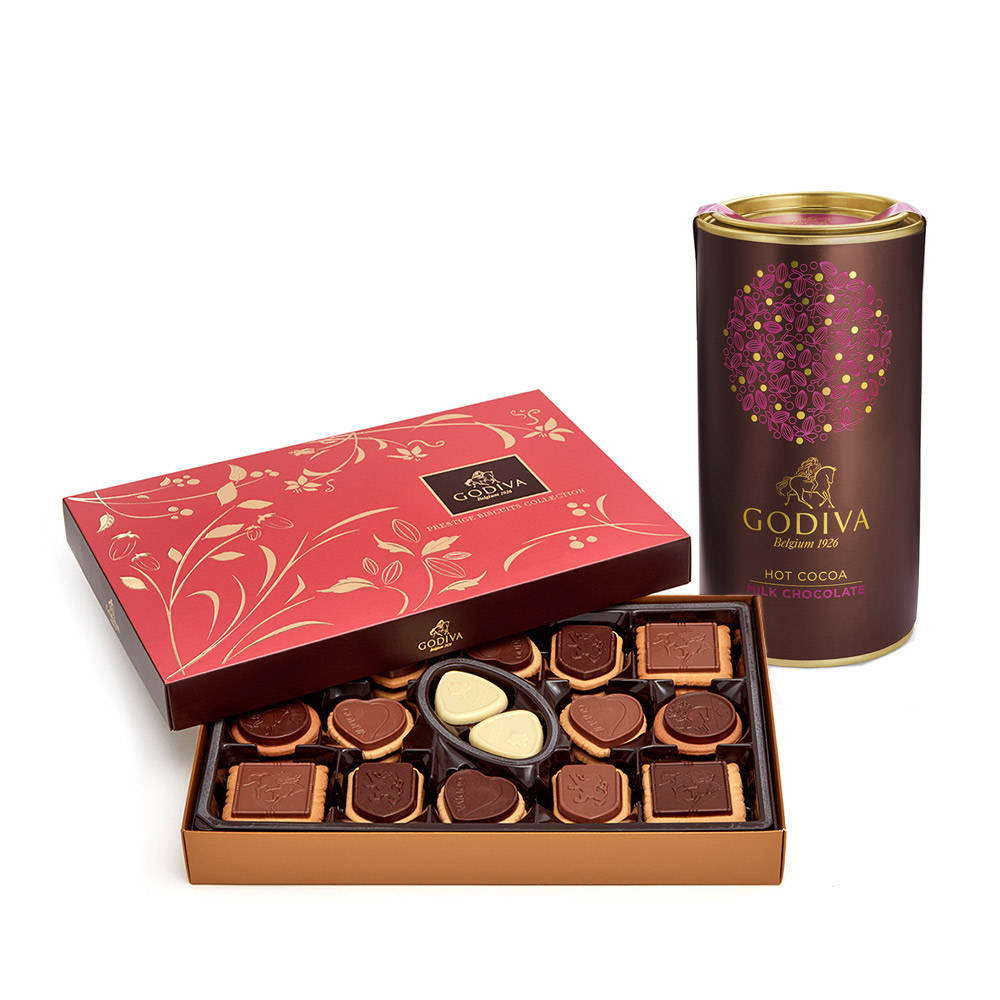 The Godiva Gift Box has many different types of assorted chocolate biscuits including:
Lady Godiva Lait with Milk Chocolate: Traditional European biscuit topped with smooth milk chocolate.
Coeur Noir Dark Chocolate Truffle Biscuit: Traditional European style biscuits in heart shape that come with dark chocolate topping and smooth chocolate truffle crème filling.
Lady Godiva Noir Dark Chocolate Biscuit: Iconic biscuits with smooth dark chocolate topping embossed with legendary Lady Godiva.
Lady Noir Vanilla Dark Chocolate Biscuit: Crispy biscuits with cocoa notes filled with creamy vanilla ganache and topped with dark chocolate topping.
Coeur Lait Hazelnut Praline Biscuit: Heart-shaped European-style biscuits topped with milk chocolate and filled with hazelnut praline ganache.
Écusson Lait Milk Chocolate Caramel Biscuit: Crispy biscuits with milk chocolate and flowing caramel topping embossed with a Belgian lion.
The Perfect Treat for Tea or Coffee
If you ever find yourself in a situation where you have to pick between crunchy biscuits and chocolate, you definitely have our sympathies. Better yet, it's certainly okay to pick both. The Godiva's Assorted Chocolate Biscuit Gift Box allows you to have both treats.
Whether it's long cold nights or warm weather when you want to relax as the sun goes down, these chocolate biscuits are the perfect treat with a cup of tea or coffee.
Perfect Gift for Any Occasion
If you are searching for a genuinely special package of premium chocolate biscuits to give someone, then Godiva's assorted gift box is the way to go. It makes choosing a gift a breeze, and you can't possibly go wrong with that.
Godiva offers only the finest and luxurious sweet treats packed in carefully crafted gift boxes. They're guaranteed to please, especially if you want something to impress the host irrespective of the occasion. Packaging is critical when it comes to gifts because the way you present them makes a world of difference. Godiva's delectable chocolate biscuits are packed in an exquisite box with an elegant gold design that flaunts luxury.
From birthday parties and baby showers to Father's/Mother's Day and weddings, Godiva's Assorted Chocolate Biscuit Gift Box is the perfect gift for any occasion to make a real impression.
Nutrition
Godiva's chocolate biscuits are dangerously addictive because of their irresistible taste and aroma. They're healthy, and about 4 biscuits contain 170 calories in total. The same serving contains no cholesterol and provides you with 12 percent (9 grams) of the daily recommended fat dosage.
They also offer protein, sodium, potassium, and calcium in limited amounts that are good for your health. Other than that, 20 grams of carbohydrates and only 12 grams of sugar make them a perfect companion for your tea or coffee time.
Shipping Info
Godiva ensures that you receive your package of assorted chocolate biscuits in perfect condition by monitoring your area's temperature. You can also personalize your gift by requesting Godiva to include a complimentary message while placing the order.
Every box comes with the expiry date and storage condition information to keep the chocolate biscuits in perfect condition.
How Long Godiva's Products Stay Fresh
These chocolate biscuits can maintain their freshness for up to 2 weeks if you store them at 53.6F to 64.4F of temperature with 50-70 percent humidity. If you store them in a refrigerator or freezer, consider letting them come to room temperature before eating.
It's also important to note that Godiva's white, milk, and dark chocolate may contain milk or daily products. They may also have peanuts or nuts (or both), and you should know about it if you're allergic to these ingredients.
Godiva Biscuits Review: Bottom Line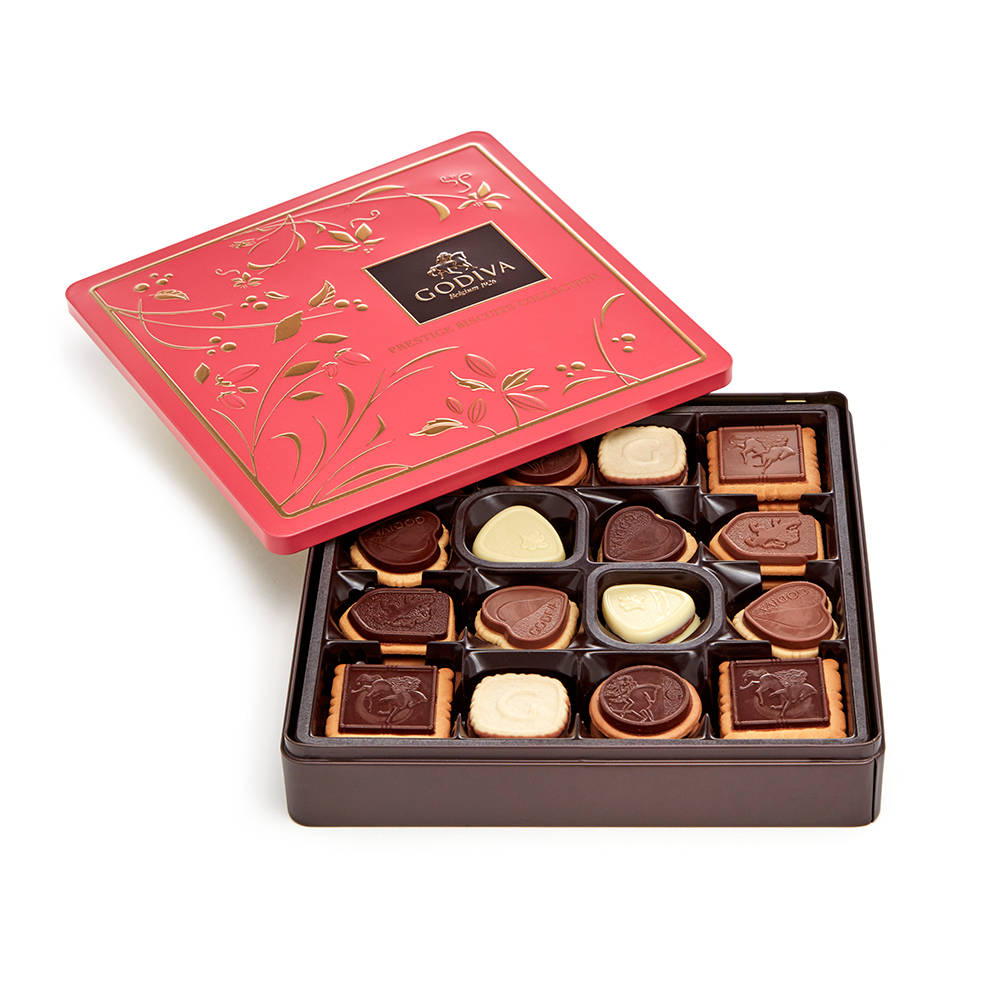 Godiva is the most iconic brand in the whole world that offers premium quality chocolate products. It started as a small home shop about 100 years ago and is now in more than 100 different countries.
The assorted chocolate biscuit gift box will define your elegance and luxury and make an impression that your host will remember!
You Might Also Like: