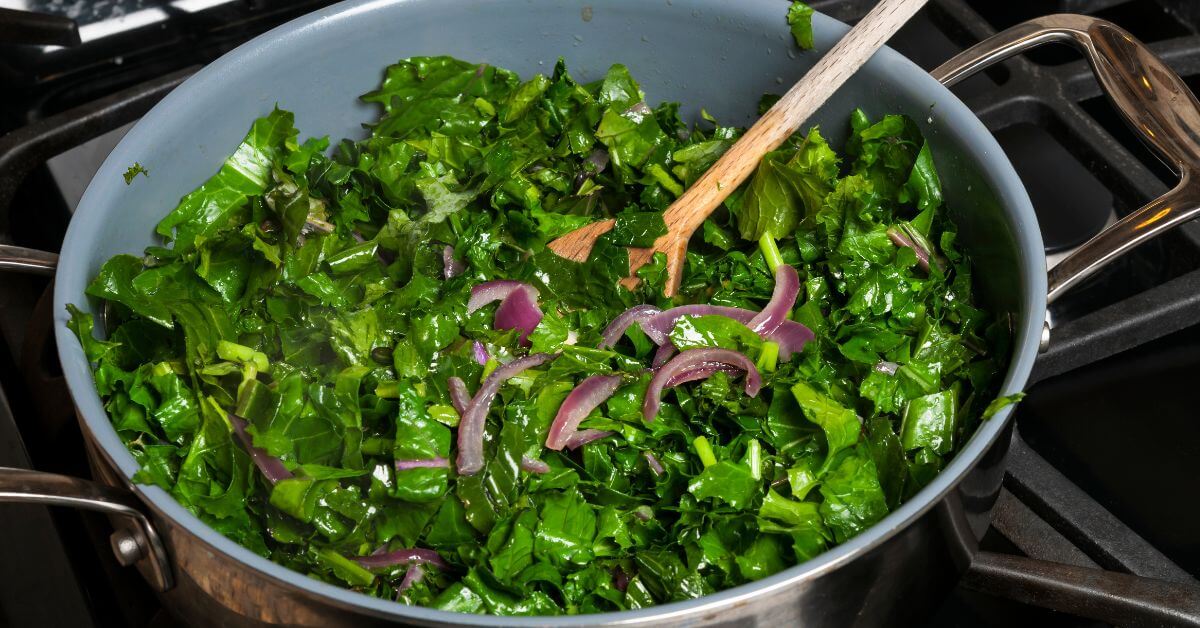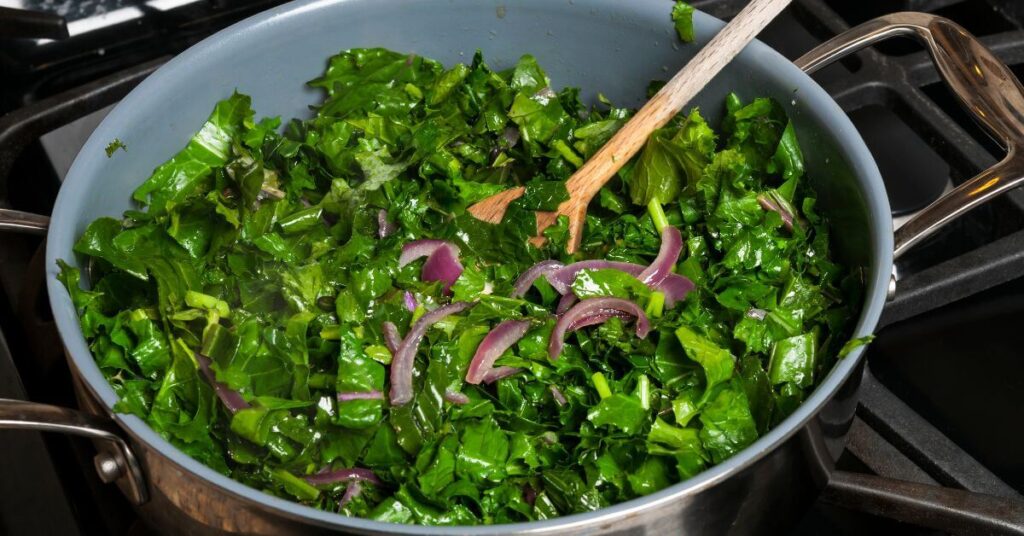 Kale greens are among the healthiest leafy greens out there. They have a slightly bitter flavor which most people do not enjoy as they should. You can prepare kale greens as a side dish with your main course in many ways. However, a few simple ingredients can alter the greens' flavor, and you can enjoy a delicious and healthy meal.
So, if you are wondering how to cook kale greens with chicken broth? Read ahead to find out!
Can you Cook Kale Greens with Chicken Broth?
Kale can be enjoyed cooked or raw. It can be steamed, sautéed, stir-fried, baked, or even eaten raw in salads. Cooking kale with chicken broth is the best way to bring flavor and nutrients. Chicken broth adds flavor and depth to kale greens while also helping to retain their nutrients. This quick and easy cooking method makes it a great option for busy weeknights. Plus, it's a healthy way to enjoy this nutrient-rich leafy green.
Tips to Remember
When cooking kale greens, it is important to remember a few tips to make them taste great:
Always remove the tough stems from the kale leaves before cooking.
While cutting, make sure to cut evenly; it will help in even cooking.
You can also cook the kale leaves in vegetable or beef broth instead of chicken broth.
Ensure not to overcook the kale leaves; they should only be cooked until they are tender but not mushy.
You can use tamari instead of soy sauce if you want a gluten-free dish.
Add more spices according to your liking.
Variation Ideas
Kale greens are very versatile and can be cooked in many different ways. Here are a few ideas for cooking kale greens with chicken broth:
Vegetables: Adding vegetables like jalapeños, red bell peppers, Thai chilies, etc., not only adds flavor but also spices up the dish; they also balance out the bitterness of kale greens.
Bacon: bacon adds a smoky flavor, making kale greens more flavorsome.
Cheese: You can sprinkle Parmesan cheese on top of the dish. The cheese's nutty flavor compliments the kale, while the chicken broth brings out the best in both flavors. You can also use any aged cheese and crumbled feta cheese.
Lemon juice or balsamic vinegar: The acidity of the lemon juice or balsamic vinegar helps to bring out the flavor of the kale, while the chicken broth adds a nice depth of flavor. This pairing is a great alternative to wine and will surely please your taste buds.
What to serve with Kale Greens with Chicken Broth
Kale Greens with chicken broth is a good side choice and goes well with several main courses. Here are a few ideas:
Lamb chops: Lamb chops with garlic and herbs are a delicious, healthy meal that goes great with kale greens with chicken broth. The two dishes complement each other perfectly, and the flavors of the lamb and kale work together to create a tasty, nutritious meal.
Roasted chicken: Roasted chicken pairs extremely well with kale greens and broth. The flavors complement each other perfectly, and the dish is healthy and filling.
Steak: You can serve Kale Greens with Chicken Broth with your favorite steak, as the flavors go very well together.
How to store Kale Greens with Chicken Broth
Kale greens are a healthy and delicious addition to any meal. But if you're not careful, they can go bad quickly. Here's how to store kale greens made with chicken broth to stay fresh and tasty.
If you plan on eating the kale greens within a day or two, you can store them in the refrigerator in an airtight container. Just make sure to keep them submerged in the chicken broth.
If you want your kale greens to last longer, you can freeze them. Again, submerge them in chicken broth and place them in a freezer-safe container. When you're ready to eat them, thaw them in the fridge overnight and then cook them as usual.
How to Cook Kale Greens with Chicken Broth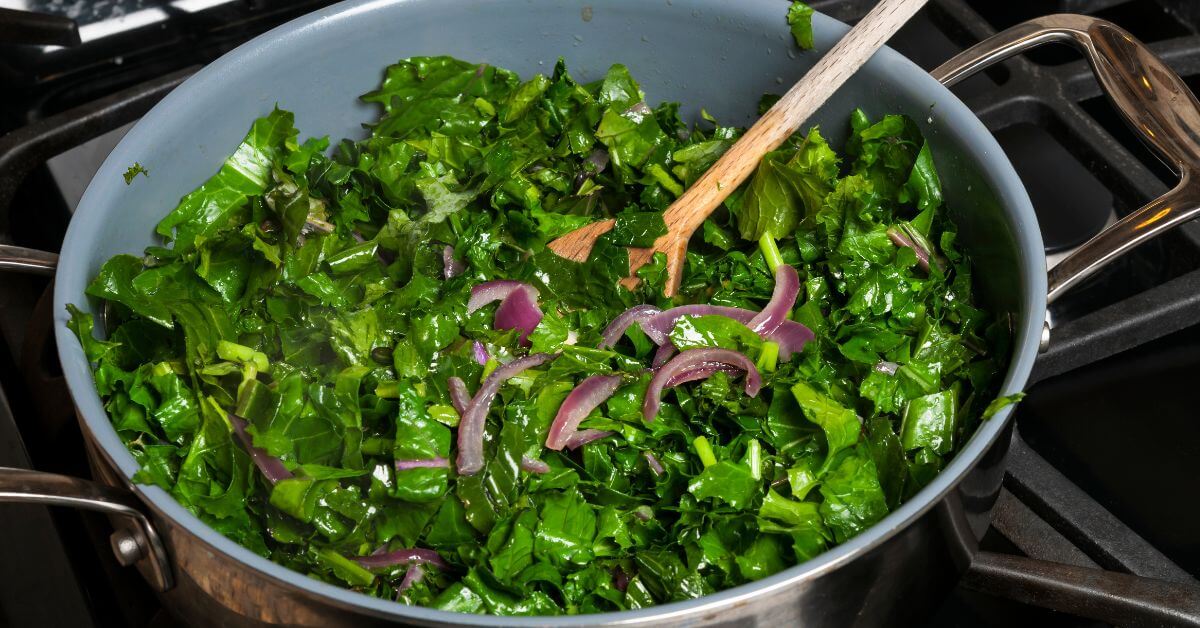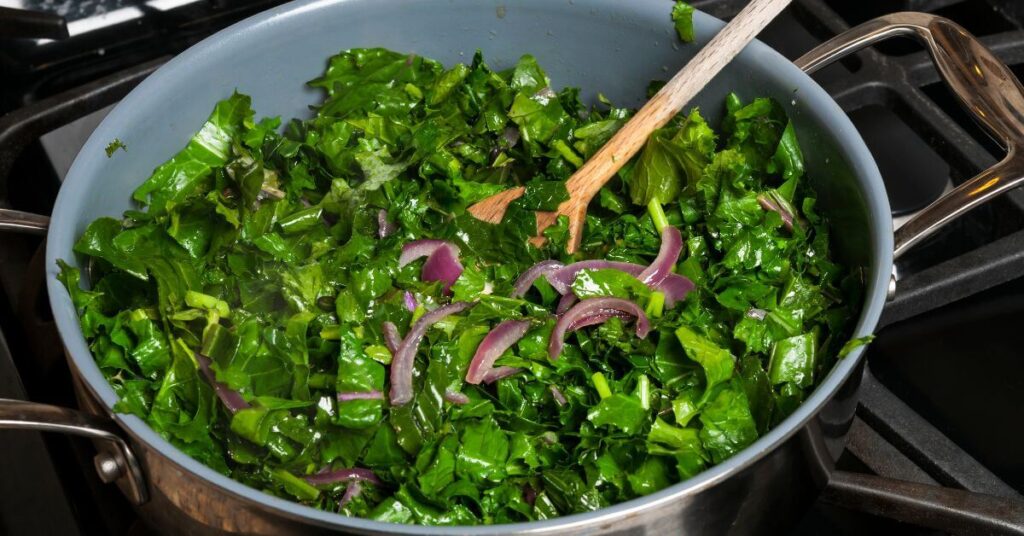 Preparation time: 15 minutes
Cooking time:  55 minutes
Total time: 70 minutes
Servings: 4
Ingredients
2 lbs.  kale, chopped
¼ cup olive oil, divided
2 tbsp. garlic, minced
½ cup diced onion
⅛ tsp. red pepper flakes
1 tbsp. soy sauce
2 cups chicken broth
1 tsp. white wine vinegar
¼ tsp. black pepper
Salt, to taste
Sesame seeds for garnishing
Instructions
On the cutting board, place kale, cut the stems and discard, chop the leaves into 3" to 4" pieces, and transfer to a colander.
Rinse kale under fresh water and leave until drained.
Pour olive oil into a Dutch oven over medium heat; when oil is hot, add onion and sauté for 3 to 4 minutes or until tender and light brown.
Then add chili flakes and garlic, and cook for another minute or until fragrant.
Add 2 tbsp. of olive oil, when oil is hot, add half of the drained kale and cook for 1 minute, then add the rest of the kale and cook for another minute until wilted.
Add soy sauce and chicken broth, mix well, cover with lid, reduce heat to medium-low and stir; cook for 25 to 35 minutes or until greens become soft; stir after every 5 to 10 minutes.
Then remove the lid, increase heat to medium-high, and cook for 8 to 10 minutes or until liquid evaporates and greens begin to sizzle.
Remove from heat, add black pepper and white wine vinegar, and mix well.
Adjust pepper and salt to taste, garnish with sesame seeds, and serve.
You Might Also Like: