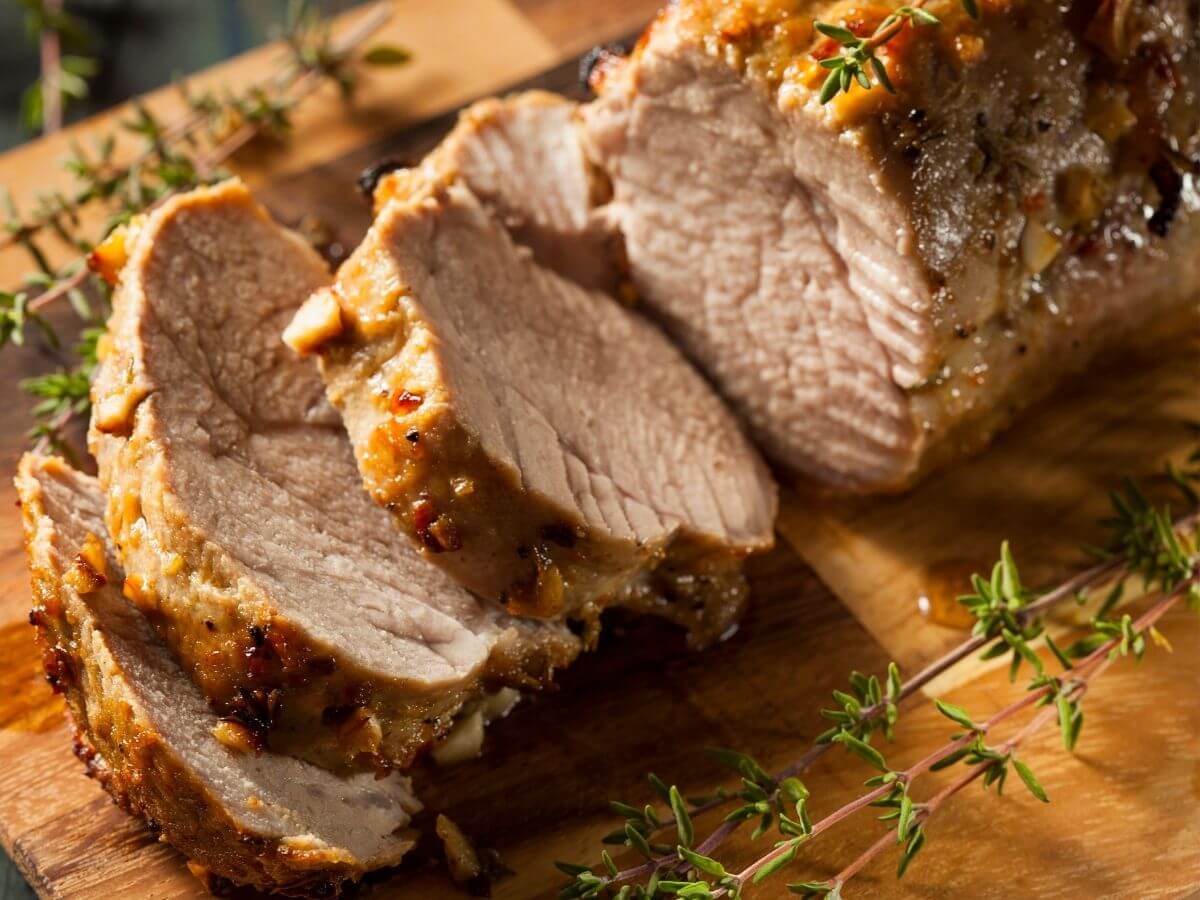 Pork tenderloin is one of the juiciest and most delicious pieces of meat that you will ever eat. It's also one of the most versatile meats that you can cook in multiple ways. Using the stovetop to cook pork tenderloin is one of the best ways because it helps the pork tenderloin not to dry out. Keep reading to learn how to cook pork tenderloin on the stovetop.
What is Pork Tenderloin?
The pork tenderloin, which is also known as pork tender or filet, is a long piece of meat. It is boneless, lean, and runs alongside the pig's backbone. Many people often confuse pork tenderloin with pork loin, but they are very different.
The pork loin is somewhat lean, but it's larger in size, comes from the pig's back, and can also have bones. On the other hand, the tenderloin never has bones, and it cooks a lot faster than pork loin.
Because of the tenderness and juiciness of tenderloin, it's very easy to overcook it. That's why it's critical to follow the instructions that we have listed in each recipe discussed below. So, let's jump into it.
How to Cook Pork Tenderloin on a Stove Top
This easy one-skillet low-carb recipe is packed with vegetables and protein that you can prepare in less than 30 minutes.
Ingredients
1 pound of pork tenderloin (sliced into 0.5-inch-thick pieces)
Red onion (sliced)
1 zucchini (thinly sliced)
2 ounces of black olives (sliced)
Fresh basil
Salt
Pepper
Paprika
Red pepper flakes
Mixed leafy greens
Instructions
Spray the skillet with cooking oil and place it on the stovetop.
Heat the skillet to medium.
Sautee the red onion slices until they're fragrant.
Add pork tenderloin slices and cook them for about 5 to 8 minutes.
Flip each tenderloin slice and cook until it is no longer pink.
Add zucchini and olive slices to your skillet.
Transfer your pork tenderloin slices onto a plate and add pepper, salt, paprika, and red pepper flakes as desired.
Use fresh basil for garnishing and serve.
Spicy and Sweet Pork Tenderloin Recipe
Ingredients
A pound of pork tenderloin strips (2 to 3 inches long)
1 tablespoon of chili oil
1 teaspoon of garlic powder
½ teaspoon of black pepper
1 teaspoon of ground ginger
1 teaspoon of kosher salt
Sauce Ingredients
3 cloves of garlic (minced or roughly chopped)
¼ cup of lime juice
¼ cup of lite pancake syrup
1 tablespoon of soy sauce
2 tablespoons of gochujang
Instructions
After cutting the strips, pat and dry them with a paper towel and put them in a bowl.
Add chili oil, pepper, salt, garlic powder, and ground ginger.
Stir the mixture until the pork strips are evenly coated, and then set aside.
Place all the sauce ingredients in a bowl and mix.
Place your skillet on the stovetop and heat it to medium-high temperature.
Add the coated strips of pork tenderloin to the skillet and heat them for about 3 to 5 minutes.
Flip each strip and cook until there is no longer any pink.
You can also use a meat thermometer to check the internal temperature of each strip. Each strip should be around 165 degrees Fahrenheit.
Transfer all the strips to a plate.
Cook the minced garlic in the skillet for about 30 to 45 seconds until it becomes fragrant.
Add the sauce to the skillet and cook it for about 45 to 60 seconds until it becomes thick. Don't forget to stir it constantly to avoid burning.
Add the strips to the skillet after turning the heat off, and coat the meat in the sauce that you just cooked.
Transfer the pork stripes to a plate and serve them with lime wedges, cilantro, scallions, or sesame seeds. You can also serve this dish with vegetables and rice.
 Orange Pork Tenderloin Recipe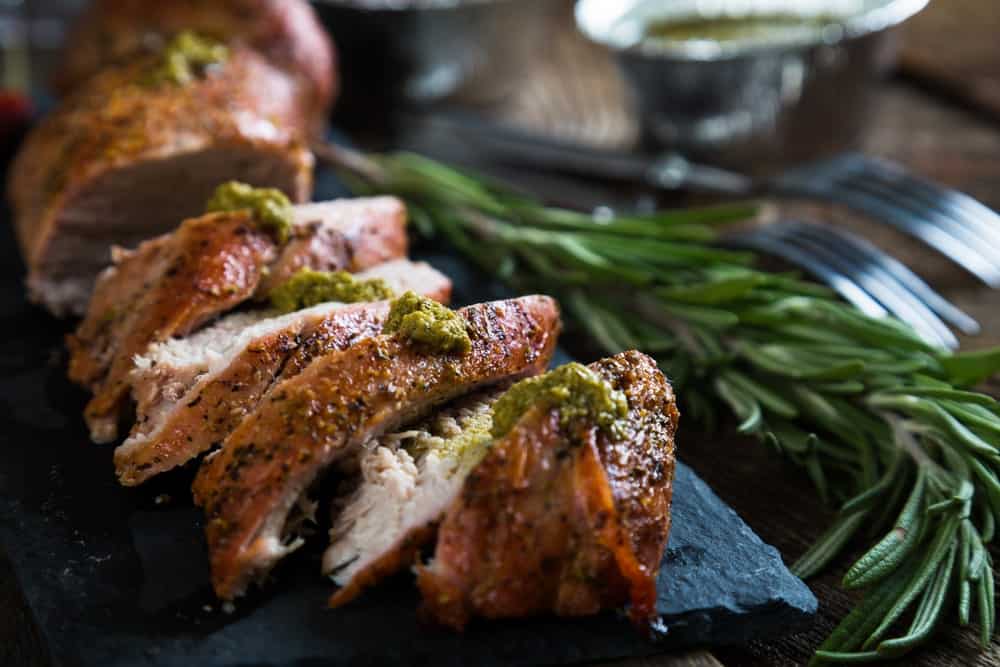 If you like citrus flavor, then you can't go wrong with the orange pork tenderloin. It's another juicy recipe that you can prepare within a matter of minutes.
Ingredients
1 pound of pork tenderloin
3 tablespoons of orange marmalade
1 tablespoon of sesame oil
1 teaspoon of apple cider vinegar
2 tablespoons of soy sauce
1 teaspoon of red pepper flakes
1 tablespoon of garlic powder
2 tablespoons of olive oil.
1 teaspoon of rice vinegar
A pinch of salt and pepper
Instructions
Add the olive oil to a frying pan and heat at a medium temperature.
Prepare your pork tenderloin by removing all the unnecessary white membranes.
Use a small bowl to mix all the other ingredients.
Add a pinch of salt and pepper to your mix according to your taste
Add the tenderloin to the frying pan once it's hot, and cook the meat for about 5 minutes until it becomes brown.
Flip the tenderloin and cook for another 5 minutes or until it becomes brown.
Remove the meat from the frying pan and add the mixture that you created from the rest of the ingredients to the pan and reduce the heat.
Cook the mixture for about 45 to 60 seconds, and then add the tenderloin back to the pan.
Cover the pan and let the tenderloin cook for about 15 minutes.
Flip the tenderloin after 3-5 minutes so that it cooks evenly.
Remove the tenderloin from the stove once you can no longer see any pink.
Let the meat rest for about 10 minutes, and then slice it up horizontally.
Garnish it as you like, pour the juices, and your orange pork tenderloin is ready to serve.
Grilled Tenderloin Recipe
For this recipe, you'll need to use the oven and the stovetop. It's also an easy recipe that can be made on a grill pan, but you'll need to give it the finishing touch using your oven.
The preparation time of this grilled pork tenderloin recipe is about 40 minutes, and the following recipe will be more than enough to serve 4 to 5 people.
Ingredients
1 pound pork tenderloin
½ teaspoon of olive oil
1 teaspoon of garlic powder
½ teaspoon of salt
1 tablespoon of fresh rosemary leaves (chopped)
¼ teaspoon of black pepper
1 teaspoon of orange zest (optional)
Instructions
Clean your pork tenderloin by removing the unnecessary white membrane.
Rub the olive oil on all sides of the tenderloin.
Mix orange zest, rosemary, garlic, pepper, and salt, and sprinkle the mixture on the entire piece of meat.
Use a grill pan (oven-friendly) and heat it on the stovetop at a medium-high temperature.
Once the pan is hot, place the tenderloin in it and sear each side for about 2 to 3 minutes.
Preheat your oven to 350 degrees Fahrenheit.
Insert the grill pan with the tenderloin into the oven and let it cook for 25 to 30 minutes.
Remove the grill pan from the oven and let the meat sit for 10 to 12 minutes.
Garnish it as desired before serving.
Garlic Butter Tenderloin Recipe
This recipe is also cooked on the stovetop, but you'll again need to use the oven to finish the job. If you like garlic flavor, then you will love this recipe.
Ingredients
1 pound pork tenderloin
4 tablespoons of unsalted and softened butter
Thyme and parsley (according to your taste)
2 to 3 cloves of minced garlic
1 to 2 teaspoons of onion powder
1 teaspoon of olive oil
Salt and pepper (according to your taste)
Instructions
Dry the tenderloin with a paper towel and season it with black pepper and salt.
Mix onion powder, garlic, thyme, parsley, and butter in a small bowl.
Use a cast-iron skillet to heat the olive oil at medium to high temperature and add the pork tenderloin.
Sear each side of meat for about 2 to 3 minutes.
Remove the skillet from the stove and spread the mixture (that you created in a small bowl) over the meat.
Preheat your oven to 425 degrees Fahrenheit.
Insert the skillet with the pork tenderloin into the oven and let it cook for about 20 minutes.
Check the internal temperature of the meat with a thermometer.  It should be around 145 degrees Fahrenheit.
Let it rest for about 5 to 8 minutes.
Slice the meat and garnish as desired.
You Might Also Like: