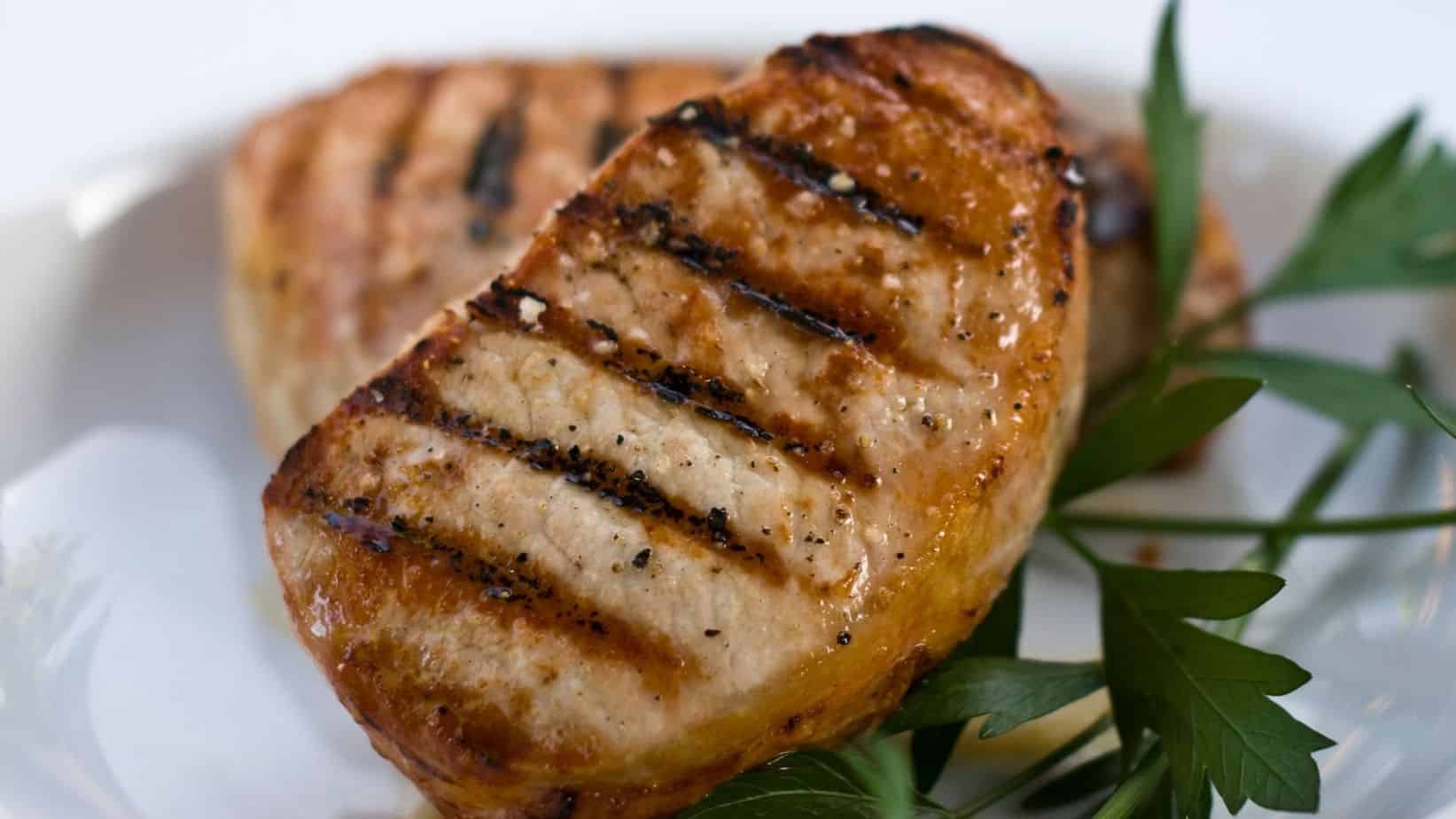 Tender, juicy, and perfectly cooked boneless pork chops are a delicious treat. However, not every boneless chop turns out to be as juicy as you want it to be. So, for a boneless pork chop to be melting in your mouth and dripping with juiciness, you have to keep in mind a few things and follow the protocol. If you are looking to learn how to cook tender boneless pork chops, read ahead to get all the information!
How To Cook Tender Boneless Pork Chops
There are so many different ways you can cook boneless pork chops. Once you brine them, you can cook them in one of the following ways:
Oven-Baked Pork Chops: One of the easiest and most common ways of cooking boneless pork chops so that they are tender is by cooking them in an oven. Place them in a preheated oven at 400 degrees F for about 15 minutes. When cooking these in the oven, make sure you keep an eye on the internal temperature of the meat so the chops don't dry out.
Stovetop: For those who don't have an oven, no problem at all. You can make a skillet pork chop on the stovetop as well. Place them on a heated cast iron skillet and cook on each side for about 4 to 5 minutes. Let it rest before serving.
Air Fryer Oven: The air fryer oven is another amazing kitchen appliance that has taken the place of a conventional oven. You can easily cook a juicy pork chop in an air fryer oven. Either choose the grill option or the broil option. Either way, you can enjoy perfectly cooked and tender pork chops.
Is Marinating Pork Chops in Brine Necessary?
Although marinating the pork chops in brine is a personal choice, I prefer not to skip this method. That's because when you put the pork chops in brine, it helps in making the pork tender. Furthermore, as you cook the chops, they won't lose moisture and dry out. It also helps the chops to absorb more flavors of the marinate.
How to Keep Boneless Pork Chops Tender and Juicy
When cooking boneless pork chops, we all look for the final result to be juicy and tender. However, most people complain that their pork chops didn't turn out to be juicy at all. So, if you want them to stay juicy and tender, here are a few things you should keep in mind:
Always choose an optimum temperature when cooking pork chops. When cooking them in the oven, 400-degree F is the right temperature. Furthermore, if you are cooking it on the stovetop, go for medium heat. Cooking pork chops at high temperature evaporates the moisture. So, the chances the chops will dry out are higher.
Brine helps to keep the chops moist, tender, and juicy. So, place them in a brine for about 2 hours. This will help lock in moisture and flavor.
Always keep an eye on the internal temperature of the pork chops. Perfectly cooked pork chops should have 140-degree F internal temperature. Any temperature above this will result in a loss of moisture.
Lastly, always let the pork chops rest for some time before serving. You can either broil them or cover them with aluminum foil. This also helps lock in the juices and make them tender.
What to Serve with Boneless Pork Chops
There are so many options on what to serve with boneless pork chops. The choices seem to be unlimited. Here are a few ideas you should try:
Garlic Mashed potatoes: Creamy, fluffy, garlic mashed potatoes are among the best side that goes so well with a number of main courses. Serve it with pork chops to enjoy the combination.
Roasted vegetables: Roasted vegetables are just perfect with all sorts of main courses, and pork chops are no different.
Gravy: Make a gravy out of the pork drippings and/or pan sauce.
Garlic rice: Aromatic and laced with the garlicky flavor, garlic rice is super delicious.
Caramelized onions: Sweet and savory flavor of caramelized onion is also a delicious side with pork chops.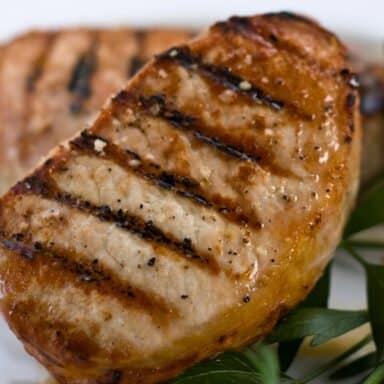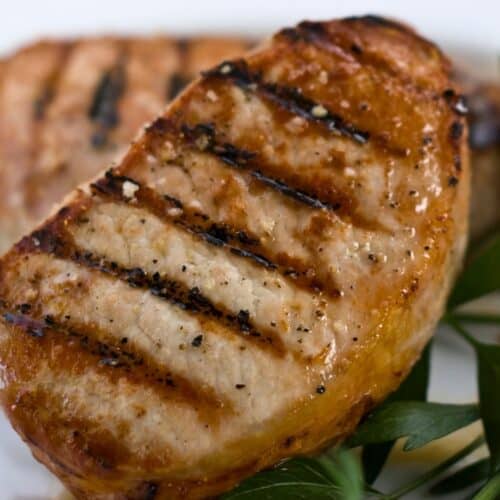 How to Cook Tender Boneless Pork Chops
Ingredients
2

boneless pork chops

2

tbsp

olive oil

For the brine:

2

cups

water

1

tbsp

brown sugar

½

tsp

black peppercorns

whole

2

tbsp

kosher salt

For the seasoning rub:

1

tbsp

brown sugar

¼

tsp

smoked paprika

½

tsp

mustard powder

½

tsp

garlic powder

¼

tsp

red chili flakes

¼

tsp

salt
Instructions
In a saucepan, add water, brown sugar, kosher salt, and black peppercorns.

Place the saucepan over medium heat and bring the mixture to a boil.

Stir so that salt and brown sugar dissolve.

Remove the saucepan from heat and let it cool down.

In a bowl or a dish, add boneless pork chops and pour the prepared brine mixture over them so that the chops are submerged in them.

Place the dish in the refrigerator for about one to two hours.

Once the time is up, remove the pork chops from the refrigerator, take them out of the brine, and place them on a plate.

Using kitchen towels, pat the chops dry.

Mix paprika, garlic powder, mustard powder, chili flakes, and salt and mix in a bowl.

Once the pork chops are dry, rub olive oil on both sides.

Coat the pork chops with prepared dry rub mixture abundantly.

Place the chops in a baking dish.

Place the baking dish in a preheated oven for about 15 minutes at 400-degree F.

Once the time is up, switch to broil and let the chops cook for 3 to 4 minutes.

Using a thermometer, check the internal temperature of the pork chops. It should be 140-degree F.

Remove the chops from the oven and let them sit for about 5 minutes.

Serve alongside roasted vegetables and gravy.
You Might Also Like: