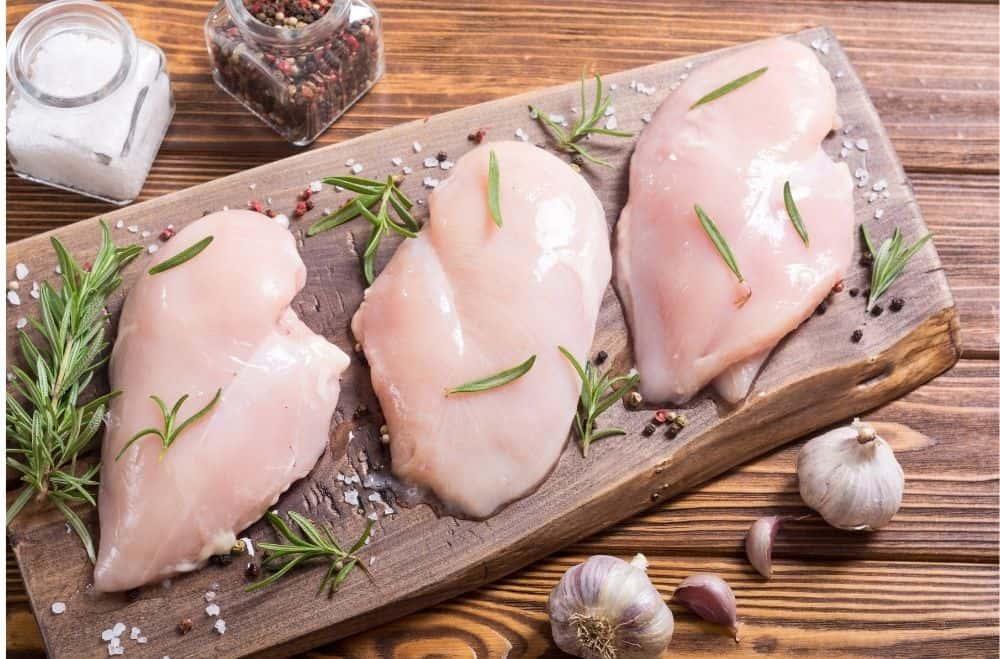 Fresh chicken is a staple in my home, as it is for many households. It's a versatile and affordable food, low calorie and quick, and easy to prepare. Plus, it is so delicious even the kids love it. When it comes to cooking meat, chicken might be the ultimate meal. But that doesn't make the poultry aisle at the grocery store any easier to navigate. Should we choose boneless or bone-in? What's free-range? How do I know if it's fresh? What exactly does organic chicken mean? We've listed nine things you should consider to hopefully make buying raw chicken a little easier and through in three easy chicken recipes to add to your dinner rotation.
1. Determining Freshness
We always want the freshest meat we can find. The best way to determine chicken meat's freshness is by its look and smell. Raw chicken should have a pink hue and shouldn't have any bruises or tears on the skin. Chicken meat should also be plump, resilient, and able to regain its shape a few seconds after you press on it. Additionally, the smell of chicken meat should be neutral and even clean. Any other odor could be an indication that it's close to spoiling.
2. Look for Excess Liquid in the Package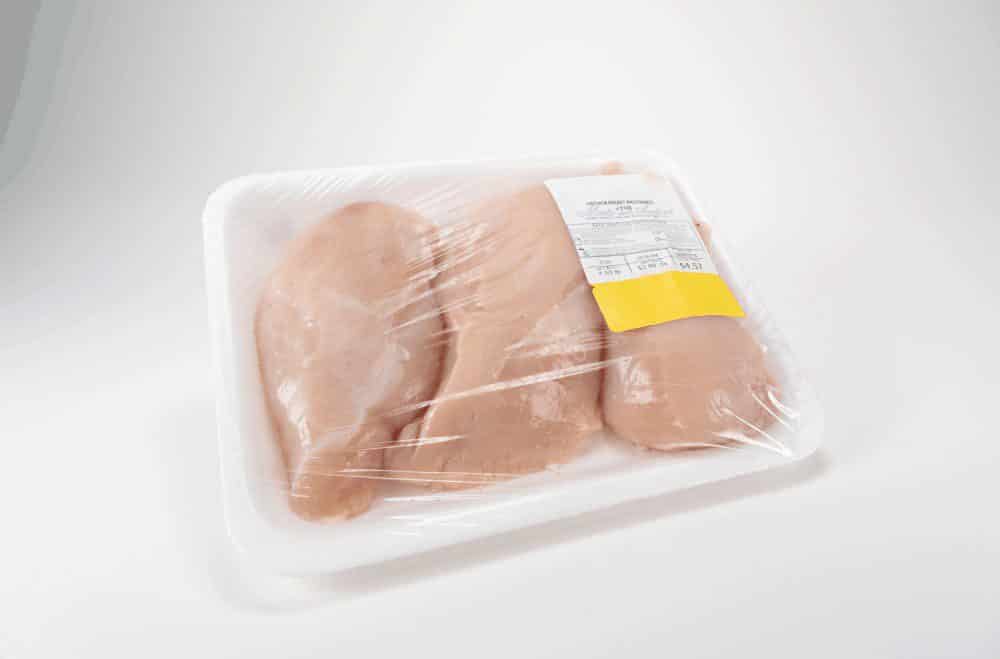 The process of immersion chilling is the oldest and most widely used way to quickly get poultry to a safe temperature. Chickens must be cooled after slaughter to prevent bacteria from growing and ruining the meat. They're submerged in either cold water or an ice water mix to accomplish this cooling as quickly as possible. This process, though, can lead to excess water in the packaging. Look out for this liquid, as it can result in the chicken having less flavor and a soggier texture.
3. Look for Pretrimmed Fresh Chicken Meat
Trimming (cutting off excess skin and fat) and deboning a chicken can be tedious. It's often time-consuming and requires more handling of the chicken, which can contaminate immediate surroundings and utensils. As a result, it requires rigorous food-safety measures to avoid spreading harmful bacteria. If possible, choose chicken meat that's already been trimmed to avoid the added headache.
4. Check the Grade
The grade of beef is often the first thing people look for when buying it. What a lot of people don't realize is that chicken is also graded meat. The USDA uses an A-B-C grading system based on the overall condition of the meat, with A being the highest quality and B and C being less desirable.
5. Understanding Free-Range
A free-range chicken is one that's been raised with access to the outdoors. A company must be able to prove to the USDA that their chickens have this access in order to label them as free-range. While the effect on the overall quality of the meat is debatable, many top chefs agree that chickens raised in desirable conditions are under less stress and, therefore, often have tastier meat.
6. Chickens Labeled 'Enhanced'
Enhanced chicken meat has either been injected with or soaked in a solution during processing. This solution can be used to enhance the flavor of the finished cut of meat. It's not necessarily a bad thing, but it often does add MSG and nitrites to the chicken, resulting in meat that has a less natural flavor and higher sodium levels.
7. Is Organic Chicken Worth it
The benefits of buying organic chicken are and always have been, up for debate. Organic chicken is more expensive because it has to be certified by the USDA, which requires a fee. It can help you avoid synthetic pesticides, hormones, and antibiotics, but it's debatable whether its taste is different from that of non-organic chicken meat. Ultimately, the decision to buy organic comes down to personal preference.
8. Boneless Fresh Chicken Cuts
A chicken breast, thigh, and tender are examples of boneless cuts of meat, as they're leaner and have already been trimmed. These cuts are generally easier and quicker to cook and, if done right, can be just as tender and juicy as bone-in cuts. However, they're often more expensive because of the extra labor involved in processing a boneless cut of chicken.
9. Bone-in Fresh Chicken Cuts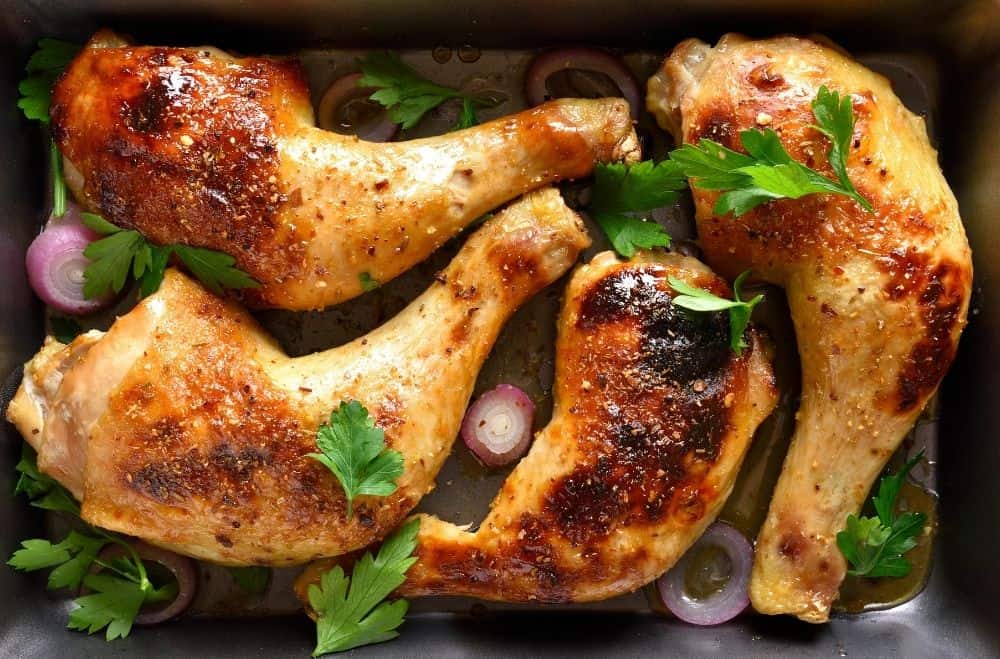 Bone-in chicken cuts – including split breasts, chicken wings, legs, thighs, and whole chickens – are more versatile and varied than boneless cuts, offering a wider range. They are not trimmed during processing and often include the bone as well as the skin. While the bone and skin result in a fattier cut of meat, they also often lead to a juicier, more flavorful cut. Additionally, bone-in cuts are usually cheaper than boneless options because there's less cost involved in processing the meat.
Three Easy and Yummy Chicken Recipes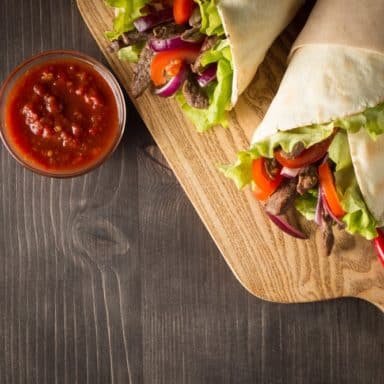 Crock Pot Chicken Fajitas Recipe
Preparation Time: 10 minutes in the morning. Cooking Time:  3-8 hours in the slow cooker, depending on the setting you select, and 20 minutes before serving the meal. Serves: 4-6 people
Ingredients
5-6

chicken tenders

1 15-

oz.

can of black beans

1/4

teaspoon

garlic powder

1/2

teaspoon

onion powder

1/4

teaspoon

cumin

1

teaspoon

paprika

1/2

teaspoon

salt

2

teaspoons

chili powder

2

bell peppers

seeded and sliced into long strips

1/2

sweet onion sliced into long strips

Oil for cooking

Package of 8 large flour tortillas

Shredded cheese

Sour cream

One package of Zataran's or Mahatma yellow rice mix
Instructions
Step 1:  Prepare the slow cooker.
In your slow cooker, combine the chicken tenders, black beans, garlic, cumin, paprika, onion, salt, and chili powder.  Set your appliance on low to cook for 6-8 hours, or on high for 3-4 hours.
Step 2:  Start the rice.
When you're ready for the rest of the fajita-prep, follow the instructions on the package to start cooking the rice.  While it's simmering on the stovetop, you can get everything else done.
Step 3:  Shred the chicken.
Lift your crockpot lid and use two forks to shred the chicken, fajita-style.  When it's fully cooked, the chicken should practically fall apart under the utensils.  When you are done shredding, replace the lid and turn the slow cooker off.
Step 4:  Sautee vegetables.
Heat two tablespoons of cooking oil in a skillet over medium-high heat for a few minutes.  To see if it's hot enough, sprinkle a few drops of water over the skillet; they should sizzle.  Coat the bottom of the pan with oil by rotating the skillet.  Sautee the peppers and onions.  The peppers are done when they are lightly browned.  Similarly, the onions should be softened and lightly browned.  When they're done, place them in a bowl and set it aside.
Step 5:  Once the rice is tender, you can start serving the fajitas.  Here's how to assemble them:
Set a tortilla on a serving plate and slather it with a teaspoon of sour cream.

Down the middle of the tortilla, add a few spoonfuls each of rice, chicken and beans, and sauteed vegetables.  Top it off with a few spoonfuls of cheese.

Fold in the sides, and dig in!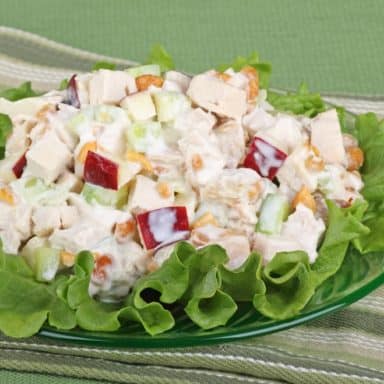 Chicken Salad
Ingredients
3

medium chicken breasts or 6 chicken tenders

should make about 2.5 cups of shredded chicken

2

cups

apples

chopped (leave the peel on for improved taste and texture)

4 to 6

tablespoons

mayonnaise

more mayonnaise balances out any extras you add

1/3

cup

chopped nuts

walnuts, almonds, and pecans work well

1

teaspoon

salt

Dried cranberries

about 2 tablespoons will do the trick

Celery

about 1 stalk, chopped into small pieces

Grapes

1/2 cup, sliced in half and seedless

Raisins

1/2 cup

Sunflower seeds

1/4 cup, shelled

Cucumber

chopped into small pieces
Instructions
Poach the Chicken: Simply place the chicken breast tenders or whole breasts in a pot of water. Bring the pot of water to a rolling boil. Once boiling, turn off the heat and use a tight lid to cover it. After about 20 to 25 minutes, the chicken should be cooked through.

Once the chicken cools off, use your hands to shred it into bite-sized pieces that combine well with the rest of your ingredients.

Combine Chicken & Apples: Mix the shredded chicken pieces and apples in a large bowl. Stir them together with mayonnaise. Start with just three tablespoons. If you want to add more, use one tablespoon at a time. Taste the concoction as you go, ensuring that the texture and taste are suitable to you. Some people just prefer more mayo than others, so go with your gut (and taste buds).

Once you are content with the amount of mayo on your salad, add the salt. Mix well before adding the nuts, and mix again. Then, you can add your favorite extras.

Add Extra Ingredients: Customize your chicken salad with any of the extra ingredients listed above. Remember that you might need to add more mayonnaise to adjust the texture of the dish.

Keep in mind that the bread you serve a chicken salad on can make the difference. Toasted bread with garlic can add to your experience, for instance. You might also add a dash of lemon juice or a spot of dill for some extra flare. Chicken salad can also be served on a salad or a bed of lettuce for a low-carb meal.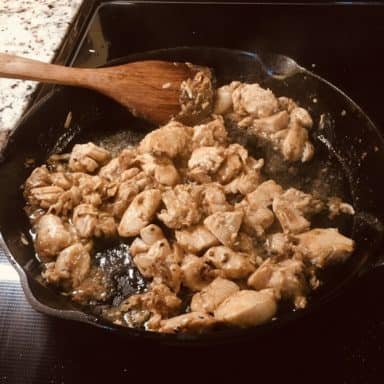 Chicken Stir Fry
Ingredients
1/4

cup

of soy sauce

1

cup

of water

1

teaspoon

chicken bouillon

1

tablespoon

sugar

1

tablespoon

cornstarch

2

tablespoons

oil

1

pound

chicken breasts

chopped into bite-size pieces

2

tablespoons

minced

peeled fresh ginger

3-4

cups

vegetables

2-3

cups

rice

cooked according to package directions
Instructions
Cook the rice. Depending on how long it takes to get tender, you can prepare it before or during the rest of your cooking.

Mix together the water, soy sauce, sugar, bouillon, cornstarch, and oil in a medium bowl. Add the chicken, turning to coat. If you're making this a day or two in advance, place the marinade and chicken in a Zip-Loc bag and keep it in the fridge until you're ready to cook. Otherwise, marinade the chicken for at least 20 minutes before transferring it to the skillet.

In a large, heavy skillet or a wok, heat two tablespoons of cooking oil over medium-high heat. Sautee the garlic and ginger together in the skillet until they're lightly browned. You'll know they're cooked when their inviting aromas begin filling your kitchen.

Remove the chicken from the marinade and place it in the skillet with the spices. Don't throw the marinade away, though; you'll need it later. Cook the chicken for 2-3 minutes, stirring frequently. It should be slightly browned on the edges.

Transfer the chicken and herbs to a bowl and use a paper towel to wipe away any residue from the skillet.

Next, add another tablespoon of oil to the pan and allow it to get hot. Add the veggies and stir fry them until they're somewhat tender but still slightly crisp. For thicker, more fibrous vegetables, such as carrots and broccoli, cover them with a few tablespoons of water. Steaming them for a few minutes will help soften them up.

Put the chicken back in the skillet with the veggies and pour marinade over them. Bring the mixture to a boil, simmering for 2-3 minutes. Remove from heat and serve over rice. Ladle sauce over the stir fry to enhance the flavor.
FAQs
Is it possible to fry chicken in an aluminum pan?
Absolutely! However, it's worth mentioning that if you're using ingredients like lemon juice or vinegar, the aluminum pan may react and give the food a metallic taste. So it's generally recommended to avoid using aluminum pans when cooking with ingredients.
Can I cook chicken thighs in a crockpot?
Of course! Just make sure the chicken reaches a temperature of 165°F for safe consumption. It's also advisable to add 1/2 cup of liquid, such as chicken broth or water, to prevent the chicken from drying out during the slow cooking process.
How many boneless skinless chicken thighs are typically found in a pound?
On average, you'll find around 4 to 5 skinless chicken thighs per pound. However, this can slightly vary depending on the size of the thighs.
Is it possible to freeze chicken salad?
Certainly! Freezing chicken salad is an option. However, keep in mind that when thawed, the texture of the salad might undergo some changes. To avoid making the salad too watery, it's better to leave out ingredients like cucumbers or tomatoes that release moisture.
Is it possible to fry chicken using olive oil?
Absolutely you can fry chicken using olive oil. However, make sure to use high-quality olive oil with a smoke point of at least 375°F to avoid burning the oil and creating harmful substances. It's also advisable to use a pan with a bottom for even distribution of heat.
Can I wrap chicken in foil and air fry it?
Yes, you can wrap chicken in foil when using an air fryer. Ensure that the foil is tightly wrapped and doesn't come into contact with the heating element to prevent fire risks. Additionally, using a meat thermometer is recommended to guarantee that the chicken reaches a temperature of 165°F.