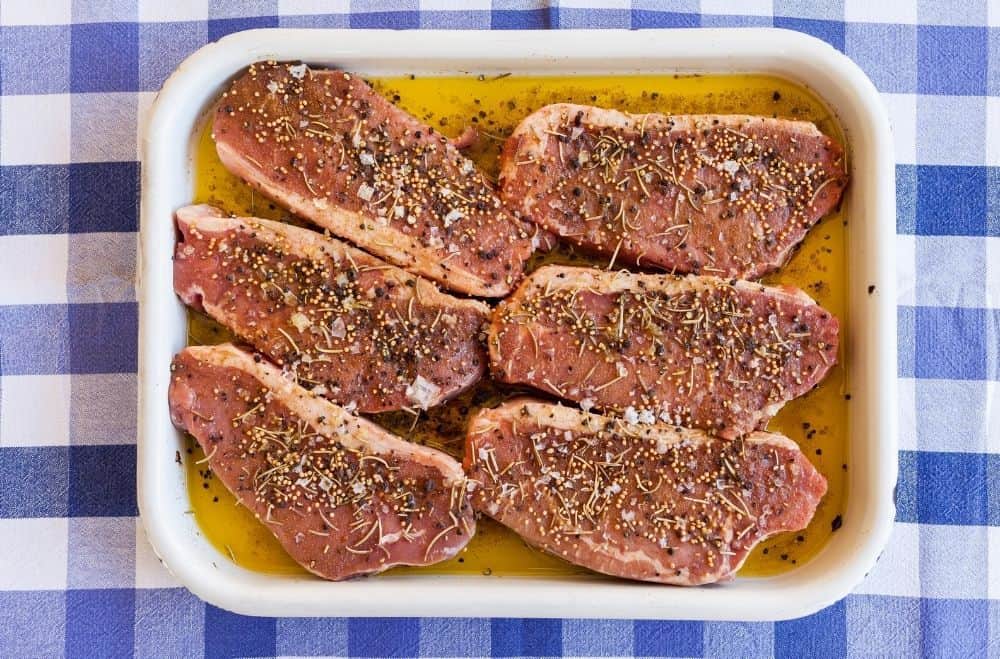 Marinated steak that is cooked to perfection is heavenly. Most people know that you can grill steak but this post will walk you through how to cook marinated steak in the oven so you get a perfect piece of meat every time.
What to look for when buying a steak?
Steak is a term that almost every foodie knows. It is something that brings comfort and luxury at the same time. On a dull day, a steak is always there to lift your mood. It is associated with so many memories, like the first date, first anniversary, graduation party, etc. But the question is what to look for when buying a steak? Worry not! Here is a detailed guide on everything you need to know about a steak!
Quality
Quality is directly proportional to flavor. Even if you use premium quality marinade ingredients, the true flavor of the steak itself must shine through. So, when buying a steak, look for the quality! It should be fresh, red, and have the right amount of fat. If you want luxury, you can go for dry-aged steak, but they are a bit expensive.
Cuts
There are several cuts you can choose from. You can get Filet mignon, T-bone, ribeye steak, sirloin steak, strip steak, skirt steak, or flank steak. Whatever suits you!
Thickness
Thickness is very important when buying a steak. The perfect thickness is 1 ½ inch. A steak with less thickness than this will dry out, and one with more thickness will not cook properly.
Temperature chart
Rare, medium, or well done! Which one is your favorite? The line between these is quite thick, so you have to keep in mind the temperatures. Here is what you should always remember:
Steak marinade ideas
There are so many different ideas for beef marinade! Here are a few you should try:
How to cook marinated steak in the oven?
Here are some simple steps to follow when cooking a marinated steak:
How to store a cooked steak?
Storing cooked steak is super easy. All you have to do is store it in an air-tight container and place it in the refrigerator. It will last for up to 3 days. However, make sure it is cool before you store it; otherwise, it will develop moisture.
You can also freeze it. Place it in a zip lock freezer bag and freeze for up to 3 months. It is better to dice or shred the steak before freezing for easy use later.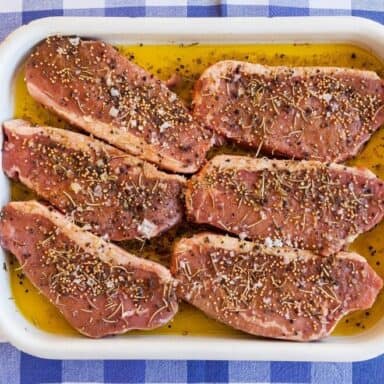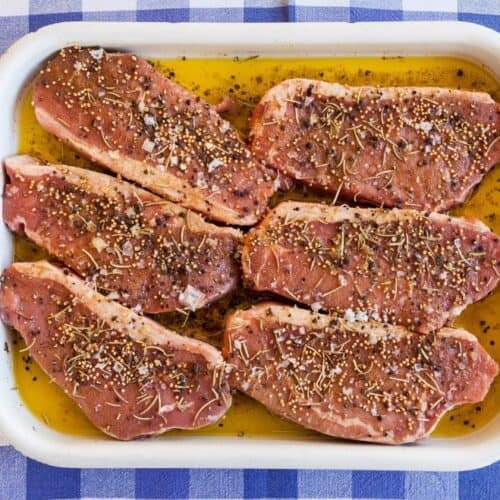 Easy Marinated Steak Recipe
Preparation time: 40 minutes Cooking time: 10 minutes Total time: 50 minutes Servings: 2
Ingredients
2

steaks

8 ounces each

2

tbsp

avocado oil

¾

tbsp

balsamic vinegar

¾

tbsp

soy sauce

1

tbsp

Worcestershire sauce

½

tbsp

honey

½

tsp

mustard powder

½

tsp

garlic powder

½

tsp

dried Italian seasoning

¼

tsp

black pepper

Salt

to taste

Freshly chopped parsley
Instructions
In a bowl, add avocado oil, balsamic vinegar, soy sauce, honey, Worcestershire sauce, mustard powder, garlic powder, salt, black pepper, and Italian seasoning. Mix well and set aside.

Pat the steaks dry using a kitchen towel. Place these in a plastic zip-lock bag, and pour in the marinade.

Seal the Ziploc bag and massage the steaks so that the marinade coats every inch.

Place the Ziploc bag in the refrigerator for about 20 to 30 minutes.

Place a cast pan over medium heat.

Once it is heated, place the steaks using a pair of tongs.

Press it gently to sear for about 30 seconds.

Flip the steak and press to sear it on the other side for 30 seconds.

Place the cast iron pan in a preheated oven at 350-degree F for 3 minutes.

Flip the steak so that it cooks from the other side for 3 more minutes.

Check the internal temperature of the steak. When it reaches your desired temperature, take the pan out of the oven and transfer the steak to a serving plate.

Spoon the juices in the pan over the steak and let it sit for 3-5 minutes.

Serve alongside a baked potato with sour cream, grilled red pepper, or salad.
You Might Also Like: