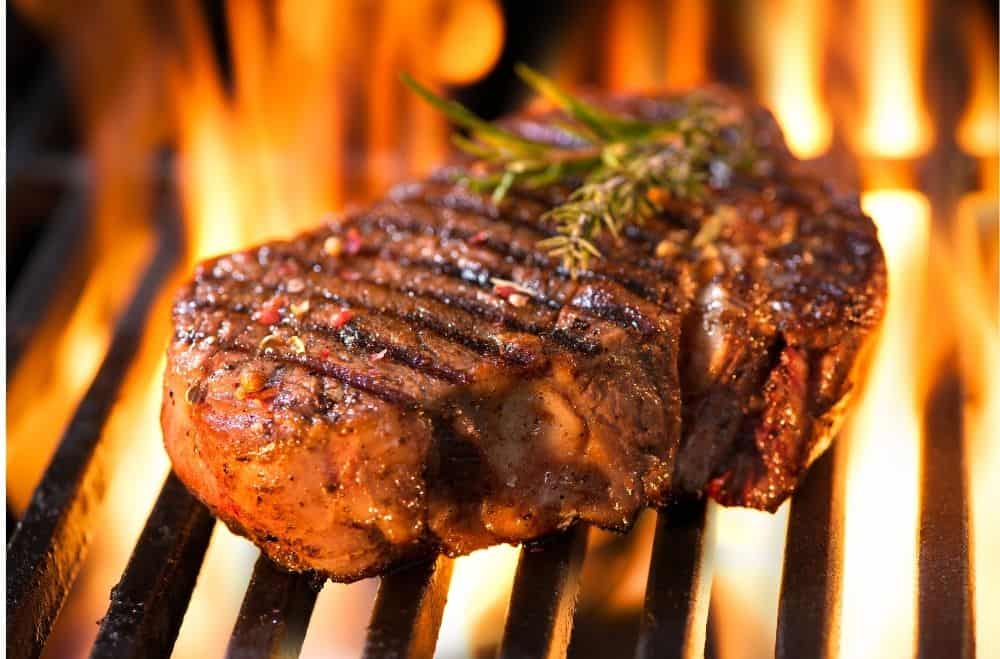 Cooked steak is one of those foods that can be heated up and restored to its full deliciousness. In fact, there are several ways you can enjoy a juicy steak the next day, and make it even better than the night before.
How to Reheat Your Steak
There are plenty of ways to reheat leftover steak. It doesn't matter if it was a flank steak, prime rib, filet mignon, or any leftover meat really, you can still make it into a perfect meal the next day.
Reheat Steak on the BBQ
If you originally cooked your steaks on a BBQ or open grill, you can put them back on to reheat them. The steak will absorb the flavors off the grill from the night before. Keep the lid down to make sure it doesn't dry out your steak.
You will want the grill hot before you add the steak. It will keep cooking past your desired doneness from the day before, but if you add it to a hot grill, and flip it quickly, you can heat it all the way through and still keep it from getting tough.
You can also cut it up into smaller pieces and add them to a skewer along with some vegetables if desired. Grill them on low and keep the lid down to keep the moisture in.
The Oven is a Great Way to Reheat Steak
Another great reheating method is your oven. The secret is to let it cook slowly at a lower temperature.
Preheat the oven before you put the steak in. Depending on how thick your steak is will depend on the cooking time.
You can use the broiling pan as it allows the steak to heat evenly from both sides. If you don't have the broiling pan or baking tray, use a cooling wire rack with a baking dish underneath.
Don't overcook it. You can place a bit of water in the baking dish below to help add moisture to the oven and the steak. You can also baste the steak with olive or vegetable oil, sauces, butter, or something that won't cause it to burn.
Cover the steak with aluminum foil if you are worried it will dry out.
Microwave Steak? Don't Do It!
I mean, you could, but why would you? Your reheated steak will get dry and rubbery and not taste very good. You're better than that and you know it!
Reheat Steak on the Stovetop
Another way of reheating steak is to throw it in a hot frying pan or skillet on the stove. You want to heat the pan but keep the temperature low. Be sure to add a bit of olive oil or butter to keep it from sticking or burning.
You should only need to heat each side for a few minutes, depending on the type of steak and how thick it is.
If you want to make sure it stays moist, keep the lid on it. You can add a bit of water just to steam everything and help keep the moisture in.
Reheat Steak with a Toaster Oven? YES!
For those of us who are limited on appliances or just don't like turning the oven on to heat one item, the toaster oven will work like a charm. Pretty much all the other methods that have been mentioned here will work for the toaster oven.
You can put it into a small, shallow pan, and make sure you keep the heat low. You can add a bit of butter or oil, just to keep it moist and from sticking to the pan.
It is a great way to reheat the steak and keep that freshly grilled taste and texture. It's easy and fast and you can pull it out, turn it over, and then get both sides hot and seasoned just the way you like.
Cover it with tinfoil to keep it from drying out. The toaster oven elements will be much closer to the steak, so be aware it may get burned or charred fairly quickly.
How to Reheat Steak – Try One of the Above Methods
Try one or more of the reheating methods described above. Now go grab some steak sauce and get reheating some delicious juicy steak now!
You Might Also Like: