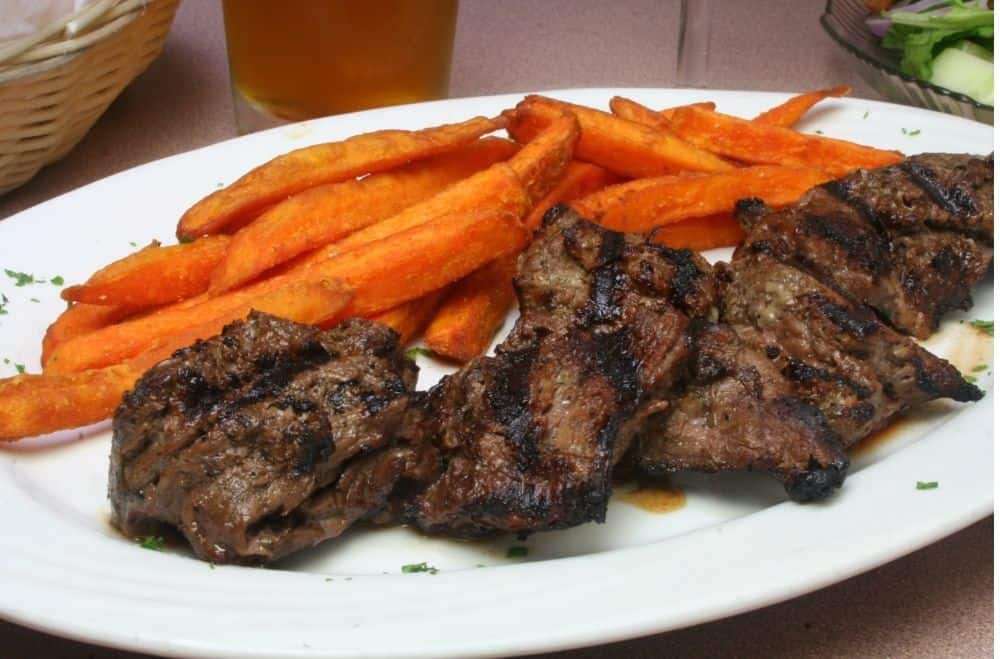 I love all kinds of beef and tri tip steak tips are no exception. Here is a super-easy way to cook them on the stove and it only takes 15 minutes. Your family will love them and I guarantee that you will add this recipe to your dinner rotation.
How to Cook Tri Tip Steak on the Stove: Preparation
4 – 6 Servings
Preparation time: 5 minutes
Cooking time: 10 minutes 
How to Cook Tri Tip Steak on the Stove: Ingredients
2 lb tri-tip steak (2 x 1 lb steaks)
½ teaspoon freshly ground pepper
1 teaspoon salt
2 tablespoons extra virgin olive oil
How to Cook Tri Tip Steak on the Stove: Instructions
Coat the meat with salt and pepper.
Heat extra virgin olive oil in a cast-iron skillet over high heat.
Place the tri-tip steak on the skillet and brown it for 5 minutes.
Flip it and cook for an additional 5 minutes.
Slice the steak and serve.
Additional tips
Let the meat stand at room temperature for at least half an hour before cooking.
If you use a non-stick skillet, you can skip the extra virgin olive oil.
The cast-iron skillet needs to be large enough for the steaks to cook in one layer. If you are preparing more steaks, cook them in batches.
The indicated cooking time is for a medium-rare steak. If you would like it well done, cook for 7 minutes per side. Usually, 1 lb of tri-tip steak needs 15 minutes to cook (well-done).
Let the steaks stand for at least 5 minutes before slicing across the grain.
Use a marinade for preparing a super juicy tri-tip steak. Use extra virgin olive oil, lemon, spices, and fresh herbs. Let it marinate overnight.
The internal temperature of the steak needs to reach 145°.
You Might Also Like: