Although you can easily get fresh pork chops from a butcher's shop, you probably don't have the time or energy to buy fresh meat every time. That's why people choose frozen pork chops and keep reading to learn how to cook frozen pork chops on the stove.
However, some find frozen meat inconvenient because they have to wait for hours for the meat to thaw. But, it doesn't have to be this way! Especially if you are planning to cook frozen pork chops for dinner because can cook them directly from the freezer. Isn't that awesome? And you don't need a grill or an oven to do so. You can cook it right on the stovetop. Keep reading to learn how.
Do you need to thaw frozen pork chops?
The answer is NO! But the one drawback of cooking frozen pork chops is that they will take longer to cook. So, if you have the time to thaw here are a few ways of doing so:
The easiest and the most convenient way of thawing frozen pork chops is by placing them in the refrigerator 12 to 24 hours before you cook them. So, if you plan on cooking them for dinner, you can take them out of the freezer and put them in the refrigerator in the morning.
Another way of thawing the pork chops is by placing the packed meat in cold water for about 2 to 4 hours. However, you will need to change the water frequently.
Different ways of cooking frozen pork chops
Here are three different ways to cook frozen pork chops:
Oven: you can cook the frozen pork chops in the oven. Marinate and then sear them in the pan or skillet. Then transfer them to the oven and cook at 350 degrees f for 20 minutes until the internal temperature is 155 degrees.
Grill: you can use both the outdoor and indoor grill for cooking frozen pork chops. You will need to keep an eye on the meat and flip it frequently for about 40 minutes.
Stovetop: it is probably the easiest and most convenient way of cooking the frozen pork chops. Read on to learn how.
How to cook frozen pork chops on the stove
Cooking frozen pork chops on the stove is very easy. You need simple equipment, i.e., a Cast iron pan and a cooking thermometer. Here are a few simple steps you have to follow:
Step 1: Frist, you need to marinate the meat. You can choose any marination for this. I like Italian herbs and garlic but you can also add paprika and jerk seasoning. Make sure you season generously because the marinade won't stick to the frozen meat easily.
Step 2: Next, you have to heat oil or butter in the pan. Once the oil is hot, place the pork chops and let them sear. Flip after 5 minutes so the other side can get color as well.
Step 3: Now, you have to flip again and check to see if all sides have gotten color. Lower the heat to low-medium and put the lid on. Let the meat cook at low heat for about 15 minutes. The pork chops will cook in their own juices.
Step 4: Once the timer goes off, it's time to check the internal temperature. Note that it should be 155 degrees. If not, continue to cook and flip. When it is done, take it out of the pan and let it rest before serving.
What to serve with pork chops
The ideas are unlimited. From salads to veggies, you can serve these chops with a variety of dishes. Try herb and garlic roasted potatoes, asparagus, green beans. Mashed potatoes are also a great choice. You can also go for the fresh garden salad or creamy potato salad. Or make a gravy from the juices left in the pan. Get creative!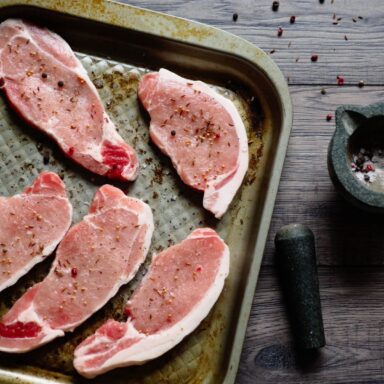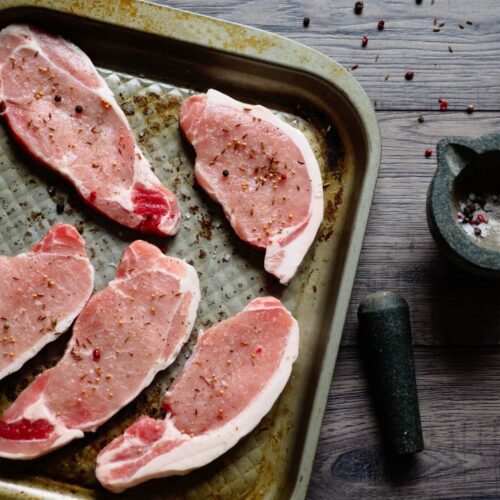 Frozen Pork Chops
Ingredients
2

tbsp

olive oil

½

tsp

dried oregano

½

tsp

dried thyme

½

tsp

dried rosemary

1

garlic clove

minced

black pepper

to taste

kosher salt

to taste
Instructions
Start by marinating the frozen pork chop. You can do that by either thawing the meat or using frozen pork chop. I have used frozen pork chop for this recipe.

Season the pork chop with salt, black pepper, dried herbs, and garlic. Make sure you rub the spices and herbs on all sides.

In a cast-iron pan, add olive oil and place it on medium heat.

Once the oil is hot, place the pork chop in it. Cover the pan and let it cook at medium heat for about 5 minutes.

Take off the lid and flip the chops. Cover the lid again and cook for five more minutes.

Once the top gets a brown color, reduce the heat to medium-low and cover the pan.

Let the pork chop cook for 15 minutes. It will cook in its own juices.

Once 15 minutes have passed, remove the lid, and check the internal temperature of the pork chops. If it is 155 degrees, take it out of the pan.

Let it rest for 5 minutes.

Serve alongside your favorite sides and enjoy!
You Might Also Like: