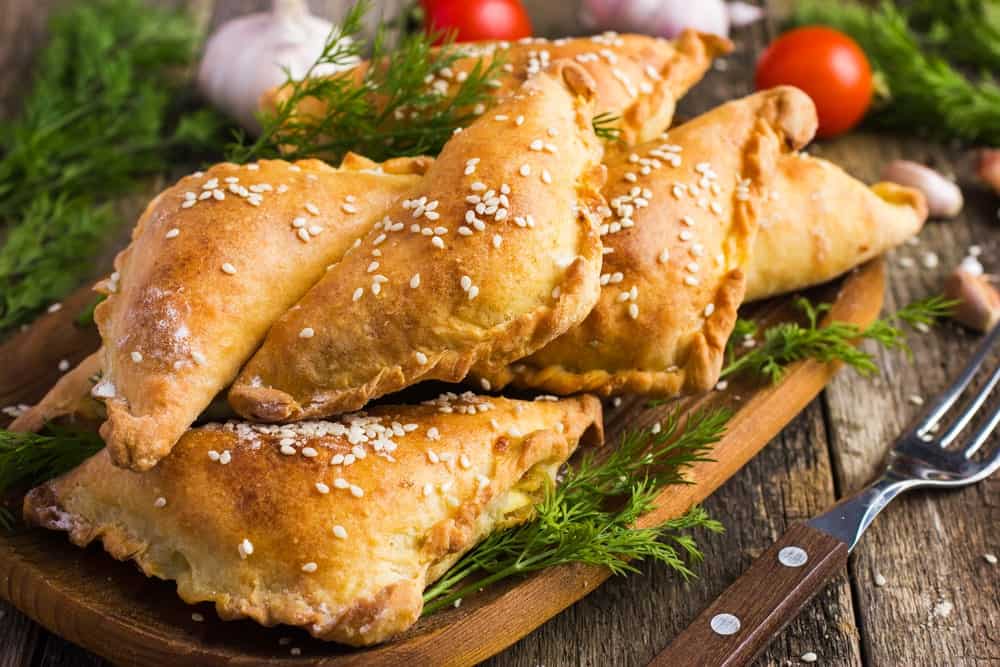 Just utter the word pizza and you're sure to get some heads to turn. Everyone has a favorite topping and a preference regarding the way it is prepared. Like pizza, calzones get the same response. After all, you are using the same ingredients: crust, cheese, sauce, and if desired toppings (or hidden treasures in the case of a calzone). You don't hear about calzones quite as much as pizza, because they are a bit harder to prepare. The time invested in making a calzone, however, is so worth it! Keep reading to learn how to make calzones from scratch.
How to Make Calzones from Scratch
Part I — The Dough
With a pizza, your focus is on the visual appeal of the toppings and cheese presented. With a calzone, these goodies are tucked inside, making it necessary to take your time to present the crust favorably. You don't want it burned, undercooked, or awkwardly shaped. Pay attention to the setting on your oven, the amount of time your calzone cooks, and the mixing and shaping of the dough, and you'll reap the reward when you, as well as any guests you may have, start to salivate.
Adapted from Peter Reinhart's Neo-Neopolitan Pizza Dough recipe.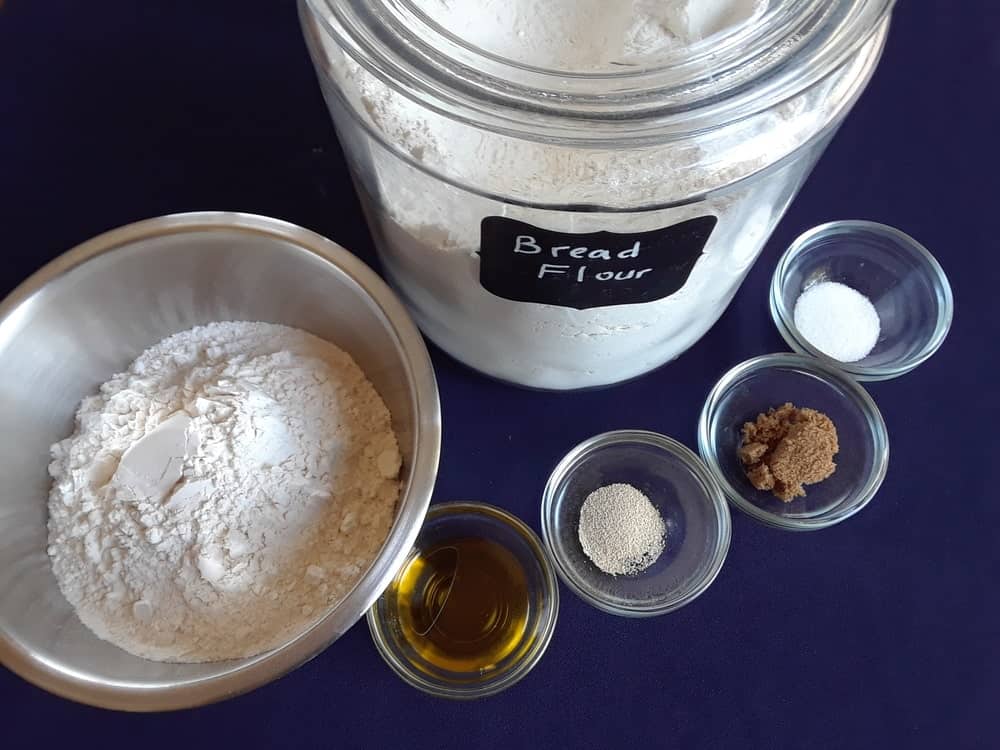 Yield: 2 dough balls roughly 10-ounces each
2 ½ cups unbleached bread flour
½ tablespoon brown sugar
1 teaspoon salt
½ teaspoon instant yeast
1 tablespoon olive oil
7 ounces of room-temperature water (approximately 70 degrees Fahrenheit)
Step 1 – Combine Ingredients
In an electric stand mixer bowl, combine all the above ingredients. Mix on low speed with a dough hook for approximately 4 minutes, or until the ingredients blend together into a coarse ball. Allow the dough to rest for about 5 minutes before moving on to step 2.
Step 2 – Mix Ingredients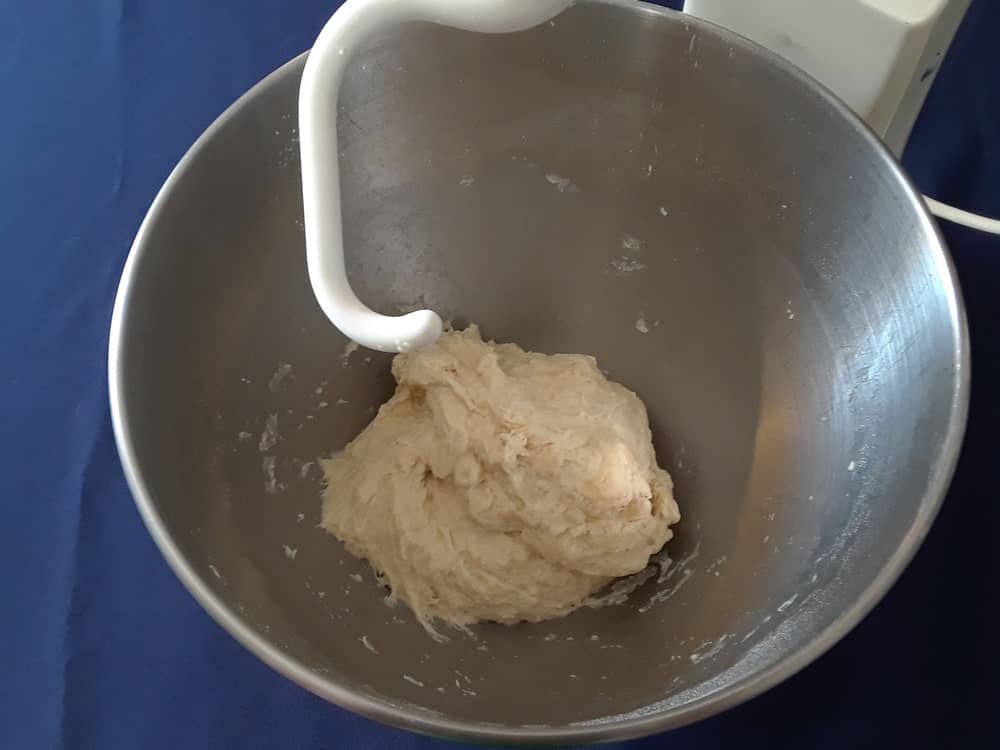 Set electric mixer to medium speed and mix dough for an additional 2 minutes. The dough will be smooth and tacky to the touch. If you feel the mixture is too sticky, add flour to the dough, a tablespoon at a time until the desired consistency is reached. Mix on low until the dough clears the sides of the bowl and only a small bit sticks to the bottom of the bowl. If the mixture is dry and crumbly, or if it does not form a ball shape, add water one tablespoon at a time while mixing until the same result is achieved.
Step 3 – Test The Dough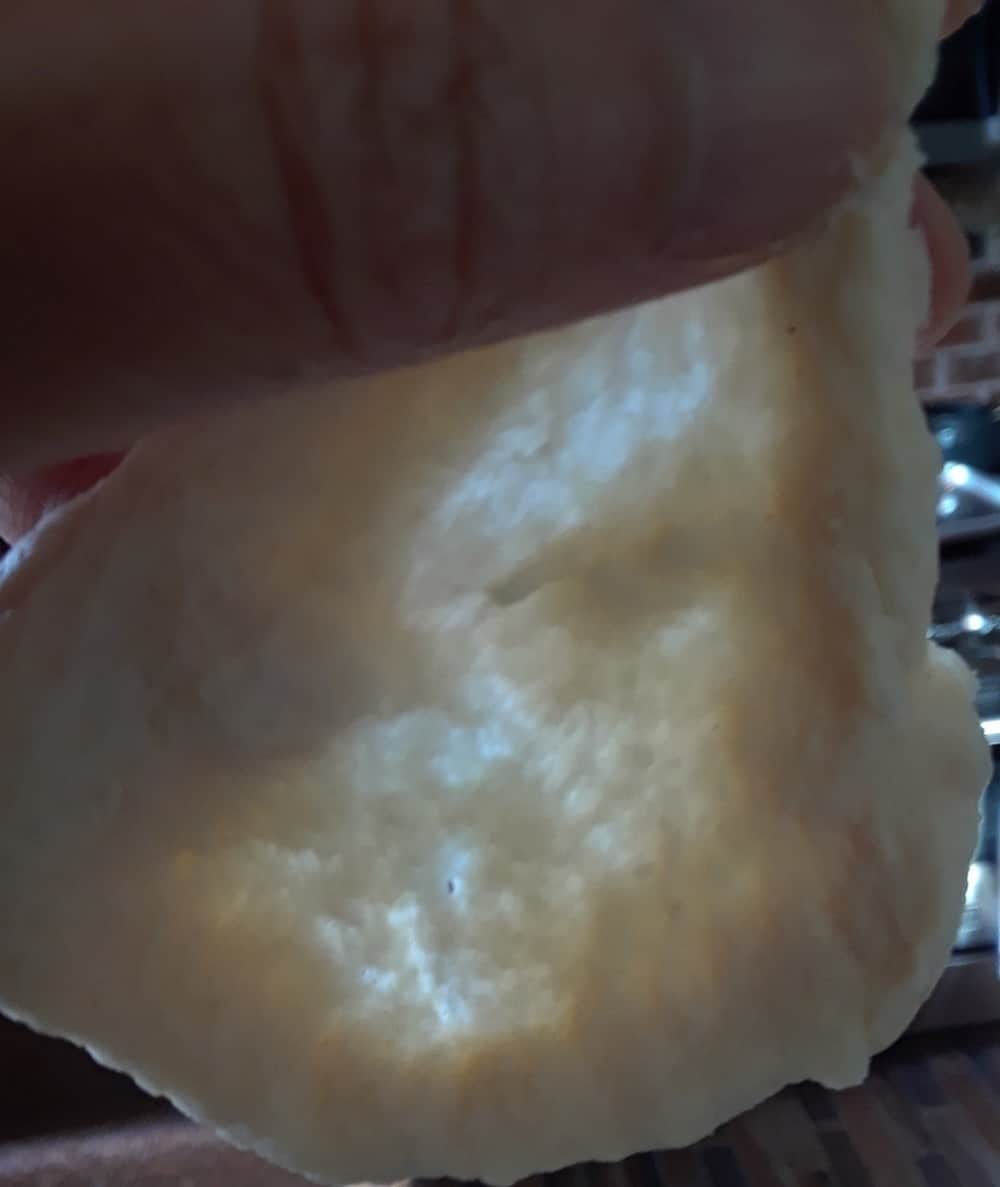 To test the dough, pinch a small piece and stretch it apart using both hands. Rotate the dough as you pull, allowing it to become stretched in multiple directions. The dough should be able to be stretched to a see-through "windowpane" or "membrane" state without tearing. If it rips before this is achieved, mix the dough a bit more using the low setting and repeat.
Step 4 – Divide The Dough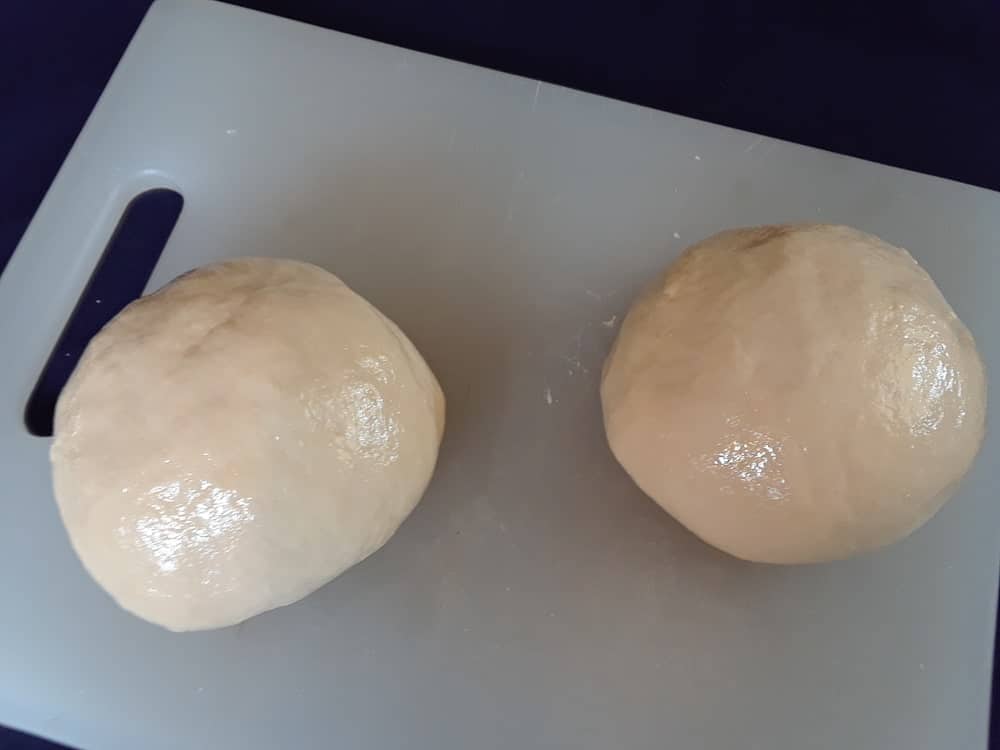 Separate the dough into two equal pieces and shape it into balls. Rub each one lightly with olive oil.
Step 5 – Prepare For Storage
Place each ball inside its own sealable plastic bag for future use. Before placing the bags in a freezer, allow them to sit out at room temperature for about 15 minutes. If you intend on preparing calzones the same day, let the dough sit for a total of an hour and 15 minutes at room temperature. They will then be slightly airy due to fermentation. Remove the dough from each bag. Punch down the dough to remove air, reshape it into balls, place it back into the bags, seal, and refrigerate for at least two hours. The dough can be refrigerated for up to two days if desired.
Step 6 – Thaw The Dough
Allow refrigerated dough to sit out at room temperature for two hours before preparation. Thaw frozen dough completely by placing it in the refrigerator for several hours, then move to room temperature for two hours before making calzones.
How to Make Calzones
Part 2 — The Sauce
The inside of a calzone requires sauce and cheese (or cashew mixture), as well as any vegetables, for a perfect flavoring. It is important to use just the right amount of sauce to avoid a dry or saturated calzone.
Yield: 3 cups
Sauce Ingredients
1 24-ounce container of any pre-made vegan marinara sauce.  (Some commercially-made sauces contain meat or milk products, while others are purely plant-based.  Check the ingredients label to verify).
1 tablespoon olive oil
1 medium to large garlic clove, minced
1/8 teaspoon dried thyme
1/8 teaspoon dried basil
¼ teaspoon dried parsley
¼ teaspoon dried oregano
½ teaspoon brown sugar
¼ teaspoon fennel seeds
½ teaspoon vegan Worcestershire sauce (available at most grocery stores)
Step 1 – Prepare The Oil
Inside a medium-sized non-stick saucepot, add the oil and warm over medium heat until it appears to shimmer.
Step 2 – Add The Garlic
Add garlic and cook while stirring until it becomes golden brown in color. This takes about one minute to achieve.
Step 3 – Add Remaining Ingredients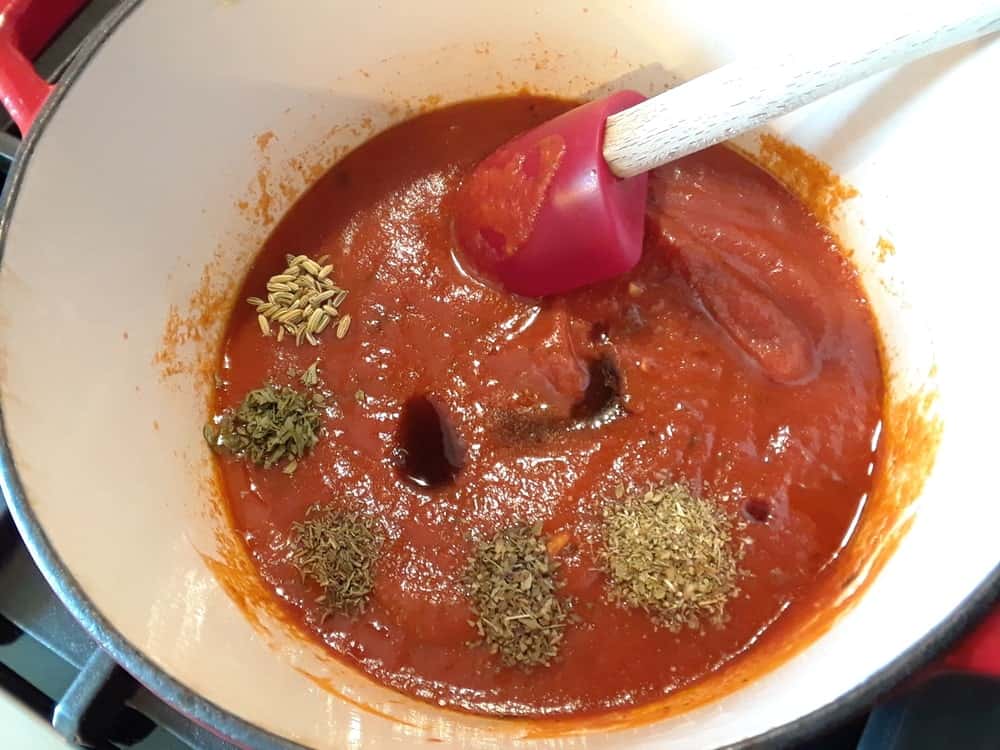 Add the rest of the sauce ingredients listed above into the pot and stir well to combine. Bring ingredients to a boil over medium heat, stirring every few minutes or so to blend the ingredients further.
Step 4 – Simmer Sauce
Cover the pot with a lid, reduce the heat to low, and simmer for about 30 minutes.
Step 5 – Remove From Heat
Remove the pot from the stove and allow to cool at room temperature.
Step 6 – Handle Storage
If you will be using sauce at a later time, or if you do not use all of the sauce for your calzone preparation, it can be frozen for future use.
Part 3 — Garlic Cashew Cream "Ricotta Cheese"
Yield: about 1 ½ cups
1 cup cashews, soaked at least 2 hours in water and drained
½ cup water
2 garlic cloves, peeled
½ tablespoon lemon juice
2 tablespoons nutritional yeast
Scant ½ teaspoon salt
¼ teaspoon black pepper
Step 1: Combine The Ingredients
Combine all the ingredients in a blender and blend until its texture is smooth and creamy.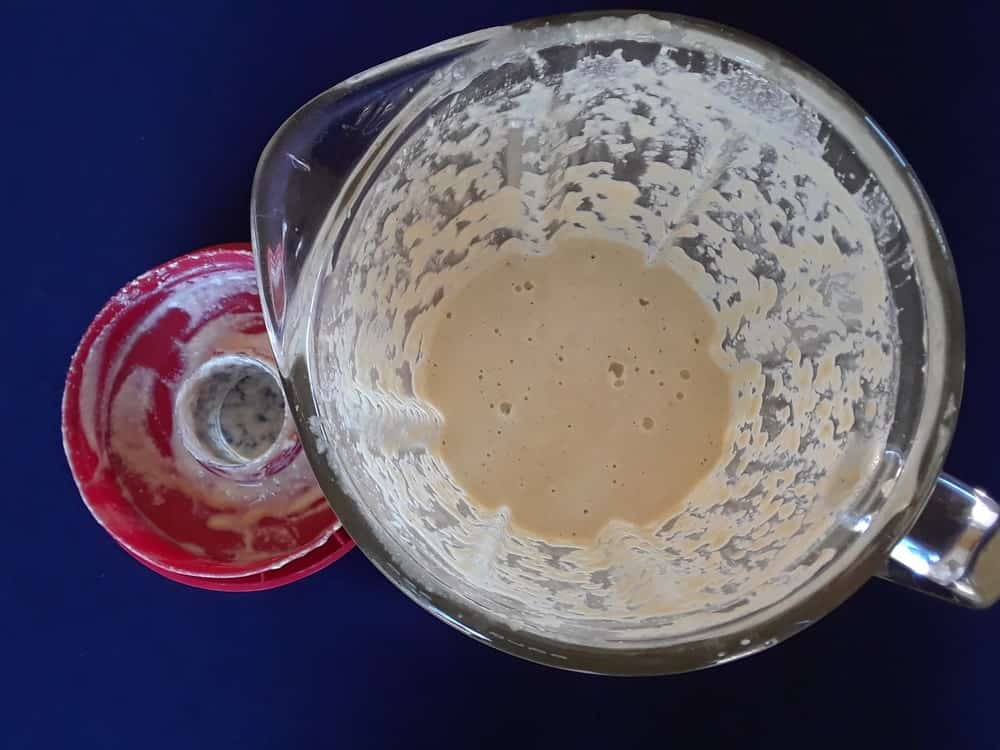 Step 2: Tend To The Sides
Scrape down sides of blender occasionally using a spatula so stray chunks of cashews are placed back into the mixture
Step 3: Refrigerate
Refrigerate mixture in a sealed container until ready to use.
Part 4 — Sautéed Vegetable Mixture
Yield: About 1 cup, enough for 2 calzones
1 tablespoon olive oil
½ cup diced onion
2 ounces cremini or white button mushrooms, thick sliced
½ cup diced red bell pepper
½ cup diced zucchini or squash
Step 1
Add olive oil to a medium-sized non-stick skillet.  Heat oil over medium heat until it appears to shimmer
Step 2
Add onions, mushrooms, and bell pepper.  Sautée vegetables for 2-3 minutes, stirring frequently until the onions begin to become translucent.
Step 3
Add zucchini or squash to the mixture and sautée for 2-3 minutes or until vegetables become soft.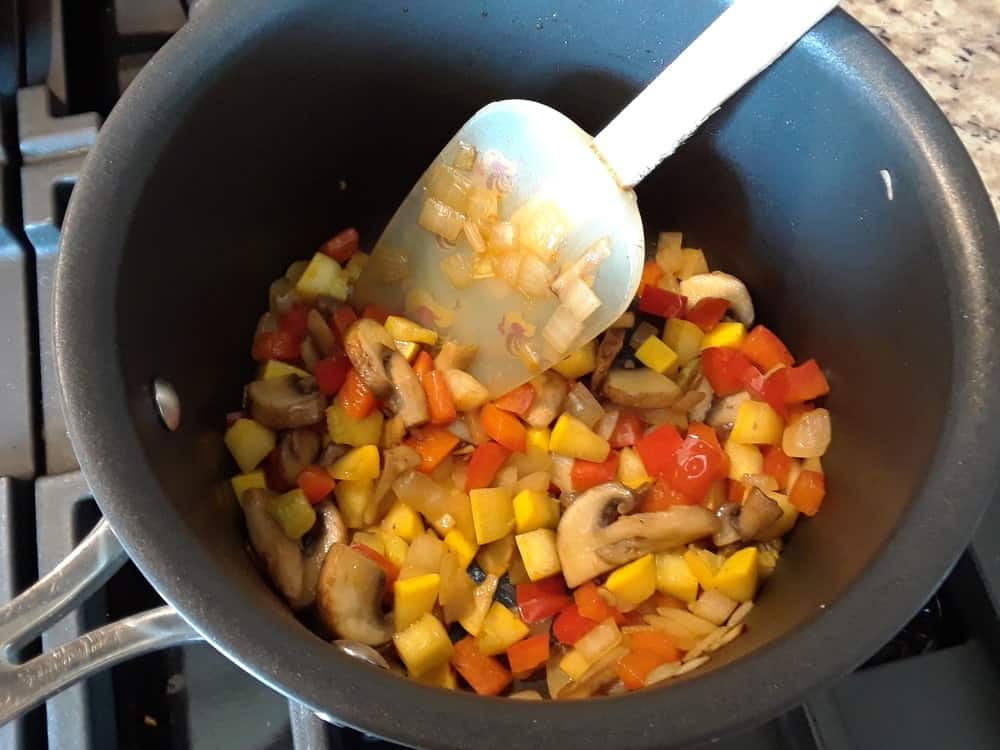 Step 4
Remove from heat and allow to cool to room temperature.
Part 5 — Additional Fillings
½ cup fresh basil, chopped
1 cup grated vegan "mozzarella cheese" (available at most grocery stores)
½ cup grated vegan "parmesan cheese" (available at most grocery stores)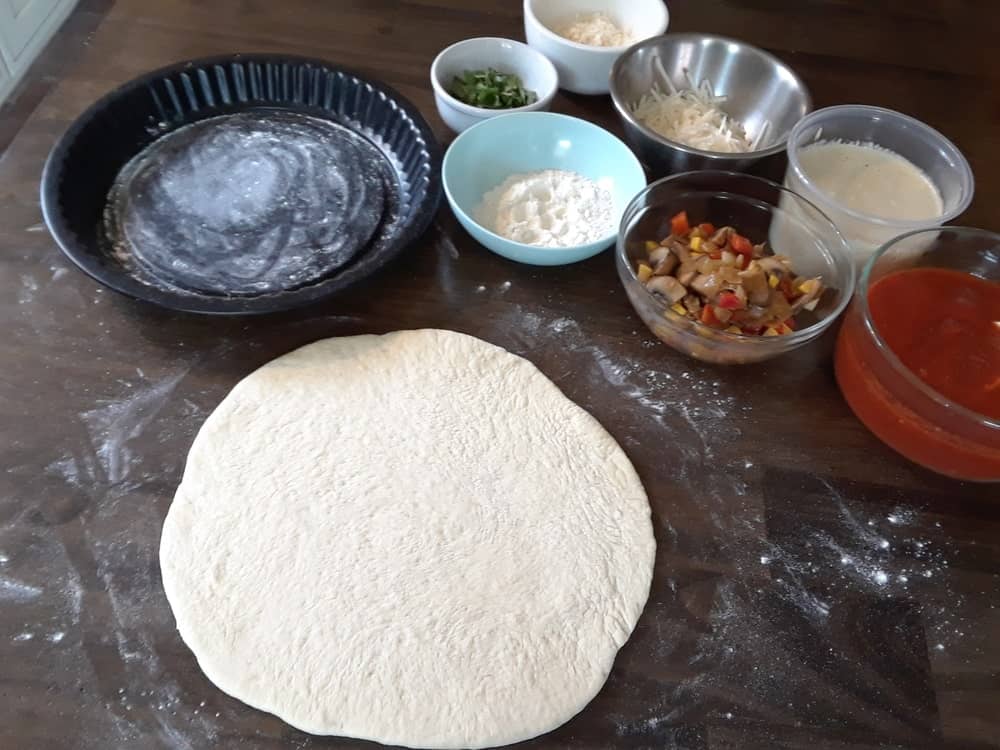 Part 6 — Assemble And Bake
Use a 9 or 10-inch pie tin, lightly dusted with flour for baking your calzone.
Step 1 — Prepare The Oven
Pre-heat oven to 425F. Use dough that has warmed to room temperature. Place on a lightly floured surface and use a rolling pin to gently roll dough into a circle with a circumference of roughly one inch larger than that of the pie tin. (For a 10-inch pie tin, roll dough to 11-inches in diameter). If dough shrinks before it gets to the desired size, allow it to sit for approximately five minutes before continuing to roll.
Step 2 — Place Dough In Pie Tin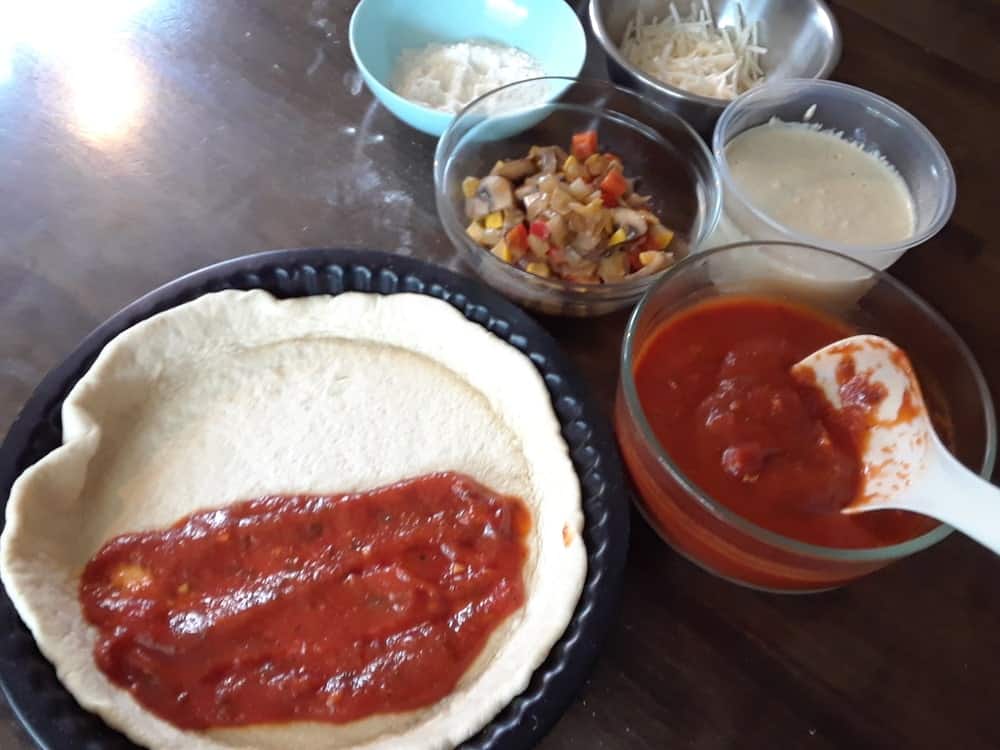 Center the dough over the pie tin and gently place it inside. Ladle about ½ cup of sauce over one half of the circle of dough and spread evenly. Leave a one-inch border at the edge of the dough free of sauce.
Step 3 — Add Vegetables
Add about ½ cup sautéed vegetable mixture on top of the sauce, distributing evenly.
Step 4 — Add "Ricotta"
Add teaspoon-sized dollops of garlic cashew cream ricotta over the vegetable mixture.
Step 5 — Add Basil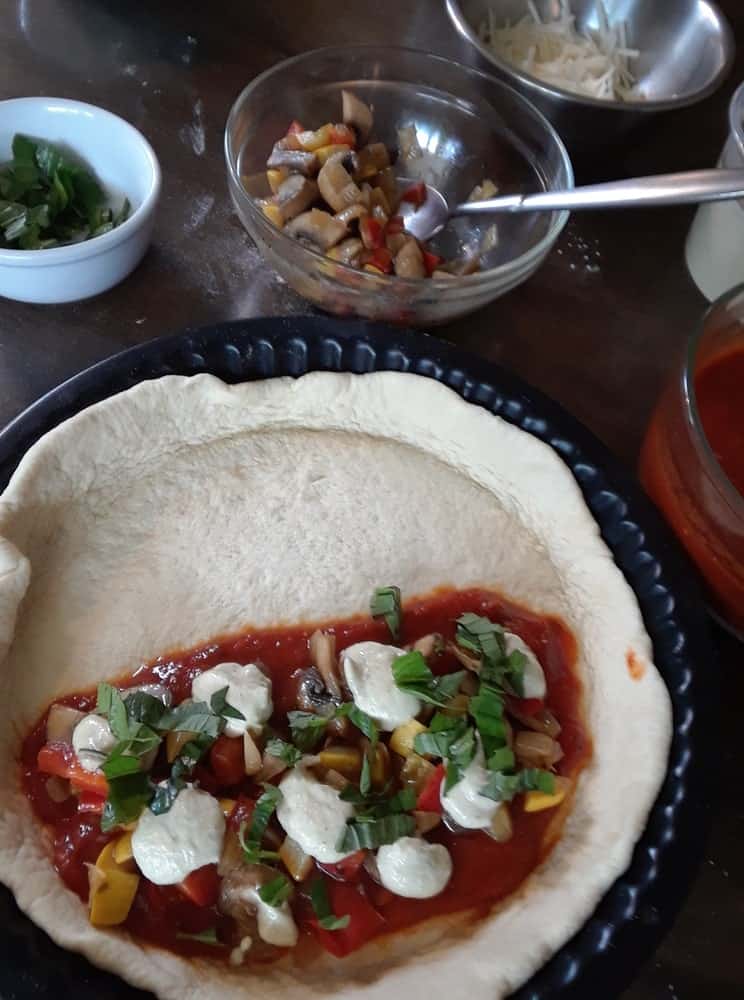 Sprinkle basil on top, distributing evenly.
Step 6 — Add "Cheese"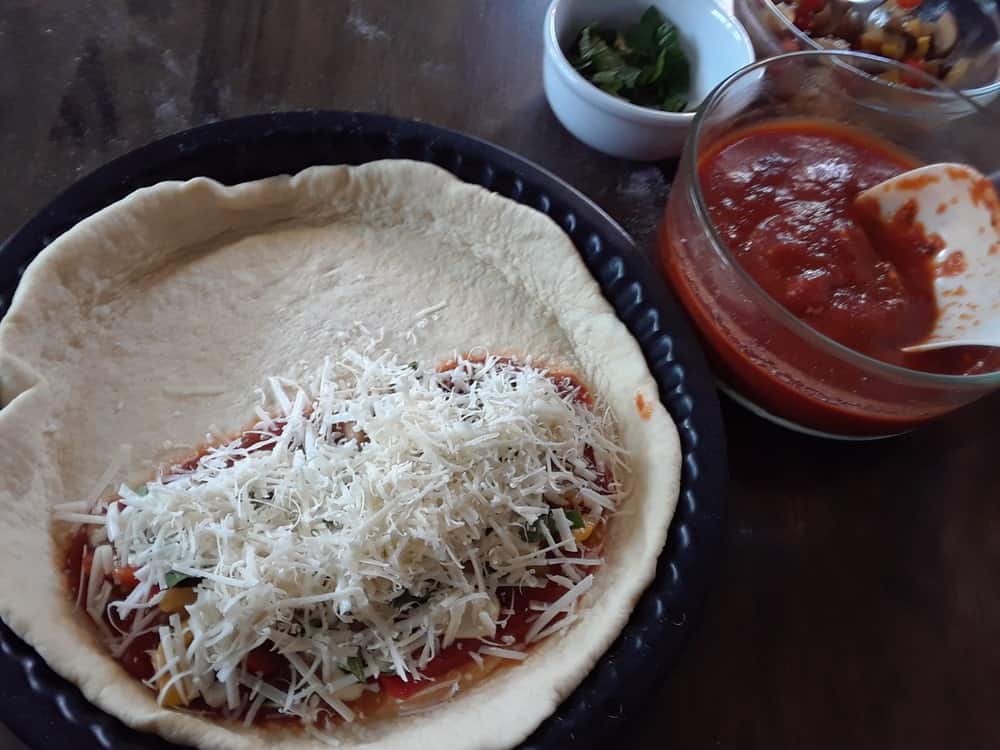 Sprinkle enough "mozzarella" and "parmesan" on top of the vegetable mixture to cover, distributing evenly.
Step 7 — Fold Dough
Fold the top half of the dough over the lower half to enclose the fillings, forming a half-moon shape.
Step 8 — Seal The Contents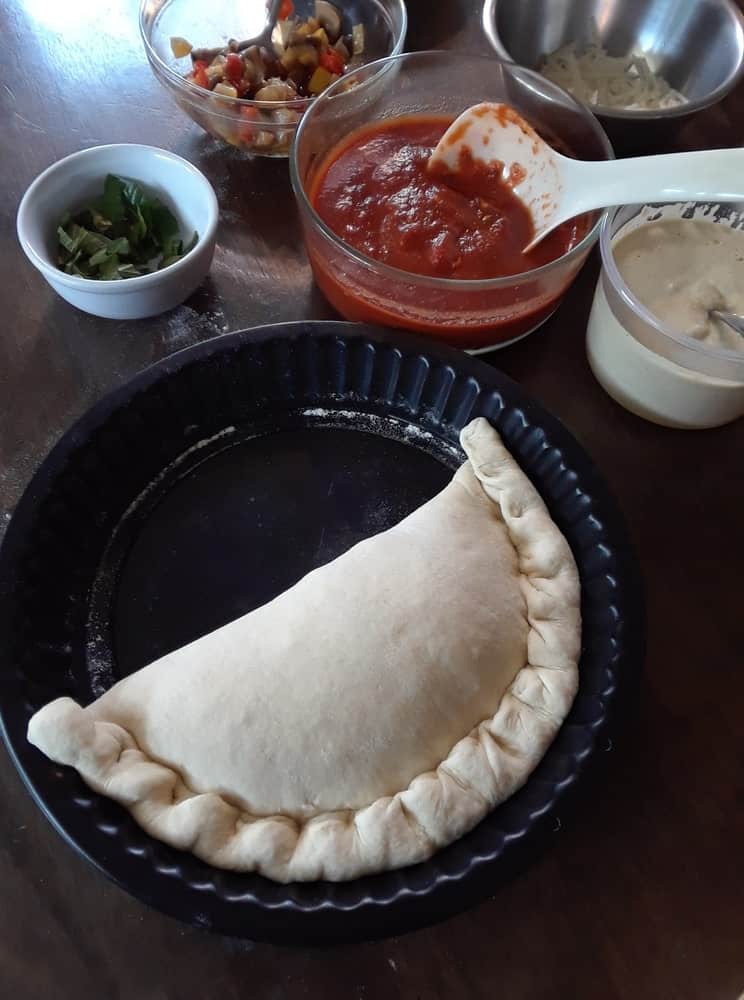 Pinch the edges of dough firmly together to form a tight seal.
Step 9 — Heat The Calzone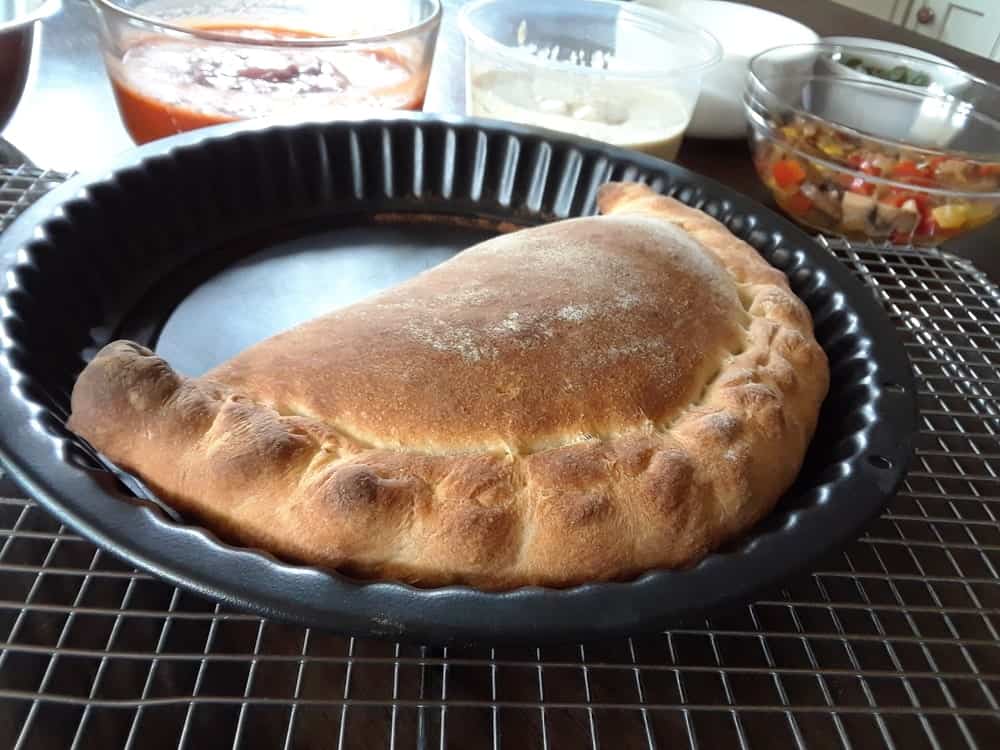 Bake for 20 minutes or until the calzone's crust is golden brown. Remove from the oven and let cool for ten minutes.
Step 10 — Enjoy The Results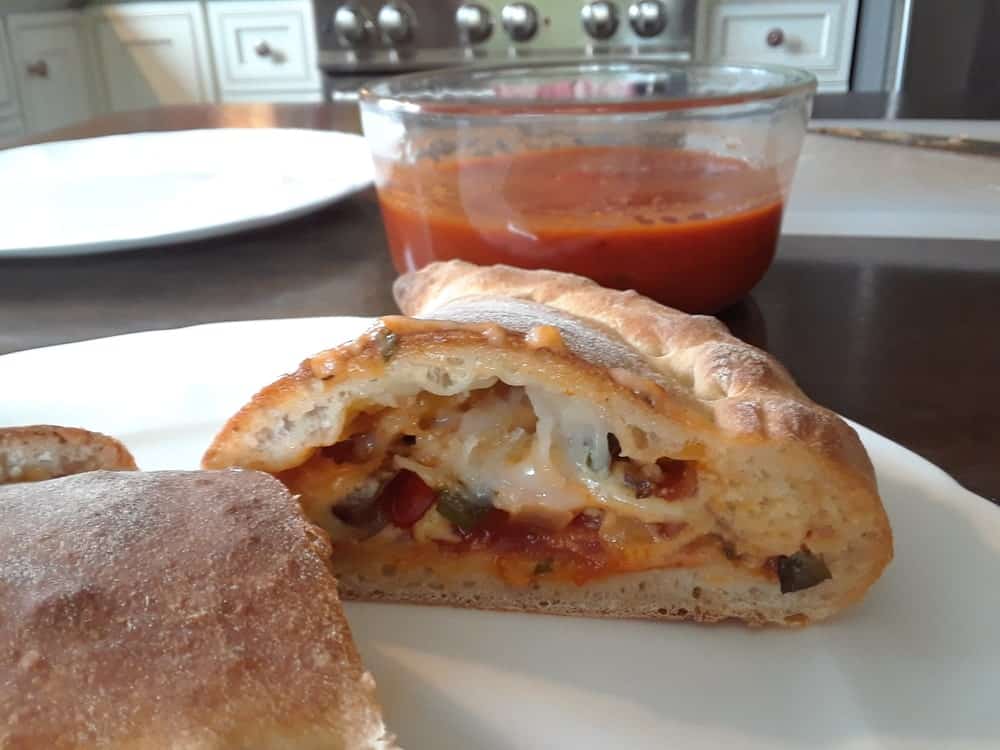 Serve calzone(s) to your dinner guests and enjoy the compliments you will receive!
You Might Also Like:
How to Make Homemade Pizza Dough
How to Make Garlic and Herb Bread Sticks
What are the Different Dough Options?
How to Make Bread Machine Cinnamon Rolls