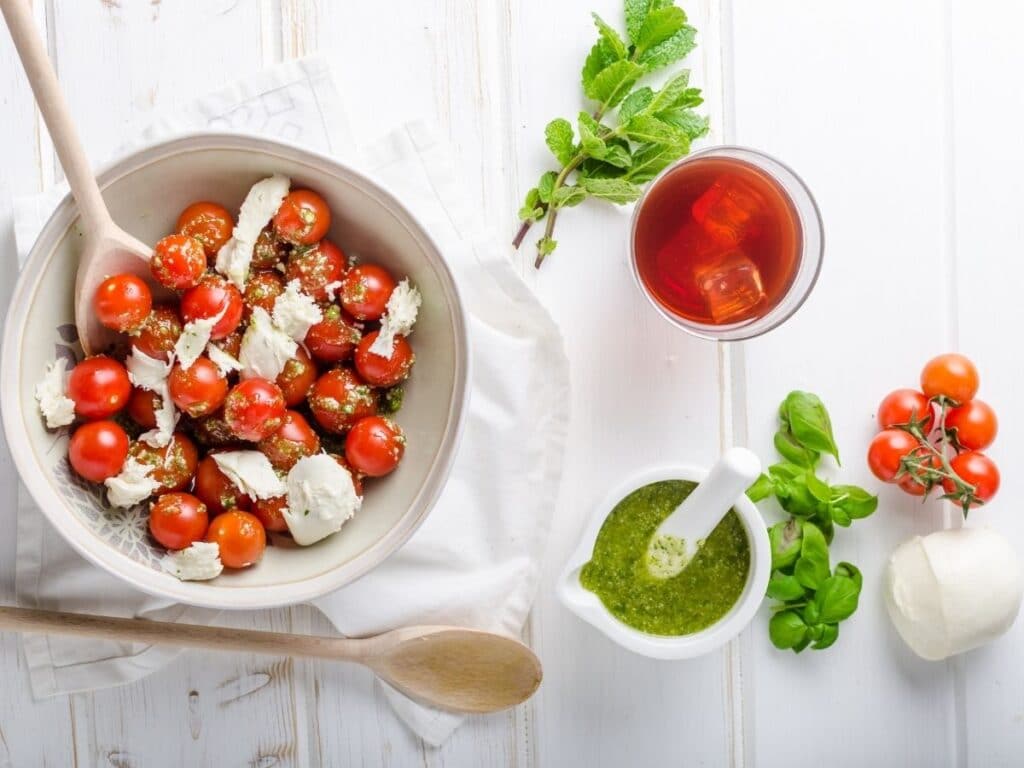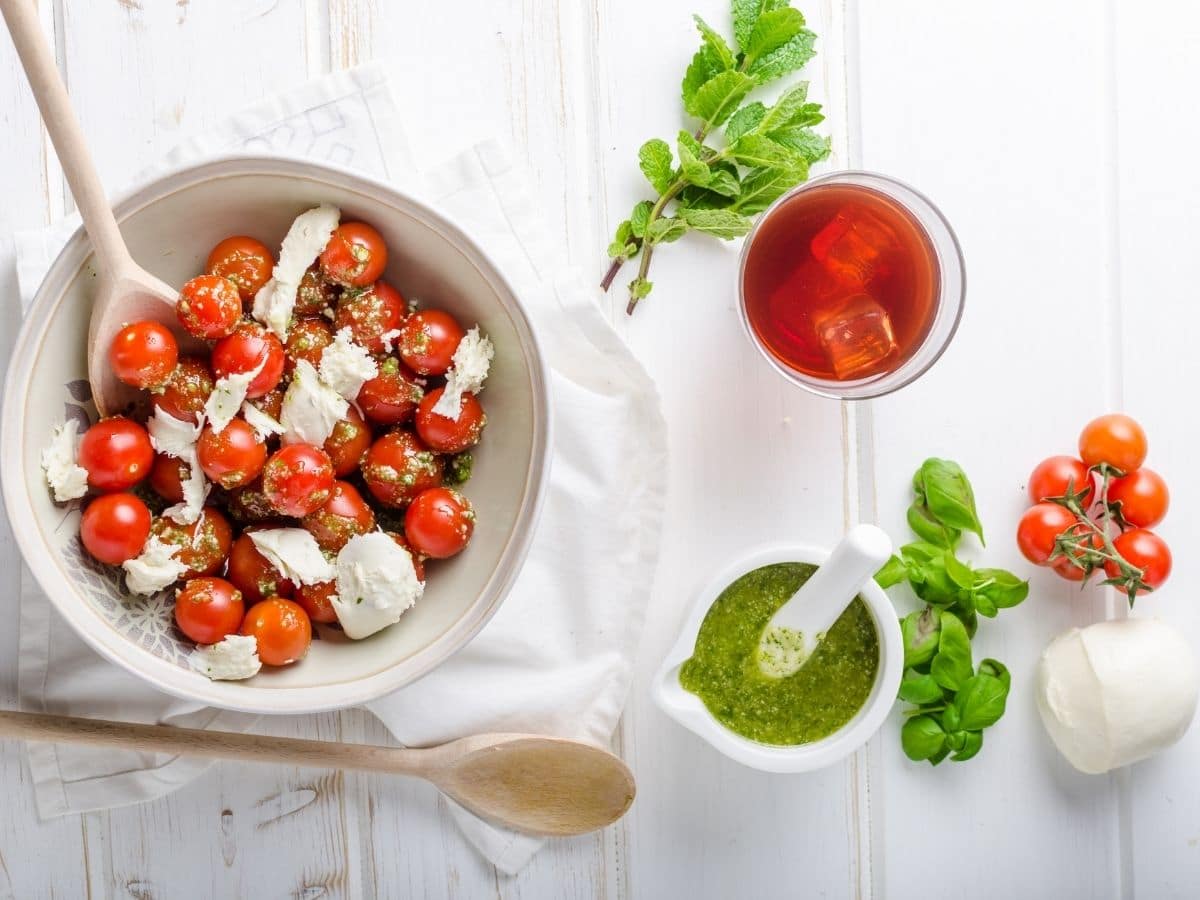 It's not uncommon to have a large number of cherry tomatoes laying around. This occurs to aspiring chefs and foodies on a regular basis. Probably because it's one of those vegetables that we keep buying without thinking about what we're going to do with it. Sure, toss them into a salad or scatter them on a finished meal for a splash of color. But there are times when you have a big fat pile of cherry tomatoes that need to be used, and you think to yourself, "Why not make them the star of their own little show?" Keep reading to learn how to make a cherry tomato salad that you will make on repeat…guaranteed!
How to Make a Cherry Tomato Salad
Here is a step-by-step guide on how to make a cherry tomato salad. This acidic, tart, colorful, and delicious cherry tomato salad is one of the easiest salads to make. If you enjoy tangy foods, you'll love this delicious cherry tomato salad.
What Is The Difference Between Grape & Cherry Tomatoes?
Cherry tomatoes are delightfully delicious and provide a burst of flavor as a snack, in salads, or in a surprising number of savory and sweet meals. Although they are commonly used as a vegetable, they are classified as a fruit because they are produced from blossoms.
Of course, grape tomatoes can be substituted for cherry tomatoes. They can be used interchangeably in most recipes, though there are some minor variances. Cherry tomatoes come in a variety of sizes, from tiny to golf ball-sized. Grape tomatoes are smaller and have a lower sugar content than cherry tomatoes. Grape tomatoes are meatier and have thicker skin than cherry tomatoes.
Cherry Tomato Salad Recipe
Ingredients
With a balsamic-ey, slightly sweet sauce, this is a pretty easy salad to make. You may also add cubed mozzarella, olives, and other herbs (basil is a classic, but we went with oregano). Diced young zucchini or summer squash, sliced or diced cucumber, diced onion—raw or sautéed—are also nice additions.
Tomatoes
To make a nice tomato salad, you'll need fresh tomatoes. To put it another way, don't create tomato salad using bad tomatoes. It simply isn't worth it.
We like to combine cherry or grape tomatoes, sliced in half, with small-to-medium tomatoes, chopped into bite-sized wedges for this salad. However, as long as the tomatoes are good, you can use any mix. In total, you'll need around 1 3/4 pounds of fresh tomatoes.
Onions And Garlic
Because raw onion has a strong flavor, we'll soak it in ice-cold water while we prepare the rest of the ingredients. Soaking the onion improves the overall flavor and texture of your salad. You will also need a minced clove of garlic.
Olive Oil and Balsamic Vinegar
This is the ideal moment to break out your best olive oil and balsamic vinegar, as their tastes will shine brightly on this salad. We mean a high-quality aged balsamic vinegar that will trickle attractively over the salad when we say "thick" balsamic vinegar.
Salt And Pepper
Use flaky sea salt if possible. Flaky salt is a "finishing salt" that adds a hint of crunchy texture while also enhancing the flavor of whatever it's on top of. It's a simple method to make a recipe appear fancy! If you don't have it, kosher salt will work. Use half as much table salt if you don't have kosher salt.
Finally, always use freshly ground black pepper. Pre-ground pepper just doesn't cut it in this recipe. You can also add herbs and spices of your choice like oregano and basil!
How To Assemble
Step 1
Start by rinsing your cherry tomatoes and letting them air dry for a few minutes on a tray or board. You can even use a clean cotton handkerchief to wipe the tomatoes.
It is advisable to wash the tomatoes one hour ahead of time and spread them out on a platter. After the water has dried, store them in a bowl with a lid. Then cut the cherry tomatoes into halves with a knife.
Step 2
Pour one tablespoon extra virgin olive oil and two tablespoons apple cider, red wine, or balsamic vinegar in a mixing bowl. Feel free to use a variety of tomato hues, such as red cherry tomatoes and yellow grape tomatoes. There is no hard and fast rule when it comes to the size of tomatoes you need for a tomato salad dish. Any size tomato will do.
Step 3
Combine ½ teaspoon dried basil and one teaspoon dried parsley. You can also add ½ tablespoon chopped fresh basil and chopped fresh parsley if you desire. Next, add ¼ teaspoon sugar, ¼ teaspoon crushed black pepper or black pepper powder, and ¼ teaspoon salt and the minced clove of garlic. Mix it all together and add the concoction to your cherry tomatoes and toss.
Step 4
Serve the cherry tomato salad right away. Salads, especially tomato salads, are best served fresh. If you are unable to do so, place the dish in the refrigerator for 1 to 2 hours before serving. You can also sprinkle some grated parmesan cheese on top before serving.
This tomato salad recipe can be used in a variety of ways. Add additional mozzarella or ripe avocado for a heartier salad. If you have any arugula on hand, toss in a handful or two. You may also replace part of the tomatoes with ripe peaches.
Cherry Tomato Salad Health Benefits
Cherry tomatoes are high in lycopene, a powerful antioxidant that fights disease-causing free radicals. Lycopene can also protect your skin from the sun's UV rays and improve your heart health.
You Might Also Like: