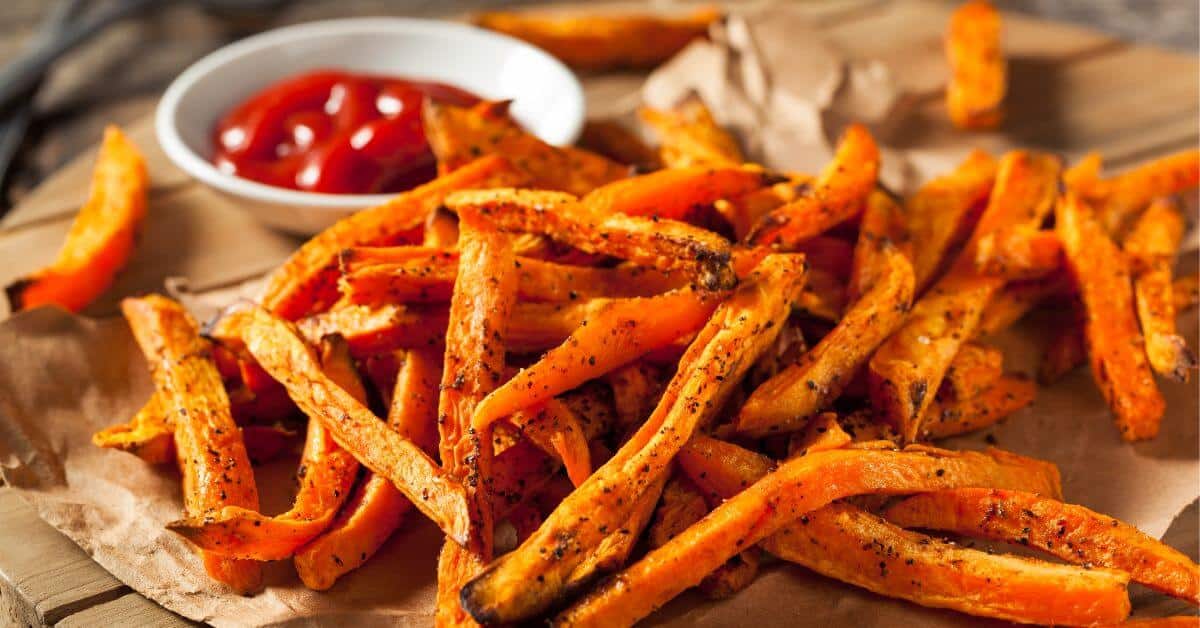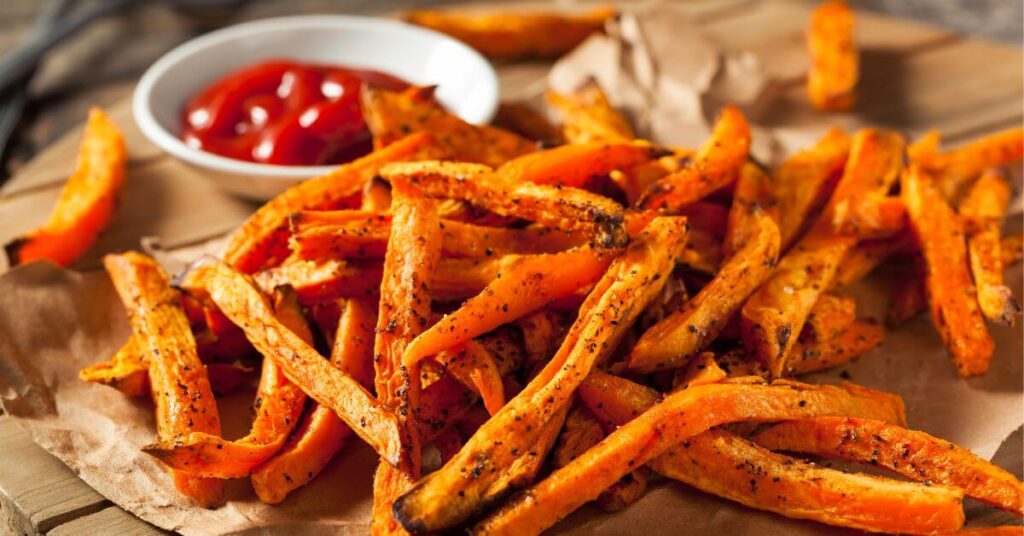 Sweet potatoes are a popular healthy side dish across the world. In recent years, you may have noticed that more and more restaurants offer sweet potato fries as an optional side on their menus. Although this sweet spud is most commonly cooked for Thanksgiving dinner, there are many other delicious dishes you can make with sweet potatoes all year round.
Knowing what seasonings and methods work to make sweet potatoes taste the best can be tricky. If you want to cook with this nutrient-rich food but need help elevating its flavor, here are some yummy ways to do just that!
What are Sweet Potatoes?
Sweet potatoes are large, starchy root vegetables with a mildly sweet flavor. You can cook them in many different ways, whether baked, boiled, fried, or roasted. When baked or boiled, sweet potatoes get a soft, irresistible interior that is great for making mashed potatoes or as a key ingredient in a recipe. When fried or roasted, they get carmelized crispy edges that are great for making fries or baked potatoes.
Nutrition Profile of Sweet Potatoes
Sweet potatoes contain various essential nutrients that keep our bodies healthy and strong. One sweet potato alone gives you 400% of your daily value of vitamin A, which is excellent for keeping your eyes, organs, immune system, and reproductive system healthy.
This root vegetable is also a good source of fiber and antioxidants, essential to preventing free radical damage and promoting a healthy gut and brain. Below is a breakdown of all the great benefits you can get from eating one sweet potato (via USDA):
Calories: 112
Total Fat: 0.1 g
Cholesterol: 0 mg
Sodium: 72 mg (3%)
Potassium: 438 mg   (12%)
Total Carbohydrate: 26 g     (8%)
Dietary fiber:9 g (15%)
Sugar: 5 g
Protein: 2 g (4%)
Vitamin C: (5%)
Calcium: (3%)
Iron: (4%)
Vitamin B6: (15%)
Magnesium: (8%)
How to Cook Sweet Potatoes
There are so many easy ways to make sweet potatoes! The cooking method you choose depends on the dish you're trying to make, as well as what your personal preference is. To give you an idea, here are a few of the most common ways to make a sweet potatoes recipe:
Roasted
Roasting your sweet potatoes in the oven will give you crispy outer skins and a heavenly tender potato on the inside. It's one of the longer cooking methods, but it is so worth the wait! To roast your sweet potatoes, here are the basics:
Rinse and pat your potatoes dry. Then, pierce each of them deeply with a fork.
Next, place your sweet potatoes on a foil-lined baking sheet.
Bake for 45-60 minutes (depending on size) until fork-soft and golden brown.
Did you know?: You can roast sweet potatoes a lot faster in the air fryer! Just preheat the air fryer to 370°F and cook them for 40 to 50 minutes.
Pan-Fried
Pan-frying is a quick and easy way to make a delicious sweet potato recipe. The oil adds a lot of flavor and crispiness and allows you to season them to perfection. Here's how you do it:
Peel, cut, and season the potatoes as desired. Next, heat oil in a non-stick pan over medium-high heat.
Add the sweet potatoes and cook for 10 minutes, stirring occasionally.
When the potatoes are brown and crispy, remove them from the heat and serve!
Boiled
Boiling is the healthiest way to cook sweet potatoes as it doesn't involve cooking with any fat. It creates the most tender sweet potatoes, perfect for mashing. Here's what the process looks like:
Rinse and cut your sweet potatoes as desired (the smaller the pieces, the faster they cook).
Boil your potatoes in water until fork-tender and cooked through. A whole sweet potato will take 30-50 minutes to cook, while 1-inch cubes will take approx. 12-15 minutes.
How to Make Sweet Potatoes Taste Good
Now that you know the most common ways to cook sweet potatoes, it's time to share how to make the best ones — every time!
Of course, your favorite way will likely be different than others, so we have diverse options based on the dish type and flavor profile you're looking for. Check 'em all out!
Buy Quality Potatoes
Although slightly blemished food is totally fine to eat, some sweet potatoes are sold with gouges, cuts, and bruises that show it has already started to turn. On the other hand, sweet potatoes with smooth skin and no cracks will provide the best results when it comes to taste.
Marinate Overnight
Believe it or not, marinating your sweet potatoes overnight will do wonders in improving their taste and texture. Apple cider is a great example, as it makes sweet potato fries much easier to fry and gets them nice and crunchy on the outside.
Soak in Water
While soaking your sweet potatoes in water isn't necessary, it does wonders for getting them as crispy as possible. The cold water helps release the starch, so it's a great extra step when making sweet potato fries!
Add Orange Juice
What? Orange juice and sweet potatoes? Yes! Fresh orange juice is sworn by many as the secret ingredient for adding a delightful citrusy tang to any sweet potato dish.
Use Plenty of Fat
Since sweet potatoes are already a healthy food, you don't need to be shy about adding a generous amount of fat to fully enrich their taste. We're talking plenty of oil and butter here!
Add Seasoning
Sweet potatoes are super versatile, meaning they can be made into a sweet or savory dish to your liking. Savory seasonings such as garlic and rosemary, sea salt and pepper, or a blend of cumin, garlic powder, and paprika taste fantastic! To go the sweeter route, cinnamon, sugar, and brown sugar taste delicious.
Spice It Up
You don't have to stop at sweet and savory when it comes to flavoring your sweet potatoes. Add a kick of spice and heat with cayenne pepper, chipotle powder, crushed red pepper, or any of your favorite spicy seasonings.
Add Toppings
Like regular potatoes, toppings are a sweet potato's best friend. Our favorite toppings on sweet potatoes are honey butter, maple syrup, toasted walnuts or pecans, mini marshmallows, sour cream, chives, feta, and even blue cheese!
Drizzle with Honey
Drizzling some honey on top of your sweet potatoes really enhances their natural sweetness, creating a healthy sweet treat that is so yummy and addictive!
Make Into a Meal
You can make so many different dishes using sweet potatoes. Some notable ones you have to try are sweet potato curry, sweet potato chili, sweet potato soup, sweet potato casserole, sweet potato pie, and sweet potato soufflé!
FAQs
What is the healthiest way to cook sweet potatoes?
Boiling is the healthiest way to cook sweet potatoes. It retains the highest amount of beta-carotene compared to other cooking methods like baking or frying. This method also doesn't require using cooking fats, reducing calorie and fat intake.
Do you need to peel sweet potatoes before cooking?
No, peeling your potatoes before cooking them isn't necessary. However, you may want to peel them depending on the type of dish you are making. Sweet potato skins are actually safe to eat and contain nutrients such as fiber and antioxidants.
How to tell when sweet potatoes have gone bad?
You'll know when your sweet potatoes have gone bad when they are soft, squishy, discolored, or have many sprouts coming out.
Final Thoughts on How to Make Sweet Potatoes Taste Good
Sweet potatoes are one of the most versatile foods you can make. There aren't many foods out there that taste great as both a savory dinner and dessert!
With these helpful tips, you'll be able to make sweet potatoes that taste great and have the perfect texture you're going for. So go ahead, put those sweet potatoes to use. You'll be surprised at how amazing they turn out!
You Might Also Like: