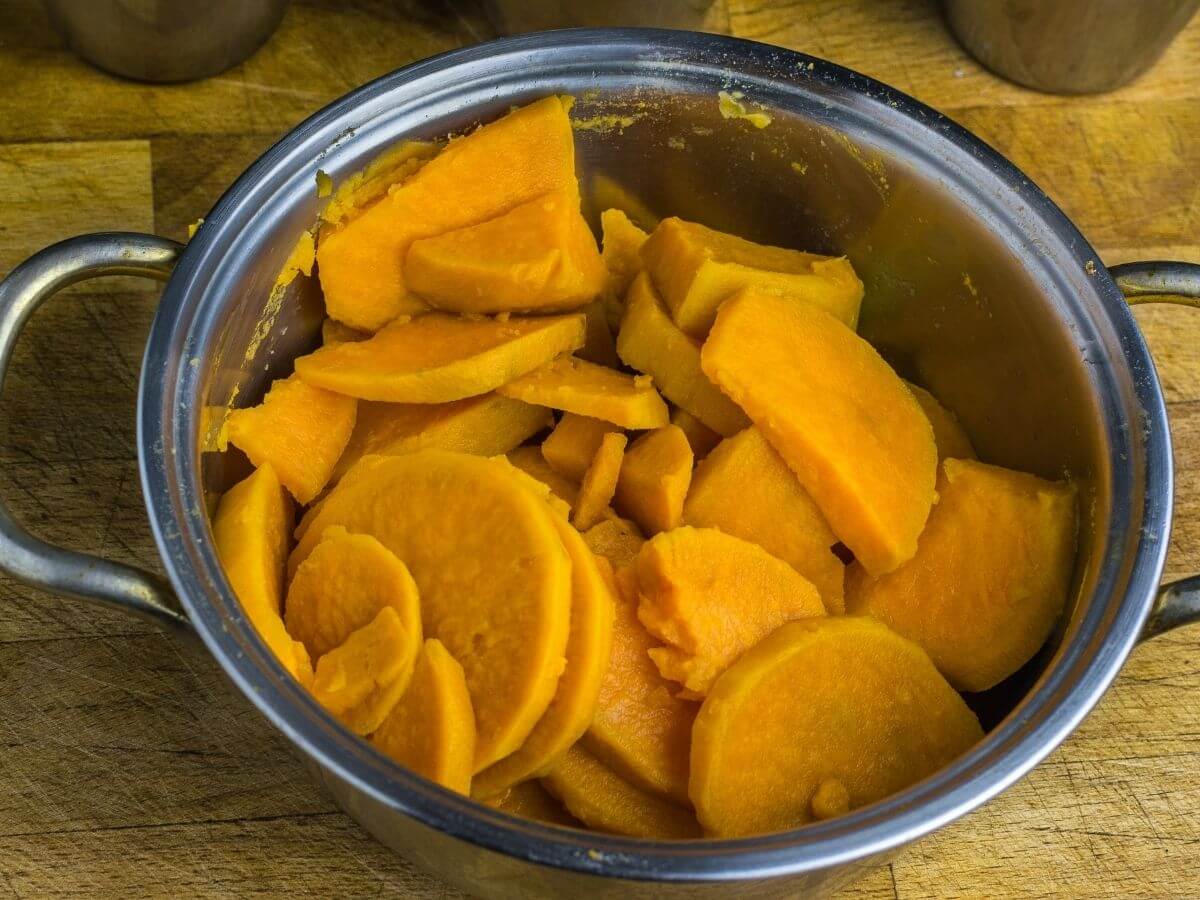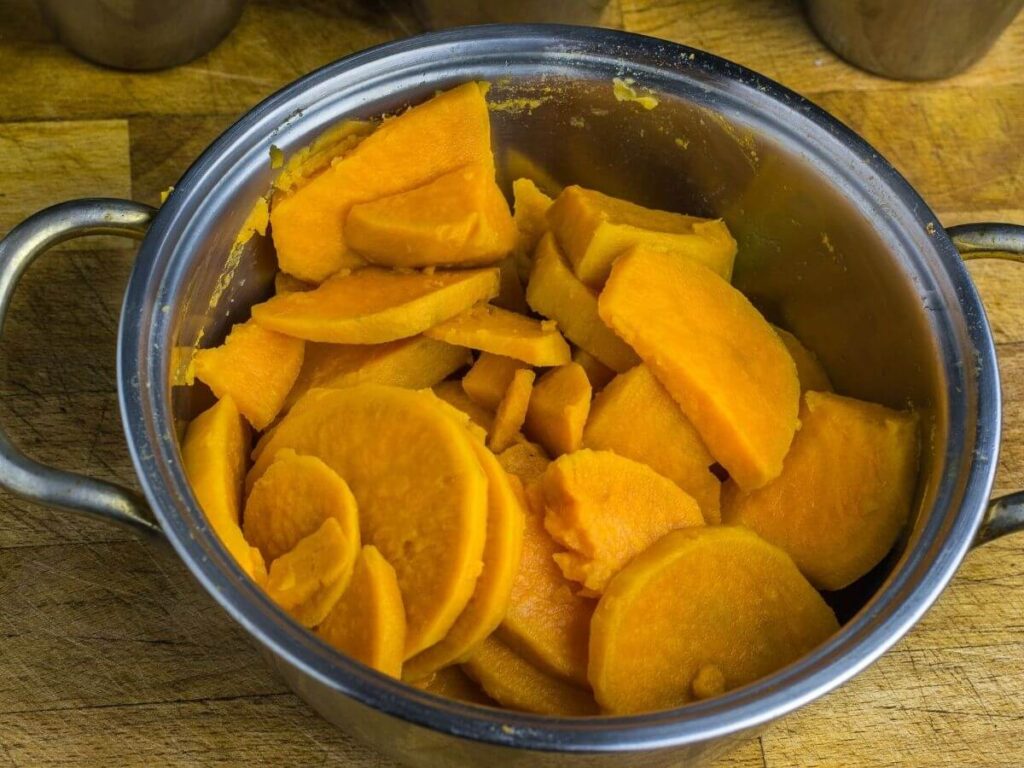 Sweet potatoes have gained popularity in recent years mainly because of their sweet flavor. Most people cook sweet potatoes in the oven, but did you know that you can easily cook them on the stovetop? Keep reading to learn how to cook sweet potatoes on the stove.
What are sweet potatoes?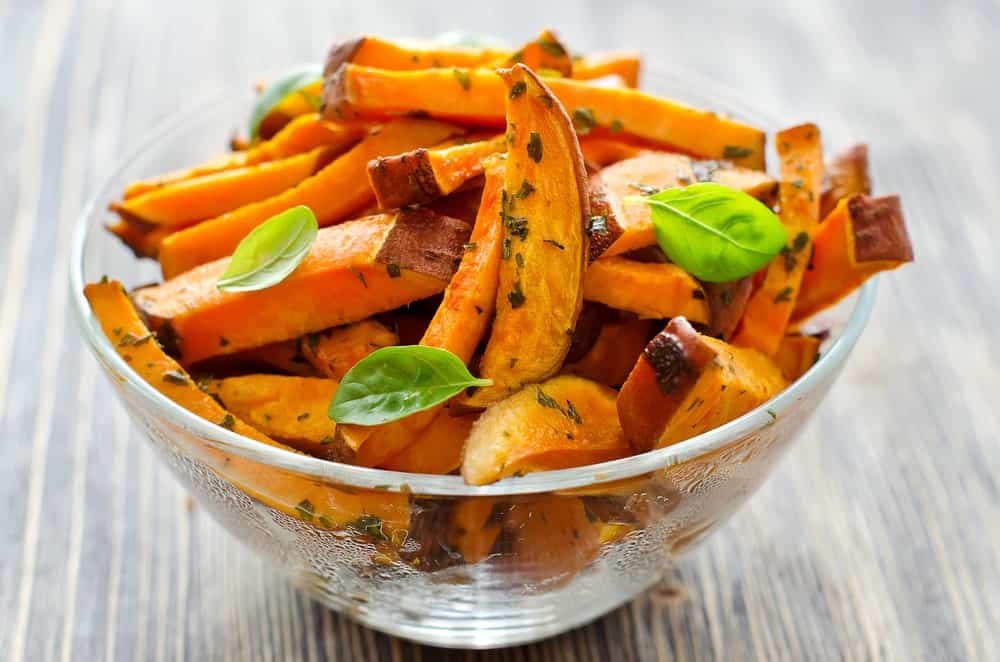 Sweet potatoes are a type of potato that can come in two varieties. Be sure to look for sweet potatoes with deep orange color and a moist sheen. A "dry" or withered-looking sweet potato is usually a sign it has been sitting around for too long! Sweet potatoes are part of the nightshade family of vegetables – which make up most of the meals we eat.
This vegetable is often served as an accompaniment to other main dishes. Sweet potatoes, also known as yams in some countries, are a starchy tuber that is nutrient-rich and serves as a good source of vitamin A and potassium. Because it has a naturally sweet flavor, sweet potatoes are served both as a savory or sweet dish.
How to cook sweet potatoes on the stove
The easiest sweet potato dish you can cook, which is also one of my favorites, is sauteing them in a cast-iron skillet on the stove. All you have to do is follow these simple steps:
Step 1: First of all, you will have to prepare sweet potatoes. Start by washing them to get rid of dirt. Most people like to keep the skin on. That's because it is loaded with nutrition. So, peeling the skin is optional.
Step 2: Cut the sweet potatoes into ½-inch thick slices. Make sure you slice it evenly.
Step 3: Place the sliced sweet potatoes in a large bowl, and drizzle olive oil on them. Season the slices with garlic powder, cayenne powder, black pepper, and salt. Using your hands, mix well so that every slice is well seasoned.
Step 4: Place a cast-iron skillet on medium heat and place the sweet potato slices in it in a single layer.
Step 5: Let the sweet potatoes cook for about 10 minutes or until they are golden brown around the edges.
Different ways to cook sweet potatoes on the stove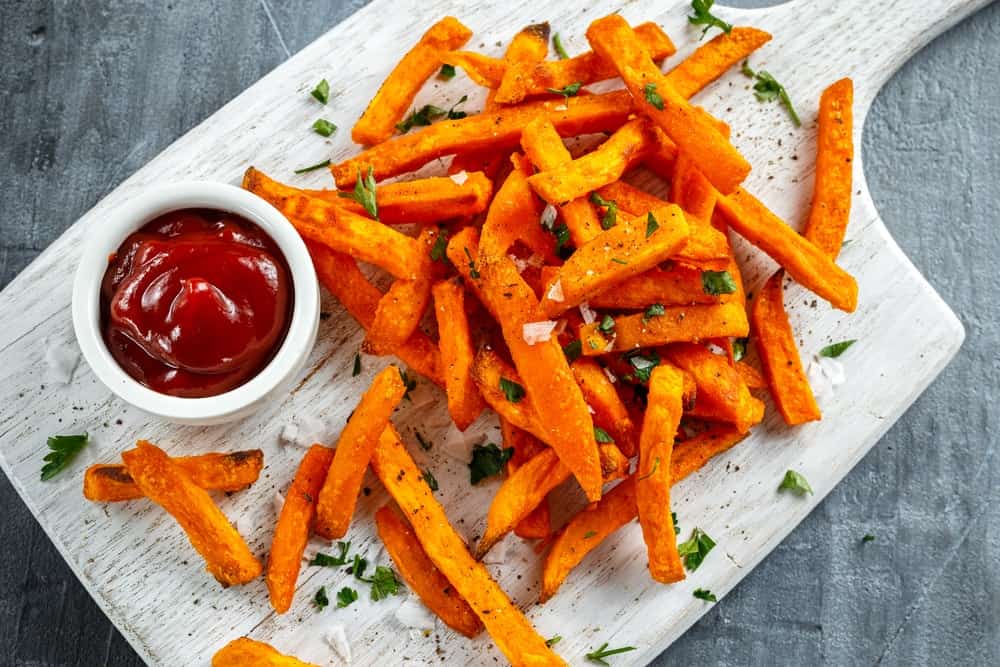 As I said before, there are so many different dishes you can cook with sweet potatoes on the stovetop. Here are some of these amazingly easy ways you can try cooking sweet potatoes:
Sauteed sweet potatoes: Sautéed vegetables are always a hit. They are perfectly delicious sides that go with your main course. Like every other vegetable, you can also sauté sweet potatoes. Simply cut them either in cubes, coins or fingers and sauté them in a pan over the stove.
Candied sweet potatoes: Because sweet potatoes are naturally sweet, candied sweet potatoes are a delicious and widely loved dish. You can sauté sweet potatoes and drizzle honey and cinnamon on top, or you can boil them, dice them and cook them in brown sugar, maple syrup, and cinnamon mixture.
Mashed sweet potatoes: You might love mashed potatoes, but wait until you try mashed sweet potatoes. All you have to do is boil the sweet potatoes in salted water, peel them, and blend them with milk until you get the consistency you desire. Season according to your liking, and voila!
Fried sweet potatoes: Lastly, fried sweet potatoes are a widely loved snack. You can make them just like you make French fries. Cut the sweet potatoes into french fries, and fry them in hot oil until they are crispy on the outside and tender on the inside. Serve with garlic mayo, and enjoy!
How to cook sweet potatoes on the stove
Preparation time: 5 minutes
Cooking time: 20 minutes
Total time: 25 minutes
Servings: 4
Ingredients
3 medium sweet potatoes, peeled and sliced
1 tbsp olive oil
½ tsp garlic powder
¼ tsp cayenne pepper
½ tsp black pepper
salt, to taste
Preparation
Wash the sweet potatoes to remove dirt from them. Peel them and cut them into ½ inch slices.
Add the sliced sweet potatoes and season with olive oil, garlic powder, cayenne powder, black pepper, and salt in a bowl. Mix well.
Place a cast-iron skillet on medium heat. Place the sliced sweet potatoes in a single layer and let them cook until they start getting a golden color. It will take about 8 to 10 minutes.
Flip the side and continue to cook until you get a golden color.
Remove from the pan and serve.
Garnishing Options
When it comes to garnishing your sweet potatoes, there is no shortage of options to enhance their presentation and flavor. Here are a few ideas:
Toasted Pecans: Sprinkle toasted pecans across the top of your Candied Yams for a delightful crunch and nutty flavor contrast. To toast the pecans, arrange them on a baking sheet in a single layer and bake at 350°F for 8 to 10 minutes or until aromatic.
Mini Marshmallows: For a touch of sweetness and fun, sprinkle mini marshmallows over the yams. You can even place the dish in the oven for a few minutes to allow the marshmallows to melt and brown slightly.
Chopped Parsley: A sprinkle of freshly chopped parsley adds a pop of color to your dish and an earthy, fresh taste that complements the sweetness of the yams.
Orange Zest: Grate a bit of orange zest on top of your Candied Yams for a hint of citrus that cuts through the sweetness and adds brightness to your dish.
FAQs
What's the difference between sweet potatoes and yams in recipes?
Although the terms sweet potato and yam are often used interchangeably, they are two different plants. Sweet potatoes have smooth, thin skin and a sweeter taste, while yams have rough, thick skin and a starchy, less sweet taste. In most American recipes, what is called a "yam" is actually a variety of sweet potatoes. It's crucial to use sweet potatoes for candied yams, as they provide the desired sweetness and texture needed in the dish.
How do you make candied yams from a can on a stovetop?
To make candied yams from a can on the stovetop, drain the syrup from the canned yams and set aside. Combine melted butter, brown sugar, cinnamon, and nutmeg in a large skillet, then add the drained yams. Cook over medium heat, gently stirring occasionally, until the yams are heated through and the sauce has thickened and coated the yams.
You Might Also Like: