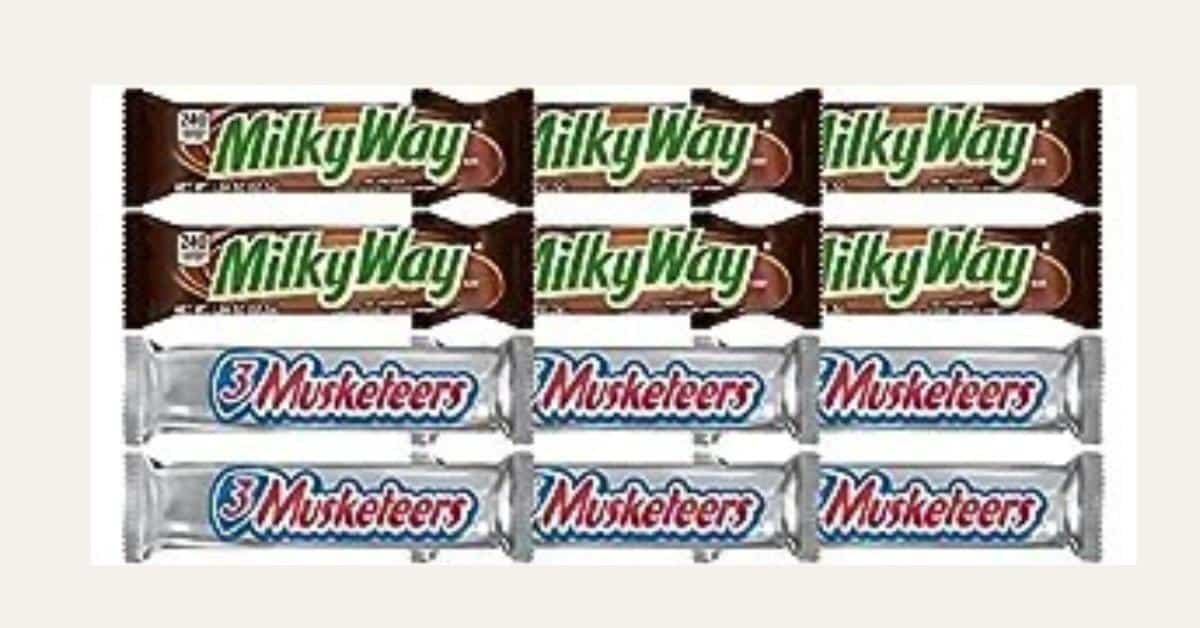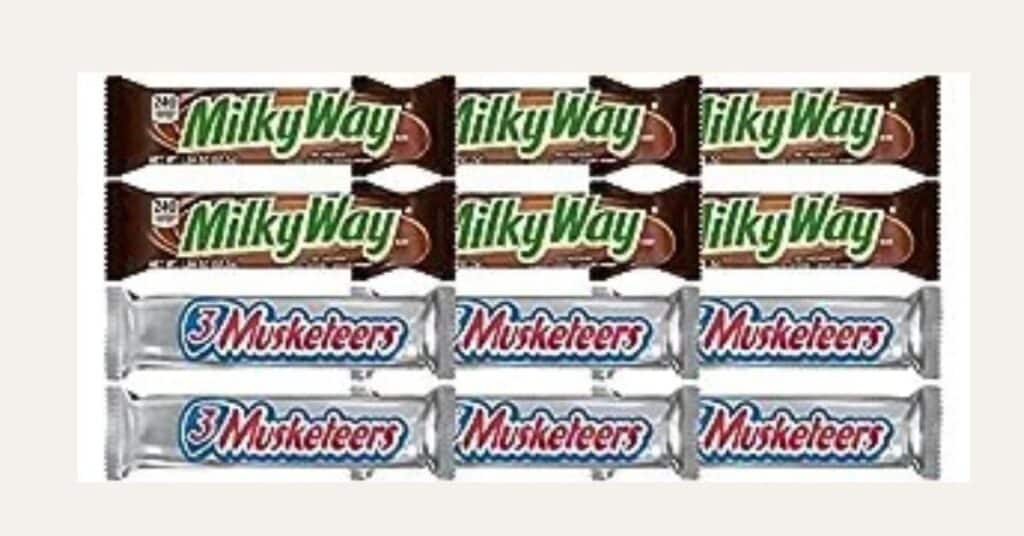 When it comes to treating yourself to something sweet, you might find yourself torn between two classic chocolate bars; the Milky Way and the 3 Musketeers bar. In this post, we'll delve into Milky Way vs. 3 Musketeers, including the history, ingredients, nutritional facts, and flavors of both these iconic chocolate bars.
Milky Way vs. 3 Musketeers
Milky Way
Since its creation by Mars company in 1923, Milky Way has been delighting countless chocolate lovers worldwide with its delectable taste. It was Frank Mars's inspiration to recreate the taste of a classic malted milkshake that you would typically enjoy at a local diner.
At its inception, the Milky Way bar consisted of a velvety nougat center and caramel covered in delectable milk chocolate. In the United States, you may notice that the original version still includes caramel, while Milky Way bars sold in other parts of the world lack this caramel layer.
3 Musketeers
The 3 Musketeers bar, also created by Mars company, entered the chocolate scene in 1932. Its name was derived from its composition. Three separate pieces with distinct flavors; vanilla, strawberry, and chocolate. This assortment made it effortless for you to share with your friends, just like the beloved trio of sword-wielding characters from the novel.
However, due to rationing and shortages, during World War II, the 3 Musketeers bar underwent a transformation into a flavored bar retaining only its delightful chocolate flavor. Since then, the 3 Musketeers bar has become well known for its light and fluffy whipped chocolate center covered in a smooth milk chocolate coating.
Breaking Down the Ingredients
Milky Way
A Milky Way candy bar consists of two components; a luscious chocolate coating and a delectable nougat caramel filling.
3 Musketeers
The 3 Musketeers candy bar also consists of two components; a chocolate coating and a whipped creamy nougat filling that does not contain caramel.
FAQs – Milky Way vs. 3 Musketeers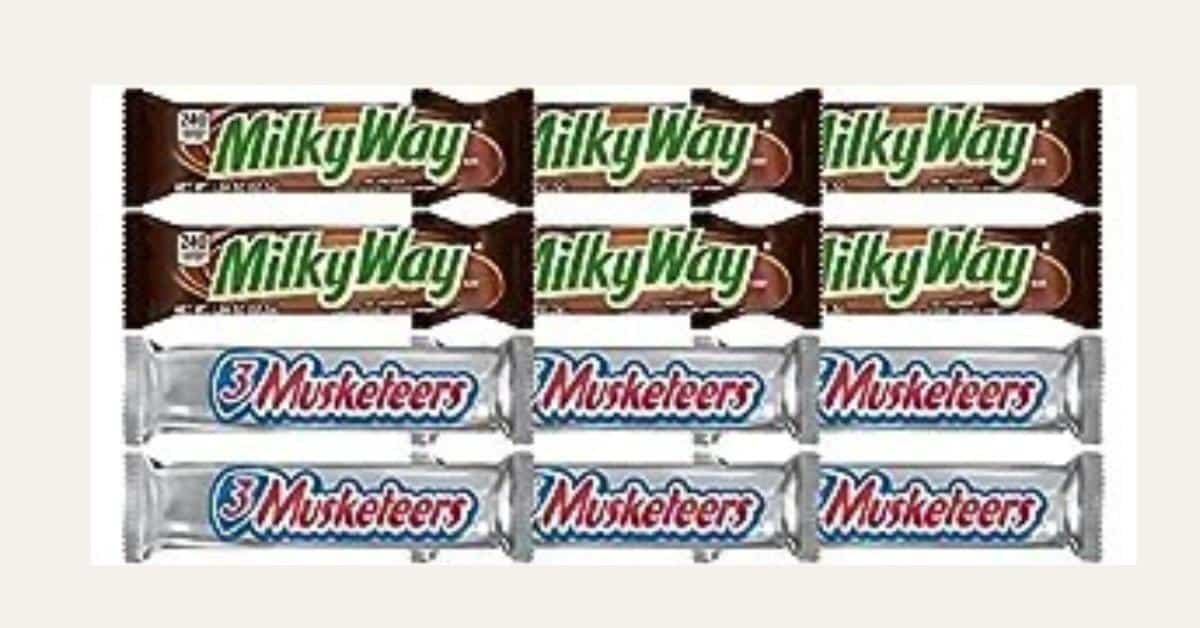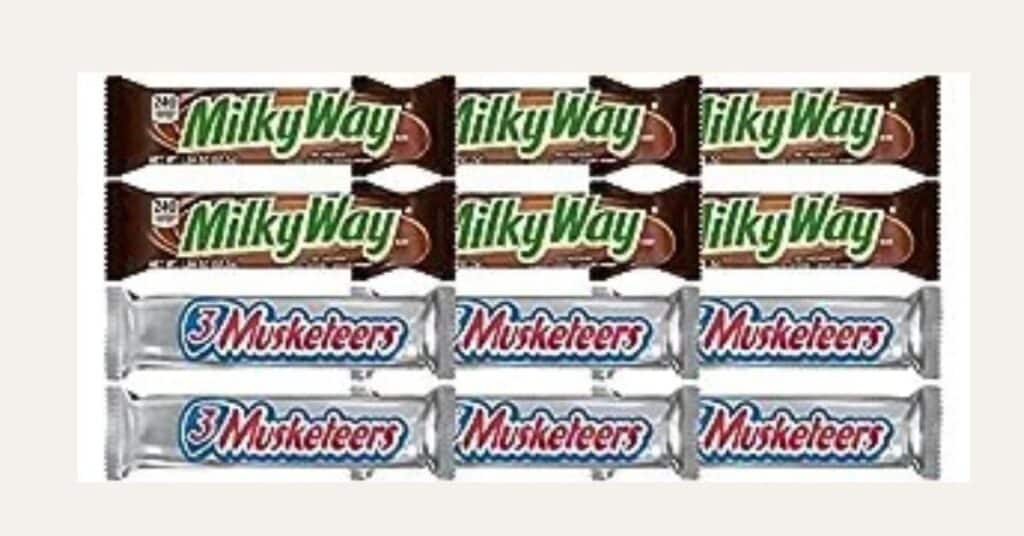 What are the primary ingredients in Milky Way and 3 Musketeers?
Milky Way bars typically consist of milk chocolate, caramel, and nougat. The nougat found in Milky Way bars is smooth and fluffy, often made with a combination of sugar, egg whites, and corn syrup. On the other hand, 3 Musketeers bars have only a milk chocolate coating and a light filling of whipped chocolate nougat.
Are Milky Ways and 3 Musketeers similar?
While both Way and 3 Musketeers bars share a milk chocolate coating and nougat base, there are differences in their ingredients and taste. Milky Way has a layer of caramel that is not present in 3 Musketeers. Furthermore, the texture of the nougat in 3 Musketeers is lighter and more airy compared to that found in Milky Way.
Are there any limited editions of Milky Way and 3 Musketeers?
Both Milky Way and 3 Musketeers have introduced limited edition varieties throughout the years. For instance, there's the Milky Way Midnight bar that features chocolate with vanilla nougat and the 3 Musketeers Mint edition that offers a mint-flavored nougat filling.
How do their calorie counts compare?
When comparing calorie counts, a standard Milky Way bar has around 240 calories, while a 3 Musketeers bar contains about 200 calories. This difference is mainly due to the absence of caramel in the 3 Musketeers bar.
Which one is more popular in sales?
Popularity-wise, both bars have their share of fans. However, statistically speaking, Milky Way bars usually rank higher in sales compared to 3 Musketeers. Keep in mind that popularity may vary depending on personal taste and regional preferences.
What is the history behind their names?
The origin of the Milky Way bar's name comes from the chocolate malt milkshake that inspired its creation. As for the 3 Musketeers bar, it initially featured three pieces with different flavors – chocolate, vanilla, and strawberry – hence the association with the famous trio from Alexandre Dumas' novel. However, today, it only comes in the chocolate flavor.
Is Milky Way the same as Snickers?
Milky Way and Snickers are both chocolate bars produced by Mars, Inc., but they are not exactly the same. Milky Way bars are made with nougat and caramel, and coated in milk chocolate, while Snickers bars contain nougat, caramel, and peanuts and are also coated in milk chocolate.
What other candy is made by the Mars Company?
In addition to the Milky Way and 3 Musketeers Bar, The Mars Company also makes Snickers, Twix, M&M's, Skittles, and Starburst.
You Might Also Like: