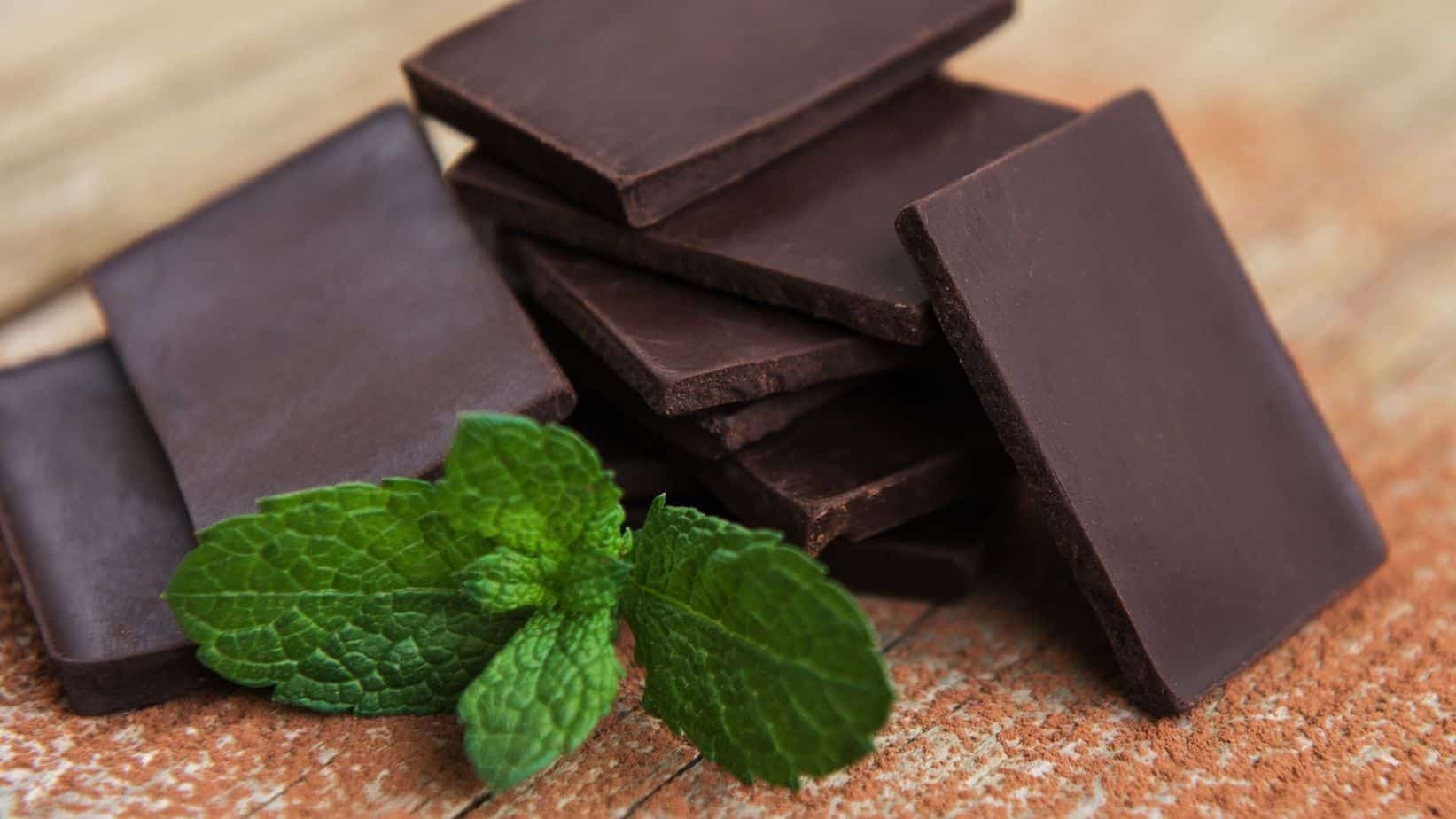 Mint chocolate desserts are a great way to end a meal and come in many forms, including mint chocolate chip ice cream, a mint cream cheese brownie, and my absolute favorite…mint chocolate candy bars.
If you want to indulge in a mint chocolate candy bar, make it worth your time and calories. Choose one or all six of these best-tasting candy bars listed below.
Top Six Best Tasting Mint Chocolate Candy Bars
These chocolate bars are all different, but they are also all decadent, rich, and refreshing.
Nestle After Eight Chocolate Mints
The Nestle After Eight Chocolate Mints is thin squares of peppermint-flavored fondant creme covered with smooth dark chocolate. People describe the taste of these thin mints as rich but not overwhelming. They are the perfect treat to end the evening with a moment of decadence.
Andes Creme De Menthe Thin Mints
Andes Creme De Menthe Thin Mints are individually wrapped bite-sized pieces of mint chocolate goodness. They launched in 1950 and have remained popular in American culture since. The layers of this mint chocolate bar give it a unique look: they are rectangular layered candies, with a creamy mint layer sandwiched between two chocolate layers.
Andes mint chocolates are popular after-dinner mints, but you can eat them anytime. Plus, Andes Mints are Kosher, peanut-free, and gluten-free.
DIVINE CHOCOLATE, 70% Dark Chocolate with Mint Crisp
Divine Chocolate's 70% Dark Chocolate with Mint Crisp is the best option for a classic chocolate bar with a strong mint flavor. This chocolate bar includes crispy mint pieces as well as peppermint oil to intensify the mint flavor.
The dark chocolate in this mint chocolate bar is less bitter than other dark chocolates. Instead, it has a more subtle sweetness and creaminess while not overwhelming the mint flavor of the bar.
This Divine Chocolate mint chocolate bar uses 100% fair trade cocoa, non-GMO, vegan, and free from artificial flavors, colors, and preservatives.
Prestat English Mint Flavoured 62% Dark Chocolate Thins
The combination of mint and chocolate yields such a powerful flavor that sometimes it is best enjoyed in small quantities. Thin mints do exactly that, and Prestat's English Mint Flavored Dark Chocolate Thins prove to be superior to other similar mint chocolate bars.
Prestat is a prestigious English chocolate maker that's been around for over a century and is the official supplier of chocolate to the Royal Family.
YORK Peppermint Patties Dark Chocolate Candy
Trivia Question: Which candy uses the slogan, "Get the sensation"?
OK, I guess I kind of gave it away! It's York Peppermint Patties. I think that most people will agree that you can't have a list of the best mint chocolate bars without including the York Peppermint Patties. A favorite since 1940, these small treats were able to stand out in the market and became popular for how much more firm and crisp they were than similar mint chocolate products from competitors at the time.
The peppermint flavor of the sugary center is strong, providing the perfect contrast to the bitterness of the dark chocolate that surrounds it.
Although the original York Peppermint Patty has had to go through different companies, owners, and manufacturers, the taste of this mint chocolate bar continues to attract mint chocolate fans all over the world.
Endangered Species Dark Chocolate With Forest Mint
This chocolate mint bar is dark and decadent, with a hint of fresh forest mint. Endangered Species sources its chocolate from small family-owned co-ops in West Africa that sustainably grow their cocoa with little to no pesticides. They only use Fair Trade-certified cocoa beans from Cote D'Ivoire. You can feel good about enjoying this sweet treat from Endangered Species.
FAQ
Is chocolate considered a candy?
Chocolate is commonly categorized as a form of candy. Nevertheless, there are differing viewpoints on whether chocolate qualifies as candy since it originates from cocoa beans and offers added health advantages thanks to its antioxidants and flavonoids.
You Might Also Like: