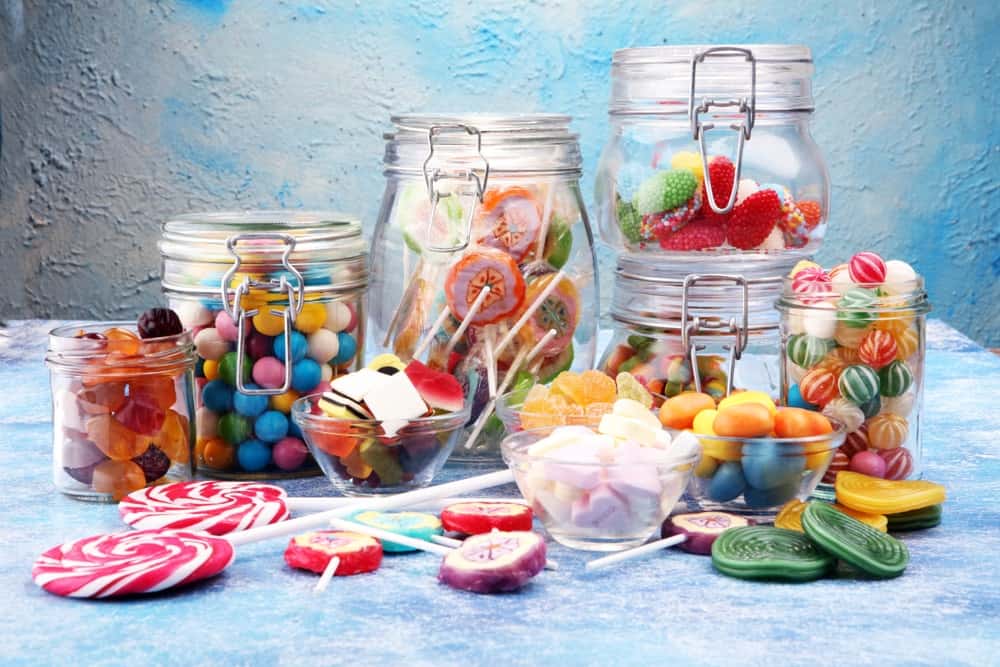 Candy shops bring out the kid in every shopper. Their cheery interior adorned with colorful gummy candies, bubble gum, and milk chocolate makes you feel like you are walking straight into heaven. Now, if you have a sweet tooth and you're looking for specific favorites, online candy stores would be the best option. They are not only convenient, but you will also have more time to explore other sweets and stores in the comfort of your abode.
List of Online Candy Stores (1-5)

1. Bulk Candy Store: Old-fashioned gumballs, jelly beans, and modern chocolate treats are in the lineup at this sweet shop. They also feature unusual items like chocolate-covered everything and even cookie sticks.
2. It's Sugar: The worldwide chain's online store is impressive, with all types of chocolate, gummies, and normal and not-so-normal confections. Some are in "giant" size, like their 1-pound patties of peppermint chocolate- a dream for those with oddball tastes.
3. Phillips Candy House: Phillips is one of the oldest online candy stores that still have a brick-and-mortar presence. Being in business since 1925, this company is the oldest seller of chocolate in Boston. It specializes in handmade chocolate treats that have been on the menu for a long time. All of their candy is made in small batches with fresh ingredients.
4. Yummies Candy and Nuts: Take a walk down memory lane at Yummies. This Maine-based store sells classics, hard-to-find items, plus locally created fudge, jams, and jellies. They specialize in historical/nostalgic candy arrangements and individual items.
5. Jagielky's Homemade Candy: Since 1975, this innovative store makes its own candy in its self-proclaimed Jersey Shore style. There are lots of marshmallow-based items on the menu, as well as other unusual items.
List of Online Candy Stores (6-10)
6. Harbor Candy Shop: A Maine tradition known worldwide for its truffles, fudge, chocolate, brittles, and a full line of vegan candy, make this store a must-view for candy lovers. It has been in business since 1961, making it a favorite candy store for locals and visitors.
7. Richardson's Candy Kitchen: The owners do it all themselves every day. The store sells caramels, fudge, truffles, cordials, and hundreds of other handmade delicacies.
8. Windy City Sweets: Everything is made by hand each day at this famous Chicago-based store. Windy City Sweets has some of the world's most famous chocolate-covered pretzels and various other unique treats.
9. Chutter's: A New Hampshire favorite and now available online, Chutter's sells it all, from caramels to chocolates to gummies and almost any sweet treat that your heart can think of.
10. Papabubble: Candy is art at this New York-based, Spain-inspired candy specialty shop. The workers make all sorts of shapes out of candy in dozens of different flavors. Not the typical candy store but a one-of-a-kind place for those who appreciate the novelty.
List of Online Candy Stores (11-15)
11. Carousel: Selling the world's best saltwater taffy since 1970 in both unusual and standard flavors.
12. The Candy Store: This San Francisco-based candy store sells artsy, delicious candy and unusual specialty items.
13. Candyality: This Chicago-based favorite sells it all in its massive online store.
14. Little Flower Candy Company: The specialty here is sea-salt caramel candies, all of which are made by hand. The owner was trained as a pastry chef in Paris, and her artistry is in every item sold. There are other sweet offerings besides the caramels, but the shop caters to those who want a unique taste treat and are not looking for standard fare.
15. Hershey's Chocolate World: The famed chocolate factory turned global retailer sells it all from their online store. They even offer some nice bulk discounts for Hershey enthusiasts that are not available anywhere else. For chocolate and candy-bar lovers alike, this store is a reliable source of deliciousness.
List of Online Candy Stores (16-20)
16. Robin's Candy: From classics to novelties, Robin's has candy full of old and new favorites. They specialize in New England items like licorice that are available in every flavor and shape. They also sell premium imported licorice for those with refined tastes.
17. Nisshodo Mochiya: This Hawaii-based seller of Japanese candies has been in business for more than 100 years and is known worldwide. Their thriving online shop offers a full range of handmade Japanese specialty candy, which tends to be softer and sweeter than Western-style candy.
18. Nelson's Columbia Candy Kitchen: This shop sells Danish-inspired treats and now purveys them online. Hard drops in unusual flavors like sassafras and anise are typical of their offerings. They still cook up everything in copper kettles and cool the goods on tables made of solid marble that date back to the early 1900s. Nelson's is authentic old-fashioned candy at its best.
19. Candy Warehouse: From DIY arrangements to special corporate orders, Candy Warehouse offers more than 6,000 classics that range from new to old. As a full-service online store with an astonishing menu, their retail store has almost every type of candy you can imagine.
20. Lucky's: Baltimore-based Lucky's candy shop specializes in difficult-to-find candy but sells standard items too. Old-time candy bars, flavored and non-flavored popcorn, and DIY baskets are available from this old-style shop.
List of Online Candy Stores (21-25)
21. Ye Olde Pepper Companie: Specializing in mints and old-time regional favorites of the Massachusetts area, YOPC still sells Salem Gibraltars in several flavors and maintains a physical store for the locals in Salem. This is authentic candy at its best for those who appreciate high-quality ingredients.
22. Economy Candy: Since 1942, Economy Candy has made penny candy into a full-time business. This place stays true to what old-time candy stores used to be like. They make small, large, old, and new treats abound in their massive menu of sweetness. They've even embraced the low-calorie and sugar-free trends for their customers.
23. Amy's Candy Bar: Amy's is about art and beauty, and candy. They sell gorgeous licorice, gummies, specialty chocolates, and standard fare as well. The owner is a licensed French pastry chef and knows her candy.
24. Schimpff's Confectionery: A real purveyor of historic candy and treats of all kinds, this place has been around, in brick-and-mortar form, since 1891. For authentic "old-fashioned" sweet treats, chocolate drops, hard candies, and more, Schimpff's is the expert.
25. Albanese Confectionery: Chocolates of every kind, premium roasted nuts, and gummies are for sale here. The gummies are what put this Indiana-based retailer on the candy map. Gummy flavors and designs come in every imaginable variety, and they try to make their treats "works of art."
List of Online Candy Stores (26-30)
26. Shane Confectionery: Since 1911, Shane has been creating art and candy. Their homemade treats are famous worldwide. Specialties are licorice, chocolates, and brandied cherries. One of the oldest candy sellers in the U.S. in continuous operation.
27. Candy Favorites: This shop offers a huge "candy buffet" that works for special occasions like weddings, graduations, etc. Order more than $90 of candy, and shipping is free. Amazing variety.
28. Balboa Candy: Mints, jelly beans, and all things chocolate are on tap here. Traditional and modern selections for all tastes. A full-service candy retailer.
29. Sweet Factory: Standard and specialty items for all occasions, literally any social event on the roster. Yogurt raisins, unique metallic chocolates, and more are among the top sellers.
30. Oriental Trading: Their candy section has unique items like monogrammed mints, DIY baskets, and special "keepsake" candies for every event. There's also a standard assortment of common candy treats.
List of Online Candy Stores (31-35)
31. Blair Candy: From creamy chocolate to gummies and everything in between, Blair sells candy treats from tiny mints to huge chocolate chunks and is a go-to site for weddings and graduations.
32. Candy Direct: Candy Direct literally has everything for individuals and group buyers who need to stock an event.
33. Old Time Candy: As a "historical specialist" with a massive menu that can search by decade or item, this online candy store sells party-favor bags and other DIY arrangements that enhance any celebration
34. Dylan's Candy Bar: Opened in 2001, this trendy shop now boasts more than 7,000 different items for every conceivable sweet taste, selling new inventions and old-school classics. Dylan is the owner and Ralph Lauren's daughter.
35. Jelly Belly: All things jelly bean at this California-based candy giant. Get the ultimate jelly bean fix here.
You Might Also Like: