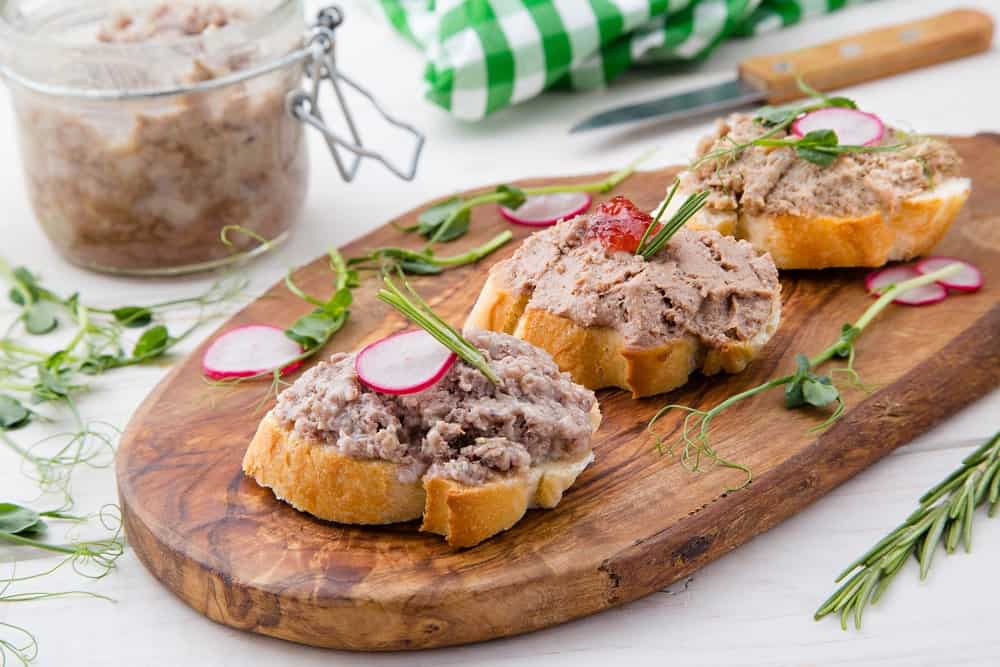 Pâté is a meat dish that is a common part of French cuisine. In fact, pâté is the French word for paste. While there are many types of pâté, each one typically combines vegetables, herbs, meat, fat, and a variety of seasonings. The most traditional form of the dish consists of the liver, but the meat can include anything from chicken to seafood.
If you have ever had pâté, you will notice that it can be served cold or hot, and it can also be served in different shapes that add to the presentation of the dish. Pâté can be very fine or chopped more coarsely.
In fact, there are are many different forms of pâté. You may also hear pâté referred to a terrine. They are both essentially the same dish, though a terrine also refers to the dish that the delicacy is cooked in. In some cases, the terrine is used specifically to refer to a smoother version of the dish.
How to Make Pâté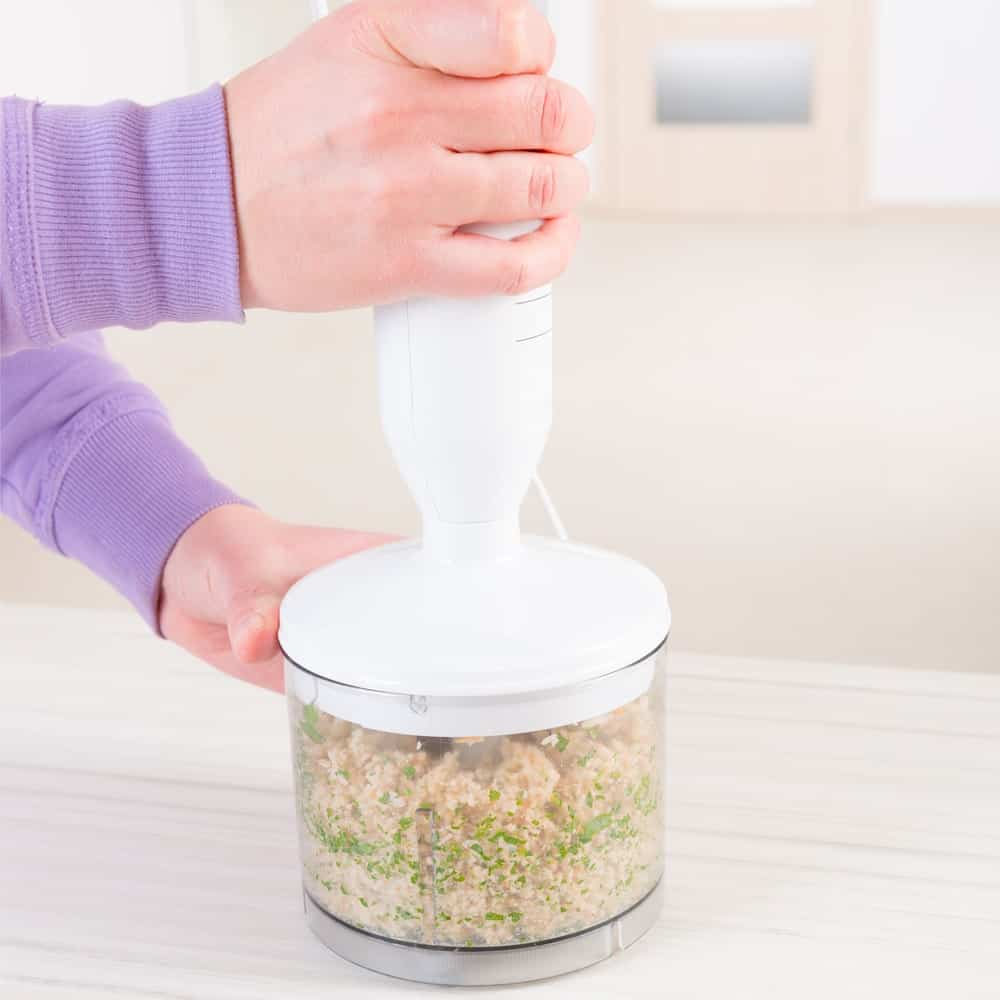 Making pâté begins by taking the ingredients and layering them like a loaf. The dish is cooked in a water bath before it is cooled. It may be served in a pastry, on its own in slices, or mixed with another ingredient.
There are key components to pâté. One of the most important elements, besides the meat, is the fat. Butter, cream, eggs, and chicken fat are commonly used. In some cases, hard-boiled eggs are used as thickener. This helps keep the dish in the right shape.
Then, there is the meat. Some people prefer to eat pâté made from liver, as it has a more gamey taste. Each meat offers a different spin on a classic French meal.
Then, there are the additional flavors. Many people are sparse with their flavorings, prefering for the meats and fats to speak for themselves. In some cases, seasonings and herbs can really bring out those flavors for an extra kick. Alcohol is often used as a flavoring for pâté.
Forcemeat is another component of pâté, and there are several different types.
Champagne (or country-style) forcemeat is simple and coarse. It usually consists of pork and liver with different grinds of meat to create a unique texture.
Straight forcemeat is smoother than champagne style, and it is more common. The meat and the fat are separated when they are ground, with the meat being ground two times. The meat and fat are mixed together later in the process.
Gratin forcemeat is made from meat that has already been lightly sautéed before it is ground.
Mousseline is a light pâté with a lot of flavor. It is typically made of seafood and is quite airy thanks to the eggs and cream it contains.
No matter what French restaurant you visit, you are sure to see pâté on the menu. These are among the most common types of pâté you will come across.
Types
Pâté Chaud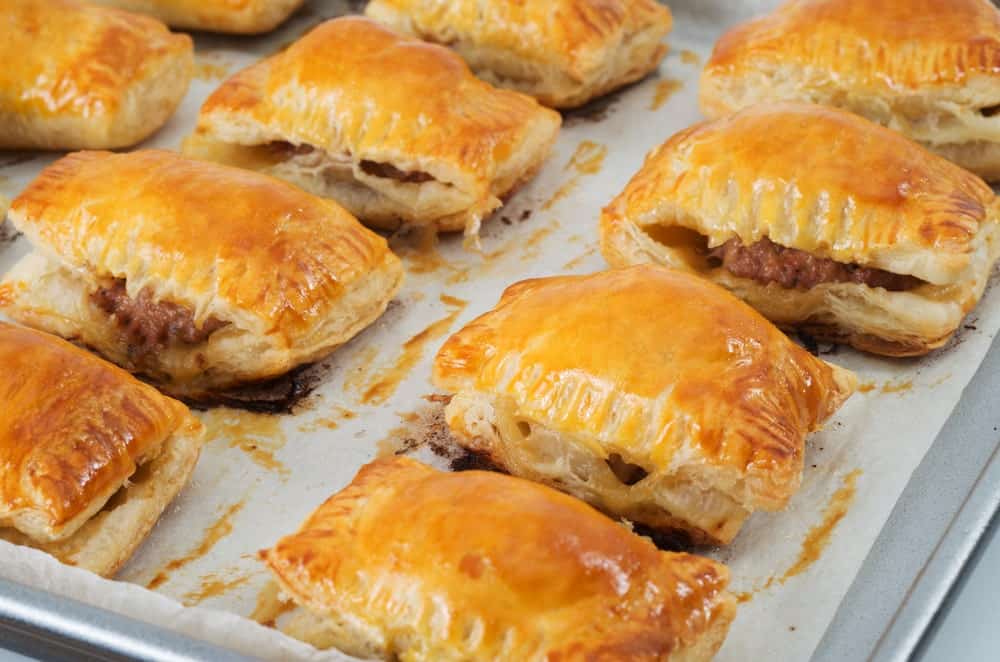 Pâté chaud translates to hot pâté, and it is served hot. The outside of the dish is a crispy, crusty pastry, and the inside is full of meat. The meat inside is usually pork, though some people prefer to use chicken or beef.
This dish is also a common part of Vietnamese cuisine, in which it is referred to as bánh patê sô. Ground pork is the most common filling for the pastry. The savory pastry is certainly one that extends beyond borders, and you may even find it in bakeries.
Pâté Grandmère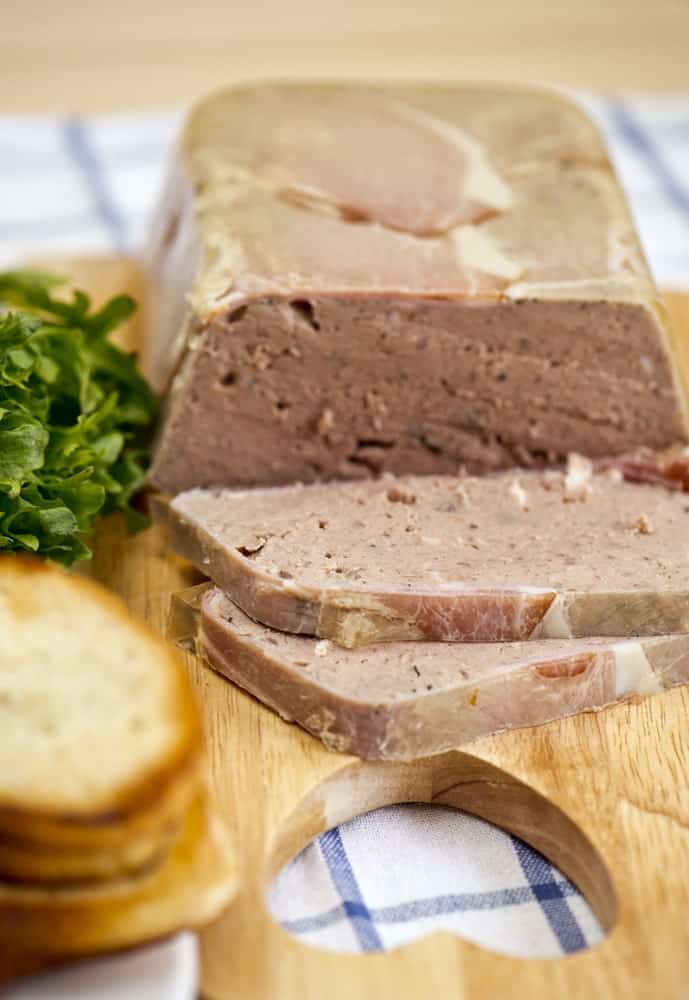 Pâté grandmère, which means grandmother pâté, is a dish commonly served with charcuterie thanks to its chunky texture. It typically consists of bacon, pork leg, and pork liver. These ingredients are commonly combined with shallots, lard, milk, eggs, bread crumbs, salt, pepper, and sugar. It is a favorite in French cuisine, and for good reason. The bacon is a good addition for both texture and taste, and the fat mixes well with the other meat components.
Pâté Hénaff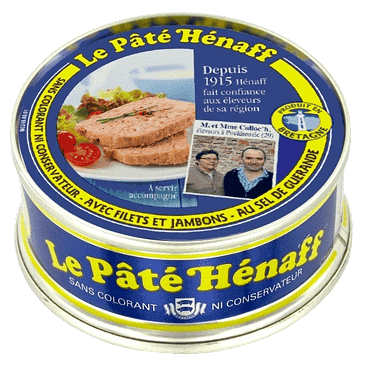 Source: Henaff
Pâté Hénaff is a popular pre-packaged kind of pâté. It is found throughout France on store shelves. The canned products offer a unique taste of France because they are so well known throughout the country, providing a quick and easy pâté for any occasion.
Most of Hénaff pâté consists of pork, including ham. In addition, the dish contains liver, stock, sea salt, and a variety of other spices. All of this creates a unique flavor unlike the other pâtés on this list.
Pâté de Foie Gras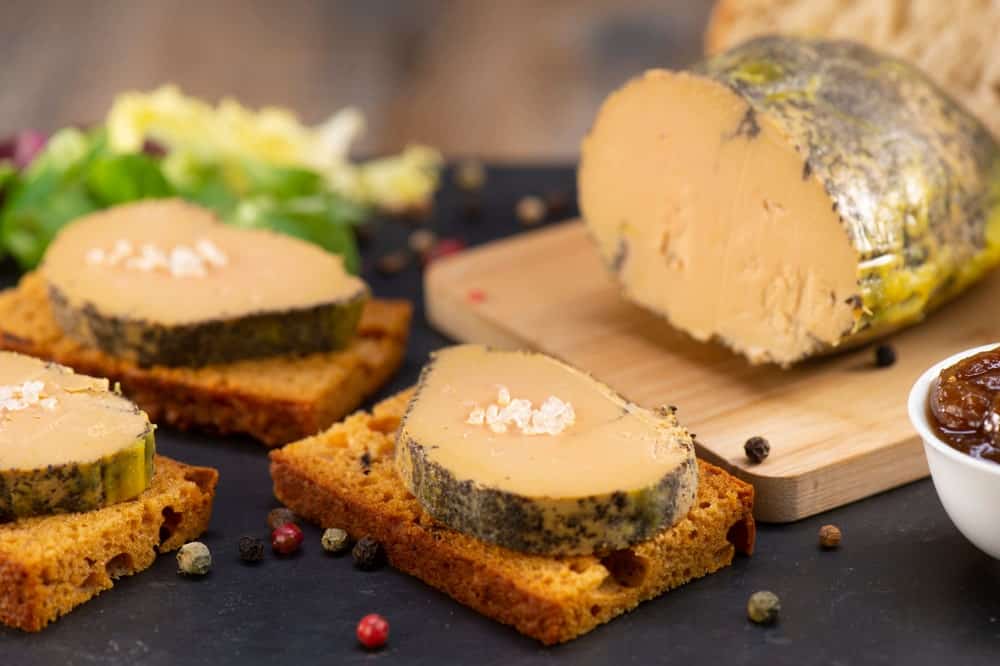 Perhaps the most popular pâté dish is foie gras, which means fatty liver. The dish is made specifically from the fattened livers of geese and ducks mixed with eggs, pork, and chicken liver. For centuries, similar dishes have been made through force-feeding these animals. In the late 1770s, French chef Jean-Joseph Clause made foie gras much more popular in France.
One of the most enticing aspects of foie gras is the fact that it is easy to spread, so it can be eaten with bread and crackers. One thing to keep in mind when you buy foie gras: goose liver is typically more expensive than duck liver. The taste varies as well.
Pâté Vigneron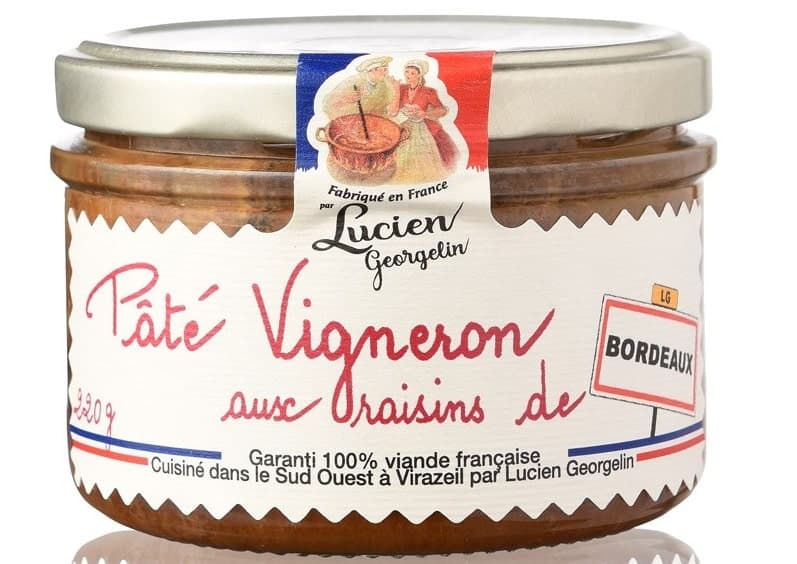 Source: Lucien Georgelin
This pâté dish contains pork cut into small strips. It is seasoned and marinated alongside white wine, parsley, onions, and a variety of spices before it is covered in a pastry. Typically, the pork contains a bit of nutmeg to create a savory flavor that suits the sweet nature of the crust. It is often served with salad and celery, and it pairs amazingly with white wine for those who want an authentically French experience.
Pâté de Gibiers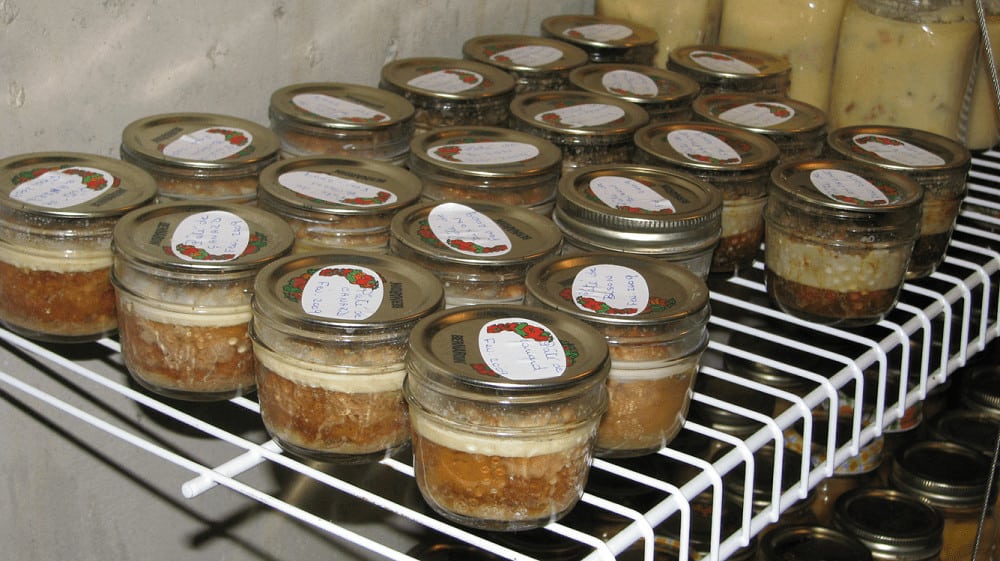 Source: La Cuisine De Michel
One of the most popular pâté dishes is the pâté de gibiers, which is made from farmed animals. If you see pâté de gibiers sauvage on a menu, it is made of wild animals like boar, quail, pheasant, and deer. In fact, pâté in general serves as a delicious mix of many different types of animals.
This kind of pâté is served in a variety of dishes, including lamb's lettuce salad and stewed shallots. Different versions, like pâté de Cerf aux marrons uses deer meat and chestnuts to create a decadent dish. This type of pâté is typically served hot and often alongside red wine.
Pâté en Croûte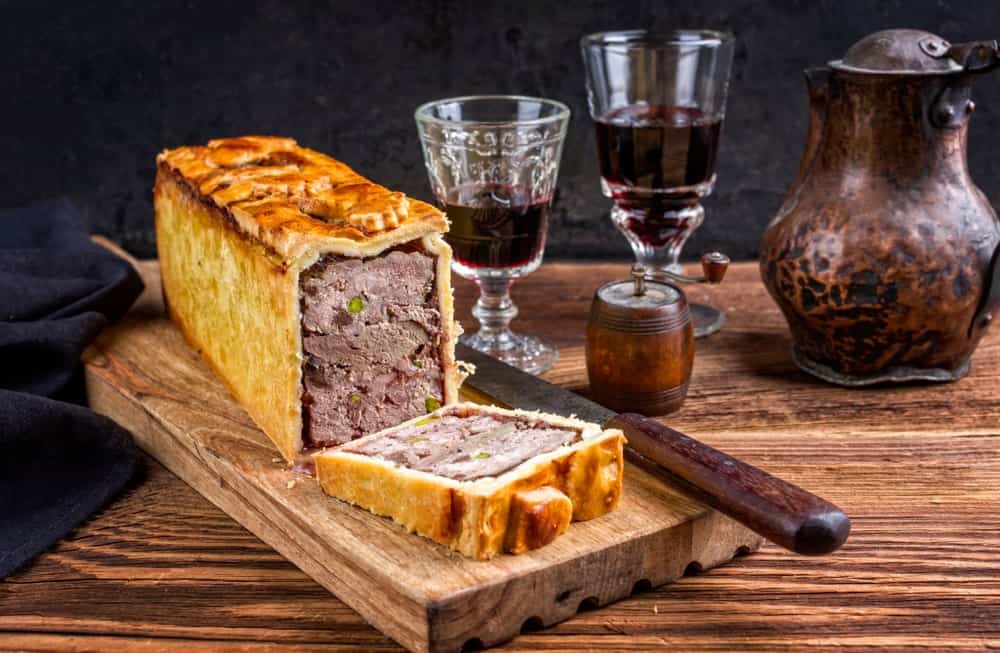 A delectable pâté en croûte is similar to a pie with its crusty pastry top. This is an old dish, actually dating back to the Middle Ages when it was a common feast dish among those living in the castles. Today, the meal typically consists of veal and pork, though it often contains poultry and other types of the game mixed with stuffings like nuts and mushrooms. When the pastry is full of chicken liver, it is known as pâté en croûte Richelieu.
This savory pie may also contain garlic, which adds a strong dash of flavor. Many people make their pâté en croûte with bacon as well. The bacon and a bit of wine add a rich flavor that many other pâté dishes do not.
Pâté de Champagne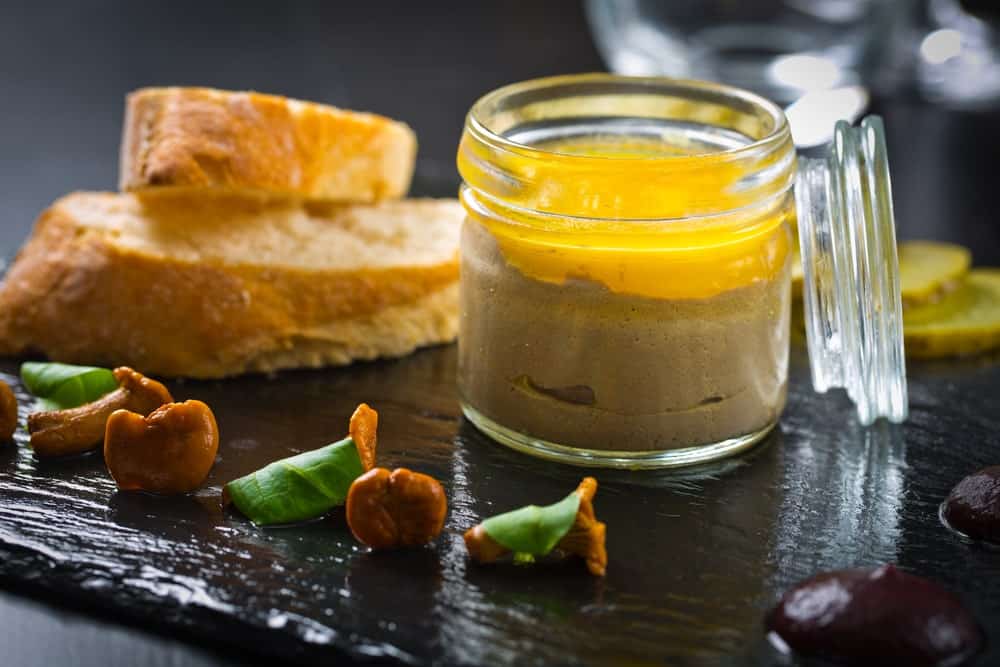 Pâté de Champagne is the easiest kind of pâté to prepare, and it is also the most affordable. For this reason, it is often associated with rural areas. It sort of involves the idea of using any trim of meat or garnishment that is available. It uses a small amount of liver as a seasoning and it is smoother, more ground than a dish like a pâté grandmère.
While this dish may sound very simple, pâté de Champagne contains a variety of garnishments like duck confit and smoked ham. It is moist and course, providing a great taste and texture for any discerning pâté lover. You will find that this option is the most "rustic" of the dishes listed here.
Pâté Lorraine
This is a traditional dish made from pork. It contains shallots and occasionally veal, all of which is covered with a pastry. In France, this dish may be eaten hot or cold. The meat is typically marinated in wine, parsley, thyme, shallots, and bay leaves.
While traditional pâté Lorraine contains a combination of pork and veal, many modern takes change up the meats involved. Rabbit and chicken are common additions to the traditional recipe.
Pâté Maison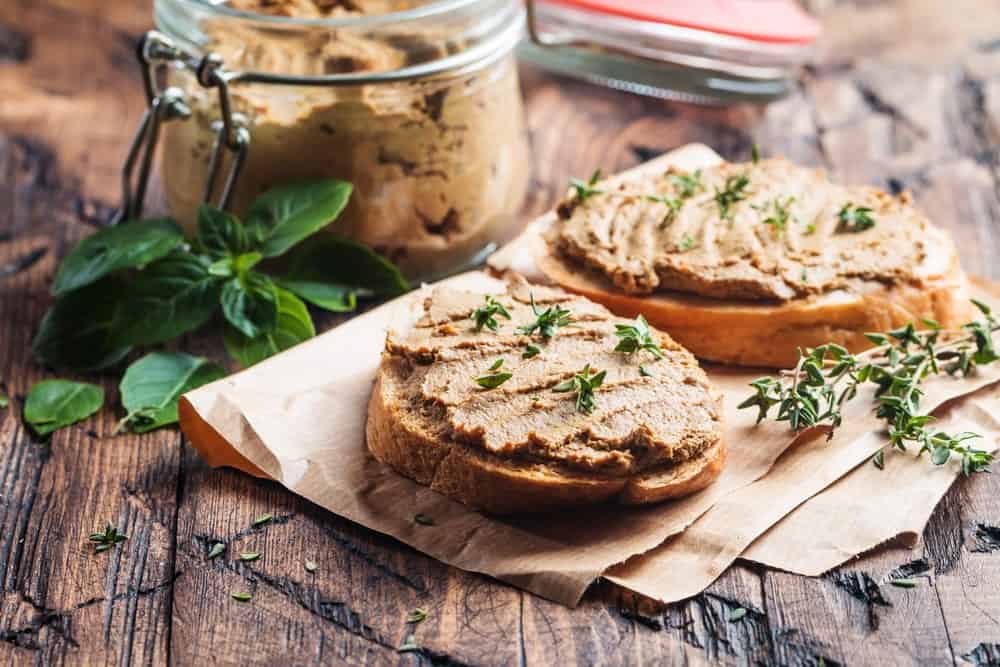 Pâté Maison contains pork and chicken liver, and its texture is more creamy than some of the others on this list. The pâté may be served on toasted bread with herbs and onions. It is often wrapped in bacon, which provides a unique shell for the meat inside. Lettuce and tomatoes make a great addition to this dish as aside.
Pâté Forestière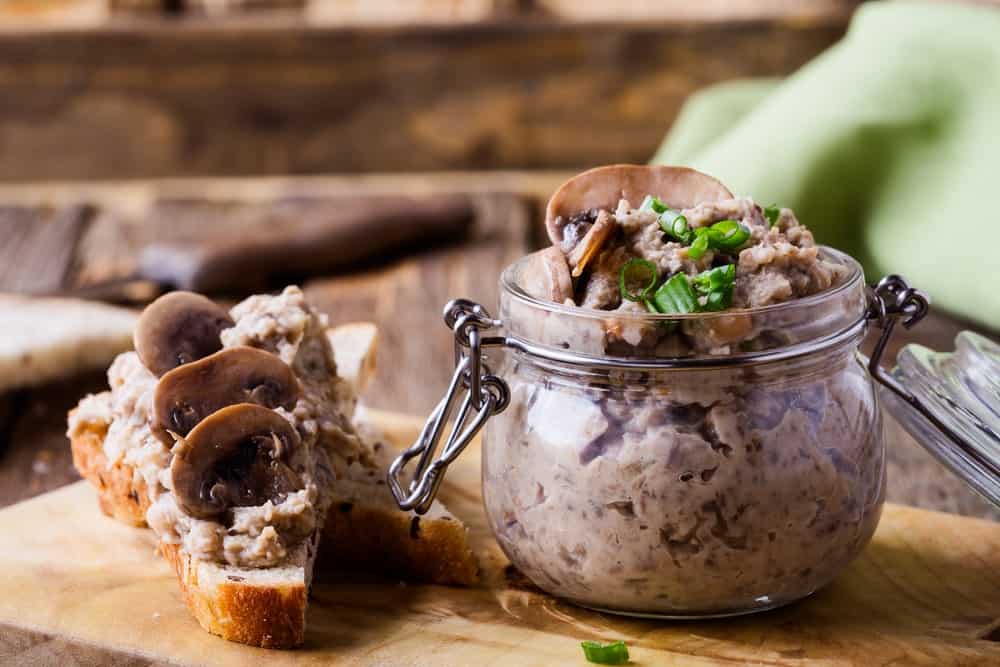 Pâté forestière is meat, including the liver, with mushrooms. This dish is extremely earthy, offering a distinct taste when compared to other forms of pâté. It definitely lives up to its name, offering a hint of the forest thanks to ingredients like pork liver, pancetta, cream, eggs, sherry, brandy, garlic, shallots, mushrooms, parsley, thyme, and truffle salt.
Enjoy One of Many Ways to Eat Pâté
As you can, see, there are many different types of pâté. There are also many ways you can enjoy pâté, no matter the kind of flavor you like. One of the most beautiful things about pâté is that it pairs so well with so many other different types of flavors, from bread to vegetables.
For instance, many people prefer to eat their pâté as a terrine, sort of like a meatloaf in American cuisine. It may be served with many different side dishes, like salads or potatoes. If the pâté offers a more distinct and wild flavor, you might consider it to go well with something like bread so that the flavors can really stand out.
Others might enjoy the dish spread on bread, perhaps as a snack or appetizer. Bread can be fresh, toasted, or served as a cracker. Pâté can even be part of a sandwich paired with fresh vegetables that add some crunchy texture.
It can also be eaten with breakfast, often mixed with eggs. It is often used to stuff vegetables like peppers and tomatoes or in dips, for carrots, celery, and broccoli.
Why Eat Pâté?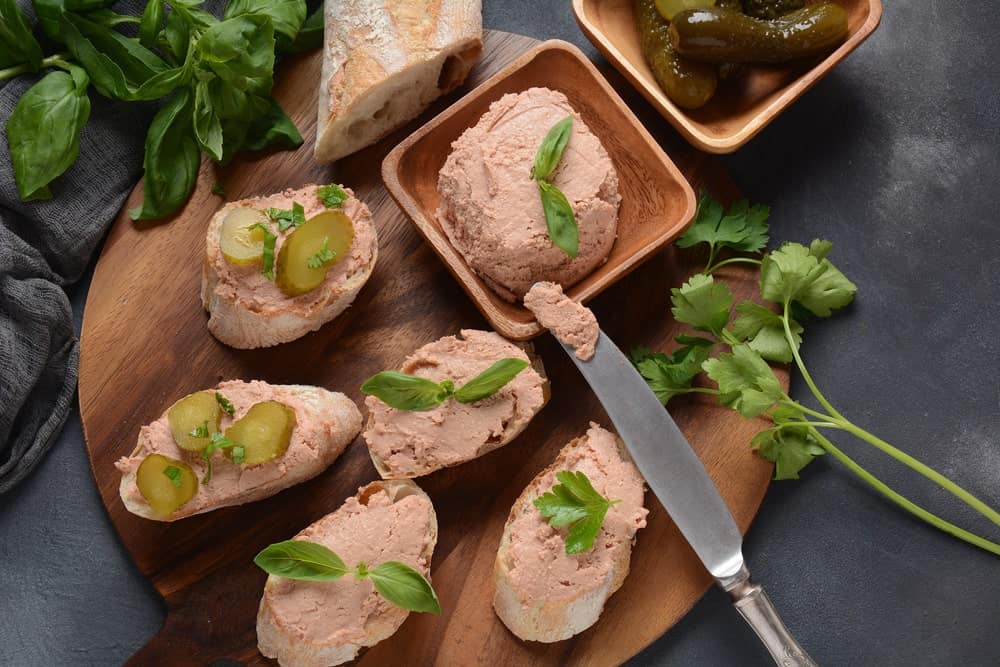 There are many reasons to enjoy a pâté dish, including the fact that it can be paired with so many other items. Whether you like pâté sandwiches or pâté on potatoes, you cannot go wrong with one of these options.
You should also enjoy pâté because it is packed with nutrition. For such small serving sizes, pâté is full of dense calories. It contains a significant amount of iron, copper, and protein. It is also full of Vitamin A, Vitamin B-12, and more.
Simply put, there is a reason why pâté is such a popular French dish. It is versatile and delicious, and it makes for a great meal or appetizer. The possibilities are endless, and you are sure to find a pâté variety that makes your taste buds sing.
There is not one right way to eat pâté. If you love a specific flavor combination, you are sure to enjoy some of the options on this list.