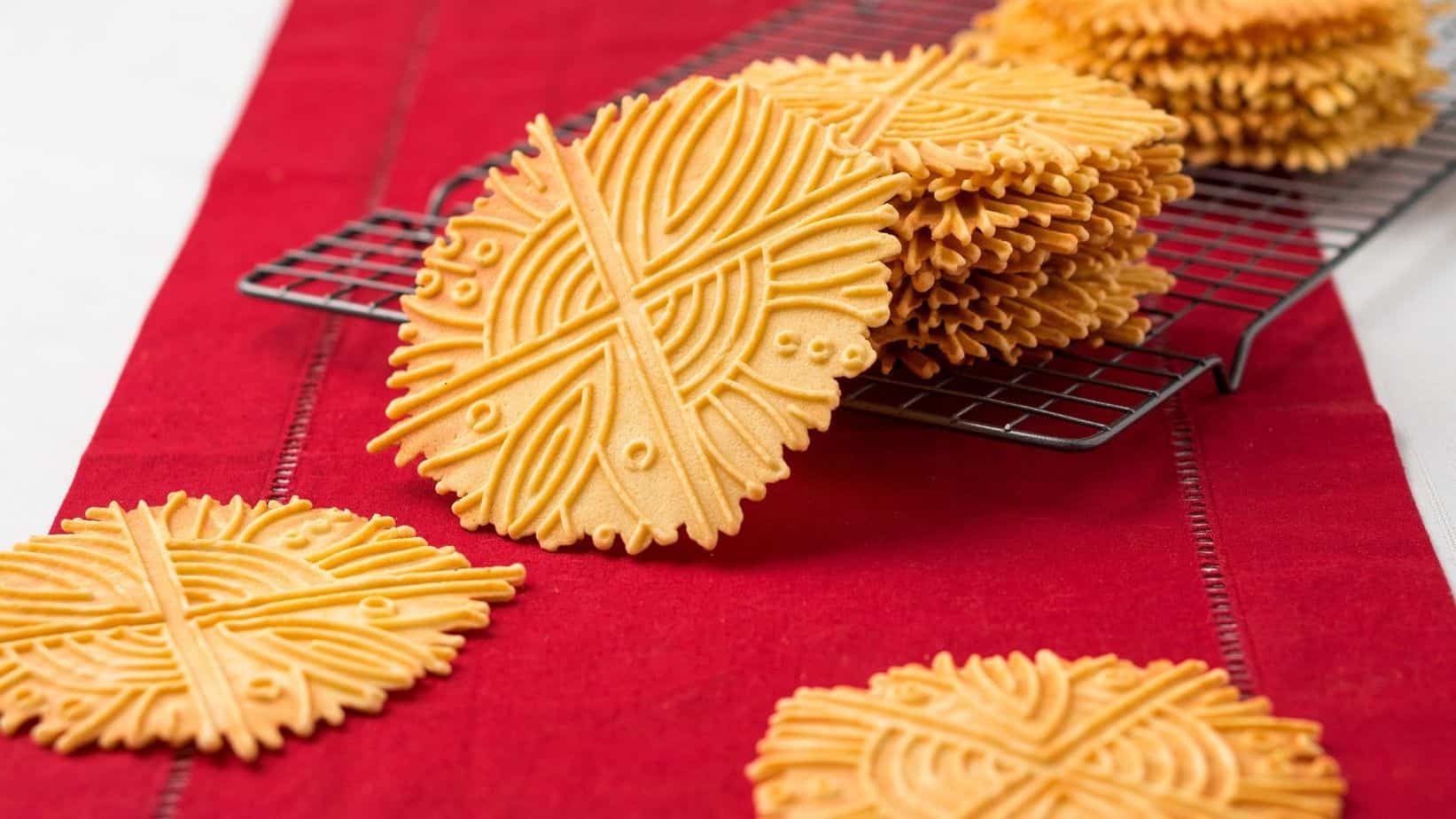 A popular holiday cookie for Italians, the pizzelle is a crunchy, thin, and light treat for the tastebuds. Using a pizzelle maker, these cookies are super simple to make, so you can easily enjoy them year-round! While many people follow traditional pizzelle recipes, they can be adapted to incorporate many flavors and uses. Then, you can enjoy the plain cookie by itself or even layered in a delectable ice cream sandwich.
Today, let's learn all about the history behind the pizzelle, how to enjoy them, and which pizzelle iron works best for making the perfect cookie.
What is a Pizzelle?
Some call the pizzelle the world's oldest cookie! Rooted in Italian history, it is a light and crispy waffle cookie. The typical pizzelle appear small and round with a design, but some come with scalloped edges.
Made from a batter of sugar, eggs, flour, and butter, the traditional flavoring of the cookie is anise (black licorice). However, there are many modern takes on the classic, including vanilla, lemon, chocolate, and mint. Truthfully, there are unlimited flavor possibilities.
Italians are well acquainted with this popular treat, making its appearance at Catholic weddings and celebrations like Easter and Christmas. The name comes from the Italian word pizze, meaning round and flat, and elle, meaning small.
History of the Pizzelle Cookie
A long time ago, the pizzelle cookie became an Italian favorite. Said to have originated from the south-central region of Abruzzo, two small villages there, Colcullo and Salle, claim to be the inventors of the popular dessert.
Both towns honor the cookie in their own special way. In Colcullo, they hold a festival called Festival of the Snakes. The legend goes that hundreds of years ago, the village was overrun with snakes. A monk named San Domenico came to the village and helped rid them of the pests. In celebration, the town made and ate pizzelle. To this day, the village still celebrates the festival, taking place on May 1st every year.
In Salle, they celebrate the 12th-century monk named Beato Roberto da Salle. Every July, they hang pizzelle from the trees and walk through the streets offering the cookie.
The origin of pizzelle may also be traced back to "bread stamps" of ancient Rome and Greece, where bread was stamped with geometric patterns as a religious offering.
Pizzelle also holds a resemblance to the Roman dessert crustule or crustulum. No matter where they come from, we're happy they are here and will gladly eat up the scrumptious treat!
What is a Pizzelle Iron?
To make these waffle cookies, you need a special tool called a pizzelle iron. Just like a waffle iron, you place dough inside, and the hot iron squashes it into the desired shape. The pizzelle makers typically have a decorative design engraved in them so your cookie will come out looking like a snowflake or other fun geometric shape.
In traditional Italy, the pizzelle iron came engraved with family crests and other meaningful designs and dates. Considered a prized family possession, they would be passed down to younger generations.
Made from iron plates, a traditional pizzelle maker was held over an open fire to heat the cookie dough. Now, modern plug-in options reign as the most popular. Scroll to the end to see some suggestions on pizzelle irons you can buy!
How to Make a Pizzelle Cookie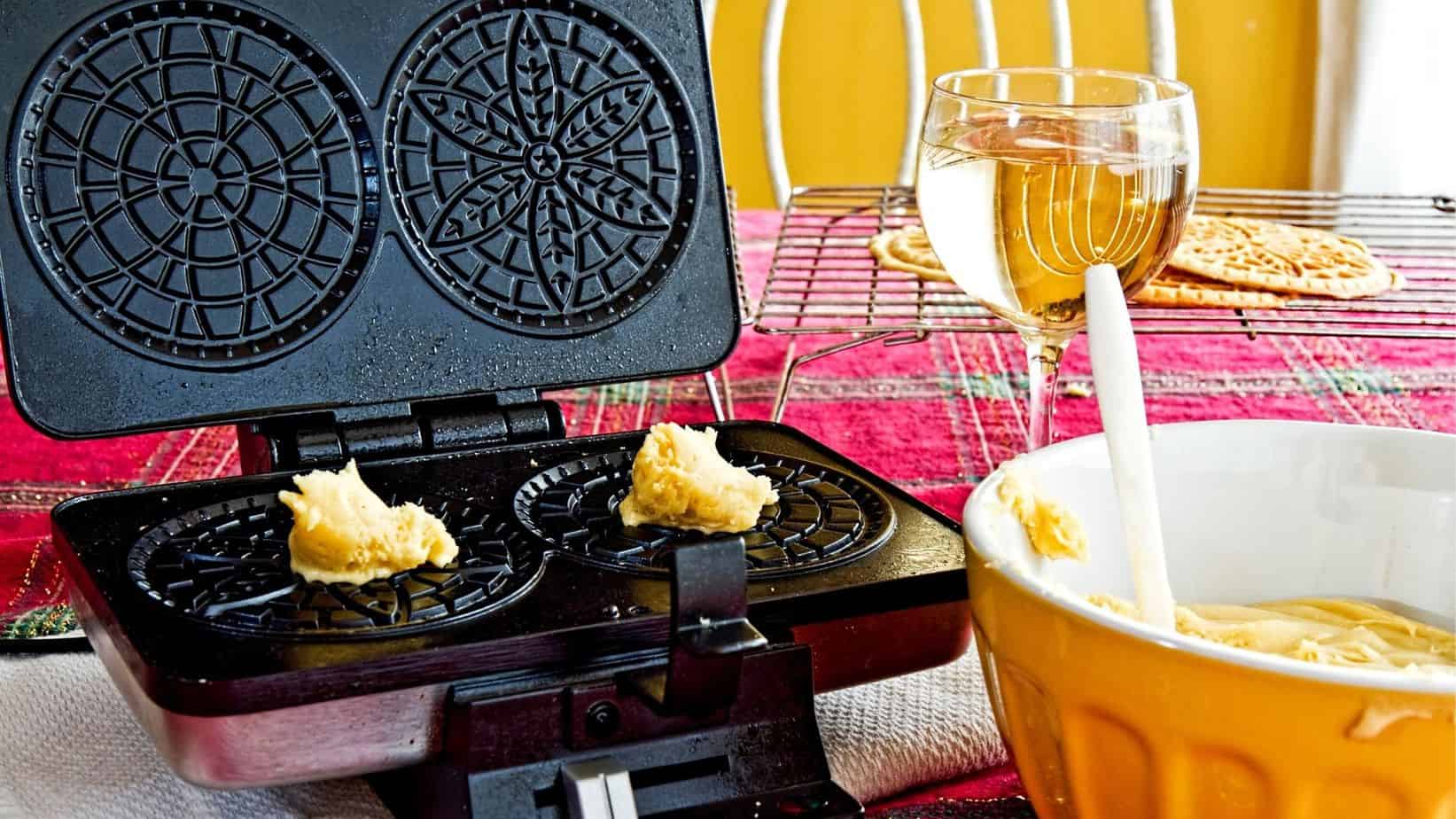 Making pizzelle is quite simple, as long as you have the right tools! Once you have your pizzelle iron, the batter can be made using a few simple ingredients.
To make pizzelle, you will take a dollop of the cookie batter and place it in the center of the pizzelle maker. Close the lid and allow the iron to do its thing. Remove the cookie and let them cool. They will be hard and delightfully crispy.
How to Eat Pizzelle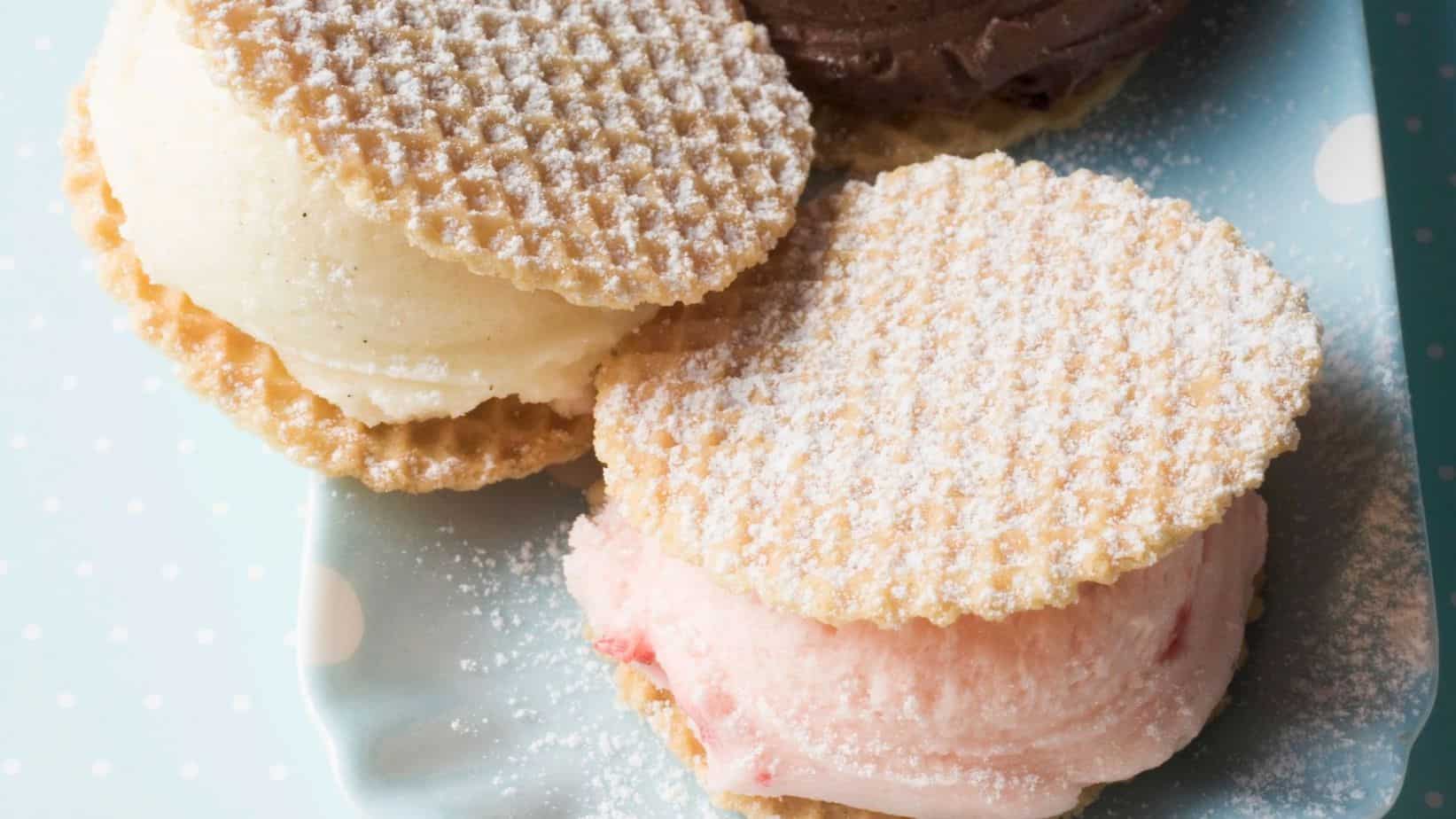 A very versatile dessert, pizzelle are simple and can be dressed up in many ways. Another popular way to enjoy them is by stacking layers of cookies with ice cream, jelly, or ricotta to make a sweet sandwich.
Pizzelle are soft and mouldable while still warm. Try wrapping the cookies around a tube while hot to create the cylinder for another famous Italian dessert – cannoli! You can also mold the pizzelle into cones for ice cream or gelato. Or, mold them into a bowl to house other desserts such as ice cream or fresh fruit.
To decorate pizzelle, add a fun food coloring to the batter, dip them in melted chocolate, and add sprinkles or dust with powdered sugar or cinnamon. No matter how you want to enjoy the pizzelle cookie, you and your family are sure to love them.
Here are a few more ideas on how to enjoy your pizzelle:
Pizzelle S'more
What happens when you combine an American classic with a traditional Italian dessert? A pizzelle s'more is the ultimate combination of the two countries, creating a delicious and ooey-gooey dessert. Drizzle a marshmallow with chocolate or prepare them the old-fashioned way over the campfire.
Pizzelle Toppings
If a plain pizzella doesn't satisfy your sweet craving, why not dress it up a little? Top off with your favorite nut butter, such as Nutella, peanut butter, or almond butter. Other amazing toppings include pudding, yogurt, jam, and whatever else your heart desires.
Crumbled Pizzelle
Chances are, not all your pizzelle will turn out perfectly. The first pizzella of a batch is notorious for sticking. If you have pieces that break, why not put them to good use? Crumble the pizzelle pieces over ice cream, sorbet, yogurt, custard, or on top of other desserts with whipped cream. You can also take larger pieces and stick them in a bowl of ice cream for an added crunch.
Cream Pizzelle
Create a delicious sandwich cookie by placing a dollop of whipped cream between two pizzelle. You can mix up the flavors by adding ricotta, cinnamon, cocoa, vanilla flavoring, peanut butter, and fruit. Popular fruit includes orange, raspberries, bananas, and dark cherries.
Chocolate Pizzelle
Why not add some chocolatey goodness to your cookie? Regular pizzelle can be dipped in melted white, dark, or milk chocolate or drizzled overtop with it. Alternatively, you can add some cocoa powder to your dry ingredients when preparing the batter or sprinkle some chocolate chips on top before you indulge.
Pizzelle Recipe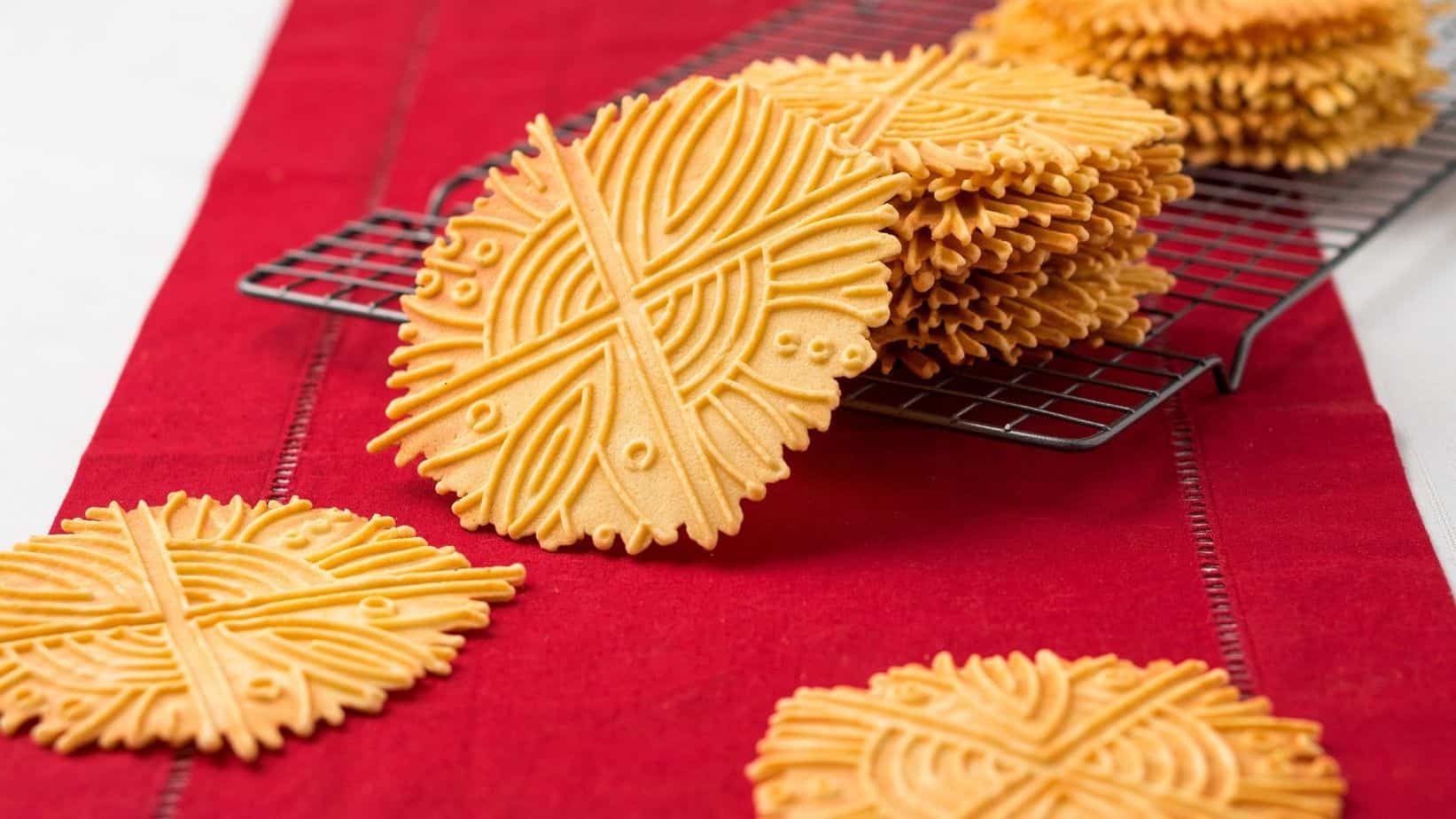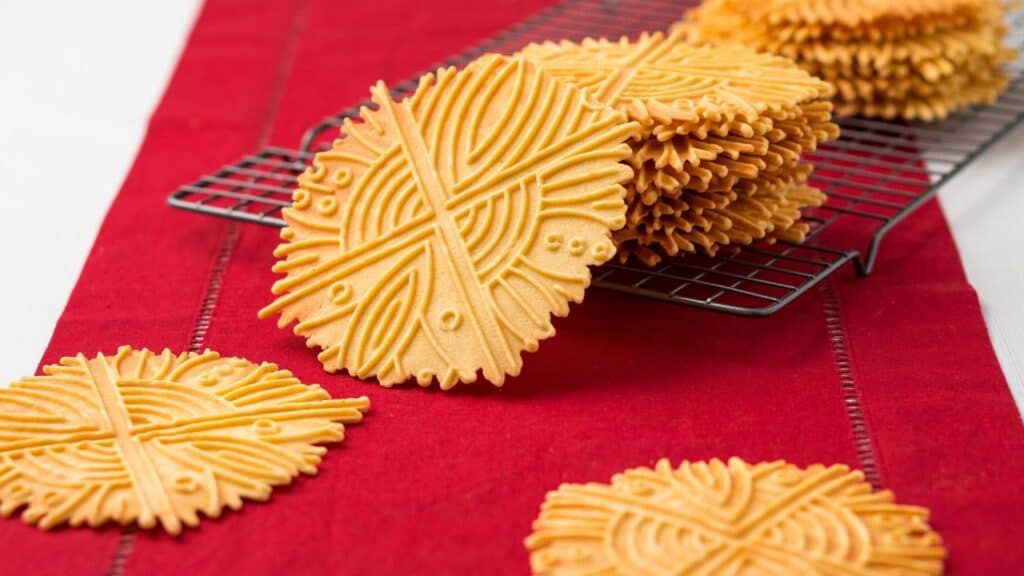 You may be surprised how easy it is to make some pizzelle cookie batter. These cookies are less complicated than a classic chocolate chip! Likely, you already have all the ingredients in your fridge and pantry. Here is a recipe inspired by The Suburban Soapbox.
Ingredients:
3 room-temperature eggs
¾ cup sugar
1 ¾ cup flour
½ tsp salt
½ tsp baking powder
1 ½ tsp of flavoring
½ cup melted butter
Instructions:
Using an electric beater, mix your eggs and sugar.
In a separate bowl, combine your flour, salt, and baking powder.
Add your choice of flavoring to the egg mixture. Common flavoring includes anise, vanilla, or lemon.
Slowly mix your egg mixture with the dry ingredients and fold in until combined.
Fold in your melted butter.
Heat your pizzelle maker. Once ready, place 1 tbsp of the batter in the center of the pizzelle design and lower the lid.
After 1 minute, check your pizzelle. Once golden in color, remove and let sit to cool.
Pizzelle Makers
Now that you know all about the pizzelle cookie and how to make them, you're going to need a pizzelle maker! Luckily, there are quite a few on the market that are easy to find. While you may think all pizzelle irons are the same, there are a surprising amount of options out there! Here are some popular makers and what is most appealing about each one.
Non-Stick Pizzelle Irons
Everyone has their own preference when it comes to regular or non-stick appliances. Non-stick pans tend to make removing pizzelle from the pan easy. And who doesn't love easy?
For the most traditional pizzelle cookie, this pizzelle maker creates two of the standard 5-inch cookies. These are ideal for creating cones and cannoli rolls! The pizzelle will have scalloped edges and intricate designs.
Non-stick with thick baking plates for even heat distribution, you can have pizzelle ready in just a few minutes. When done, swipe to clean. This model doesn't come with a timer, so you have to keep your own eye on the clock.
Sleek and easy to use, the Cuisinart pizzelle press is made from stainless steel. It creates 2 4" cookies with fun geometric designs. Included in this maker are a measuring scoop, wooden dowel, and recipe book. It also includes a 3-year warranty!
The most popular feature of this pizzelle maker is the 5-heat setting. This way, you can control how brown and crispy you would like it to be. When the indicator light shines, you will know your pizzelle is ready, just the way you like it!
Want just one pizzella? Sometimes a craving hits, and you don't want to make a ton of pizzelle. That's where this mini-maker comes in handy. Without taking up a ton of space, you can plug this in and have your cookies in a matter of minutes.
This maker is red and comes with a 1-year warranty. Reviews rave about easy cleaning and how simple it is to use.
If speed is your goal for making pizzelle, this iron can make up to 4 cookies at a time! They are smaller in size, just over 3 inches – the perfect bite-size! If making cannoli, you will likely need a larger-sized pizzelle maker.
Reviews say cookies cook in just 45-60 seconds and come out thin and crispy. Use the provided recipes or your family favorite.
Other Pizzelle Options
While non-stick pans make cooking pizzelle easy, some say they don't get as crispy as other makers and can be a pain to clean. Here are some other pizzelle makers that aren't non-stick.
Made in the USA, this pizzelle maker is made from cast aluminum plates. It comes with 3 designs, all 3 inches in size. This iron makes for smaller-sized pizzelle than the traditional kind. It also comes with a 5-year warranty, so you know your iron will be good for many years of cookie making.
Reviews from this product boast about its ease of cleaning and temperature control for evenly cooked pizzelle.
While electric is the most popular option for pizzelle makers, they aren't the only way to go! Traditional pizzelle irons were made from cast iron held over an open flame. With most of us not having open flames at the ready, stovetops are the next best thing!
While advertised to make Norwegian krumkakes, you can use this aluminum iron to create amazing pizzelle over the stove. Each cookie will have a flower print and will come out thin and crispy. It is designed with a large base that helps capture any batter spills or leakage and reduces any heat flare-ups.
This product works for all kinds of stovetops and is made in the USA. As a special bonus, it comes with its own wooden rolling cone and recipes.
If you plan on making cones out of your pizzelle, you will need a mold to help create their shape! To use one of these wooden molds, wrap the hot pizzelle around the cone and let it cool completely. Fill the cone with ice cream, whipped cream, jelly, or other fun sweet confections.
By investing in a good-quality pizzelle maker, you will have an ample supply of cookies for years to come. Make a batch for any upcoming holidays or simply because you feel like it! Crispy, light, and versatile – pizzelle has stood the test of time and continues to be a favorite cookie around the world.
FAQs
How many calories are in pizzelle?
Pizzelle generally has 60-80 calories per cookie.
Where to buy chocolate pizzelle
You might be able to find chocolate pizzelle at the grocery store or you can buy them on Amazon.
More Posts to Satisfy Your Sweet Tooth: