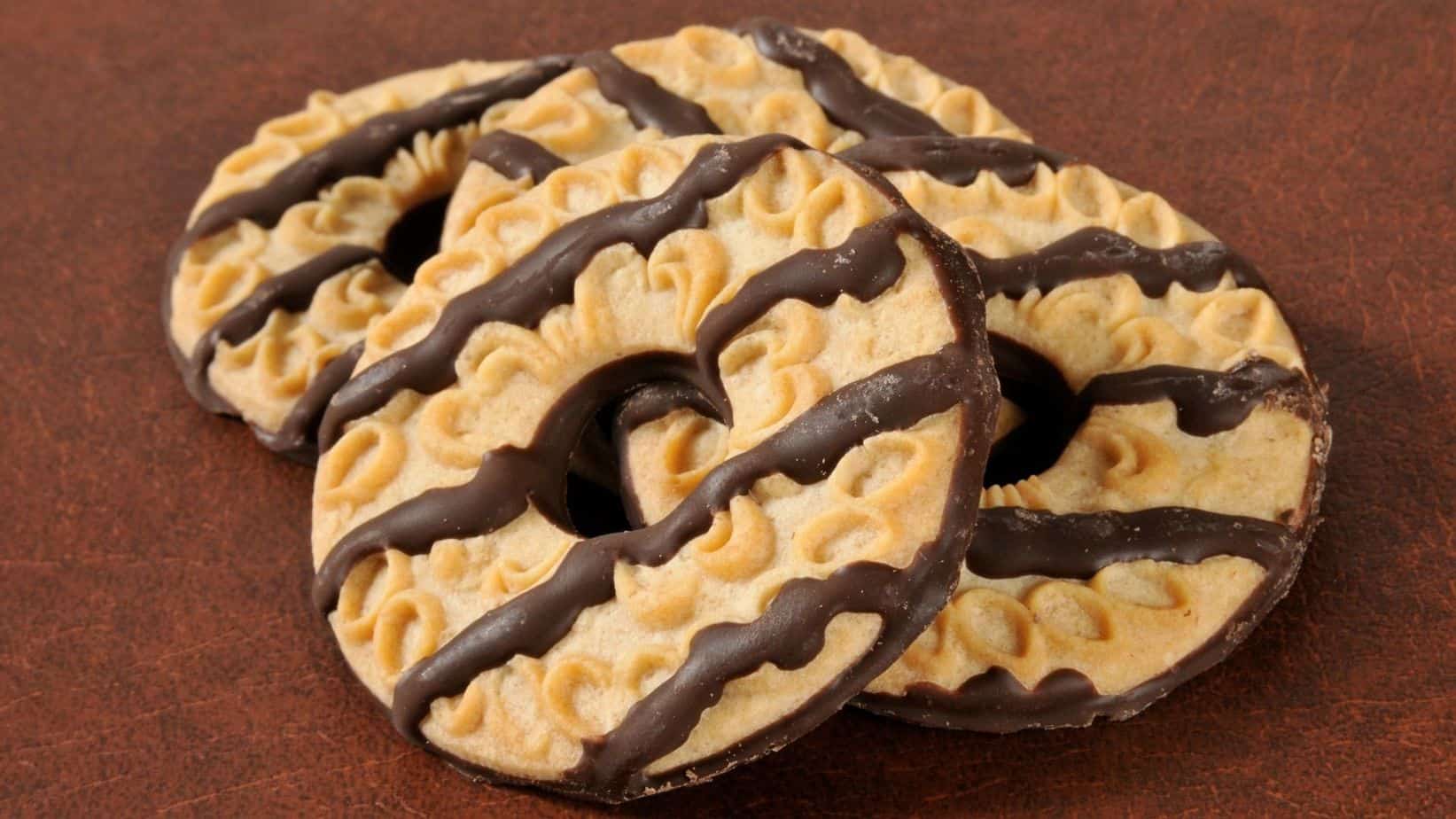 For decades, the Keebler Elves have been busy creating captivating treats to make your tastebuds hum in happiness. What do you really know about Keebler cookies – or the elves? Satisfy your curiosity on all things Keebler.
When was the last time you bit into a Fudge Stripes cookie from the Keebler elves? Since 1968, the elves have been busy little bees making these and other delicious morsels from The Hollow Tree Factory.
The Fudge Stripes might be their signature cookie, but the Keebler elves make many other popular cookies as well, including E.L. Fudge, Chips Deluxe, Fudge Sticks, and more. Chances are, if you've walked into a grocery store, you've seen the iconic yellow packaging with the red and white Keebler logo in the corner and tree leaves behind it.
I thought it would be fun to dive deeply into the history of the Keebler Elves, the company behind the classic Fudge Stripes cookies, and the goodies they bake up.
The Keebler Company: A History Lesson
The company itself was founded in 1853 when German-born Godfrey Keebler opened a bakery in Philadelphia, Pennsylvania. Over the years, he worked to build a network of bakeries locally and around the country.
The network decided to merge into one company in 1927 under the name United Biscuit Company of America. The merged company made an entire line of snack products.
At its inception, the United Biscuit Company included regional bakeries around the country; among them were:
The Keebler Company of Philadelphia, Pennsylvania
Bowman Biscuit Company of Denver, Colorado
Hekman Biscuit Company of Grand Rapids, Michigan
Strietmann Biscuit Company of Mariemont, Ohio
Over time, the company continued to grow thanks to the expansion of automobile use. By 1944, a total of 16 bakeries were a part of the network. They spanned the country from Philadelphia to Salt Lake City, Utah.
The company continued using the bakeries' regional brand names around the country. Then, beginning around 1963, it adopted a national brand name (Kitchen Rich) while maintaining the regional brand names.
As it turns out, it was the stepping stone to adopting a single uniform brand name for the company's product line of cookies and snacks. In 1966, the United Biscuit Company chose Keebler as the name of the company and the national brand.
As with most things, there is one exception: the company kept Streitmann's saltine cracker brand, Zesta, as the national brand of crackers for the Keebler Company.
Changing Ownership
United Biscuits of West Drayton, Middlesex, England, purchased The Keebler Company in 1974 and later sold it to a partnership in 1995. In 2001, the Kellogg Company purchased The Keebler Company in an effort to expand its offerings beyond breakfast cereals.
The strategy worked for a while until Kellogg decided to consolidate its brand offerings and sold The Keebler Company to Ferrero SpA in 2019.
Even as the company changed ownership several times, it continued to expand its product line from its headquarters in Elmhurst, Illinois. It also acquired the licensing to produce Girl Scout cookies and snacks based on the popular children's show Sesame Street.
The Introduction Of The Keebler Elves
In 1968, the ad agency, Leo Burnett, created the animated Keebler Elves for company commercials and called their bakery the "Hollow Tree Factory." Creative director Robert Noel oversaw the elves and adopted the unofficial (but fun!) title of "Vice President of Elves and Gnomes."
Keebler elves have appeared in numerous commercials over the years and are among the best-known commercial characters. The ads most frequently depict the elves baking their tasty morsels in their factory as the Keebler logo turns into the tree where the elves bake.
Different people have voiced the elves over the years, and the commercials have also used a narrator.
Products Made By The Keebler Elves
Baking up a large assortment of crackers and sweet treats keeps the elves very busy. Over the years, they've been spotted making:
Chips Deluxe Chocolate Chip Cookies
Chips Deluxe Rainbow Cookies
E.L. Fudge
Frosted Animals Cookies
Fudge Shoppe Cookies
Keebler® Ice Cream Cones
Magic Middles
Munch'Ems
Pizzarias Pizza Chips
Ready Crust® Pie Crusts
Scooby Snacks
Vienna Fingers Cookies
And More!
More Of A Good Thing: Flavor Variations
The product list above is by no means exhaustive, as some products mentioned have different variations that have appeared in stores at one time or another.
For example, there are many different flavors of the Fudge Stripe cookies. Those creative elves have developed many different flavors (most as limited edition offerings), including:
Whoopsy Fudge Stripes – These cookies were accidentally dunked in fudge rather than drizzled with it (or was Buckets the elf adding an extra dollop of fudge?) There are several flavor iterations of this variation.
Dark Chocolate Series – The cookie is chocolate, and the "fudge" has different flavors. This run of cookies also includes several varieties, including Dark Chocolate Mint and Caramel Fudge.
Red Velvet – A classic, no matter how you look at it.
Pumpkin Spice – Because you just can't ignore pumpkin season!
Birthday Cake – A white cookie with white fudge, complete with festive sprinkles.
Peppermint Fudge – Never let a good mint cookie go to waste during the holiday season.
Cinnamon Roll – Bursting with cinnamon flavor and drizzled with cream cheese-flavored fudge. Fuggedaboutit!
Strawberry Cheesecake – Two favorites swirled into one decadent cookie flavor.
No one wants their baker to get bored and stop baking! The Elves' decision to jump on board the flavor train was brilliant.
I'm just curious… how do they decide on their next flavor? Is there an elf meeting? A group vote? What flavor will they possibly concoct next? I guess time will tell, but I do not doubt that it will live up to its slogan of being "uncommonly good!"
Fun Facts About The Keebler Elves
Elves are often categorized as being mischievous or naughty. The Keebler elves, however, are no such thing. Instead, they're productive sprites who take pride in baking up scrumptious cookies and crackers in their tree bakery rather than in mass factories.
Here are a few other things you may not know about the Keebler elves:
How Many Keebler Elves Are There?
We've met close to 2 dozen Keebler Elves, although we know more about some than others.
Do The Keebler Elves Have Names?
Yes! For some of these elves, we know the origin of their names, and for others, it's a bit of a mystery. While I'm certain there are a few elves we haven't met yet, here are the elves we know by name and their role within the Keebler company.
Well-Known Keebler Elves
J.J. Keebler – This blustery elf was the original "king elf" we met in 1969.
Ernest J. Keebler – In 1970, Ernie, the best-known elf, became "head elf." He is depicted as a white-haired elf in a green jacket with a white shirt, yellow tie, a red vest, and floppy shoes. When he gets frustrated, he's apt to let out one of his three favorite folksy expressions: "Mercy!" "Gracious!" or "What in tarnation?!"
Elmer – As Ernie's apprentice, Elmer is eager to learn, ultra polite, and the only elf to wear an "apprentice" hat.
Elwood – The eager, energetic teen elf of The Hollow Tree who ran through the dough to make E.L. Fudge cookies.
Buckets – As "The Muscle" of the bunch, Buckets never does anything small. This often results in entertaining clumsy antics from the enthusiastic elf. His nickname comes from the extra-large portion of fudge he adds to cookies as he covers them in chocolatey goodness.
Leonardo – As the artist of the bunch, he's the elf you want painting those straight lines on the Fudge Stripes cookies.
Fast Eddie – Practically "The Flash" in elfin form. He doesn't say much, but he sure does wrap up cookies faster than it takes you to say what you want to be wrapped!
Roger – He's one tall elf, but where did his name come from? As the story goes, Ernie would ask him to release some rainbow magic for the Rainbow Chips cookies. His response was always to say "Roger!" and thus, a name was born.
Doc – The elder doctor Keebler elf who adds a touch of wisdom to all his baked creations.
Ma – The matriarch of the Keebler clan. She made her debut appearing in commercials for Soft Batch Cookies.
Lesser-Known Keebler Elves
Ollie – The second elf to appear was this singing, wise-cracking, golf-playing elf.
Florence (Flo) – She's the bakery's accountant and takes pride in adding loving care to every single cracker and cookie she bakes.
Sam – He starred in Wheatables commercials with Roger. He's named after the Keebler animation director, Sam Cornell, and has also been spotted as the peanut butter baker.
Zack – As the tree's foreman and Fudge shoppe supervisor, he's got a high-pressure role.
Zoot – Ernie's teen nephew who helped promote Pizzarias Pizza Chips.
J.J. – Another one of Ernie's nephews to help promote Pizzarias Pizza Chips.
Fryer Tuck – He appeared as the "Munch-ems" spokesman.
What Kind Of Tree Do The Keebler Elves Live In?
The actual type of tree that houses the Hollow Tree Factory is a bit of a mystery. Although, we have learned quite a bit about the bakery from seeing it in commercials over the years.
It Never Drops Its Leaves
Even though we can clearly see that it's a deciduous tree, it never loses its leaves.
It's Much Bigger Inside Than It Looks
The tree may look ordinary and calm on the outside. However, the inside tells a very different story. It's a near-constant hub of elfin activity within the network of rooms, halls, chambers, staircases, and (possible) cellars.
It's Always Fully Stocked
No bakery can function at full capacity unless it's stocked and ready to go. The Keebler Elves keep their bakery humming at peak efficiency and performance by having a fully stocked supply of all necessary tools and ingredients ready to go at all times.
And by that, I mean it's constantly shifting to meet the ever-changing demands of the next item in the baking queue. 😉
We have seen the elves use:
Flour
Fudge
Nuts
Chips
Pots
Pans
Spatulas
Aprons
Rolling Pins
Whisks
Cooling Racks
Tables And Chairs
Wagons
Carts
Wheelbarrows
Don't forget the "Fudgeterranean Spring," that flowing fudge river that makes filling the elves' fudge fountains possible!
It Has Some Modern Touches
As technology grows and changes, so does the Hollow Tree Factory. It currently boasts a rotary phone and rainbow cannon. Just be careful and take the cannon outside the tree before shooting it!
Are The Keebler Elves Real?
Thanks to their commercial success, an entire generation of kids spent years asking if the Keebler Elves were real. While they were created for marketing purposes, their work and products have become the stuff of legends.
Do you believe in elves living in a hollow tree in Sylvan Glen and baking cookies the old-fashioned elfin way from uncommonly good ingredients that hold a touch of magic in every bite? If so, then (at least in a small sense), yes, the Keebler Elves are real.
Tiny Elf Doors Seen Around The Country
The Keebler Company commissioned artists around the nation to make tiny doors to add to tree bases in cities such as Kansas City, Orlando, San Francisco, and Cincinnati.
While no specific elf or Keebler branding existed, the campaign successfully attracted attention and spread some elfin magic.
The Keebler Elves: Making One Delicious Morsel At A Time
For decades, the Keebler Company has been using that special elfin magic to create deliciously irresistible cookies and crackers. Thankfully, they seem to be in no hurry to stop anytime soon since their creations are as timeless as the elves themselves!
More Treats You'll Love