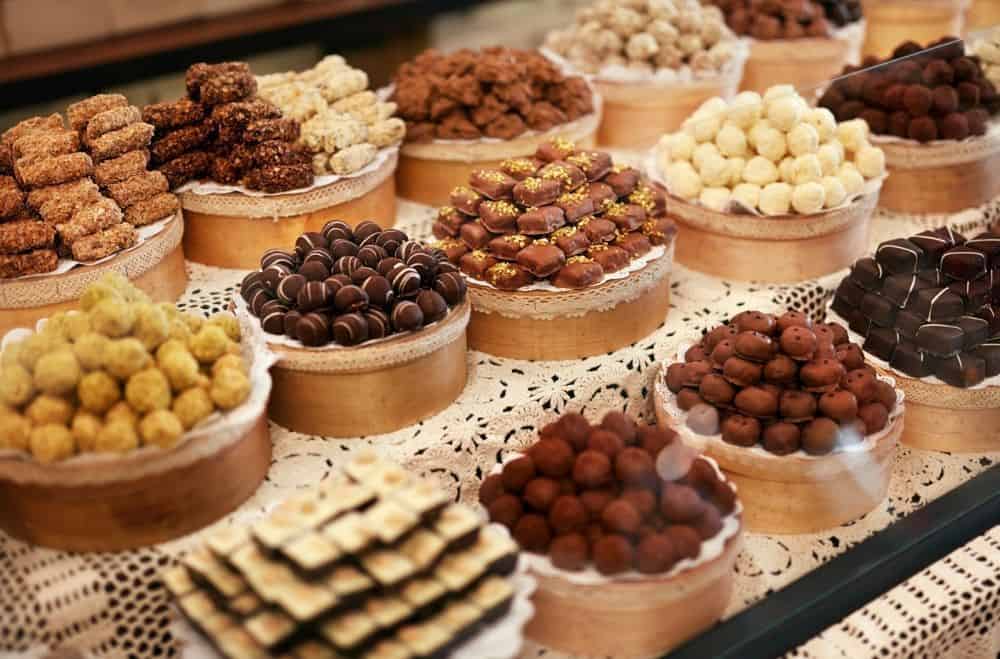 The Rocky Mountain Chocolate Factory is synonymous with excellence. Learn how a dream brought about the company's humble beginnings and turned a small one-store operation into an international brand.
If you're anything like me, just hearing the name Rocky Mountain Chocolate Factory makes your mouth start to water in anticipation of chocolatey deliciousness. Walk into any of the company's shops, and you'll instantly be surrounded by homey mountain vibes and tantalizing aromas of chocolate, caramel, toffee, fudge, and more.
Chances are that if you've visited a popular destination city in the US or Canada, you've seen one of its 250+ locations. It's a company that has locations worldwide now. However, Rocky Mountain Chocolate started as a small one-store business in a tiny mountain tourist town.
Let's dive into the history of the company. Along the way, you'll learn 10 yummy facts you may not know about the Rocky Mountain Chocolate Factory.
A Sweet History: How The Company Began
Frank E. Crail was an entrepreneur running a successful technology company in Newport Beach, California. Even though he had a prosperous company (CNI Data Processing, Inc), he and his wife had a dream of raising their seven children in a small town.
They ultimately chose the historical town of Durango, Colorado, for its quaint and quiet small-town charm. Once settled, he began researching entrepreneurial possibilities. He narrowed his options down to opening either a car wash or a chocolate shop.
Durango is a tourist town in Southwestern Colorado that is known for its outdoor activities, nearby ancient ruins (including Mesa Verde National Park), and scenic railroad. Thousands of people flock to the town each year, making it a perfect location for a chocolate and confectionery store.
The town had no candy store at the time, and Crail has said in interviews that he didn't want to own a car wash. That left the option of opening a candy store!
In an interview with Candy Industry, he revealed that he would have been satisfied with opening a See's Candy store. Unfortunately, the company wouldn't allow franchises. Instead, he enlisted two partners, and together, they opened the first Rocky Mountain Candy Factory (RMCF) location on Memorial Day in 1981, right on Main Street in the heart of Durango.
Rocky Mountain Chocolate Factory's Rapid Growth
The company quickly expanded and opened shops in Aspen, Breckenridge, and Boulder, Colorado, within a year. Next, the company set its sights on expanding through franchisees and opened its first franchise in 1982. The first two franchise locations were in Colorado Springs, Colorado, as well as Park City, Utah.
Following the lead of these first shops, many new stores have opened in vacation destinations in order to capitalize on tourist traffic and willingness to spend money.
Crail's partners left the business in 1983, and the company went public in 1985. In 2002, the company built a factory on the town's outskirts in order to provide the ability to supply its franchises throughout the country and the world with high-quality products.
This brief history may sound all rosy, but the company hasn't been without its challenges. At one point, the company was so undercapitalized that it couldn't afford to pay its suppliers. However, Crail was determined to turn it around and made some necessary changes to help it not only become profitable but turn into an international brand.
Forty years after first opening, that original shop still stands on Main Street, luring in both tourists and locals with its tempting chocolate sights and smells.
Franchise Opportunities And Costs
When Crail experienced financial challenges with Rocky Mountain Chocolate, he restructured the company to focus more on franchises. Now, the vast majority of RMCF locations are independent franchises.
Think you might want to open up one of these delicious stores yourself? Or simply curious about how much a franchise would cost to open and run? Here's what you'll need to know.
Initial investment costs – you're looking at up to about $475,000, including the initial franchise fee of $25,000. Those initial costs pay for things like equipment, supplies, business licenses, real estate, and startup capital. If you're a military vet, you can reduce the initial franchise fee to $15,000.
Net worth requirement – you must have a net worth of at least $250,000 in order to qualify to become a franchisee.
Cast requirement – in order to qualify to become a franchisee, you must have $100,000 in liquid capital.
Royalty fees – as a franchisee, you'll pay Rocky Mountain Chocolate an ongoing 5% royalty fee for the ability to run the franchise, as well as an ad royalty fee of up to 2% to support company advertising costs.
Opening a franchise is no small task, nor is it a "get rich fast" endeavor, but it is a way to provide people with something that helps them enjoy the sweet side of life! RMCF looks for franchisees who are serious about working hard to carry on the high standard of quality that Crail holds as the foundation of the business.
10 Fun Facts About The Rocky Mountain Chocolate Factory
Think you know everything there is to know about this company now? These 10 facts may surprise you!
1. Rocky Mountain Chocolate Factory Locations Include International Spots
Rocky Mountain Chocolate is a confectionery manufacturer and retail operator with franchises currently located in several countries, including Canada, Japan, South Korea, the Philippines, and the United Arab Emirates.
As the largest candy store chain in the United States, RMCF now has more than 270 locations worldwide, many of which are located in popular tourist destinations.
The company's large 53,000-square-foot factory on the outskirts of Durango, Colorado, manufactures a huge line of chocolates and other confectionery offerings to supply its international franchise locations with the help of fleets of refrigerated trucks.
In addition, Rocky Mountain Chocolate even developed small kiosk concepts to make it possible for RMCF locations to open shops in expensive malls around the country.
2. The Company's Signature Product Was an Accident
Believe it or not, Crail and his partners didn't know how to create confectioneries. They learned by making their first creations literally on a ping-pong table!
From the beginning, they failed to properly account for the additional weight and size that a chocolate coating would add to their candies. Because of this, their candy centers were far too large. Plus, if the candy didn't "look right" after the first coating, they would coat it in chocolate again!
The end result was a product much larger than any other confectionery offered. However, the oversized (some might say mountain-sized!) candies took off and have been a trademark of the company ever since.
Rocky Mountain Chocolate Factory's signature offering, the Bear™, is a large nutty caramel center with a heavy chocolate coating to create a popular fine chocolate offering as large as a bear's paw (no exaggeration there!).
Another signature offering, the Bucket™, is a huge "bucket-sized" peanut butter cup.
3. A Scrumptiously Desirable Super-Sized Concept
Crail had no background as a candy man when he began his company. His oversized first attempts at chocolate candies would likely have made him a laughingstock among seasoned confectioners. However, the customers loved the super-sized offerings! As a result, they quickly became a popular staple for the company.
Moreover, his decision to open shops in tourist destinations was practically a stroke of genius. Tourists are looking to experience new things, spend money, and aren't worried about sticking to diets. Plus, they're often on the hunt for gifts to bring back home to family and friends.
4. Rocky Mountain Chocolate's Sweet Offerings – 300 of Them!
Rocky Mountain Chocolate produces around 300 different high-quality chocolate candies and confectionery products. They're all made from the recipes created by the company's master candy maker.
The company is known for its scrumptious candy, apples, fudge, bears, and buckets. However, the Rocky Mountain Chocolate Factory also sells a huge variety of:
Nut clusters
Buttercreams
Meltaways
Caramels
Toffee
Truffles
Molded chocolates
Chocolate-dipped fruits, nuts, cookies, and pretzels
Whether you're looking for caramels, clusters, truffles, or fudge, you're sure to find something delicious at Rocky Mountain Chocolate Factory!
5. Dessert and a Show: Watch Employees Create Items in the Store
One popular and memorable feature of Rocky Mountain Chocolate Factory stores is that customers can watch employees prepare confections in-house. Fudge, candy apples, and many other confections are made every day by hand using traditional tools.
Fudge is one item that's made fresh daily. Tourists delight in watching the employees mold a batch of fudge into a huge 22-pound "block" on a cold marble slab! Love caramel apples? Watch employees coat apples in hot caramel and enjoy up to 30 different varieties in some stores!
It's experiences like these that help Rocky Mountain Chocolate stand out in a sea of chocolate confectioneries.
6. Products For Special Dietary Needs
Recognizing a lacking supply in the candy world for people with a variety of special dietary requirements, RMCF worked to develop a decadent line of sugar-free and no-sugar-added offerings. Depending on what your particular dietary needs are, Rocky Mountain Chocolate Factory may satisfy you.
7. Focus On High Quality
Frank Crail runs his business with an emphasis on providing the highest quality products for his customers. His effort shows because Rocky Mountain Chocolate once beat out See's Candies, Godiva, and even Teuscher Swiss Chocolates in a blind taste test!
In addition, he seeks high-quality franchisee owners to help carry on his vision of providing high-quality products. The combination of great products and great people keeps customers coming back for more year after year or anytime they visit a new destination location.
8. Great Gift Ideas
A fun and interesting shop concept naturally lends itself to be an ideal gift idea. You can certainly walk into a store and buy hand-picked treats to bring home as gifts. Or pick up packages containing a variety of candies in standard packaging. That's a gift almost anyone would love to receive, right?
Other options include specialty packages in decorative tins for holidays or special occasions. Additional packages are available for purchase online.
What's more, the company is always willing to accommodate special requests for:
Catering for special events such as weddings or family reunions
Fundraising opportunities
Corporate gifts
Whether you want a simple gift or an upscale one, Rocky Mountain Chocolate Factory has the perfect selection!
9. Across The Board Appeal
The original concept of Rocky Mountain Chocolate Factory may have been aimed at tourists, but locals love the decadent treats as well! The tourist foot traffic runs strong during peak travel seasons. Then the locals buy the chocolate candies for the rest of the year.
The company took the idea of a simple candy shop and elevated it to create a boutique concept for chocolate candies. What was once a sweet treat for every man became a delicacy of its own, appealing to everyone from families to wealthy connoisseurs.
10. A US-Based Company (not Canadian!)
Interestingly, one of the most frequently asked questions about Rocky Mountain Chocolates is this one:
Is Rocky Mountain Chocolate Canadian?
This is a misconception that some people believe because of the company's name. When many people hear "rocky mountains," they think of Canada. In truth, the Rockies are a massive mountain range that stretches from central New Mexico through several states as it heads north into Canada.
No, RMCF is not Canadian. It's very much a company born and bred in the United States, as the company and its owner both hail from Small Town, USA.
FAQs
Is Rocky Mountain Chocolate gluten-free?
Most of its products are naturally gluten-free but are produced on machines that could potentially be cross-contaminated with gluten. Only the company's single-origin Guittard bars are verified to be fully gluten-free.
Is Rocky Mountain Chocolate Kosher?
The company offers some certified kosher products. Make sure to check the label to verify before purchasing.
Is Rocky Mountain Chocolate Vegan?
The company offers vegan fudge as well as dark chocolate candies that are vegan. Check the packaging label to verify for purchase.
More Delicious Candy Bliss