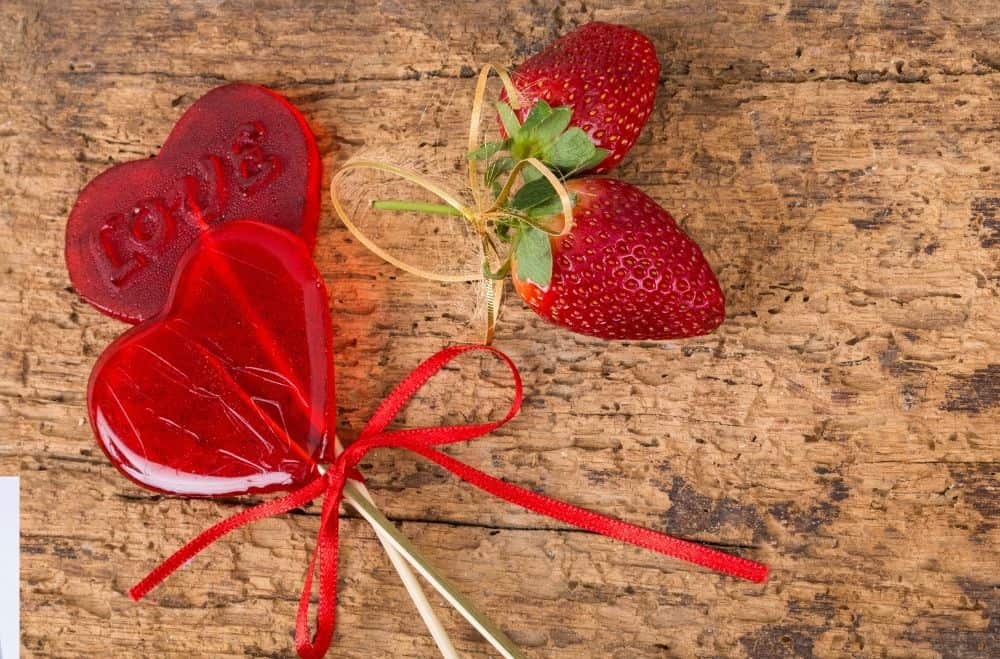 Strawberries are the kind of fruit that makes you feel love at first bite. There are so many fun facts about these heart-shaped delights, but the most important thing you need to know is how delicious strawberry-flavored candy is! Here's a list of the top 10 strawberry candies that are guaranteed to delight your taste buds.
1. Twizzlers
Twizzlers Twists candy in strawberry flavor is a classic red licorice candy that has been loved by candy lovers across many generations ever since it was introduced in 1929. These strawberry-flavored licorice twists are fruity and chewy, low-fat snacks that are delicious as is or can also be used to embellish baked goods or even use as a straw.
2. Strawberry Starbursts
Starburst is the brand name of a box-shaped, fruit-flavored soft taffy candy manufactured by The Wrigley Company. Strawberry is, without a doubt, the most popular flavor. They also come in lemon, orange, and cherry.
3. Strawberry and Cream Hard Candy
You really can't go wrong with Strawberries and Cream Hard Candy. Manufactured by Creme Savers, it was a spinoff candy of Life Savers and was produced by Nabisco in the late 90s. These beauties brought you back to simpler times, like munching on a few of them from Grandma's candy stash when you were a kid.
4. Trolli Strawberry Puffs
Trolli Strawberry Puffs are strawberry-flavored gummies that have a soft and fluffy texture with a tangy coating. Like floating on a cloud, these gummies will carry your taste buds over the rainbow!
5. Strawberry Filled Hard Candy
The crunchy candy shell of these candied strawberry treats hides a sweet inner core of soft strawberry-flavored filling. If strawberry is one of your favorite flavors, you'll love having strawberry hard candy in your candy bowl at all times!
6. Strawberry Sour Punch Straws
Surprise your taste buds with a tangy-sweet combination in this strawberry-flavored soft and chewy straw. These chewy, fruity sweet, and sour straws are ideal for pleasing those sour candy cravings.
7. Strawberry Bon Bons
These strawberry drops offer an enjoyable mix of tart and sweet, with a hard outer shell and a soft gel hidden inside. Go ahead and pop a Strawberry Bonbon into your mouth for a taste that will remind you of parades and sunny afternoons.
8. Strawberry Sour Patch Kids
Sour Patch Kids Strawberry Soft and Chewy Candy will entice your taste buds with a refreshing twist on a classic flavor. The intense strawberry flavor gives this soft candy a mischievous flavor that will excite your palate.
9. Strawberry Malt Balls
Experience a pleasing twist on classic candy with these strawberry malt balls. These will allow you to experience the delectable flavor of a strawberry malt shop shake anytime, anywhere.
10. Strawberry Jolly Ranchers
Jolly Ranchers have managed to boost the reputation of hard candy to a place of honor by wrapping a rainbow of neon candies into tight bows and packaging them in cheerful bags. Strawberry is one of its best flavors, thanks to its cloyingly sweet taste.
Strawberry Fun Facts
Strawberries wear their seeds on the outside, with the average berry having around 200 of them. So don't be surprised if these immediately get stuck in your teeth during your first bite.
Despite their name, strawberries aren't berries like blueberries or grapes. Technically, a berry has its seeds on the inside, while the strawberry, as mentioned above, has its seeds on the outside.
Strawberries are close relatives of the rose. So the next time you see strawberries growing on a bush, get closer, inhale, and find out that they smell as sweet as they taste.
The strawberry is considered to be a perennial, which means they go through a period of dormancy in the winter and return each spring ready to go again. Don't be surprised if they don't bear fruit right away. Be patient and rest assured that once they do, they would remain productive for the next half-decade or so.
Americans certainly love their strawberries and eat an average of three and a half pounds of fresh strawberries every year. If you count the frozen variety, that figure gets bumped up to five pounds! A research study also determined that more than half of nine-year-olds in America chose strawberries as their favorite fruit.
Belgium loves strawberries so much that it had a museum made to honor them. Called Le Musee de la Fraise (The Strawberry Museum), it has a gift shop where you can purchase everything from strawberry jam and even strawberry beer!
More Fun Strawberry Facts
Native Americans enjoyed strawberries long before European settlers came to the United States and often baked them into cornbread.
Ancient Romans believed that strawberries had medicinal properties and regularly used these to treat a wide range of ailments that, included depression, kidney stones, sore throat, and even bad breath.
The French believe strawberries are an aphrodisiac and served them newlywed couples at traditional wedding breakfasts.
Strawberries may lessen the risk of heart ailments and particular cancers, are low in calories, and are rich in vitamins C, B6, K, fiber, folic acid, potassium, and amino acids.
Strawberries hold potent levels of nitrate and are known to raise the flow of blood and oxygen to the muscles. Studies conducted have shown that people who eat strawberries before working out have better endurance and can burn more calories.
The state of California is the biggest producer of strawberries in the United States, producing an estimated 80% of the country's stock. Producers there grow around two billion pounds of strawberries every year.
You Might Also Like: