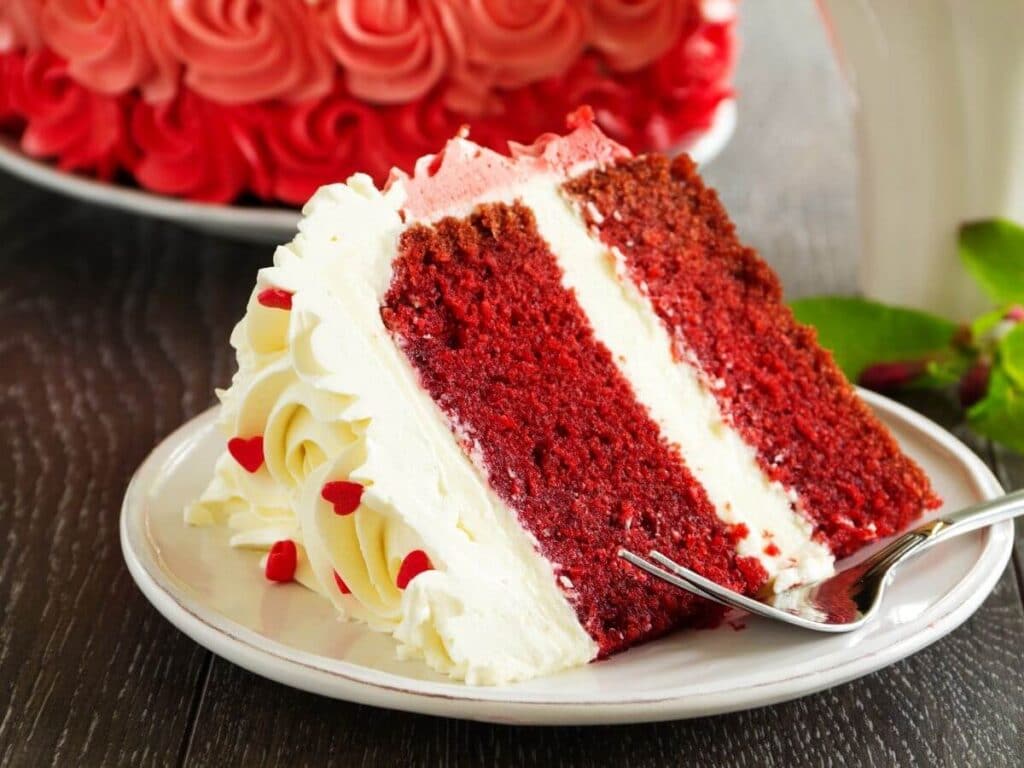 Are you planning to surprise your loved ones with a delicious dessert for Valentine's or any day really? If yes…your search on "how to make red velvet cake from chocolate cake mix" ends here.
I am a self-professed freak for red velvet cake! And when I make it for my family and friends, no one can stop eating it. It is a light, moist, and soft chocolate layer cake with a hint of red that is visually appealing and utterly delicious. The texture of the cake is so soft, and I just love the creamy white frosting.
What Is Red Velvet Cake?
Traditionally, red velvet cake is a red, brownish red, scarlet, or crimson chocolate layer cake covered with ermine frosting. Buttermilk, cocoa, butter, flour, and vinegar are some of the most commonly used ingredients. Traditional versions do not utilize food coloring, with the red color coming from rich cocoa.
This recipe has changed very much over the years, and there are several variations on how to make red velvet cake. If you don't have the time to make the cake from scratch, you can also use a chocolate cake mix to make your red velvet cake. Yes! Today I will share how to make red velvet cake from chocolate cake mix.
How To Make Red Velvet Cake From Chocolate Cake Mix
Making red velvet cake from a chocolate cake mix is simple; anyone can do it. All you need is your favorite chocolate cake mix and a few more simple ingredients!
Ingredients
½ cup vegetable oil: You can substitute the oil with melted butter as well.
1 cup buttermilk: You can substitute the buttermilk with water.
1 box chocolate cake mix: You can use any of your favorite brands.
3 eggs: Eggs provide structure and softness, build volume, stabilize, and provide a distinct flavor to the cake.
2 tbsp. unsweetened baking cocoa: It imparts a dark color and a rich chocolate flavor.
2 tbsp. red food coloring: It is a key ingredient that will turn your chocolatey batter into a gorgeous shade of true red.
For frosting
2 tsp. milk: You can use dairy or plant-based milk.
2 oz. softened cream cheese: Cream cheese provides the sweet cream frosting with just the right amount of tang.
½ cup powdered sugar:  Perfect for making sweet, smooth texture frosting.
1 ½ cups whipping cream: It's light, fluffy, rich, and provides the perfect texture for the frosting.
Directions
Preheat the oven to 350 degrees Fahrenheit. Grease and lightly flour the sides and bottom of a 13×9″ pan or two 9-inch round cake molds, or spray with cooking spray and dust flour.
Mix the cake ingredients for about 2 minutes in a big mixing bowl, scraping the sides frequently.
Pour the batter into the baking pan(s).
Bake according to the instructions on the chocolate cake mix box.
Remove the pan from the oven. Let it sit for about 10 minutes. Let it cool thoroughly.
Mix the milk and cream cheese in a clean, chilled mixing bowl. Beat until smooth. With an electric mixer on high speed, beat the sugar and whipped cream until fluffy peaks create, scraping occasionally. Fill and layer the cake, or frost the top of the cake. Refrigerate loosely.
Your red velvet cake is ready to eat! Serve and enjoy!
What If You Don't Have Buttermilk?
Buttermilk is one of my favorite ingredients to add to any recipe. It helps bring out the flavors. But don't worry if you don't have any, and you don't need to run out to the store. You can prepare your own buttermilk by whisking together 1 cup full-fat milk and 1 teaspoon of vinegar. Let the milk sour for 5 to 10 minutes before using it in a recipe. You can also use water instead of buttermilk.
What Frosting Works Best With Red Velvet Cake?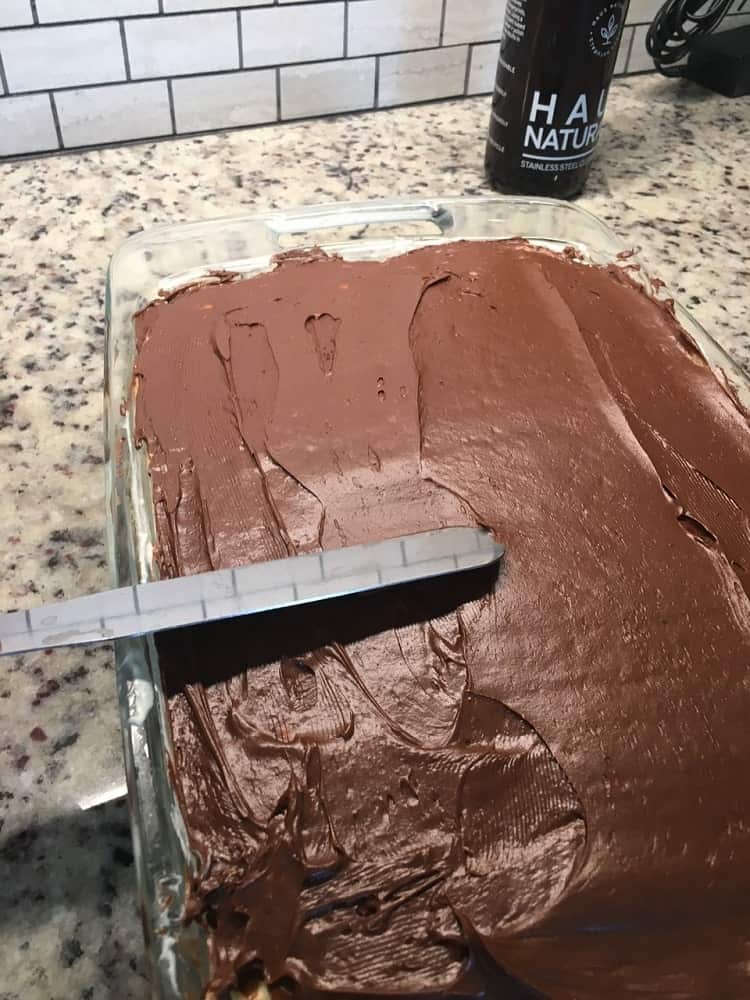 I know a lot of you love cream cheese frosting on your red velvet cake, which I have shared above! However, you can also use:
Buttercream Frosting: It's a convenient alternative for people who don't like cream cheese frosting.
Chocolate Frosting: It might appear odd, but red velvet and chocolate are a fantastic match!
FAQs
Does red velvet cake need to be refrigerated?
Red velvet cake with cream cheese frosting needs to be refrigerated. The cream cheese frosting is dairy-based and should be kept cool. Red velvet cake with other types of frosting does not need to be refrigerated.
What nuts go on red velvet cake?
Traditionally, pecans are the nuts that are used to top a red velvet cake. However, some recipes may call for other nuts, such as walnuts or almonds. Ultimately, the choice of nuts to use on a red velvet cake is up to personal preference.
How to make red velvet pancakes with cake mix
To make red velvet pancakes with cake mix, you will need a red velvet cake mix box, eggs, oil, all-purpose flour, and milk. According to Instructables, you can start by whisking together the cake mix, eggs, oil, flour, and milk until smooth. Then, heat a skillet or griddle over medium heat and pour about 1/4 cup of batter for each pancake. Cook for 1-2 minutes on each side or until fluffy and cooked through.
What does a red velvet cake symbolize?
Red velvet cake is often associated with love, passion, and romance. In some cultures, red is also a symbol of good luck and prosperity, so red velvet cake may also be served at special occasions like weddings or other celebrations.
You Might Also Like: