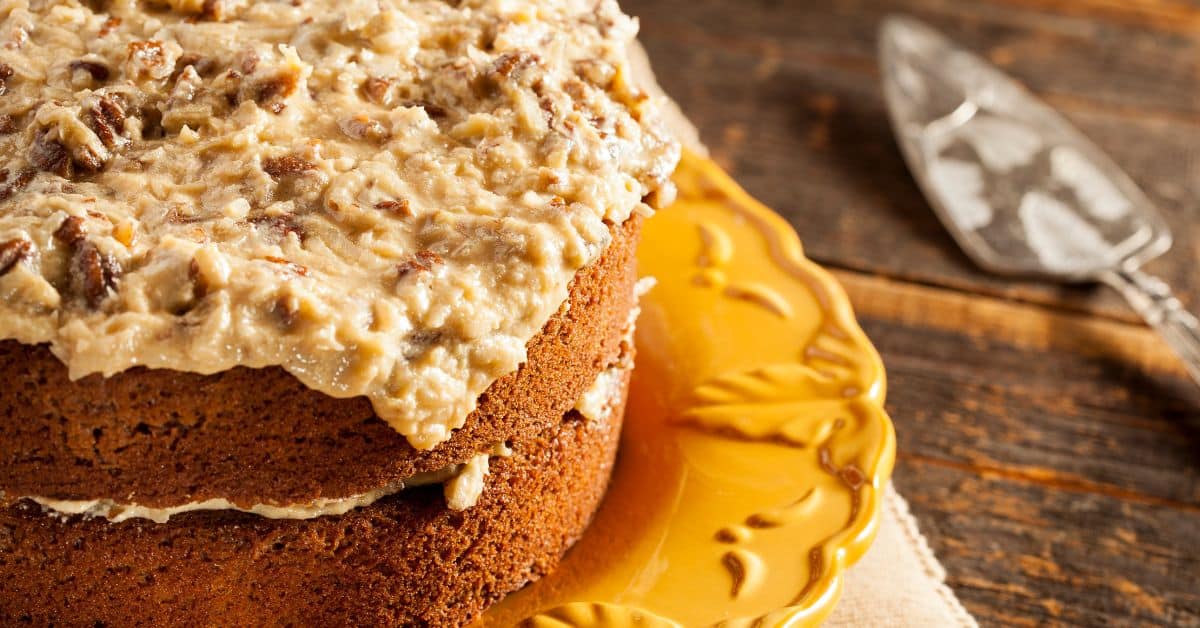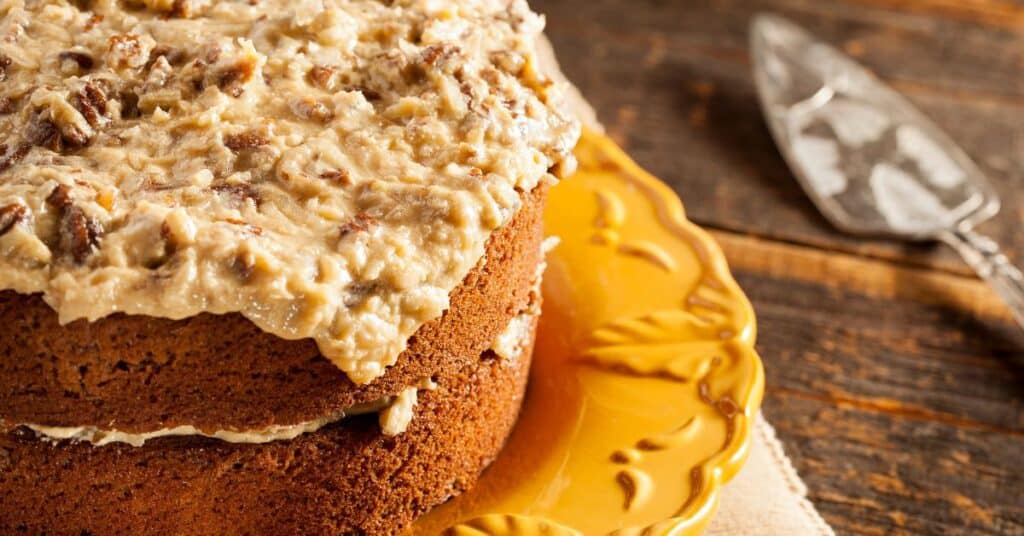 German chocolate cake is a popular dessert known for its sumptuous layers, rich flavor, and distinctive coconut-pecan frosting. The awesome part is it comes in premade cake mixes and frosting, and check out the easy tips and tricks below to make a store-bought German chocolate cake mix better.
Some Easy Modifications
Try one or all of these easy modifications to transform your ordinary German chocolate boxed cake mix into a homemade and delicious dessert.
Substitute whole milk or buttermilk for water to add richness and enhance the flavor.
Add chocolate or vanilla pudding mix to the cake batter to make it extra soft and moist.
Replace the oil with melted butter or yogurt, which will improve the cake's texture.
You can also increase the moistness of your cake by adding a half-cup of sour cream or yogurt to the batter.
Add a teaspoon of baking powder to the mix to make it lighter and fluffier.
Incorporate some Texas-inspired ingredients into your mix. For instance, try adding a teaspoon of cinnamon to the cake mix, enhancing the depth of flavor. You could also include some chopped pecans to the mix for an added crunch, incorporating a beloved Texan nut to the cake.
Make a ganache to drizzle over the top of your cake, adding an elegant touch and complementary chocolate flavor. Simply heat heavy cream until it's steaming and pour it over chopped chocolate. Stir until smooth and let it cool a bit before drizzling or spreading over the cake.
.
FAQs

What ingredients can be added to improve boxed German chocolate cake mix?
To enhance the flavor and texture of a boxed German chocolate cake mix, try adding ingredients such as coffee, caramel, or even a pinch of sea salt. Add some chopped pecans, coconut flakes, and chocolate chips to give your cake a delectable crunch. Experiment with small amounts of additional spices like cinnamon or nutmeg for added depth of flavor.
How can I make boxed German chocolate cake more moist?
To make your German chocolate cake more moist, consider adding an extra egg or replacing the oil with unsweetened applesauce or melted butter. You can also try incorporating sour cream or buttermilk in place of water. Remember to measure these substitutions accurately to maintain a balanced and delicious cake.
Which brand offers the best German chocolate cake mix?
Several brands offer German chocolate cake mixes, and personal preference plays a significant role in determining the "best" option. Some popular brands include Betty Crocker, Duncan Hines, and Pillsbury. To determine your favorite, try experimenting with various mixes and adapting them with the suggested ingredients and techniques mentioned earlier.
What are some creative recipes using a German chocolate cake mix?
Get creative with your German chocolate cake mix by transforming it into other delicious treats. Consider making cake pops, truffles, or even a unique German chocolate cheesecake. You can also turn your mix into delectable cookies by adding eggs, oil, and a little flour. Don't be afraid to get inventive and put your personal touch on these recipes.
Is there a difference between a German chocolate cake mix and a regular chocolate cake mix?
Yes! German chocolate cakes typically contain a milder chocolate flavor, often using sweet chocolate instead of semisweet or unsweetened chocolate. Additionally, German chocolate cake mixes frequently include recipes and suggestions for the distinct coconut-pecan frosting traditionally associated with the dessert, whereas regular chocolate cake mixes might not have those particular additions.
How can I make canned German chocolate cake frosting taste homemade?
Check out this post on How to Make Canned German Chocolate Frosting Taste Homemade for some easy tips and tricks.