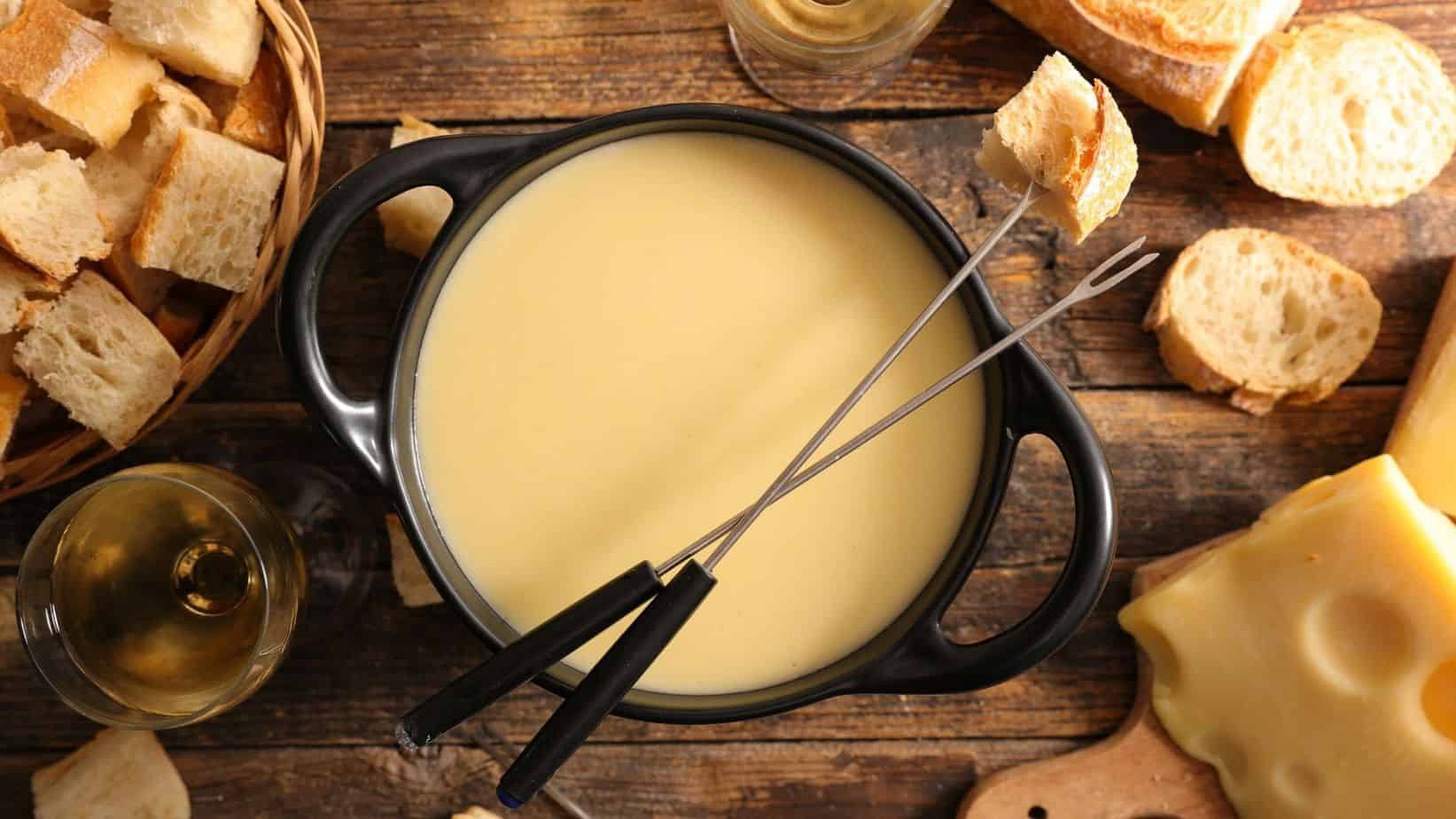 Picture this… You've just gone skiing in the Alps. The sun is shining, and you're ready to sit down and enjoy some food and drinks. Of course, there is only one option for après ski – fondue! A steaming fondue pot filled with melted cheese is the ideal way to end a day with friends.
Cheese lovers know all about fondue. Perhaps the only thing better than enjoying a cube of cheese is melted cheese. Paired with wine and bread, it has all the food groups we love! A winning combination, fondue is a Swiss delight that has taken the world by storm.
Before you enjoy fondue, learn all about the history behind the dish and the best ways to enjoy it. Also, make sure to scroll to the end to see some popular fondue sets available for entertaining.
What is Fondue?
Popularized in Switzerland, fondue makes for the ultimate winter comfort food. Whether it's high on a mountain top or gathered around on a Thursday night after work, enjoy fondue in groups. A traditional family meal, fondue is made by melting cheese, wine, and garlic together.
There are many variations of the recipe. Some opt for brandy or cognac instead of wine, while others add herbs, paprika, cayenne, or nutmeg. Just changing the type of cheese can seriously affect the flavor!
To enjoy fondue, dip cubes of white or brown bread into the cheese. As the main dish in a meal, people traditionally serve fondue with potatoes, pickled pearl onions, and pickles. For a drink, enjoy white wine, tea, or even kirsch, which is often added to the cheese as well.
The History of Fondue
Cheese, wine, and bread go way back, so understandably, fondue should too! The first hint of it occurs in Homer's Iliad, where cheese, wine, and flour were melted together. While it may not have been called fondue, it probably tasted like it!
The word fondue comes from the French word fondre, which means "to melt." Popularized in the 18th century, the melted cheese we've come to know and love originates from Switzerland. Farm families embraced fondue as a way to stretch their food supply during the colder months.
Cheese, stale bread, and a hint of wine could go a long way for one family… A simple pot of fondue would be their dinner. The idea of stale bread came from the fact that many of these families did not bake every day. Therefore, bread would often be stale. When dipped into warm cheese, the bread would soften once again.
The first recipes for fondue appeared in 18th-century cookbooks from France and Belgium, featuring gruyère cheese. Soon, it was often enjoyed by people of means, and to this day, many view fondue as the perfect dish for special occasions.
The popularity of the food soared in the 1930s thanks to a huge marketing campaign by the Swiss Cheese Union (yes, that was a thing!). In WWII, cheese had to be rationed, and promotion was put to a halt. However, fondue and Switzerland become synonymous as the food was promoted as a Swiss national dish.
In the US, the dip was only known to those who had traveled to Europe. At the New York World's Fair in 1964, fondue was introduced at the Swiss Pavilion's Alpine Restaurant, and Americans have embraced this cheesy and delectable meal ever since!
Types of Fondue
Cheese Fondue
Starting with the obvious, cheese fondue is the most popular and traditional form. While no standard recipe exists for fondue, the most common type of cheese used is gruyère. From the town Gruyères, the cheese is hard, nutty-tasting, and made using fresh cow milk. Aged anywhere from 6 months to 3 years, the taste varies.
Fondue combines different types of cheeses to create an equal blend. Gruyère mixed with vacherin cheese creates moitié-moitié, or half-half. Other common cheeses for fondue include gruyère mixed with appenzeller, raclette, or emmentaler.
Some compare fondue to Mexico's queso flameado, which is also a dish to be shared. It features melted cheese, chorizo and comes flambéed. Enjoy this Mexican dish with tortillas rather than bread.
Chocolate Fondue
While cheese is by far the most popular and traditional form, it's by no means the only way to fondue!
You can never go wrong with melted chocolate. Chocolate fondue was invented in the early 1960s by Konrad Egli, the owner of a Swiss restaurant in New York City. Egli wanted to include a dessert fondue for his menu. He combined chocolate with heavy cream and kirsch, the cherry brandy traditionally used in cheese fondue.
Types of Chocolate for Fondue
When choosing the perfect chocolate for your fondue, consider the three main types: white chocolate, milk chocolate, and dark chocolate. Each type brings a distinct flavor and consistency to your fondue experience.
White Chocolate: Does not contain any cocoa solids, which gives it a sweeter and creamier taste. Despite its milder flavor, white chocolate fondue pairs well with most fruits and sweets.
Milk Chocolate: With a perfect balance of sweetness and chocolatey goodness, milk chocolate fondue is the gold standard and works well with an assortment of dippers, such as strawberries, marshmallows, and pretzels.
Dark Chocolate: For those seeking a more intense chocolate experience, dark chocolate is the way to go. With a higher percentage of cocoa solids, dark chocolate is less sweet and packs a bolder flavor. Dark chocolate fondue pairs exceptionally well with fruits like raspberries and bananas, enhancing their natural flavors.
Types of Fruit Dippers
Fresh Fruit
When it comes to fresh fruit, you cannot go wrong with classic favorites like strawberries, bananas, and apple slices. Not only do these fruits taste delicious when paired with chocolate fondue, but their natural juiciness also complements the creamy texture of the chocolate. You can also try dipping slices of mango, pineapple, and orange for a tropical twist. Berries such as raspberries and blueberries are also excellent choices.
Dried Fruit
Dried apricots and figs pair especially well with chocolate due to their rich, concentrated flavors. To make it easy to dip, opt for dried apricot and fig halves. You can also dip dried banana slices and apple rings to add a chewy, textured variety to your fondue spread.
Fruit Combinations & Presentation
Skewer different fruits like cantaloupe, honeydew, and grapes together, providing you and your guests with an array of flavors in a single dip. You can also serve frozen fruit for an added layer of frosty deliciousness, particularly during warm summer months. Cherries, especially when frozen, make for a refreshing fruity choice.
Sweet and Salty Dippers
Cake Selections
Pound cake and angel food cake both hold up well when dipped in chocolate. You can also try waffles or doughnuts, especially if they're cinnamon-flavored. Cheesecake and brownie bites are also decadent options.
Cookie Options
Cookies are a popular choice for dipping in chocolate fondue and with good reason. Classic choices like graham crackers and Nilla wafers offer simplicity and a satisfying crunch. Biscotti is another great option, particularly if you prefer your treats to be less sweet. And for an indulgent twist, consider dipping Oreos or macaroons.
Other Sweet Treats
Marshmallows are a must-have option; their soft, gooey texture contrasts delightfully with the smooth chocolate. Rice Krispies treats add an irresistible crunchy texture, while pretzels or peanuts provide a salty note to balance the sweetness. The possibilities are endless.
Salty and Crunchy Dippers
Go-to salty dippers include pretzels, nuts, and potato chips that provide a satisfying crunch when dipped in chocolate.
Oil Fondue
Traditionally called fondue bourguignonne, oil fondue uses oil and butter in the fondue pot to cook raw ingredients. Usually, that would be cubes of meat or seafood such as beef, scallops, and shrimp. You can also cook raw veggies such as squash, broccoli, or grape tomatoes. Serve with some dipping sauce such as horseradish, aioli, and bearnaise.
If you try oil fondue, remember how hot it can get. Extreme caution should be taken around boiling oil – you should only fill a fondue pot halfway. Choose a neutral-tasting oil with a high smoke point, such as canola oil.
Oil fondue bears a similar resemblance to hot pots enjoyed in Chinese and Japanese cooking. In a pot of steaming oil or broth, you can cook meat, seafood, and vegetables. If cooking in boiled broth, meat needs to be sliced rather than cubed.
How to Make Fondue
To make fondue the easy way, heat the cheese on the stovetop first. You can find fondue-specific cheese ready to be melted and served at most grocery stores. However, if you feel like making it yourself, there are a few things you'll need besides cheese.
Cornstarch helps to bind the cheese and acts as an emulsifier.
Kirsch (kirschwasser) is needed for traditional fondue. A brandy made from cherries; don't confuse it for cherry liqueur. That will be too sweet!
Wine gives the fondue its signature taste.
Your choice of cheese. A blend of Swiss will taste best.
Season with salt, pepper, garlic, nutmeg, or any other spices you enjoy.
How to Enjoy Fondue
Fondue is served in an earthenware pot known as a caquelon. Held over a portable stove or small flame, the pot keeps the cheese melted for dipping.
Most fondue sets come with long forks that let you dip the bread without burning yourself. Cut bread into cubes, pierce it with a fork, and then dip it in the cheese. Hold it for only a few moments, or the bread may fall apart.
When the meal comes to an end, leave some of the cheese behind. Known as la religieuse, the dark crust of cheese at the bottom of the pot is enjoyed by all at the end of the meal. Yum!
Gathered around the table with your friends and family, remember to have the right fondue etiquette. Share the cheese and bread with everyone, and whatever you do, don't let your bread get soggy and fall off the fork. The person who does drop the bread has to pay the bill, clean up, or wash the dishes. At least, that's what the Swiss say!
Must-Have Fondue Pots
To have fondue at home, you're going to need a great fondue set! Investing in a good set makes for a more enjoyable experience as it won't burn the food. It keeps everything melted and makes sharing easy for everyone.
Stainless Steel Fondue Pot
Looking to keep things classic? You can't go wrong with this sleek stainless steel set. The adjustable flame allows you to control the heat, whether you're cooking oil or just looking to keep some cheese or chocolate warm. Reviews love how easy it is to clean and the high quality for the low price point.
Note: This fondue set requires gel fuel which is not included.
Artestia Electric Fondue Pot
If you don't want to have to buy fuel, try this electric option. Also made from stainless steel, the temperature can easily be adjusted with the turn of a knob. A cool feature of this fondue set is the removable ceramic pot. Not only does it make cleaning easier, but it also allows you to easily melt the chocolate or cheese on the stove beforehand.
Note: If you are using an electric fondue pot, always be cautious of the cord while eating and getting up from the table.
Boska Fondue Set
Want something simple? This Boska fondue set is great for those who don't want to have to buy special fuel or worry about electrical cords. Heated with tealights, this is a very affordable and easy way to have fondue.
The removable pot is dishwasher and microwave safe, making set up and clean up a breeze. This smaller-sized set is good for groups of up to four.
GIVENEU Electric Fondue Pot
On the opposite side of simple, we have deluxe. This Giveneu fondue set is the ultimate party appliance, and it comes with both a fondue pot AND a grill. On top is a stainless steel fondue pot, and below is a round raclette grill and 8 removable pans for cooking. This way, you can cook the entire meal from the table.
It fits up to eight people and is sure to turn dinner into a special moment.
Ceramic Butter Warmers
If sharing from one pot doesn't sound fun to you, you can buy individual warmers. Primarily used for warming butter, these ceramic warmers are also wonderful for keeping chocolate and cheese warm. Use them for individual appetizers or desserts – all you need is a single tea light per pot.
Chocolate Fondue Maker
For all your sweet tooth cravings, this chocolate warmer keeps your chocolate at the perfect melting point for dipping. This fondue set has a serving tray, so all the food is easily accessible for those around the table. While advertised for chocolate, you could also use it to keep the cheese warm for fondue or even nachos.
Nostalgia Stainless Steel Chocolate Fountain
This one is here just because it's so fun! If you have a special event coming up, why not serve chocolate fondue with a fountain? Buy a large pack of bamboo skewers so people can easily dip in some fruit and other sweet goodies. Your next birthday party, baby shower, or backyard BBQ is about to be the highlight of the month with this set.
Hamilton Beach Slow Cooker
The idea of adding another appliance to the house can be frustrating. If you still want to enjoy fondue but don't want to invest in another single-purpose appliance, slow cookers also can be used for fondue. Consider purchasing a small-sized slow cooker that can not only heat your cheese but make plenty of other kinds of meals too. Plus, it will store well compared to a larger slow cooker.
Swiss Fire Gel Packs
Most classic fondue sets require a fuel source. These gel packs keep your food warm for as long as you like. They're easier and safer to use than alcohol and will burn hotter than any methanol burners. Make sure to get a few of these to have on hand anytime a fondue craving strikes!
Stainless Steel Fondue Forks
Most fondue sets will come with fondue forks, but for larger gatherings, you may need more! Spare forks also help when they get mixed up or dropped on the floor. You can never be too prepared!
This set comes with insulated handles to avoid any burns, and the forks come in 12 different colors, so no one gets mixed up about which belongs to them.
Are you craving fondue yet? The Swiss were onto something good when they decided to mix bread, cheese, and wine. Fondue makes a cold night that much cozier by encouraging everyone to come together and share a meal.
Whether it's feasting on warm cheese and bread or dipping strawberries in chocolate, fondue makes eating dinner an experience. So, gather around the fondue pot and get eating!
FAQs
Which type of bread is ideal for dipping in cheese fondue?
A crusty bread like a French baguette is perfect for dipping in cheese fondue because it has a crispy crust and soft interior.
What to dip in cheese fondue
Apart from bread, various options can be dipped in cheese fondue, including vegetables like broccoli, carrots, and cherry tomatoes; fruits such as apples and pears; and even small cubes of cooked meats like ham, pepperoni, or chicken.
What to dip in chocolate fondue
Strawberries, bananas, pineapple, marshmallows, pretzels, or bite-sized portions of doughnuts or brownies are all perfect for dipping in chocolate fondue.
What to dip in caramel fondue
Fruits like apples and pears and sweet treats like marshmallows, cookies, and shortbread are popular choices to dip in caramel fondue.
What to do with leftover fondue cheese
Leftover fondue cheese can be stored in the refrigerator, then later used as a topping on baked potatoes, toast, pasta dishes, or even as a warm sandwich spread.
Can you freeze fondue cheese?
Yes, you can freeze it in an airtight container for up to three months. To use, simply thaw it overnight in the refrigerator and reheat it gently over low heat or in a fondue pot.
Can you make fondue without a fondue pot?
You can make fondue in a regular saucepan on the stove and then transfer it to a heatproof bowl or a small slow cooker to keep it warm during serving. However, a fondue pot is specifically designed to maintain a consistent temperature, which enhances the overall experience.
Can you reheat fondue?
Fondue can be reheated on the stove or in a microwave. Reheat it gently over low heat or at lower power settings in the microwave to avoid curdling or separating.
More Posts to Enjoy: