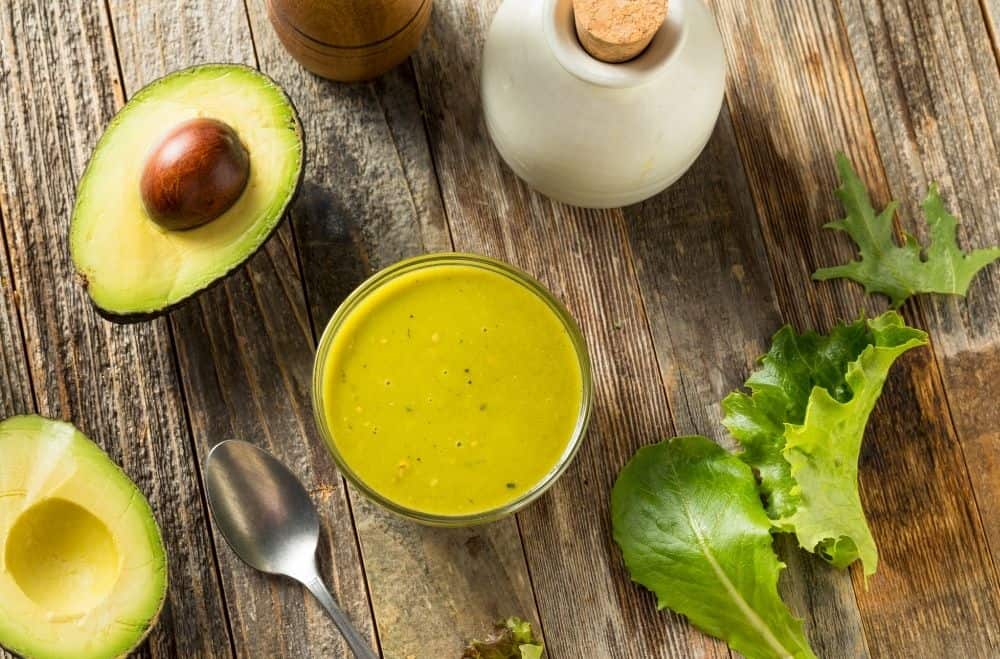 The Green Goddess salad dressing got its start on Broadway like lots of big stars. The Roaring Twenties had just begun when the Green Goddess became the hit show of the 1921 season. The tale of adventure, romance, and melodrama tells of an unhappily married couple named Crespin, their dashing pilot, and the cruel Rajah who holds all three captives after their plane crashes in his kingdom.
How Does the Green Goddess Story End?
For those who must know how the story ends, Mrs. Crespin and the pilot become a romantic item, the Rajah shoots the inconvenient Mr. Crespin and a nick-of-time rescue party shoots the murderous Rajah. In the finale, the Rajah dies brilliantly on stage while the pilot and Mrs. Crespin fall into each other's arms.
Green Goddess Salad Dressing History
The real star of the play was the Rajah, played by George Arliss, a popular stage actor. The part became Arliss's signature role, one he also played in the 1930 movie. At the height of the play's success, Arliss was honored with a banquet at the Palace Hotel in San Francisco. For the occasion, the hotel's executive chef, Philip Roemer, was asked to come up with something new and different in the way of a salad dressing. Drawing inspiration from the hit play, Roemer created a variation of the classic sauce au vert, a dressing created for Louis XIII and traditionally served with eel.
Chef Roemer loaded his dressing with fresh herbs, like the traditional sauce au vert, but added an accent note of anchovies. The innovation was a hit, and the Green Goddess salad dressing became a sensation from coast to coast. Not only was the salad dressing refreshingly new, but it was also a mark of sophistication and worldliness.
President Eisenhower loved Green Goddess Dressing
The Green Goddess dressing remained popular for several decades, getting a boost in the 1950s when First Lady Mamie Eisenhower proclaimed it was Ike's favorite. Her recipe, published in a popular woman's magazine of the era and widely available on the internet, is often cited as the original. However, it varies widely from the true original, authenticated by the San Francisco Chronicle in 2010. The dressing's popularity waned somewhat in the late 1970s, then in the late 1980s made a triumphant curtain call with the help of a few new ingredients. Both the original and the newer versions are delicious, and both of the recipes are below. You will also find a recipe for Apple Walnut Salad that is delicious with either version of the Green Goddess dressing. Enjoy!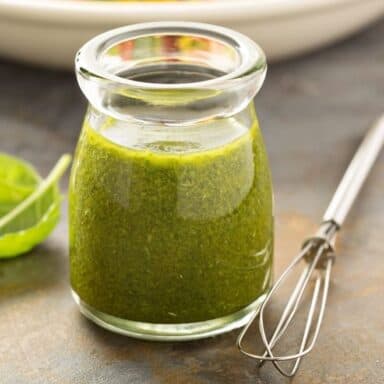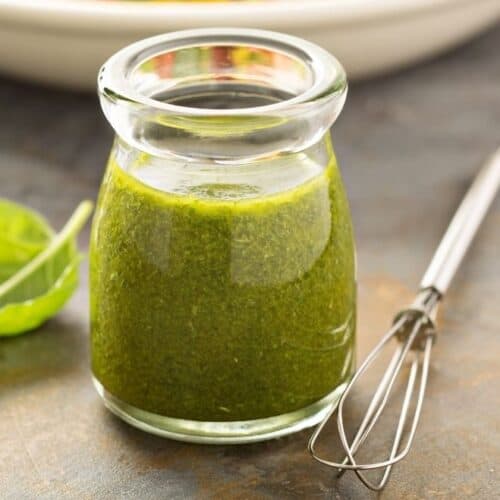 Original Green Goddess Salad Dressing
Ingredients
4

or 5 anchovy fillets

1

small green onion

2

tablespoons

minced fresh parsley

1

tablespoon

minced fresh tarragon

1 1/2

cups

mayonnaise

1/4

cup

tarragon vinegar

1/4

cup

finely snipped chives
Instructions
Mince the anchovies and green onions and place in a mixing bowl. Add the remaining ingredients and stir until well combined. Use immediately or cover and refrigerate until ready to use.

To serve, prepare a large wooden salad bowl by rubbing the bowl well with a peeled garlic clove. Tear romaine, chicory, or escarole into bite-size pieces, place in a bowl, and toss with just enough dressing to coat.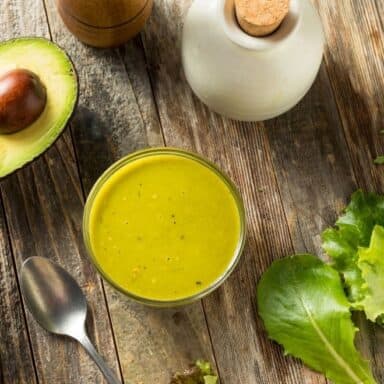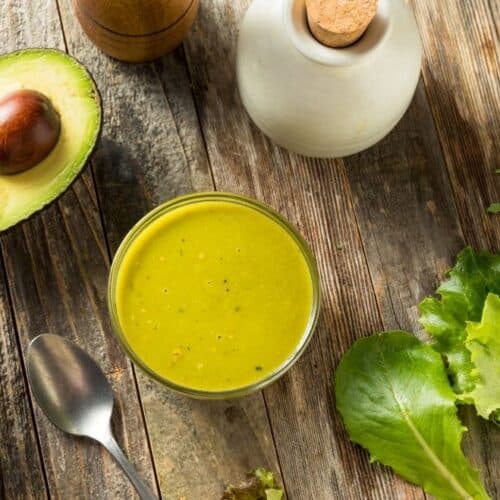 New Version: Avocado Green Goddess Dressing
Ingredients
1

ripe avocado

1/2

cup

mayonnaise

1/2

cup

sour cream

1/4

cup

fresh chives

1/4

cup

fresh parsley

stems removed

1

tablespoon

fresh lime juice

2

tablespoons

cider or tarragon vinegar

2

anchovy fillets

1

clove

garlic

peeled

Dash of Worcestershire sauce

Salt and freshly ground pepper to taste
Instructions
Remove the pit and peel from the avocado. Cut the avocado in quarters and place in a food processor. Add remaining ingredients and blend until smooth. If the dressing seems too thick, add another spoonful of vinegar or water to thin. Adjust seasonings if necessary. Serve at once or refrigerate, covered, until ready to use.

Today's Green Goddess goes well with any lettuce. It is most often served over Bibb lettuce, also known as Boston or butter lettuce.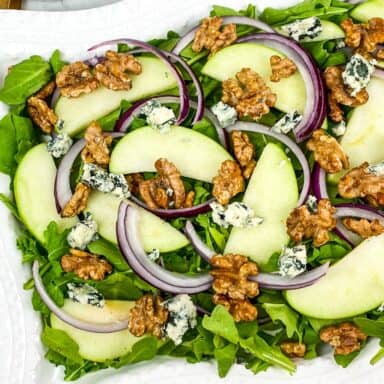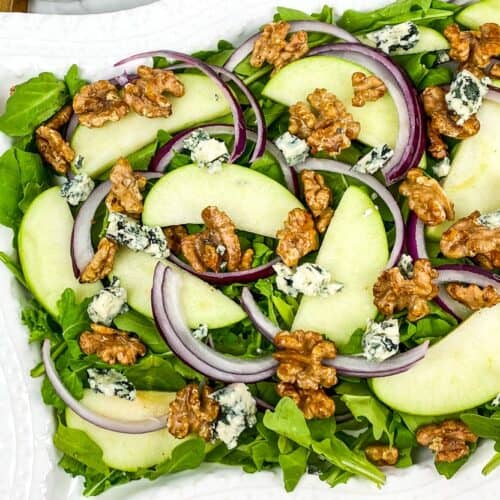 Apple Walnut Salad 
This substantial salad packs a lot of flavor into each bite with its winning combination of peppery arugula, seasoned walnuts, tart apples, and sharp blue cheese. It is even more delicious when it is paired with either the original or new avocado Green Goddess salad dressing.
Ingredients
Ingredients:

4

c.

arugula

rinsed and patted dry

6

oz.

walnuts

chopped

2

T.

honey

preferably local

2

t.

ground cinnamon

2

tart apples

cut in half, core removed, and cut into thin slices

1

T.

fresh lemon juice ½ small red onion

sliced thin

4

oz.

blue cheese

crumbled

Sea salt and black pepper

to taste
Instructions
Place the top oven rack in the center position and pre-heat the oven to 350°F.

In a small bowl, toss walnuts with honey and cinnamon until evenly coated. Arrange walnuts in a single layer on a rimmed baking sheet lined with parchment paper or a Silpat™ baking mat.

Place baking sheet in a pre-heated oven and bake for 8-10 minutes. Remove from oven and set aside.

Add sliced apples to a large salad bowl and sprinkle with lemon juice. Toss until well coated. Add arugula, seasoned walnuts, red onion slices, and blue cheese to the bowl and gently toss to combine.

Drizzle salad with a little Green Goddess salad dressing right before serving and toss to combine. Serve immediately with remaining dressing on the side. Enjoy!
You might also like How to Make a Caesar Salad and How to Make Chicken Salad.