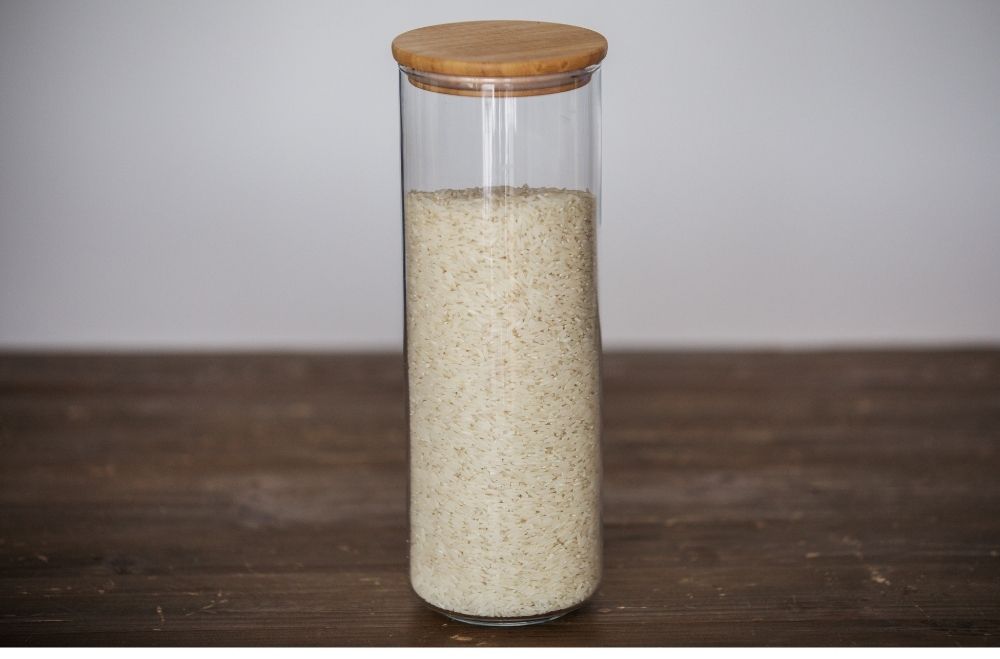 Rice storage containers are an important purchase because rice might be the most versatile ingredient there is. Filling, nutritious, and the base ingredient in so many delicious recipes. Properly storing your rice is a must. Keeping out air and moisture is a great way to keep rice fresher for longer and to have delicious cooked rice for many meals to come.
If you prefer to buy your rice all at once, then you'll want to consider one of the rice storage containers that we're examining below. We're checking out the best ones in the market. We're considering size, functionality, versatility, and much more. Let's get right into our favorite rice/ food storage containers.
i Kito Rice Dispenser
We'll start with one of our top rice storage containers, the i Kito Rice Dispenser. This rice dispenser represents a great mix of convenience and functionality. It consists of an airtight container combined with a handy rice dispensing system.
The top of the dispenser has an airtight seal to keep rice fresh and keep the outside out. There are no worries about excess moisture or insects. Another advantage of a top-down dispenser is that the rice is first in-first out, which means that rice will never sit at the bottom of the machine for too long, as is the case with a traditional container.
The dispenser makes this unit extremely convenient. Simply push the switch upwards, and it dispenses the rice. The rice automatically fills the bottom drawer with a cup (150g) of rice. It's easy to measure for meals and recipes.
Overall, it's a quality product that combines convenience with functionality. Rice stays fresh, and it's easy to measure. Put it right on your kitchen counter for maximum convenience!
i Kito Rice Dispenser Pros
First-in-first-out system keeps rice fresh
Easy dispensing that fills one cup of rice in the bottom drawer
Airtight seal on the top container
Holds 26.5 pounds of rice
i Kito Rice Dispenser Cons
It may be a bit bulky on your countertop
It may be time-consuming to measure out large amounts of rice
Komax Large Rice Storage Container
Rice containers come in all shapes and sizes, so here's a more basic option for you to consider. Nothing fancy about this one, just a big food storage container with a top lid and a scoop. Simply fill, scoop, and you've got rice!
The top of this container is airtight. Close the hatch, and it keeps a tight seal to keep out air and moisture. The hatch allows for easy access from the top of the container, and the scoop makes it measuring the rice highly intuitive. Each scoop is 180 mL, so you can measure as you go.
The container is big and spacious and can hold 20 pounds of rice (or anything else you want to keep fresh like cereal). It's made in South Korea from 100% food-grade materials, and it's BPA-free. It's a quality product that you can trust to keep rice or other dry food fresh for long periods.
Komax Large Storage Container Pros
Big, spacious container (holds 20 pounds)
Latch for easy access
Economical choice
Eco-friendly
Komax Large Storage Container Cons
JapanBargain Rice Storage Container
Here's a great option from JapanBargain. This product is probably the most popular style of rice container.
This rice storage container is a bit on the smaller side, holding only 4.4 pounds of rice, but that also makes it highly portable, being lighter to lift and easier to pour rice. It even works great in combination with one of the bigger containers on our list.
The container is quite functional as well. Simply fill with rice, and use the easy pour spout to fill the attached measuring cup. The measuring cup fits over the nozzle to form a protective seal, keeping rice fresh. The seal isn't quite as airtight as other devices on our list, but it's a small container, so you don't need to store the rice long-term.
Overall, a functional, convenient storage container for measuring rice and keeping it fresh! It's made in Japan, and it's highly affordable.
JapanBargain Pros
Very easy to use
The measuring cup attaches right over the nozzle
Portable, easy to lift and pour
Affordable
JapanBargain Cons
Doesn't hold as much rice as bulk containers
The seal is not as airtight as other options
AirTight Rice Storage Container
Here's another option that is quite similar to the product directly above. It's made in a similar style but has a few notable differences that we think you'll enjoy.
This product has an easy-pour design, with the measuring cup forming a protective seal over the nozzle. It holds 4.4 pounds of rice in total. We also like that this version of the product has measuring guidelines on the side of the container, so you'll know how much rice you have left.
Another notable improvement is the handle on the side of the container, which makes it a bit easier to lift and pour. It also has a seal ring and a buckle to hold the lid tightly in place.
Overall, this is in a tight race with JapanBargain for our top rice container in this style. We think this one has added functionality, but JapanBargain uses higher quality materials. Either way, you can't go wrong.
AirTight Rice Storage Container Pros
Carrying and pouring handle
Seal ring and buckle to secure lid
Handy measuring cup design
AirTight Rice Storage Container Cons
Only holds 4.4 pounds of rice
Slightly more expensive than JapanBargain's version
LOCK & LOCK Pantry Storage Container
This product is for general pantry storage and organization, but we think it works great for rice. We've highlighted the 12L version, which was designed specifically for rice.
The design is quite straightforward. The entire lid is removable to fill the container, and there's a front-hatch for easier access to individual portions of rice. You can put the container in a drawer or on shelves, and you won't have to remove it to access the rice. A measuring scoop is included, which is also dishwasher safe.
Aside from that, it's just a well-designed plastic container. The seals are tight to keep everything fresh, and it's made with BPA-Free materials. It's easy, functional, and fits easily in your cupboards or pantries.
LOCK & LOCK Pros
Big quantity (50.7 cups of rice)
Easy front hatch
Tight seal for maximum freshness
Made with quality materials
LOCK & LOCK Cons
Rice at the bottom might go stale if you continue to refill the container without emptying
KoMax Extra Large Rice Storage Container Set
The Komax Container Set is an economical rice storage choice if you want more than just a single container. This set is ideal for rice and any other common pantry items such as flour, regular sugar, brown sugar, cereal, baking ingredients, pet food, or any dry ingredients or bulk food. It contains one large container measuring 48.6 cups and two smaller containers at 15 cups each.
We particularly like this air tight container because the rubber sealing combines with the airtight latches to create a seal that lets in a minimal amount of moisture and air. Rice stays dry and fresh for weeks at a time! Komax was the original inventor of the four-sided locking lid.
The biggest of the three containers has a carrying handle for easy portability.
Komax is a reliable manufacturer based out of South Korea. Their products are highly durable and use BPA-Free plastic materials.
KoMax Pros
Eco-friendly design
Airtight seal is very effective for keeping rice fresh
Comes in a set with 3 containers
Very economical price
KoMax Cons
No included scoops. Best as a pure storage option
Be sure to stir rice so that rice at the bottom doesn't go stale
Letusto Rice Dispenser
The Letusto Rice Dispenser is one of the most popular dispensers on the market. It has a simple, intuitive design, and it works predictably and effectively.
The storage container holds 26.7 pounds of rice, which makes it a high-capacity machine. To dispense, simply press the button, and it automatically dispenses rice into the bucket. You can set your ideal amount to dispense, and it will provide you with perfect measurements every time! We really can't say enough about how easy this makes the measurement process.
The machine is great for keeping rice fresh. It features a double-lock buckle on the lid, which seals tight and helps keep out moisture from the air. It keeps rice fresh for a long time and utilizes first-in-first-out to ensure that the rice at the bottom gets used (unlike in a standard container).
Overall, it's a functional, reliable machine. It may not look like much, and the product photos certainly leave a lot to be desired, but it works, and many happy customers will attest to this fact.
Letusto Pros
Works reliably and consistently
Set your measurements for an ideal serving
Big capacity machine – 26.7 pounds of rice
Tight seal through double-lock buckles
Letusto Cons
Expensive compared to a basic container
Not the most aesthetically pleasing design (in our opinion)
JapanBargain Large Rice Container
The last rice storage product on our list comes from one of our favorite brands – JapanBargain. This container is made especially for storing and measuring rice.
The container is highly functional and contains two tools for measuring rice. There are a measuring cup and a "hanging" container that drops down slightly from the front of the container, which allows you to fill the measuring cup without digging deep into the container each time. Just scoop from the hanging container.
The container itself is spacious and forms a tight seal to keep rice fresh for a long time. It holds up to 22 pounds of rice. The lid attaches securely and tightly, and you can easily access the rice through the front hatch.
Nothing too fancy, but gets the job done quite well.
JapanBargain Large Pros
A hanging container makes it easier to fill a measuring cup
Holds 22 pounds of rice
Made in Japan
JapanBargain Large Cons
No dispenser – nothing fancy
Rice Storage Buying Guide
Before we wrap up, we'll help you choose from the options above. Rice containers come in all shapes and sizes, and the amount of choice can be overwhelming. We recommend you consider these factors to make your decision:
The Seal
Your first consideration with any rice storage container should be the quality of the seal. A tighter seal will keep rice fresh for longer, and you should know how to tell a quality seal.
It's all about how the lid attaches to the container. The best seals contain rubber strips, which ensure a very tight fit, with no air escaping. They will also contain latches or some sort of locking mechanism to keep the lid fastened in place.
Usability
A tight seal is great, but it can interfere with convenience as it might make the lid harder to remove. As such, some prefer a container that has an easy-open hatch, a pouring nozzle, or any method of easier access. You sacrifice a bit of the seal's integrity, but it adds a lot of usability to the product.
Dispensing
Some rice containers also have a built-in dispenser. Some of the more high-tech options on our list have one-touch buttons that dispense a pre-set amount of rice, adding a whole new element of convenience. Check out some of the best rice dispensers on our list above.
Quantity
This one almost goes without saying, but it's definitely worth a mention. You want to decide on the quantity of your ideal container. It depends on your buying habits. If you prefer to buy a lot of rice at once, you'll want a bigger container.
But do keep in mind that the rice at the bottom of the container tends to go stale as you refill the container, so be sure to give it a good stir from time to time!
It's all about matching the container to your preferences. It might seem like a "boring" decision, but you'll be surprised what a difference these products can make. Especially if, like us, you go through a lot of rice!
More Posts You Will Love: