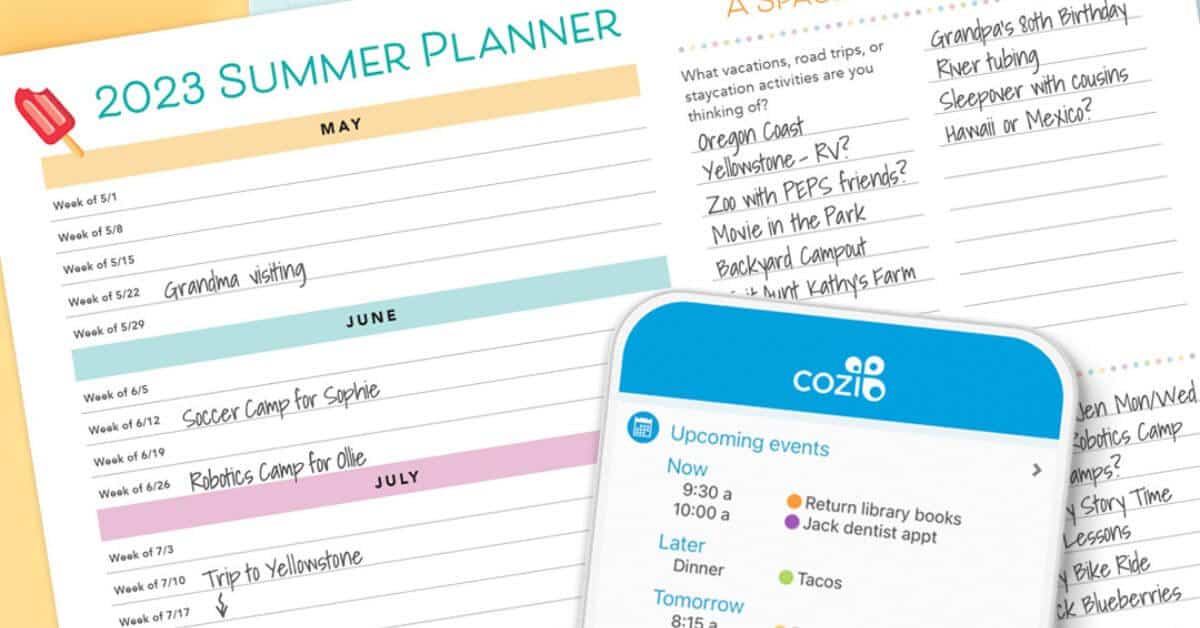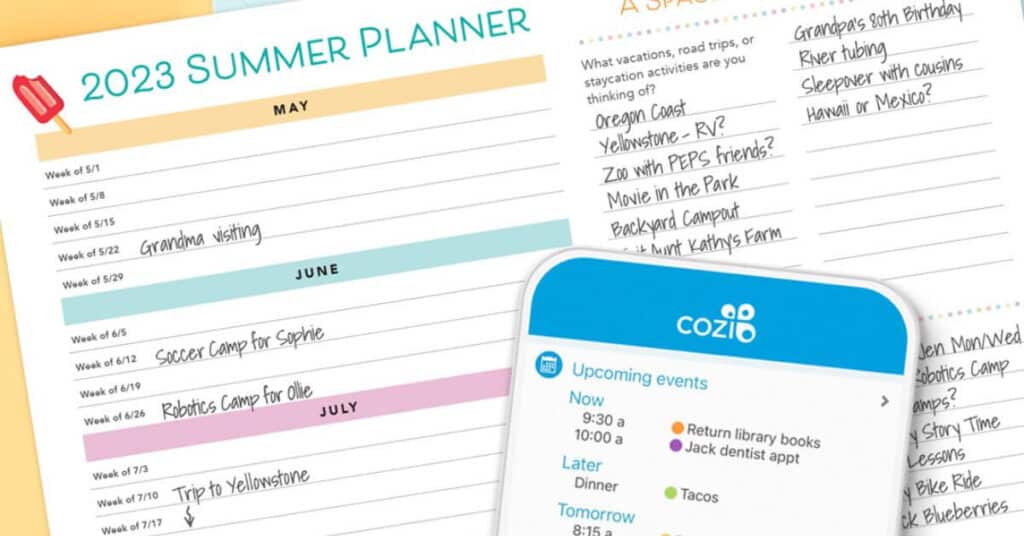 I recently discovered Cozi*, the ultimate free meal-planning and organizing app for busy schedules like mine! Do you constantly struggle to keep track of your personal and family schedules, appointments, and meal plans? If you answered yes, keep reading to learn why everyone over at HomePerch thinks Cozi is the best free app for meal planning and organizing!
Why Cozi is the Best Free App for Meal Planning and Organizing!

Calendar Management
I am always struggling with managing my own and my family's schedule. With Cozi's shared family calendar, all our activities are color-coded, making it easier for me to track every member's schedule at a glance.
Shared Family Password
I love how Cozi has a shared family password that enables everyone to access the family calendar and add their own events using the same password. You don't have to worry about a family member forgetting their password and being locked out.
Reminder and Notification System
Cozi's reminders and notifications ensure that everyone knows what is going on at all times. Agenda emails keep us in the know about upcoming activities for the week, and email change notifications make sure we're all informed about last-minute updates. With multiple reminders for each event, it's impossible for us to forget something important!
Exceptional Meal Planning Tool
Cozi is an amazing app for meal planning and managing recipes, and I can't help but feel excited about it! The app features a recipe box where I can easily save all my favorite recipes in one place. This is super helpful when I want to discover new recipes or organize my family's favorites.
Cozi's meal planning enables me to schedule meals in my shared family calendar. I no longer have to worry about that dreaded "what's for dinner" question at 6 PM, and everyone participates in deciding the menu for the week.
Smart Shopping Lists
No more chaotic trips to the store, no more forgotten ingredients! I love that with just one touch, I can add ingredients from a recipe directly to my grocery list. The app also makes it a breeze to organize multiple grocery lists, so I can have separate lists for different stores or types of groceries.
I absolutely love the way Cozi simplifies creating and managing grocery lists. It allows me to:
Keep all my shopping lists in one place, neatly organized and always up-to-date.
Easily share lists with family members so everyone knows what's needed from the store.
The ability to organize my list by aisle or category so I can avoid backtracking and save time on my shopping trips.
Save Favorite Recipes
Another game-changer is how Cozi allows me to save and organize my family's favorite recipes. By doing so, I can:
Easily plan meals by browsing through our go-to dishes.
Quickly add recipe ingredients to my grocery list with a single tap.
Share recipes effortlessly with friends and family members.
Cozi Has a Robust and Mobile Platform
Compatibility with Various Devices
Cozi is compatible with various devices, such as iOS, Android, and even desktops. No matter what device I'm using, Cozi always has me covered. Whether I'm on the go with my mobile phone or at home on my computer, I can access my meal plans and other organizational tools with ease.
Smooth Navigation and User Experience
Cozi's mobile app and website are both user-friendly and have simple interfaces that make it easy to find and view meal plans, shopping lists, and more. For instance, the mobile month view is a fantastic feature that provides an overview of my plans for the entire month. In addition, the mobile browser allows for easy access to my information, even when I'm in a hurry.
Subscription-Based Benefits
I used the free version of Cozi for years, but I decided to upgrade to Cozi Gold because it is only $39.99 per year, and I now enjoy an ad-free experience, up to three reminders for every appointment, and birthday reminders.
Cozi's Accessibility and Privacy
Integration with Other Platforms
I just discovered this fantastic free app called Cozi, and I'm excited about how easily it integrates with other platforms. One of my favorite features is that it syncs seamlessly with Google Calendar. I can also subscribe to other calendars, making it simple to manage all my events in one place.
Safety and Security
Now, I know what you're thinking – what about privacy and security? I am delighted to tell you that Cozi takes these matters seriously. They have a clear privacy policy and terms of use, which outline how they protect our personal information.
Frequently Asked Questions
What makes Cozi stand out among other meal-planning apps?
I can't help but get excited when I talk about Cozi! It truly stands out from other meal-planning apps because it's not just focused on meals – it's an all-in-one family organizer. Cozi offers a shared calendar, reminders, grocery lists, and a recipe box that can be accessed from any mobile device or computer. This makes it incredibly convenient and efficient for busy families to manage their daily lives.
How does Cozi simplify meal planning and organization?
Cozi takes meal planning to the next level by letting me quickly decide on recipes in advance, so there's no last-minute "what's for dinner" questioning. While using Cozi's mobile app, I can easily see my recipes on the calendar, and cooking becomes a breeze with the cooking mode feature that keeps my screen on without having to touch the device.
How does Cozi's meal planner compare to other apps?
Cozi offers additional functionality, making it the go-to organizer for families. This app is designed to be more than just a meal-planning tool – it also acts as a personal assistant for busy parents by managing schedules, appointments, and other daily tasks. Plus, unlike most apps, the free version of Cozi packs a punch with all these features.
*HomePerch receives a small commission if you sign up for this free app using any of the links below. Rest assured that HomePerch only promotes products and services they use and LOVE!