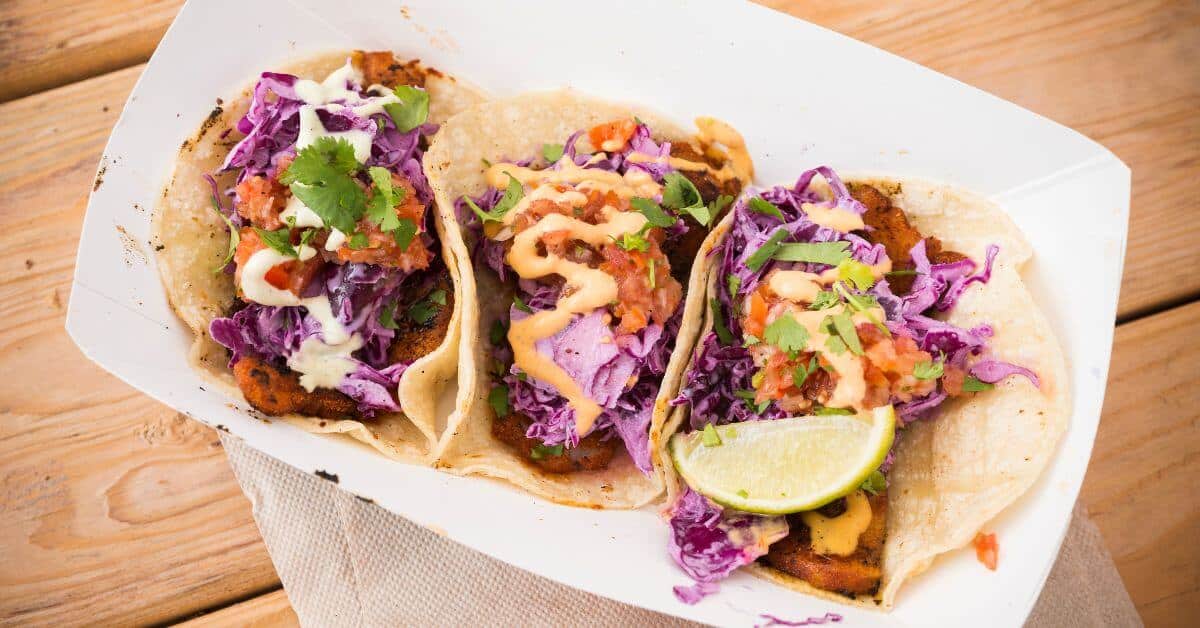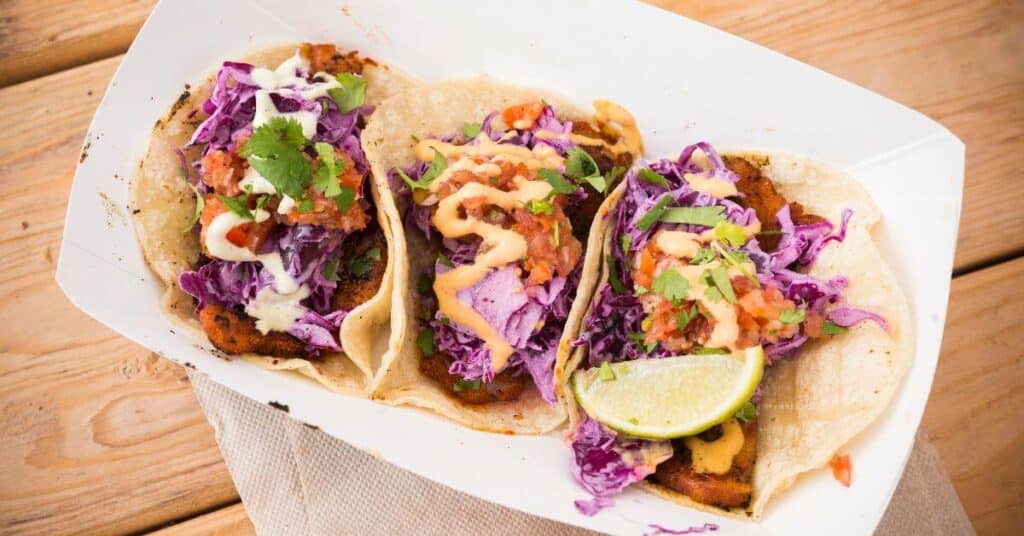 One of the greatest fish in the sea is the cod. It is flakey, luscious, and so delicious when made into tacos. Learn everything you want to know about cod and how to craft the perfect fish tacos!
What is Cod and Why Use it For Tacos?
Cod is a wonderful whitefish common in the Atlantic ocean's cooler waters. It is prized for its flaky white flesh and mild, un-fishy flavor.
Cod is one of the most common fishes to see in fish and chip shops in the U.K., and it's a regular at Friday night fish fries in the U.S. One reason is that it is a great fish for deep frying. It holds batter and breading well, and frying cooks the light, flaky flesh to juicy perfection!
Another very common cod dish is fish tacos. Cod is just right for tacos because it can be marinated or fried. Soaking cod in a flavorful taco marinade will give you a bright and tasty taco, or keep it crunchy with fried cod. Either variety makes for a fish taco with a mild fishy flavor and plenty of lean protein!
How to Buy Cod
The most common way you will see cod in the grocery store is in filets, which is perfect because it simplifies your job! Cod filets can be found fresh or frozen, and both make delicious tacos. Purchase fresh cod from your butcher, and if you have any questions about preparing the fish, remember that the butcher can be a great helper!
If opting for frozen, place the fish in the refrigerator to thaw the night before cooking it.
How to Cook Cod for Tacos
Deep Fried
Place an extra large high-walled pot or wok on the stovetop. Optionally attach a thermometer to the inside of the pot, and then fill it with a neutral oil. Preheat the oil to medium to medium-high. The goal temperature is 350°F; once this is reached, be careful to adjust the burner to maintain this temperature.
Cut the cod filets into small ½ inch strips.
Mix a batter in a large bowl using 1 cup all-purpose flour, 1 cup shandy-style beer, one teaspoon baking powder, and salt and pepper. In a separate bowl, pour panko bread crumbs and set aside.
Over a plate, sprinkle the fish lightly with all-purpose flour, then dunk the fish in the batter. Shake off the excess batter, then toss the fish in the panko. Fully coated fish is ready for the fryer.
Carefully place fish pieces into the fryer, and try not to splash the oil. Allow the fish to cook for 5-10 minutes, flipping at least once. Fish is done when it reaches an internal temperature of 145°F.
Sauteed
Cut the cod into ½ inch strips.
Mix extra virgin olive oil, chili powder, paprika, cumin, oregano, salt, paper, and lime juice until homogeneous in a large bowl.
Toss the fish in this mixture until fully coated. Cover and allow to marinate in the refrigerator for 30 minutes to 1 hour.
Place a large saute pan on the stovetop over medium heat to cook the fish. Generously drizzle oil in the pan. When the oil is hot, add the fish.
Cook on each side for about 4 minutes. Finished cod will be white throughout and have an internal temperature of 145°F.
How to Assemble Fish Tacos with Cod
No matter how you cook your cod, the assembly process is always the same! Here are some tips on how to build the perfect cod taco!
Warm the tortillas. This seems simple, but warm tortillas just work better, so whether you choose corn or flour, always warm them up.
If using corn tortillas, use 2 per taco. This acts as reinforcement against the heavy and juicy foods they have to hold.
Put the fish on first, and don't overfill!
Top the cod with lettuce, cilantro, and onions, or try them with pico de gallo or a homemade cilantro slaw.
When eating your fish tacos, pick them up and hold them over your plate. Move your mouth to the taco, not the other way around.
Variations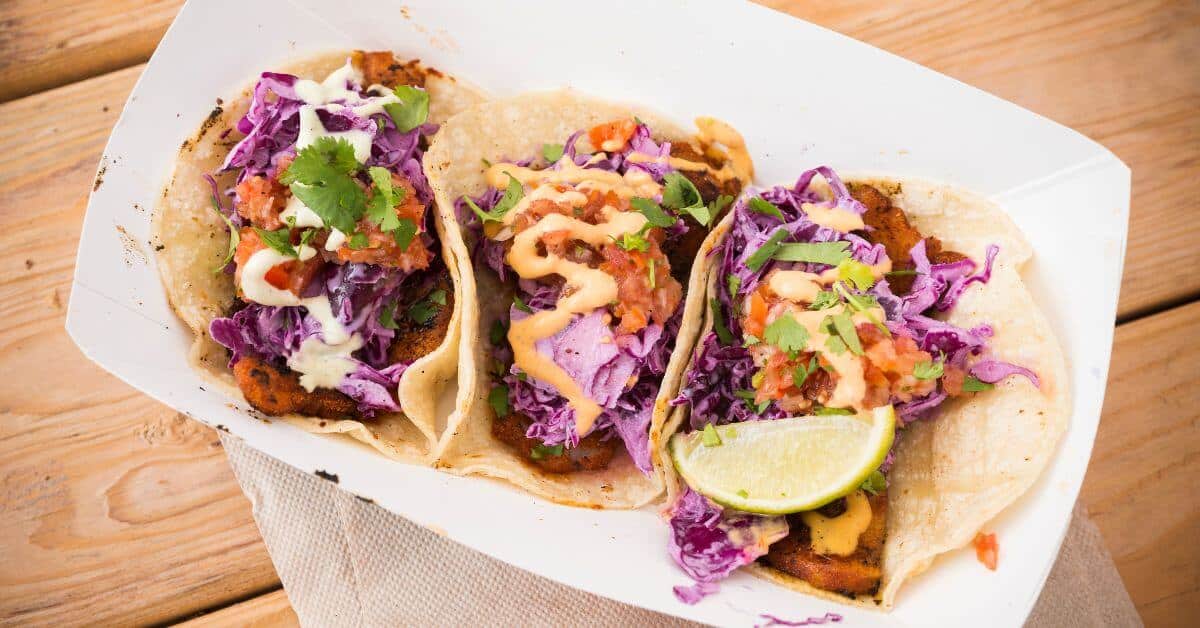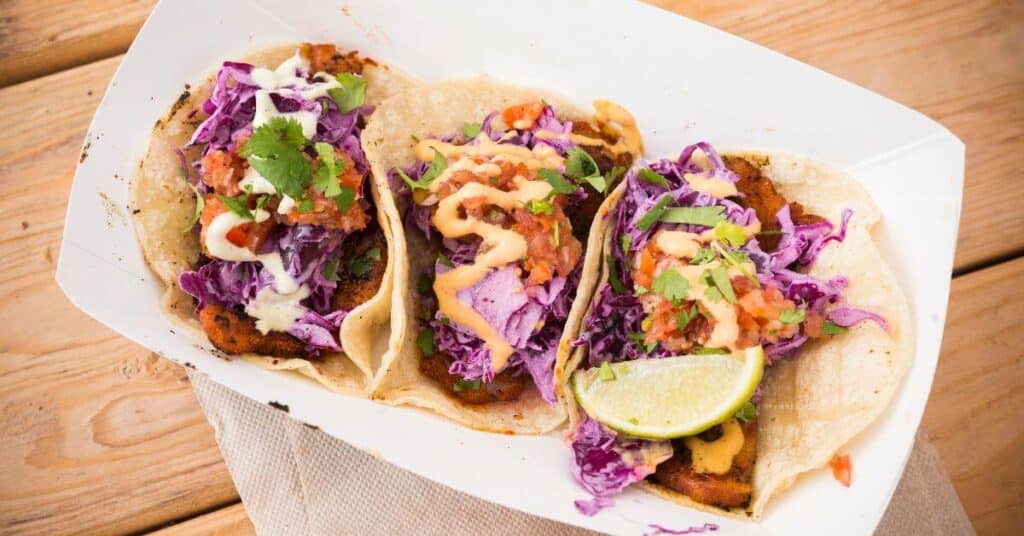 Asian Fusion
Follow the steps for sauteing, but change the marinade ingredients. Use sesame oil, gochujang, soy sauce, ginger, and garlic.
Chimichurri
Follow the sauteed steps, but swap out the marinade for chimichurri. You can thin the chimichurri with oil if needed.
Mediterranean Fish Tacos
Follow the steps for sauteed fish, but make a new marinade. To make a Mediterranean-inspired marinade, use olive oil, parsley, dill, oregano, lemon juice, and crushed red pepper.
F.A.Q.
Is Cod Healthy?
Cod can be a mixed bag nutritionally. It is a great choice compared to traditional proteins, but it has both good and bad qualities.
Cod is high in cholesterol, and one serving of plain no frills cod has almost 200 calories; however, it has practically no fat and almost your entire day's worth of protein. It is high in minerals like potassium, cobalamin, and magnesium and has vitamins B6, C, and D.
If you live a balanced lifestyle with healthy cholesterol intake, cod is an excellent choice for your daily protein!
Final Thoughts
Diving into the delicious world of fish tacos with cod can be as wonderful as a day at the beach! Have fun fixing your fish tacos, and remember to make it your own! Get creative and explore different flavor combinations. You cannot go wrong with amazingly flaky and rich fish tacos with cod!
Additional Kitchen Resources
Don't fill up on fish because these awesome articles have many more great culinary ideas! Dive in to find your next kitchen inspiration!